Jimmy Page - It's been a long time since he rock'n'rolled
The documentary It Might Get Loud brings together a trio of guitar heroes and marks Jimmy Page's first return to action since Led Zeppelin's reunion show in 2007. James McNair meets the axeman
Friday 01 January 2010 01:00 GMT
Comments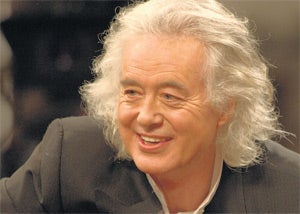 Naturally enough, the Gibson Guitar Studio in London's West End is an Aladdin's cave of instruments. Today, though, an eminent occupant of its artist's lounge is discussing the virtual axe. "When the Guitar Hero video game came out I could see that it would be good for dad and the kids at Christmas," says Jimmy Page, "but in terms of how it relates to proper guitar playing you might as well play a pinball machine. When Guitar Hero were pitching for Led Zeppelin to get involved they wanted the multi-tracks of our original recordings. I said, 'It's all very well having a bit of fun, but don't be silly!'"
Though Page will be 66 on 9 January, he still cuts something of a dash. A natty neck-scarf sets off his stylish black leather jacket, and his hair looks suitably distinguished since he ditched the Just for Men. To his right is Davis Guggenheim, the director of It Might Get Loud, a new documentary featuring Page, U2's The Edge, and Jack White of The White Stripes. "You could say our film is the antithesis of the Guitar Hero game," says Guggenheim, whose CV also includes a biopic of Barack Obama. "Each of our three guitarists has a brilliantly individual voice, but in Guitar Hero you have to replicate an existing part – how dull is that?"
Save for performing "Whole Lotta Love" with Leona Lewis at the closing ceremony of the Beijing Olympics – and inducting his old Yardbirds bandmate Jeff Beck into the Rock and Roll Hall of Fame last April – It Might Get Loud finds Page fully on-radar for the first time since Led Zeppelin's one-off reunion show at the O2 in December 2007. The film was mostly shot in London, Dublin, and Franklin, Tennessee, and can be viewed as a three-way biopic of Page, The Edge and White. The twist is the film's denouement. It packs an at first tentative but ultimately rollicking "guitar summit", the three players trading riffs and opinions.
"All the people in the business told me, 'Jimmy won't do it – don't even try'," says Guggenheim. "But we really wanted Jimmy, we did try, and his people invited me over to discuss my ideas." Page says it was Guggenheim's "tangible yet abstract" outline for the film that appealed to him, and notes that the director's "in at the deep end" approach involved capturing his and his co-stars' expressions as they took the soundstage for the summit. "Edge I'd briefly met at the O2, and Jack and I had been interviewed together about old blues musicians for a magazine," adds the softly spoken guitarist. "I was still a bit nervous on camera, though."
Born in Heston, Middlesex in 1944, James Patrick Page is the guitar hero's guitar hero, his playing style and copious stash of unforgettable riffs a key influence on countless other greats from Eddie Van Halen to Slash. Even the briefest of YouTube searches yields footage of him playing skiffle and being interviewed on the Huw Wheldon Show in 1957 aged 13, Wheldon's "What do you want to do when you leave school?" met with Jimmy's then wholly innocent "biological research", but now freighted with a certain irony given his (much) later, groupie-orientated adventures with Led Zeppelin.
Prior to forming the band with Robert Plant, John Paul Jones and John Bonham in 1968, Page had already toured America with The Yardbirds, the innovative "British Invasion" band that also launched the careers of Eric Clapton and Jeff Beck. Prior to that, moreover, he had a busy session career, his versatile guitar work gracing such landmark records as The Kinks' eponymous debut album and the Shirley Bassey-sung Bond theme "Goldfinger". It was Led Zeppelin, though – the all-conquering, Keith Moon-christened, "Stairway to Heaven"-penning colossus that could play almost anything better than almost anyone – that won Page's heart. And so, for better or worse, it has remained.
Given that Page founded the band and produced Led Zeppelin's nine studio albums, his keeper-of-the-flame status is understandable. The input of his equally gifted bandmates was crucial, but it was arguably Page's imagination, primarily, that propelled their stellar, if ultimately fraught career.
Page's heroin habit circa 1976's Presence took its toll (though not on the album's fantastic music), but he would beat it eventually. Far more testing, personally and professionally, was the sudden passing of John Bonham, whose death in 1980 grounded Zeppelin until that one-off reunion at the 02 in 2007, where his son Jason played drums.
After that gig, Page had hoped for a subsequent Led Zeppelin tour, but Plant's commitment to the O2 show had largely been predicated on it being a one-off tribute to the late Ahmet Ertegun, the Atlantic Records president who was also a close friend of the band. Plant also had a hit, later Grammy award-winning album with Alison Krauss on his hands.

Enjoy unlimited access to 70 million ad-free songs and podcasts with Amazon Music
Sign up now for a 30-day free trial
Sign up

Enjoy unlimited access to 70 million ad-free songs and podcasts with Amazon Music
Sign up now for a 30-day free trial
Sign up
The bassist John Paul Jones might have had more appetite for a Led Zeppelin tour, but he has since been snaffled-up by Them Crooked Vultures, the Top 20-charting supergroup comprised of himself, the Foo Fighter's Dave Grohl, and Josh Homme of Queens of the Stone Age. So where does this leave Page? Does he have new music on the way, or has he resigned himself to collecting gongs at the seemingly endless array of awards ceremonies that continue to honour Zeppelin?
"It's unfortunate that anything that I might want to do gets linked into whatever Robert Plant and John Paul Jones are doing," says Page, a little testily. "I intend to be making music next year and I've got lots of new music to present, okay? The only thing to say is that I should have started it a year ago. So I'm a year behind with what I'm doing – that's not too bad, is it? Some of these business things can get rather complicated, but I've managed to work my way through all that and see a way of getting on with it, thank God."
It Might Get Loud features a promising new Page instrumental entitled "Embryo 2". There have also been online reports of a 2010 solo tour by the guitarist, and a date at the inaugural Show of Peace concert in Beijing (there are plans to televise it and 100,000 attendees are expected) has already been confirmed for 17 April. What fans really want, however, is an album of new material, some forward-looking glimmer of the brilliant musical mind that once hatched layer on layer of imaginatively orchestrated guitars in the course of one evening. It's been 10 years since Page's last album, Live at the Greek by Jimmy Page and The Black Crowes, and that, good as it was, was ostensibly a best-of-Led-Zeppelin concert.
The Crowes' eagerness to mothball their own songs and undertake Live at the Greek was another measure of the high regard in which Page and Led Zeppelin are held. Watching It Might Get Loud, it's clear that Jack White and The Edge also see Page as The Guvnor. It's interesting, though, that rather than drawing confidence from this, Page seems to feel the pressing weight of expectation. "When I kicked the jam session off with 'Whole Lotta Love', I did it out of a kind of nervous energy," he says. "It was very spontaneous and there were no escape hatches."
In August 2009, one of Page's guitar heroes, Les Paul, died aged 94. "Les filled you with such joy when you met him," says the guitarist of the Waukesha, Wisconsin-raised legend. "He had wonderful charisma and charm, and had it not been for his intervention, the science of audio recording simply wouldn't be at the level it is today."
While Page is one of the legions of guitarists to favour the Gibson electric guitar of Les Paul's invention, even beyond that, it's easy to see why he bonded with the man born Lester William Polsfuss. Like Page after him, Les Paul was a master of layered guitar parts, his innovations in the field of multi-track recording and effects processing enabling the likes of Page and Jimi Hendrix to take the baton and run.
The most poignant scene in Guggenheim's documentary comes when Page returns, almost certainly for the last time, to Headley Grange in Hampshire, the 18th-century building where Led Zeppelin wrote and recorded "Stairway to Heaven". Gaining access was a coup, the house's current owners being understandably wary of the kind of blindly zealous Zeppelin fans who, in 2007, stole a front gate installed years after the band's last tenancy.
Wandering Headley's hallowed halls and playing the mandolin part for Led Zeppelin IV's "The Battle of Evermore" seems to open up something in Page, and he muses aloud about the time when he will become too infirm to pick up a guitar. "You just try to keep that day far, far away and out of sight," he says quietly.
'It Might Get Loud' goes on general release 5 January
Join our commenting forum
Join thought-provoking conversations, follow other Independent readers and see their replies