John Legend interview: Donald Trump will be impeached, it's just a matter of when Congress has the guts to do it
Musician and actor talks his recent album Darkness and Light, shaking up the academy voting system and a growing sense of victimhood among the most privileged people in the world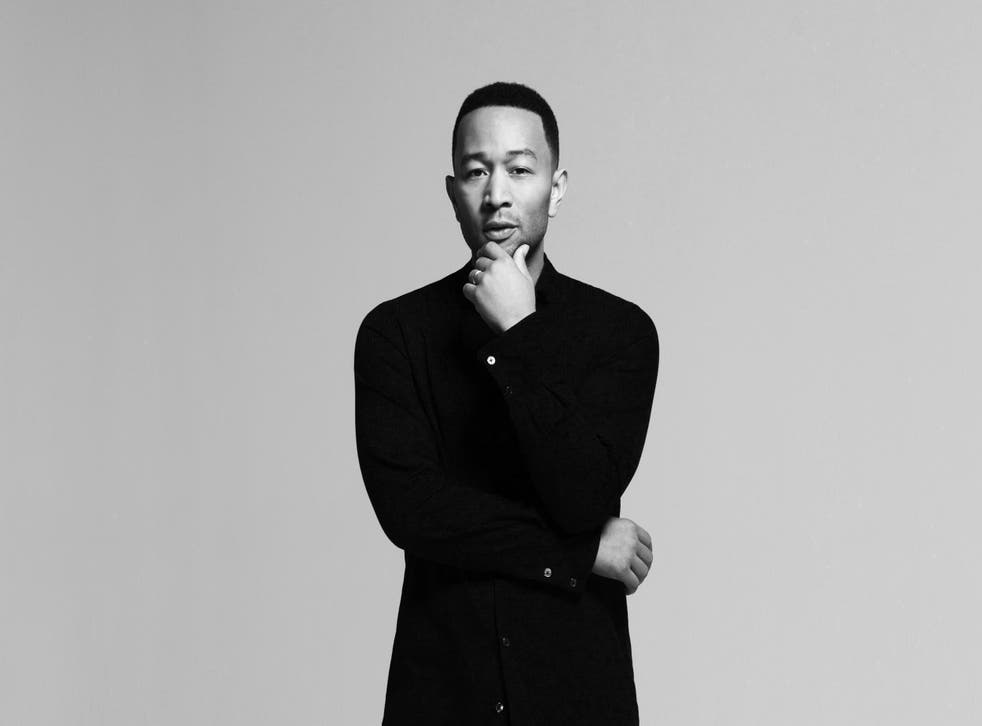 On the day Article 50 was triggered, John Legend turned up at King's Cross St Pancras to provide what felt like some much-needed fun on a depressing day, performing his massive hit "All Of Me" to delighted commuters.
The musician and actor is in London preparing for a huge tour in support of his latest album Darkness and Light – released in 2016 to considerable acclaim – which will bring a full band and live production to venues including the 20,000 capacity O2 Arena in London.
It sees Legend push himself out of his comfort zone into something altogether more ambitious, singing about navigating his celebrity status and the conflicted world we live in today.
Hearing what Blake Mills had done on Alabama Shakes' breakthrough LP Sound & Color, Legend approached the producer for his own record and the pair created what is arguably his best work to date.
"It's a really interesting blend on this album, all very soulful, and it feels like really honest, truthful music for me," he says, perched on a sofa in a room at the Savoy.
Despite the "in and out" process of this kind of interview he's relaxed, a wonderful soothing presence to be around – it's actually hard to imagine him raising his voice.
After appearing in the Oscar-winning film La La Land he admits he may have caught the acting bug but has yet to find something that can fully tempt him away from the piano.
"I'm kind of spoiled," he admits grinning, "after working with Damien Chazelle. Yeah, I'll do it again. It's just waiting for the right project and the right filmmaker."
Contemplating this year's awards season, Legend says that the voting system for events such as the Grammys – where he won Best Song Written for a Motion Picture alongside rapper Common for their track "Glory" (used in Selma) – could do with a shake-up.
Enjoy unlimited access to 70 million ad-free songs and podcasts with Amazon Music Sign up now for a 30-day free trial
Sign up
John Legend surprises commuters at St Pancras with piano medley
"Those things are hard because the voters are the voters and they make their own decisions," he says. "Sometimes it's based on what's sold the most, sometimes you have to ask 'who are the voters?' – what the composition of the academy is… but one thing I think they should do is make the voting electronic.
"At the moment they do it by mail which is crazy because of all the academies in the world musicians are probably the most transient. And you send us a paper ballot and expect us to return it in a few weeks, and we might be on tour.
"So sometimes a voting body might not reflect those musicians who are at the height of their careers, out touring… instead it could be artists who are retired, more conservative."
After Beyonce was snubbed for Album of the Year, Legend questions whether the Grammys has found the right balance between rewarding both commercial success and work that makes a profound artistic statement.
"Album of the Year should be hugely important albums that are high quality – and of course Adele's was that – but for a lot of people Beyonce made the most important artistic statement of the year, and she did it in a way that was hugely successful and groundbreaking and news-making.
"It just felt like all the things were aligned for her to win [Album of the Year]. So I feel like there are some reforms that academy could make to reflect the will of the creative community.
"Ideally the album should be commercially successful, it should be a big impactful album," he adds. "But we do have other awards that are strictly by the numbers – AMAs, Billboard… those are more numbers-driven."
Legend is one half of the most popular celebrity couple on social media; alongside his wife, model Chrissy Teigen, the pair have become favourites not only for their own respective work, but for the opinions they put forward on Twitter and Instagram – and Teigen in particular for her hilariously blunt commentary on their everyday life.
"We have fun," Legend smiles. "When we're on Twitter, we truly enjoy the interaction, it's not some planned out publicity scheme. We don't talk with our publicist about what we're gonna say…"
He notices his publicist nodding vigorously in agreement and laughs. "They wish we did sometimes, probably.
"We don't have some big strategy, we're just being ourselves. It's fun, it's natural for us. Obviously there's some negative interaction as well, and sometimes I just don't go on Twitter if I'm expecting a lot of negativity.
"When we were in the middle of the election season it was a weird time, everyone was arguing back and forth, and now we know that the Russians were sending bots to argue with us… There was a lot of negativity and sometimes you don't always want to engage.
"But when I'm sharing aspects of my private life it's because I feel good about sharing it. So it's all very natural and comfortable for me to do it, and I don't feel like it's an imposition because if I don't want to I just won't do it."
He puts forward an interesting suggestion for why – according to some critics – artists are less vocal about political and social conflict than they were in previous decades.
"In the Sixties and Seventies it was much more common for artists to sing and speak about politics," he says. "I think there was no sense of urgency until he got elected, and now people are genuinely worried about the future of the country. I think people had gotten comfortable.
"The difference between now and the Sixties and Seventies is the draft – every kid that was graduating from high school knew there was a possibility that they could be called to war in Vietnam without having chosen to do so. When politics is that real to you, that you can be called to a country thousands of miles away to fight and possibly die for a cause you don't necessarily believe in, then you feel a sense of urgency. People will protest, they'll write songs, people are engaged.
"So sometimes you need that sense of urgency to spawn a creative renaissance where we really talk about these issues. And between the Black Lives Matter movement and Trump getting elected… BLM really impacted a lot of black musicians and I think Trump getting elected will impact an even larger body of musicians."
Does he think the US President will be impeached?
"I do think he will, yeah," Legend says simply. "I think he's already done enough to be impeached. Now it's just a matter of when Congress has the guts to do it.
"And it may not happen until after 2018, but it may happen sooner if enough evidence is presented against him. I'm not super optimistic for a Mike Pence presidency either, but at least I think he's not insane. He doesn't seem like he's a psycho."
The idea of a Pence presidency has been viewed as potentially worse than Trump's, particularly when it comes to his stance on LGBTQ rights. Legend, who performed vocals alongside Ariana Grande on the lead track for Beauty and the Beast, says the controversy around that film and a so-called "gay moment" is part of a growing sense of victimhood among white straight men.
"I couldn't believe it [Beauty and the Beast] was a controversy but then I was just like, I guess I can believe," he says with an exasperated laugh. "Who knew? I've seen the movie twice and it's all very innocent anyway, it's a kid's movie, it's not like they're showing anything graphic. People have gotta get over it."
"Donald Trump represents that sense of being 'put-upon' and victimhood among the Christian white straight man," he continues. "And I feel like they have a bit of a backlash against anything that celebrates another type of existence whether it's women, LGBTQ, people of colour…
"There are some that feel like any type of inclusion, any interruption of the overall domination of white men, is some kind of front. Which is weird because they're still doing fine, they're still winning. We're just asking to have a seat at the table.
"You see that reaction in some of these elections in the US and Europe," he says, pausing for a moment. "Hopefully everyone will calm down and stop operating out of fear and be more accepting of each other's differences."
Darkness and Light, the album by John Legend, is out now. He tours the UK from 8 September 2017
Join our new commenting forum
Join thought-provoking conversations, follow other Independent readers and see their replies