John Legend interview: 'All of Me' has taken my fame to another level
With his latest piano ballad ruling the airwaves, John Legend discusses his upsurge in popularity – and much misunderstood collaborator Kanye West
Craig McLean
Friday 06 June 2014 14:33 Comments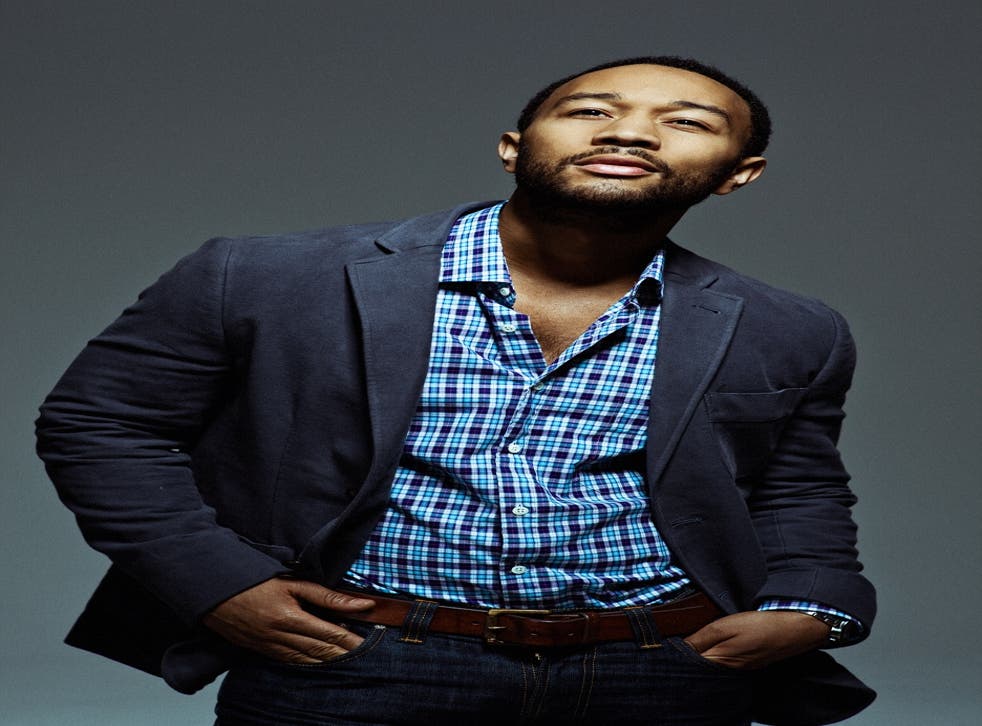 Sunday morning in Las Vegas, and even the bleary gamblers crowding the lobby of the MGM Grand hotel-casino-theatre complex wouldn't have bet on the John Legend success story. Ten years after signing a record deal, the R&B singer-songwriter is enjoying the biggest record of his career, and the most ubiquitous transatlantic hit since Pharrell's "Happy".
When we meet in mid-May, Legend's "All of Me" – the third release from his fourth album, Love in the Future – is No 1 in the Billboard Hot 100, having dislodged "Happy" after ten weeks at the top. In the UK it reached No 2 in early April; at the time of writing, it's still in the Top 10.
Yet even though he's a nine-time Grammy-winner, Legend's album sales had been declining, and neither of the previous singles from Love in the Future cracked the American Hot 100. Nonetheless, this is an old-fashioned smash: the piano ballad steadily climbed the charts over here and over there, without splashy fanfare or hype. In the UK, "All of Me" has been on the charts for 19 weeks; in the US, 31 weeks.
The 35-year-old from Ohio is in Las Vegas to play at the Billboard Music Awards, alongside such big-hitters as Justin Timberlake, Katy Perry and Lorde. But curiously, he's not nominated.
"'All of Me' wasn't really big enough at the time when the awards were calculated," Legend says, without reproach, as we sit down in an empty guest room in the hotel. "It was too early for me, I guess. But I guess it makes sense for Billboard to have the current No 1 single on the show."
A quiet, mellow and methodical man, Legend ticks off the song's achievements. On the Hot 100, it's the first R&B ballad to top the charts in 18 years, since Mariah Carey's 'Always Be My Baby'. "But when it comes to piano-and-vocal singles, there's only ever been three of them – this one, Adele's 'Someone Like You' and Bruno Mars' 'When I Was Your Man'.
"The biggest thing for the song was my Grammy performance," he says of his spellbinding rendition of the song at January's televised awards ceremony in Los Angeles. "It took it from here to there." He smiles. "You never know what's gonna propel these things."
Legend was moved to co-write "All of Me" with songwriter Toby Gad (Beyoncé's "If I Were a Boy") after receiving an email from one of his managers. "She's an old friend of mine and she said I should write a song with a similar message as Billy Joel's 'She's Always a Woman'. She knew my relationship with my then-future wife, so she thought I should write a song like that to Chrissy."
Chrissy is Chrissy Teigen, a model who Legend met on the set of the video for his 2007 single "Stereo". They were married last year, and the video for "All of Me" – featuring Legend and Teigen rolling around intimately – incorporates footage from their Lake Como ceremony. Like the matchmaking clip for "Stereo", it was directed by Nabil Elderkin. A perfect matrimonial circle, or band of gold, in every sense. Little wonder that "All of Me" is already a wedding standard and piano-bar fixture. Indeed, the pianist in my hotel was playing it the night before I left to meet Legend.
Enjoy unlimited access to 70 million ad-free songs and podcasts with Amazon Music Sign up now for a 30-day free trial
Sign up
Love in the Future was released last August. Factoring in its bonus tracks, it's a towering, 20-track monument to the songwriterly craft of modern R&B, melding the vintage feel of Donny Hathaway with the cutting-edge sonic nous of executive producer Kanye West. But still, there was no room for "Trouble".
I heard the song last January in the London studio of producer Paul Epworth. He'd been working with Legend on a few songs – one of them, "Who Did That to You", would end up on the soundtrack of Quentin Tarantino's Django Unchained. "Trouble" was a terrific soul stomper, the tale of a man who turns to crime to feed his family. It sounded like a hard-boiled sequel to Aloe Blacc's "I Need a Dollar". But Epworth said that the song's inclusion in the tracklisting had been nixed by West. It didn't fit, seemingly.
Legend confirms the story.
"There was a bit of a disconnect. And I agreed with that. 'Trouble' just needs the right musical setting, because it didn't fit Love in the Future at all. But I love the song, and I will put it out. It reminds me somewhat of 'Hard Times'," he says of his cover of the Curtis Mayfield composition. It was the lead track on Wake Up! (2010), the Grammy-winning album of agit-soul classics that the rigorously politically-engaged Legend made with The Roots.
West and Legend are old friends and peers. What do people get wrong about the temperamental rapper and fashion-plate? Legend gives the question some thought before answering.
"Well, I mean, he says what he says," which is one way of describing West's penchant for the provocative and the egomaniacal. "And obviously a lot of these things he says are impolite. Or, things that people aren't use to hearing people who care about their image saying!" Legend laughs. "But I've seen all sides of him: I know how generous he can be, how passionate he is about art and creativity, and how much he truly loves making music and designing clothes and making ideas.
"People see negativity coming from him sometimes, but what I see is his true love for art and music. And that makes him one of the most important and prolific and creative artists we have in the business."
Legend has his own full slate. He's in the midst of a huge American tour of smaller cities and towns, taking a conversational, Evening with John Legend-style show to theatres. He'll be bringing that to the UK in autumn, but not before doing another American tour – the success of "All of Me" has necessitated a summer run of amphitheatres.
He's active in the film world, too. Having curated a soundtrack for 12 Years a Slave, Legend's Get Lifted Film Co. are producing two movies: a "Flashdance-type" project called Breaking Through, and The Black Count. The latter, to be directed by Cary Fukunaga (HBO's True Detective), tells the true story of Alexander Dumas's father. "He was the highest-ranking military officer in Europe who was black – ever. He was the child of a Haitian slave, and became a general in Napoleon's army."
But more immediately, John Legend is riding the wave of "All of Me". If proof were needed of the song's cultural impact, a week after we meet Legend is in Florence for what the gossip mags – and the betrothed – would have us believe is the Wedding of the Century: the nuptials of Kanye West and Kim Kardashian. And, of course, Legend performs "All of Me" for the happy couple.
It's another "moment" for the song. While Legend has been well-known for a long time, in Las Vegas he admits to me that "All of Me" has taken his fame to another level.
"This is the first song I've had that's truly been a huge crossover hit," Legend says appreciatively. "It's just exposed me to fans who don't listen to R&B radio." He pauses and smiles again. "Frankly, more white people!"
'Love in the Future' is out now on Sony
Register for free to continue reading
Registration is a free and easy way to support our truly independent journalism
By registering, you will also enjoy limited access to Premium articles, exclusive newsletters, commenting, and virtual events with our leading journalists
Already have an account? sign in
Join our new commenting forum
Join thought-provoking conversations, follow other Independent readers and see their replies