John Mayer interview: Big mouth strikes again
But this time it's with his music. John Mayer tells Tim Walker how he holed up in Montana to leave car-crash interviews and provocative tweets behind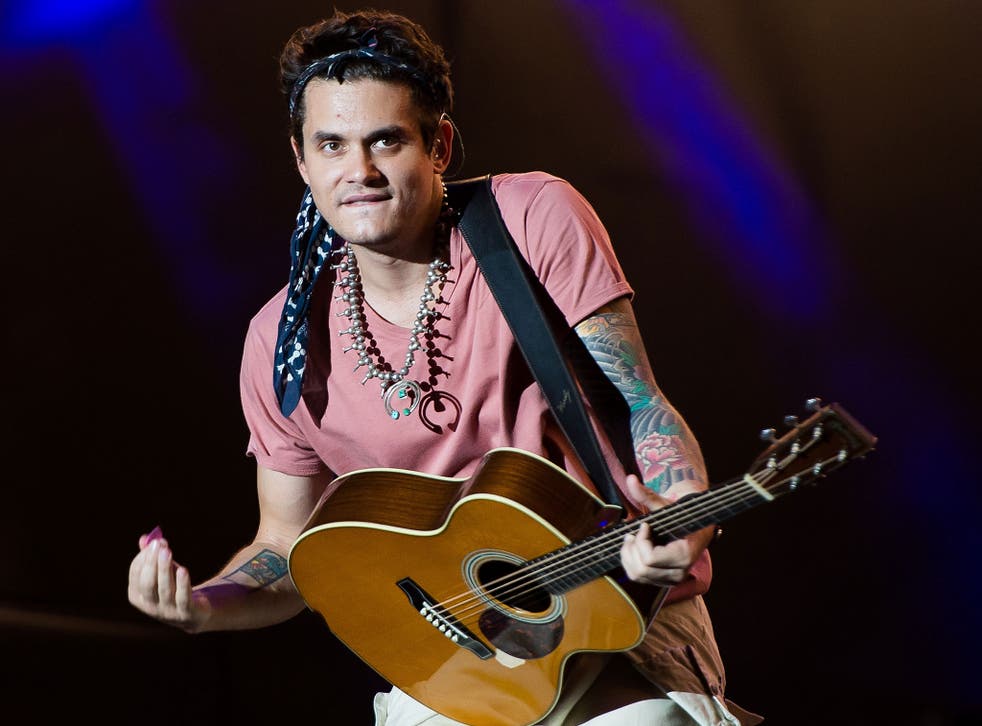 It's a cool Saturday night in LA, and John Mayer is nearing the end of his sell-out show at the Hollywood Bowl. Pausing between two bluesy guitar shreds, he cups the mike in both hands as if to kiss it, and delivers a rambling, heartfelt thank-you to the capacity crowd. Wrapped in his gratitude for their fandom is a clear acknowledgement: that to openly enjoy Mayer's music is to defend it, and him, from your more sceptical friends.
Until a couple of years ago, the punch-line to most anti-Mayer jokes was his cheesy, acoustic breakthrough single from 2002, "Your Body is a Wonderland". But the rap sheet steadily grew longer: the singer-songwriter stood accused of being a celebrity serial monogamist, a "douchebag" and a love-rat. The last of these charges was most infamously articulated in "Dear John", a hit song by one of his former conquests, Taylor Swift.
When we last met, during his 2010 tour to promote his fourth studio album, Battle Studies, Mayer was a great interviewee: talkative, thoughtful, funny, always tiptoeing to the verge of indiscretion. Weeks later, he stumbled across the line in a pair of conversations with Playboy and Rolling Stone, published almost simultaneously. Recklessly frank about his porn habits and his past relationships, he also used the "N"-word in a bold but failed stab at semantic sophistication. His critics saw merely the racial slur, and the proverbial hit the fan.
Until that moment, Mayer had been an active – if divisive – presence online, always ready with a quote or a pithy tweet or a YouTube video. Confronted by a gossip reporter with a video camera, he'd casually discuss his latest break-up. He sought incessantly to convert those who doubted him. "Haters were a conquest to me," he now admits. "I always felt as if I was a day away from figuring out the vaccine for the hatred."
But in the aftermath of those interviews, overwhelmed by the torrent of online vitriol, he withdrew from public life, and vanished from the web. "I'd wanted to for so many years," he says, "but I wasn't strong enough to step away. It took that nuclear blast to blow me out of it. I couldn't even stomach a Google search after that. It wasn't like I picked a day and said, 'the diet starts tomorrow'. This was like somebody coming in and stapling my stomach in the middle of the night."
So Mayer deleted his Twitter account and holed up in a New York studio to record the stripped down (by his standards) Born and Raised, released last year to widespread acclaim. Yet just as he was preparing for the subsequent tour, disaster struck again: after being diagnosed with granuloma, the singer underwent two throat operations, followed by Botox injections designed to paralyse his vocal cords so they could heal. The preternaturally verbose star became literally, mandatorily silent.
At the Bowl, Mayer dedicates a song, "Speak For Me", to the man who saved his voice and thus his career, throat surgeon Dr Gerald Berke. These days, the 35-year-old believes his enforced hiatus was, in fact, a blessing. Not only did it allow him more time for reflection, but it also led him to the corner of the north-west USA after which his new record, Paradise Valley, is named.
Following his vocal surgery, Mayer set off with some friends on a road trip that took them through the town of Bozeman, Montana. His producer and sometime roommate Chad Franscoviak happened to pick up a real-estate magazine, which Mayer flicked through and got to thinking. He called an estate agent, told her the sort of property he'd consider buying. "She said, 'I've got one place that I think you're going to like'. She showed it to me at dusk, and I just knew."
Originally intended as a vacation retreat, that house, set in 15 remote acres on the banks of the Yellowstone River, has become home. Mayer shed his LA property and is in the process of selling his New York apartment, leaving the two largest cities in the US for one of its least-populated states. It was, he says, "like throwing a dart at a map and saying, 'that's where I'm going to live'.
Enjoy unlimited access to 70 million ad-free songs and podcasts with Amazon Music Sign up now for a 30-day free trial
Sign up
"There's all these struggles and stressors and conflicts every day [in the city] that you don't even notice," he goes on. "But waking up happy and going to bed happy, with contiguous happiness throughout the day, is very rare. You think: 'I'm sure they're saying my name somewhere. Somewhere, some hideously underpaid blogger is typing my name, and they're either saying I'm great or I suck, but I don't hear it and I don't see it.' It's the most remarkable feeling I've ever had in my life – to be truly content, and to have that contentment not up for grabs by other people."
Paradise Valley is no major departure from Mayer's earlier work, but, taken alongside Born and Raised, it represents a turn away from the ultra-produced blues-rock of Battle Studies and its predecessor, Continuum, towards more rootsy, raw, folk-inflected territory. Mayer name-checks Neil Young in "Queen of California", the opening track on Born and Raised; he covers a Grateful Dead song at the Bowl; and, during our conversation a day earlier, he cites a new collection of Bob Dylan demos as his preferred listening of the moment. "You get to an age where, all of a sudden, Dylan resonates," he says.
His sense of being settled and mature is attributable, too, to his current girlfriend, Katy Perry, who appears on Paradise Valley in "Who You Love", for which she wrote her own verse: "My boy, he ain't the one that I saw coming/ And some have said his heart's too hard to hold/ And it takes a little time, but you should see him when he shines/ 'Cause you'd never want to let that feeling go." The song has the pleasing effect of rebutting the "love-rat" haters. "I think it came out in a really loving way," Mayer says. "It was really interesting to produce an artist I respect so much, and also to know that it could bleed over into home. It's not for the faint of heart, but it was great."
For my money, though, the most affecting track on the album is "Dear Marie", a deceptively simple acoustic blues about the singer's vain attempts to track down his high-school sweetheart online. Marie is a real person, though not by that name. "I'm not the only person to say it, but in some ways you're forever the age you were when you first got famous. And there was really only one girl I ever went out with before things got complicated by my holding a guitar onstage."
Nowadays, Mayer suggests, he's content to ply his trade, ignore the haters, and stick to the sidelines while others suffer the sort of treatment he's managed to put behind him. It's not a stretch to suggest he's referring to the likes of Rolling Stone's most recent cover star, Miley Cyrus.
"There are people in public life right now who are trying really hard to recalibrate people's sense of them," he says. "They get called douchebags, and maybe they're behaving like douchebags, [but] these are ambitious people. And I have a lot of sympathy for ambitious people who don't know when to stop."
'Paradise Valley' is out now
John Mayer plays the O2 Arena on 20 October and Wembley Arena on 26 October. Paradise Valley is out now.
Join our new commenting forum
Join thought-provoking conversations, follow other Independent readers and see their replies