Jon Bon Jovi: The man and his band on the road
To his critics, he's just an over-coiffed mediocrity. To his fans, he's a living rock god. To himself, he's just a kid from New Jersey who got very, very lucky. But one thing's for certain: Jon Bon Jovi's latest world tour is the quintessential rock'n'roll experience. Ed Caesar joins the man and his band on the road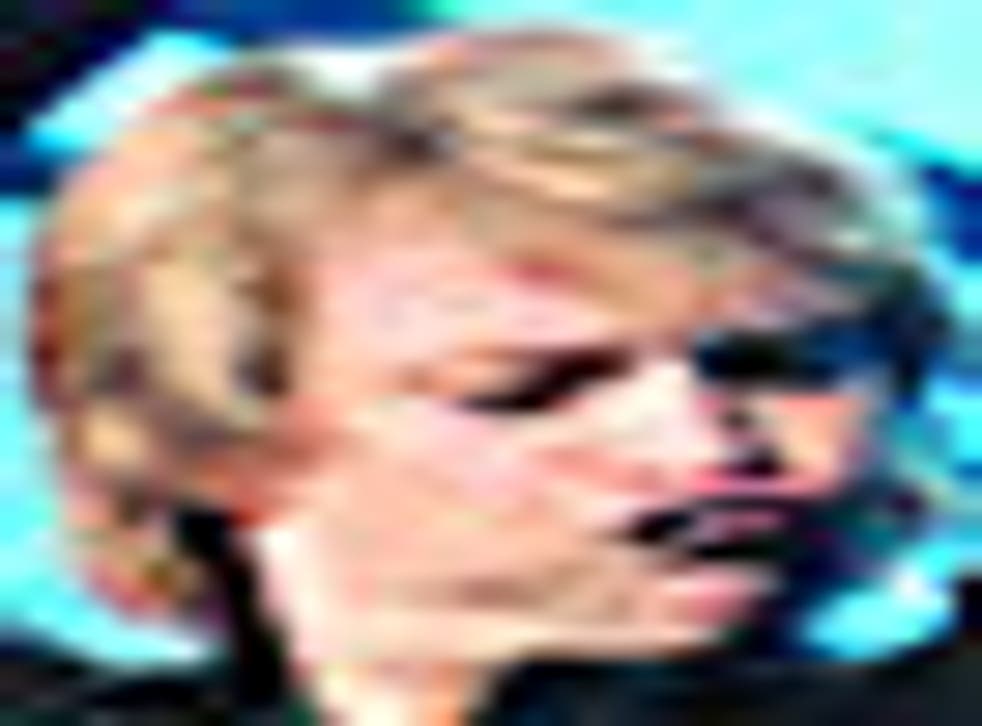 Düsseldorf, 12 May 2006
You can tell who's in the band. They're the middle-aged guys acting like teenagers. Take guitarist Richie Sambora - full-length tracksuit, cap on back to front - high-fiving with the crew. Or Dave Bryan, hair falling in ludicrous blond curls, playing with the "strings" function on his synthesiser at ear-puncturing volume. Or Tico Torres, battering his drumkit like his dad just gave him his 15th birthday present. The only one not joining in is the serious-looking character up front.
It's Friday night in the Landeshaupstadt arena, Düsseldorf. The stadium, which tomorrow night will host 55,000 screaming fans, is deserted. Well, nearly. There's the band, of course, hundreds of roadies, uniformly massive and goateed like pro wrestlers, and the odd meddling journalist. But the sound fills the arena to bursting.
On stage, the boys are running a sound check. Mostly, that means making sure their instruments still sound very, very loud on the cliff-like banks of speakers. They fine-tune some new numbers while the crew scuttle around them, taping things down, fixing things up and carrying spare guitars. You know the rehearsal is going well because it's punctuated by regular whoops from Richie.
"That's it my brother...! Yeah, you got it going on...!"
Outside the stadium's service entrance, a fleet of black Mercedes waits, ready to spirit the band and a dozen members of the immediate entourage back to their Cologne hotel. And, in the production office, by Fortuna Düsseldorf football club's home dressing rooms, laptop-toting managers and producers are tweaking the operational details for tomorrow's opening-night extravaganza. One anxious facilitator approaches with a missive from Mr Bon Jovi.
"Jon wants to do this now."
If Bon Jovi is a business (and 100 million album sales is very definitely a business) then there is no doubting who is the CEO. Despite the vastness of the travelling team (the European leg of the Have a Nice Day world tour employs more than 130 managers, road staff, chiropractors, cocktail-shakers, lighting designers and flight attendants) they all share one verbal characteristic: they say the word "Jon" more than is natural, and with more reverence than might be thought seemly. And, over the coming weeks, not one of the employees of Bon Jovi Inc. will utter one negative word about their boss. Indeed, despite the bonhomie, the songwriting collaborations, and public declarations to the opposite, Jon Bon Jovi is Bon Jovi.
As the door to his dressing room is opened, there's a palpable shift in atmosphere outside, where half a dozen trusted deputies are stationed. Jon is short, but not tiny (think Michael Owen, not Tom Thumb), wearing a T-shirt tight enough for his tanned, muscular arms to get a good show. The hair, once the standing joke of the rock world, is more respectable in its 44th year than it was in its 21st - blond (artificially), a touch feathered, and shoulder length. The glare off his teeth could solve the world energy crisis. (He later admits, with a pinch of understatement, that he has "a close relationship" with his dentist.)
****
"Come in," he says. "Wanna drink?" He pours a Coke, and adds: "Don't say I'm not a good host."
Was that a welcome or a command?
"Doing interviews blows," he continues.
And, as I'm wondering whether "blows" means the same as "sucks", the rock star is off, filling the silence with pre-cooked statements on the state of the Democratic Party; how downloads are killing the music industry; the melting of the icecaps; the need to eradicate homelessness; and the bonuses of record-label bosses. He says he hates the fact that Bon Jovi are seen as a "guilty pleasure", and gives a weary sigh when asked about the critical acclaim that has always eluded his band.
"But, whatcha gonna do?" he shrugs, sounding every inch the New Jersey boy.
With that, he stands up and heads for the door.
"See you in Dublin," he says, over his shoulder.
****
Dublin, 20 May 2006
It's 2pm, and the stage at Croke Park, a north Dublin behemoth, is fully operational. The crew has already been working for seven hours, and they have 11 more to go. Their leader, a bear of a man called Bugzee, has been touring with Bon Jovi since 1986, and has been on the road since 1971, when he came to England with a little-known American college band called McKendree Spring. The scale of his responsibility is enormous. He leads three separate road crews that leapfrog one another throughout the tour. Each team has 10 massive trucks full of staging. Added to these three teams are two advance teams, who also leapfrog each other - with four trucks each full of weather protection, rigging, power cables, and all the things that must be installed before the stage can even be put up. The screen at the back of the stage alone needs four trucks to haul it around. No one, says Bugzee, gets much sleep.
"But then again," he says, "try going into an office every day. None of these guys could do it."
With the set up and running, there's a strange calm in the arena. It's more than can be said for the Four Seasons Hotel, where the band have holed up. At 1pm, the front entrance resembles the forecourt of a Mercedes dealership. The lobby, meanwhile, is a whirligig of competing interests. Bon Jovi's presence is responsible for the curious guests, permasmile porters, drivers and sundried members of the touring carnival. By coincidence, a wedding party is also trying to leave the hotel. It's the start of a long day for both groups, and there will be entertainment later watching the two worlds collide. (One priceless moment occurs just after midnight in the hotel bar, when a wedding guest buttonholes a member of Bon Jovi's support band, Nickelback, with: "Hey, aren't you the singer from Nickelodeon?")
Enjoy unlimited access to 70 million ad-free songs and podcasts with Amazon Music Sign up now for a 30-day free trial
Sign up
Over at Croke Park five super-fans have already turned up. It's 3pm. Bon Jovi won't be on stage for five hours. Julia Eaton, Cheryl Norman, Danielle Pakes, Kat Haeusser and a gothic woman calling herself "Black Velvet" share a love of Bon Jovi, and, it seems, heavy make-up. Three are English, one is Australian, and one, naturally, is German. Between them they have clocked up 900 Bon Jovi gigs, travelling together across continents to be with their idols. Five years ago, Jon was so impressed by their fidelity that he issued all the women with free tickets for life, along with backstage passes.
These five have invested a ridiculous amount of time, money and energy in Bon Jovi. Why? Do their other friends know of their addiction?
"My close friends know about it," says Danielle. "But if you meet new people you don't really go into it."
Why?
"Because people just think we're nuts."
What is revealing about this posse of obsessives is that, even though they're within their rights to flash a backstage pass and meet their heroes, they never do so. The relationship they crave is straightforward. The girls are the entertained. The band are the entertainers. Full stop.
It was not ever thus. At the height of the band's success in the late Eighties, when Bon Jovi were considered "the biggest band in America", you couldn't move for libidinous females. The band's old security guard, Michael Francis, recalls how groupies would sleep with roadies just to have a shot at sleeping with the band. But things are different now. The boys have grown-up issues to deal with. Jon has been married to his high-school sweetheart Dorothea, with whom he has four children, for 18 years. And Richie, always the man with the beautiful woman on his arm, is dating the actress Denise Richards, while also embarking on a custody battle with his estranged wife, and Richards' friend, Heather Locklear.
This is not to say that the band have lost the ability to party. But there is a mellower edge to it now. A night out is much more likely to start with dinner than an orgy. And the drinks of choice tend to be more sophisticated; Jon admits a predilection for fine wine, and says, in inimitable style, "those big bordeaux reds are killer". And Richie's on-stage cool-box always contains a bottle of chilled pinot grigio, presumably for those times when only a light, fruity Italian will provide adequate mid-performance refreshment.
****
On every show day, at 5pm, Jon eats his pre-performance meal. As he chews on a grilled chicken breast, some limp pasta and anaemic-looking greens, he looks relaxed - happy that his family have flown in for the gig, and happy to be in Dublin. Some of his greatest concerts have been here, he says, including one notable, rain-sodden event five years ago at the Royal Dublin Society. Jon recounts how he had told the crowd that the raindrops were angels' tears, "because they didn't get a ticket to the sold-out Bon Jovi show".
"Right there, on the downbeat, there was thunder, and a big bolt of lightning. And I fell to my knees, afraid, and I crawled back to the microphone stand, and I stood up. I said, 'I didn't know you Irish were so connected!' They loved it. The place went batshit. The paper ran a headline the next day - EVEN GOD WENT TO THE BON JOVI CONCERT. What an unbelievable night."
As Jon finishes his meal, he starts to play with the set-list. He knows a Dublin audience don't want any slow songs, so he mixes up a list of high-pep Bon Jovi favourites, ancient and modern, to whip them up. When he's finished - and that won't be for another hour - the hand-written list is taken from him and printed up for the rest of the band. The bassist, Hugh, describes over a post-gig drink how Jon's choices can be unpredictable: the Dublin show, for instance, contained a rendition of "Garage Band", a number the band have played maybe twice in two years.
"I got the list in the car and thought, 'Shit, Jon!'" he laughs. "I got to learn that song over."
****
Mischief-making aside, Jon is strikingly adult. He talks, for instance, with a kind of staccato eloquence about causes close to his heart. He recalls his financial support for the presidential campaigns of Al Gore and John Kerry, and complains, wistfully, that the world would have been a better place were Gore to be President now. He says a preview of Gore's film, An Inconvenient Truth (about Gore's campaign to raise awareness of climate change), blew him away, and that he hopes "a fire will start, and maybe [Gore] will run again." He admired Bill Clinton's efforts to "straighten out the Welfare system", and talks of how the ex-President got "punched out" on healthcare.
Jon has never wanted to be a politician. But he has discovered that - in that hackneyed phrase - he wants "to contribute". To that end, he and Sambora bought The Philadelphia Soul, an Arena Football League team (an abbreviated form of American football). All the proceeds the team makes now are channelled back into philanthropic gestures. Last year, for instance, The Soul were responsible for building 26 shelters for homeless.
Where do this philanthropic urge come from? Is Jon guilty about the hundreds of million dollars he has made?
"Guilty? Fuck, no!" he says. "I worked my ass off for that money. But money's only a good thing if you do something with it."
Jon is fired up by this subject. And as he talks, his hero worship of Frank Sinatra becomes apparent. Sinatra, a fellow Italian-American singer-actor from New Jersey, was the subject of his biggest hit single ever, "It's My Life", in 2000, and remains his role model. Jon admits to having read The Way You Wear Your Hat, a profile of Sinatra, twice in recent months.
"What I really got from that book," he says, "was that Frank was a great ideas guy. He was the guy that made things happen, whatever he was doing - he didn't want to deal with the minutiae. But he knew exactly what he was doing. He might have come off a little like the crazy uncle sometimes, but he knew exactly what was going on. And he was incredibly generous, too - always buying everybody a drink. Didn't matter how much money he had, gave it all away. Took care of everybody."
After this skittish encomium, Jon falls very quiet. He leans forward, earnest.
"One of my few regrets," he says, "was that I never met him. It would have been quite an engaging conversation to have now. I'd love to sit and talk to him now. Not then. I would have had nothing to say to him then."
What has happened between "now" and "then"?
"I'm... finding another way. There's just something in my psyche telling me, I'm here for this short period of time. What am I going to do to make myself felt here? In some way. Not just as an entertainer. That's just what gets me in the door. I have come to a place and a level in my life that says there's got to be more to it."
****
For now, thrilling 70,000 people will have to do. It's 10.50pm and the night has turned cold. But for the lighters and the camera flashes, Croke Park is in darkness. Bon Jovi have played their final number - the last notes in a performance that started at 8pm - and the crowd have gone wild. Again. The mums and the dads in their original Slippery When Wet T-shirts have gone wild. The twentysomethings, who may or may not choose to talk about their Saturday night when they turn up to work on Monday, go wild. The teenagers, whose numbers are legion, go wild. New recruits to the band's fanbase, they've learnt the words to hits from the 1980s - a time when both they, and Bon Jovi, were coming into the world.
Everyone wants one more song, but it isn't coming. There is a strict 11pm curfew, after which the police start getting interested. Jon runs from the stage, with one last 1,000-watt smile and a hand on his heart. He's wearing a Stars-and-Stripes denim jacket and a pair of black trousers so tight they'd contravene decency laws in several American states. And tonight, he has delivered a set so spirited that even the harshest of Bon Jovi's critics - and there are a few - would have been stirred.
"The best live band in the world," says Eamonn, a local boy and lifelong fan, who's secured a spot 10 yards from the stage. "Better than U2. Better than the Stones. The best."
Bon Jovi abandon their instruments and run through to the back of the stage. The police sirens fire up, the band jump into their limos, and the cavalcade steers its way through hundreds of fans. Richie's on his way to an executive jet tonight, but the remainder of Bon Jovi will wait until Wednesday to board their private plane back to Germany. Riding in the front car is Vicky, who calls everyone "sweetie" and has been the band's tour flight-attendant for 20 years. Serenely unbothered by the shaking windows and the motorcycles speeding past, she describes how, to stop her "boys" getting homesick, she feeds them with the things that remind them of home - Bazooka gum, Tic Tacs, chocolate-chip cookies, and Double-Stuffed Oreos. And she cooks meatloaf, the boys' favourite, for the first and last flights of every tour.
"They're like my babies," she says. "I love to spoil them."
****
Munich, 28 May 2006
In the gloaming, the wide, reclining banks of the Olympic Stadium in Munich burst with life, while, down the steps at the furthest end of the stadium, the floor has filled like an ant colony. The crowd are already singing as the band close the door of their room behind them, just before 8pm, quiet and focused like it's fight night. Jon shoots a little grin and raises a "V" signal, before he and the band relive the Goodfellas Steadicam shot - from the dressing room, down a concrete stairwell, along a galley, through the steaming kitchens, past the parked trucks, and finally to the stage.
Earlier in the afternoon, outside the Mandarin Oriental Hotel, hundreds of digital cameras had awaited a momentary glimpse of their heroes on the four-yard journey from the hotel to the door of the limousine. And, as the crowd gathered below his first-floor suite, Jon had explained why he thought critics had always panned him, and his band.
"I guess our music is the kind that's easy to pick on," he says. "The accusation is, if rock'n'roll is meant to about rebellion, then how can a parent and a child go to the same rock show? And I think, hey, that's actually right - I hear you, I agree. But on the other hand, I own that turf. It's mine. None of my peers got that, and none of the guys that came up when I came up are ever going to get that. So I'm not looking for the cover of Uncut magazine. I don't know any of the guys in Uncut."
There's another accusation that's levelled at Bon Jovi, though - that their lyrics are unexceptional, a little straight forward. That you wouldn't have to have a great grasp of English to get something from "I'd hold you/ I'd squeeze you/ I'd get down on my knees for you." Jon agrees.
"Sure, I want those songs to be universal. I want them to be so everyone understands them. That's exactly what I'm trying to do. To me that makes those songs more timeless - that you can have those universal spins on what the words are saying. But sure, there are specific things that inspire me. Take "It's My Life" - that song was so specific to me making U-571, finally getting my foot in the door of the movie business. It was specific to me finding Frank Sinatra as a role model. It was specific to not having made a band record in five years. But no one gave a shit. Frankie became their buddy, their husband, their brother. And I love that."
"And, you want to talk about specifics? Listen to me rip my guts out on "Bed of Roses". That's from my least successful commercial album ever. When I wrote those words, "wasted and wounded" I was hungover as Jesus could be, trying hard to write this song, with a bottle of vodka kicking me in the head and I was fucking puking and this blonde was still in my bed. You think that was fiction? It wasn't. But no one's ever asked me what that song is about, so I've never felt the need to tell anyone."
That night, on stage, this accusation is still ringing in Jon's head. During "Radio", he recounts the highlights of our afternoon conversation to the crowd. He tells them how a guy asked him, "why my songs are so universal. Why all these people love Bon Jovi but we're never in the critics' Top 10. Well, we're all on this little pimple called Earth, together. And we're all the same. And as long as I'm feeling you and you're feeling me, well, we'll all just keep feeling it together..."
He then proceeds, with tears in his eyes, to rip his guts out on "Bed of Roses".
The crowd's response is positively volcanic.
****
At 2am, most of the band have gathered round a table to drink "Concoctions" - a post-show rite of passage. It's a cocktail only a band would invent - one part vodka, rum, gin, triple sec, midori and cranberry juice. Richie's on his fourth one, and seems curiously unaffected by them. Across the room, Jon has been cornered by a chatty couple, but he finds an exit by asking if anyone wants a drink. He's got a glass of iced pinot grigio in his hand, and he hands another one over his shoulder, deftly breaking up the little circle that has gathered around him. He's a little down tonight, even after the reception he left a little over three hours ago, because his team, The Philadelphia Soul, have just lost in the play-offs.
"I guess I'm just like 99 per cent of people," he says. "They go to work, get their paycheck, fall in love and watch the game."
There you have it. The reason 80,000 people sang along tonight, and why 32 million have done so, in stadiums worldwide, throughout their career. It's because they know Jon Bon Jovi's enthusiasm, like his haircut, is unironic. Because the ludicrously handsome figure before them wants to be with them as much as they want to be with him.
Join our new commenting forum
Join thought-provoking conversations, follow other Independent readers and see their replies