Judith Hill: A little voice grows louder
She sang with Michael Jackson and Stevie Wonder. Now the 29-year-old, one of the backing singers in the Oscar-winning film '20 Feet from Stardom', tells Sarah Morrison why she wants to step into the spotlight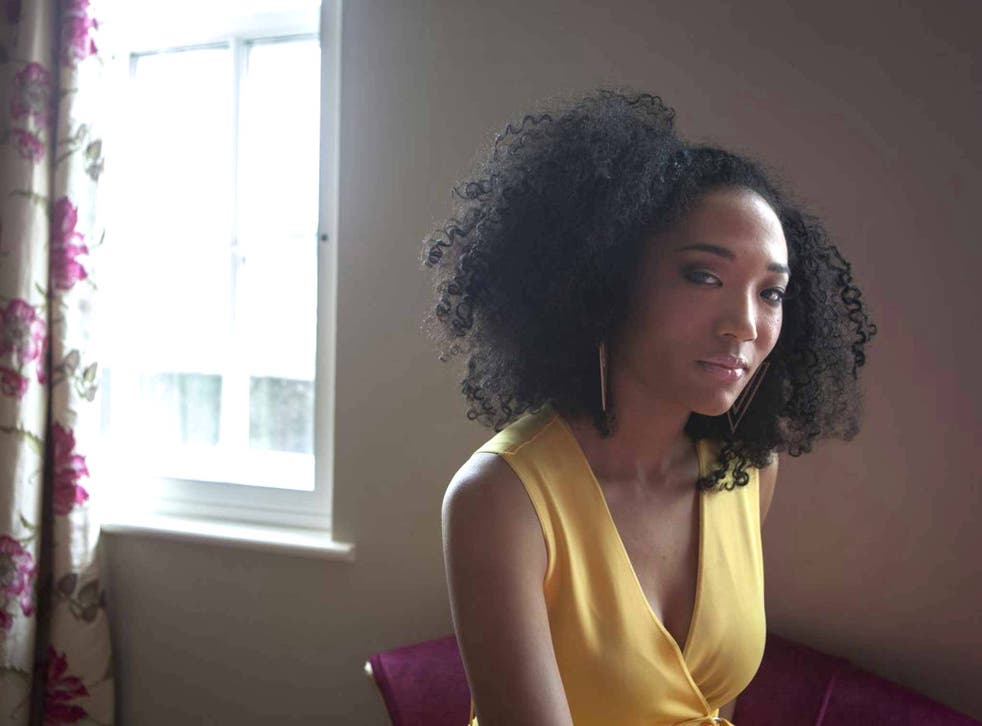 She has sung with the King of Pop, Stevie Wonder, Elton John, the Roots and Kylie Minogue. But given the choice between joining "Stevie" on another glamorous tour and travelling around small clubs in America with her own band, former backing singer Judith Hill knew what she had to do.
She had to go it alone. She has had more than enough experience singing behind the stars, as shown in the Oscar-winning documentary 20 Feet from Stardom, which is released this weekend. The film, which chronicles the stories of the backing singers working for some of the greatest musical legends of the 21st century, depicts what life is like for those whose job it is to make others sound good.
For some, it is heaven – they get to sing to huge crowds without bearing the responsibility of fame on their shoulders. For others, it is harder – they get little creative control or chances to develop their individual talent. Their fans might know their voices, but few remember their faces.
Yet just as the world is finally starting to listen to the untold tales of backing singers, and recognise them in their own right, Hill, 29, has her eyes on centre stage. After almost a decade of singing in the shadows, she has known more than anyone how hard it can be to leave it all behind. Others have tried and failed but, luckily for her, she has just been signed up by Sony. Her debut album is out this summer.
"When you're a backing singer, it's a commitment – sometimes one or two years on tour with an artist. And when you're not, you're always on call. You've got to be available and drop whatever you're doing to sing with an artist," Hill said. "I had to make a hard decision: I was either going to really prioritise writing my album or keep letting the years go by. It's comfy, good pay and you have amazing experiences. I've seen it happen to so many singers. They look back and ask: 'Where did the time go? Years have passed and I haven't really done what I wanted to do as an artist.' I was afraid of that."
Hill was chosen in her early twenties to be Michael Jackson's female duet partner on his (then cancelled) This Is It tour. At this point, she lived at home in LA with her parents. She and Jackson rehearsed together for weeks, perfecting the show; she remembers those days as "pure magic". She added: "The room changed when he walked in. Everyone got excited and he would come in dancing. You could tell he had loads of ideas as he stepped on that stage; he'd be directing everyone and telling them what he wanted. He was very kind, too, very sweet and soft-spoken, but also kind of silly and childlike."
When Jackson died shortly before the start of the sold-out tour, it was she who sang "Heal the World" for an estimated billion viewers at his memorial service. She was totally unprepared for the exposure. Her email and mobile phone number were on her website and she received about 50 emails per second from people who were desperate to know more about her. She says she felt "lost" in the aftermath of Jackson's death, going directly to rehearsals once she found out. "I get to the Staples Center and the stage was already collapsing. They were already packing things up and people were crying. It was hysteria in that place and I couldn't believe it. I just saw him like 12 midnight last night and everything was great."
Immediately, she canned her own carefully crafted album which she had been about to release, believing that "after the tragedy, it didn't feel like the right music". Perhaps like some of her other co-stars in 20 Feet – including Darlene Love (who sang with Sam Cooke, Dionne Warwick, Frank Sinatra, Elvis Presley), Merry Clayton (Joe Cocker, Rolling Stones) Lisa Fischer (Sting, Chris Botti, Rolling Stones) and Tata Vega (Elton John) – she did not want to divert attention from the main act.
But others were less supportive of her decision to stay on the sidelines. Hill even took to straightening her hair in an attempt to disguise herself when she sang a one-off gig behind Kylie Minogue. "There were a lot of people who had this idea that I was off to the stars just because I'd sung with Michael Jackson," she says. "They had this weird expectation on me that my album was going to be released, that everything was going for me, and that this was my moment. But it was not that at all. I was still an artist who had to pay my bills. I was still living with my parents. People were saying, 'I'm really disappointed seeing Judith doing background after singing with Michael.' I felt lots of pressure and I just disguised myself. I was so much in the public eye and didn't know how to handle it."
Enjoy unlimited access to 70 million ad-free songs and podcasts with Amazon Music Sign up now for a 30-day free trial
Sign up
Yet it wasn't that Hill never wanted to make a go of it as a solo act. The daughter of two musicians – an African-American father and Japanese mother – she studied music composition at the evangelical Christian Biola University in California. (Her family is religious and she grew up singing gospel in the church choir.) After Jackson, she was going to take time out and develop her own sound, until she was asked to tour with Stevie Wonder – a man she describes as the "ultimate improvisational genius".
And, boy, was it fun. "When you're a backing singer, you're flying first class and staying in great hotels all the time. Everything is taken care of and it's a big bill. When you're an aspiring artist, you've got to pay for your band and you've got a small budget. It was really, really hard for me to step away from singing with Stevie. I loved it so much. I didn't want to let that go, [but] he was gracious enough to understand. He still keeps in contact and I see him from time to time."
She is full of praise for Wonder. "He's incredible and sweet," she says. "Michael and Stevie are so different. Michael put on this crazy show and visually, from every angle, it was about the show and creating a magical world. He was a perfectionist, planning every lighting cue. Stevie is the exact opposite. He doesn't tell you what the shows are going to be like. He just feels it in the moment and sometimes he'll create a song on stage. Creativity frickin' oozes out of him. I learnt how to wing it, to be in the moment, free up and let things flow more. That's something I learnt from Stevie."
Then she went on The Voice last year – her attempt to showcase her talent in her own right. She made it to the top eight before being knocked out, but secured a record deal all the same. While she admits she was never a fan of the show before she did it, she says it gave her creative control in a way she never had as a backing singer. She knows there are hurdles. Backing singers, she says, are known for being versatile. Solo artists need to be "unique and different from anyone else". But she has learnt a lot from her past. "When I worked with Michael, people wrote horrible things to me, just for the fact I was working with him. I took it to heart and cried many times from all that, but I developed a tougher skin from it."
And now she knows to remove her contact details from her website.
Register for free to continue reading
Registration is a free and easy way to support our truly independent journalism
By registering, you will also enjoy limited access to Premium articles, exclusive newsletters, commenting, and virtual events with our leading journalists
Already have an account? sign in
Register for free to continue reading
Registration is a free and easy way to support our truly independent journalism
By registering, you will also enjoy limited access to Premium articles, exclusive newsletters, commenting, and virtual events with our leading journalists
Already have an account? sign in
Join our new commenting forum
Join thought-provoking conversations, follow other Independent readers and see their replies