Jules Buckley: the man bringing grime and disco to the concert hall
The composer and conductor has worked with everyone from Arctic Monkeys to Stormzy, and filled the Royal Albert Hall with the sounds of Ibiza. But he's still trying to win over the sceptics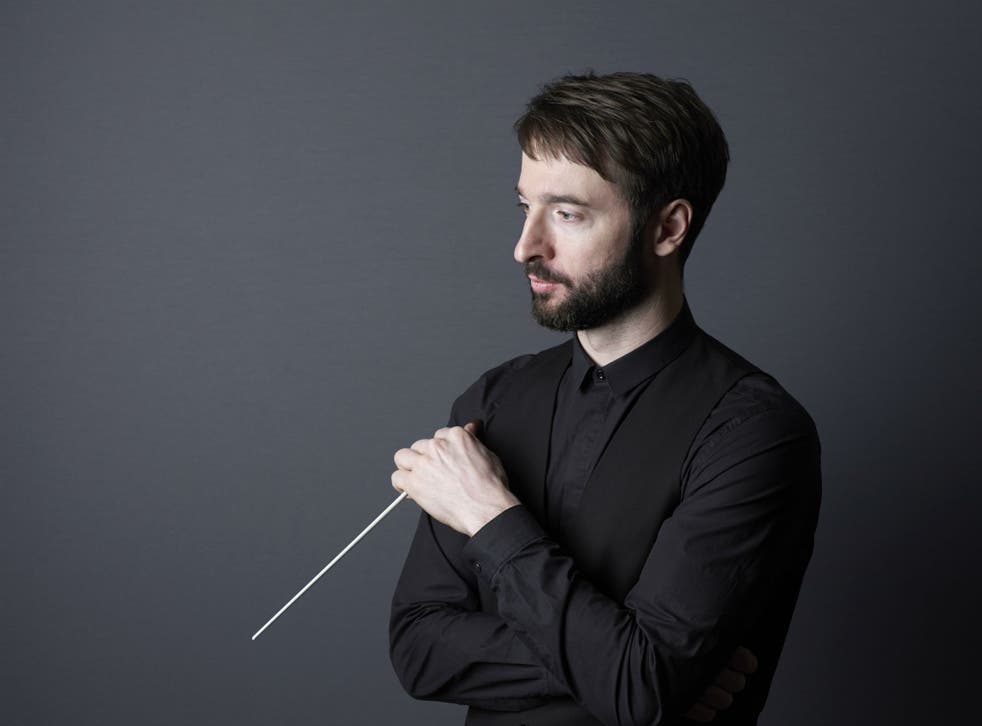 As I sit and chat to Jules Buckley in the Saint George's Hotel's 15th floor cafe, I feel I could easily be speaking to the frontman of an early Noughties indie band. He's confident yet self-deprecating with a youthful London-edged accent, dressed in a plaid shirt and with a hipster beard – tick, tick, tick.
But, as ever, looks can be misleading.
Buckley is an orchestral composer, conductor and arranger; this year, he is leading two BBC Proms at the Royal Albert Hall.
That said, his contribution to the classical music world has always been about breaking down boundaries – so maybe it's no wonder he looks like he's from the other side of the musical divide.
Buckley's innovative "orchestral remixing" that has brazenly reimagined the most unlikely of genres through the use of virtuoso musicians in typically elitist spaces. He has succeeded in shaking up the very idea of what can be played by an orchestra, who can listen to it and where, and whether or not a tuxedo is required.
"I've been called 'the lighting conductor', or even, by Jamie Cullum, the 'Jamie Oliver of the orchestral world'. Obviously, I'd rather be the Jules Buckley of the orchestral world," he jokes. "But that does capture it quite well."
Testament to the way he carves out a new space with his genre-smashing, two-fingers-up-to-the-establishment projects, there doesn't yet seem a neat way to label the man or define what it is he creates: "Contemporary orchestral? Alt-orchestral? Or new music in large, live ensemble settings?" Buckley ventures tentatively. "That last one's not very catchy admittedly..."
The composer's most significant achievements have emerged from his Late Night BBC Proms programmes. His 2015 "Ibiza Prom", paying homage to the heritage of dance music that emerged during the White Isle's heyday in the 1990s and 2000s – such as Orbital's "Belfast" and Fatboy Slim's "Right Here, Right Now", and featuring its foremost DJ Pete Tong – was a blistering success. It went on to tour and sell out venues around the globe. Two resulting albums have hit number one and number seven in the UK charts.
Next, Buckley took on grime with BBC Radio 1Xtra. His Grime Symphony featured some of the genre's biggest names, including Wretch 32 and Stormzy.
He's also worked with Tori Amos and Gregory Porter, Basement Jaxx, Massive Attack and Henrik Schwarz, Benjamin Clementine, Emeli Sandé, Arctic Monkeys – the list goes on.
Enjoy unlimited access to 70 million ad-free songs and podcasts with Amazon Music Sign up now for a 30-day free trial
Sign up
He talks me through his "model", working with "partner in crime" Chris Wheeler and his two orchestras, Heritage and Metropole: "I'm always trying to find projects I feel will resonate right now with the public so they'll find something in the orchestra that night that they've never heard before. Like, 'let's take this artist and this artist and let's crash them together and try to find a new sound which is really fresh.'"
Other times, as with Ibiza Classics and Grime Symphony, he's essentially celebrating a whole scene: "so they both needed to encapsulate the A to Z of that world within 75 minutes."
It's an approach based on fearless risk-taking and driven by Buckley's unquenchable creativity. But that also comes at a cost. "Of course by the nature of the process it can be hit and miss. Some people will love it and some people will hate it, like Marmite."
He continues to get resistance from certain corners of the arts community with his "provocative" music experiments: "One of the presenters from BBC Radio 3 has received hate mail because she endorsed projects I've been involved with, along the lines of: 'how dare you suggest this music could be played at our festival.'"
Plus he often faces opposition from the artists themselves: "Half the time they just don't want to come out of their tree house. I always try to challenge them to do something different, which at a certain point makes them uncomfortable. But I'm confident I can lead them to a place even in their own music where they might hear and be inspired by things they never thought were in this or that tune."
Inevitably, it doesn't always work, particularly, he notes, as some electronic music or hip hop "was never designed to be played live or certainly not with virtuosic musicians. When you're playing a symphony the melodic narrative is moving all over the place. It's exploring and developing a theme. Minimalist music works in a different way – it's not dramatic, it's more like microdevelopments."
Buckley explains that with pieces that are repetitive by nature, "I just try to kind of hammerblow the orchestral sound so that it's so energetic and mesmeric that you don't have a chance to not like it."
But even his own resolve has wavered at moments: "Just before performing the Ibiza Prom I suddenly thought, 'I'm going to go on stage on the world's greatest classical musical festival and to play a tune that's got one chord – what the f**k am I doing? This is going to go horribly wrong.'"
But his fears were never realised: "We couldn't really have anticipated the reaction because no one in the UK had done it like that before. Now that model has been copied worldwide about 20 times."
Today, the composer is determined to bring the sceptics over the line: "If that kind fear that some people have can be converted through the processes of a 75-minute to 90-minute concert to a feeling of optimism and enlightenment – that would certainly be one of my aims. Though I guess that does sounds a little bit biblical…" he adds with a laugh.
His undeniable success has somewhat smoothened the path: "I suppose I've built up a level of trust where they're willing to let me get my paints out," leading to what's he feels will this year be his most bold programme yet. "It's been like carte blanche to really push the envelope."
The resulting two new instalments are Jacob Collier and Friends this week and New York: Sound Of A City in August. Collier he sees as an artist on the ascendance. He'll be exploring the different facets of the 23-year-old Grammy-award winning vocalist and multi-instrumentalist's sound by putting him alongside jazz vocal group Take 6, American folk artist Sam Amidon and singer Becca Stevens plus Moroccan Hamid El Kasri on the guembri.
"So you've got these four different planets circling. And then you're going to add to that the Metropole Orkest."
New York: Sound Of A City, meanwhile, was borne out of a desire to do a glitchy electro disco concert. With Chris Wheeler, he came up with the idea of doing snapshots of New York, as the hook for the concept.
Groundbreaking NYC dance music project Hercules and Love Affair and singer-songwriter Sharon van Etten will come together with the Heritage Orchestra. They've also asked pagan gospel artist Serpentwithfeet (Josiah Wise) to contribute.
"He's unique. One of the most incredible artists I've heard for ages: his vocal technique is very individual, his writing style is not song-structure limited, visually and dramatically he's got wicked ideas."
Speaking with Wise, whose debut album Soil was released last month, he reflects on a certain electricity about New York that he believes infiltrates the music that emerges: "The way it's so compact and people interact with each other influences the tempo, that energetic ping pong. On all fronts the city is always on overdrive; we hear that in the way people create."
With credits on more than 70 albums and a 2016 Best Contemporary Instrumental Album Grammy for collaborative Snarky Puppy album Sylva, Buckley is also now on his 13th Prom at the age of 38. So what's next?
"I don't want to become part of the furniture," he insists. "Some of the greatest musicians were always looking forward, always changing what they were doing: Bowie, Prince."
He's working on his own album that will be the "culmination" of all the journeys he's taken with different artists over the years. He says he'd also love to play with Stevie Wonder. And get more funding for Metropole Orkest. And perhaps move into movie soundtracks.
"What about Die Hard to a live orchestra at Christmas?" he asks, only half kidding. "John McClane, Nakatomi Tower, Heritage Orchestra. We can find a skyscraper in London and have everyone crammed into the top of it dressed in Eighties shoulder pads and bouffant hair..." Sign me up.
Jacob Collier and Friends BBC Prom, 19 July, and New York: Sound of a City, 8 August, both at the Royal Albert Hall (bbc.co.uk/proms). Both concerts will be broadcast live on BBC Radio 3 and BBC Four
Register for free to continue reading
Registration is a free and easy way to support our truly independent journalism
By registering, you will also enjoy limited access to Premium articles, exclusive newsletters, commenting, and virtual events with our leading journalists
Already have an account? sign in
Register for free to continue reading
Registration is a free and easy way to support our truly independent journalism
By registering, you will also enjoy limited access to Premium articles, exclusive newsletters, commenting, and virtual events with our leading journalists
Already have an account? sign in
Join our new commenting forum
Join thought-provoking conversations, follow other Independent readers and see their replies