Interview
Julia Jacklin: 'I get sick of the fact that whenever a woman speaks about their experiences, it's labelled political and radical'
Following the release of her new album Crushing, the Australian singer-songwriter tells Alexandra Pollard about her crisis of confidence on the brink of its release, how she deals with sexism and ageism, and why she refused to call her album Body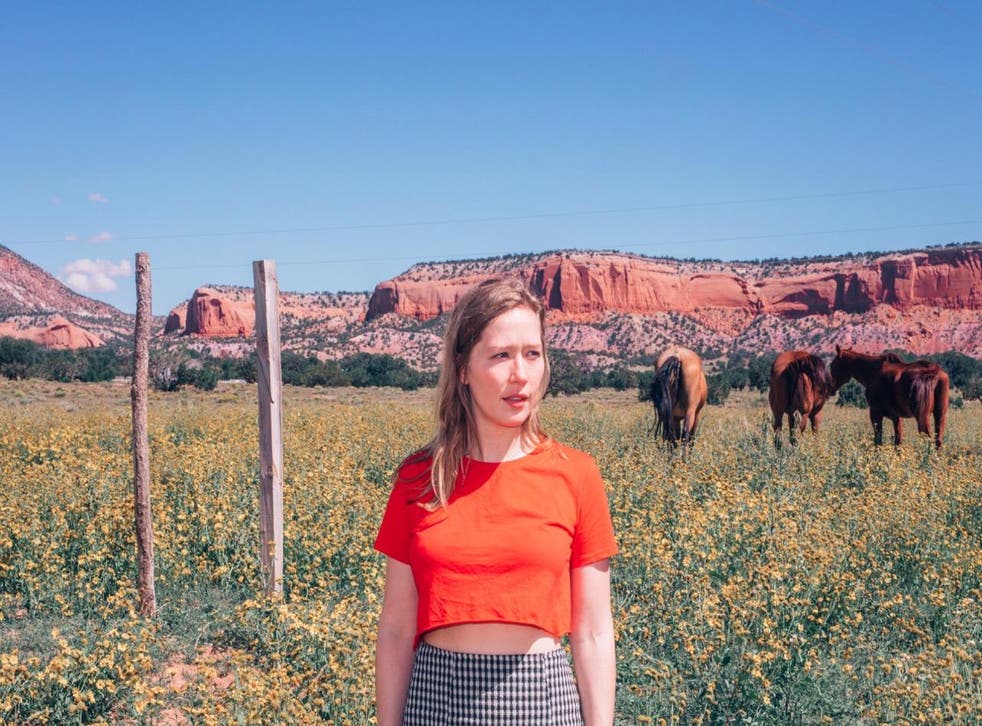 O
h man, this industry's so full of gaslighting. It's so boring." Julia Jacklin, sitting on the sofa of a Brighton hotel, is talking about a particular type of sexist manipulation. "I've had quite a few pretty traumatic instances in my life," she continues, "where I've recognised some sexist, problematic behaviour, but I'm surrounded by other men, who've rebuffed me when I point it out: 'No, no, you're an intense person if you think that's what this is.' Now I don't give one s**t."
The Australian musician, who grew up in the Blue Mountains in New South Wales, is as frank and forthright in conversation as she is in her music, which is by turns gentle, harsh, empathic and angry. On her new album, Crushing – a mix of delicate folk and garage rock that pitches and sways, written in the aftermath of a breakup she instigated – Jacklin thrashes out the path towards reframing and reclaiming herself.
It's no surprise, then, that she no longer has any time for gaslighting. "I recognise that behaviour," says the 28-year-old. "I know exactly what it is now and have no trouble backing myself, and that's so nice. Because I feel like when you're a young girl, you just don't fully know. I'm hoping it's better now, but when I was younger it wasn't cool to be a feminist, it wasn't cool to care about those things. It was cool to be one of the boys, and just be such a cool chick and go with the flow, and that was so tiring. I grew up with older women in my life saying, 'Oh I don't get along with women'. It was a cool thing to be like, 'All my friends are boys'. And now I look back and I'm like, 'Oh God, it's not cool at all. It's actually very sad.'"
In that case, perhaps it's a good thing that Jacklin was well into her twenties before her music career took off. She released her debut album, 2016's critically adored Don't Let the Kids Win, at 26. She only half agrees. "It's a young person's game," she says. "It's ageist as hell. Sometimes, when people say to me, 'You've got all the time in the world,' I'm just like, 'That's not the reality I see. Sure there's exceptions to the rule, but I think this is a very ageist industry towards women, and there's definitely a lot of progress, but please don't tell me I have all the time in the world. That's bulls**t.'" Lily Allen recently discussed the same thing in a podcast interview, suggesting that at 33, she is now deemed too old to be played on Radio 1. "Thirty-three, that's young," says Jacklin. "I just don't think men would have the same problem. Thirty-three, in male years, you're still a baby."
The best albums of 2019 (so far)

Show all 67
Still, not many people have made two such assured albums by the age of 28. Don't Let the Kids Win was a sophisticated debut, and Crushing surpasses even that album's high bar. It is raw and defiant, unedited in both sound and sentiment: you can hear every breath, swallow and crack in Jacklin's voice as she reaches into the least flattering parts of herself. In our five-star review, The Independent described it as "a masterclass in narrative songwriting", and "a terrifically complicated breakup record". Jacklin wanted, she says, to write the kind of songs she had longed to hear after breaking up with her long-term boyfriend: ones "that make you feel like you're not a s**t person".
"In the past, I've definitely found it easier to pretend that I was the one who'd been broken up with," she says. "But it can be equally as devastating to the person who ends a relationship. You're just not afforded the same care from the people around you."
On opener "Body", the singer throws her bags down on the tarmac of an abruptly aborted holiday, ends her relationship, and feels "all of my senses rushing back to me". She hops in a taxi, "heading to the city to get my body back".
The word "body" crops up again. Twelve times, in fact, on the album's first four tracks. "You know my body now, and I know yours," she sings on "Don't Know How to Keep Loving You", a pained acknowledgement that familiarity can breed, if not contempt, then dissatisfaction. On the rollicking "Pressure to Party", she laments the idea that post-breakup, she should be "out on the dance floor with my body back". It wasn't deliberate.
"The fact that I mention my body a lot in the music was not some sort of pre-planned thing," she says. When her label suggested she call the album Body, she shut them down. "I felt like if I [did that], every interview, I'd be asked, 'Why did you call it Body? Is it because of the #MeToo movement?' I know people are already gonna ask me those questions, I'm not gonna make it harder for myself by inviting that line of questioning into my life."
Jacklin has found the endless attempts to politicise her music frustrating. "I get pretty sick of the fact that every time a woman speaks about their experiences, it's labelled political and radical," she says, rooting around for something in her red backpack, pushing aside a copy of Sally Rooney's Normal People. She resents "this hilarious idea that trying to advocate for your personal safety and privacy is a fashionable thing". And she finds it vaguely patronising. "Everyone's like, 'Oh you're so brave', and I'm like… Urgh. That doesn't make me feel good if you think that I'm doing something political and brave, because I'm not. I'm just writing about my experiences, just like men get to do, and my relationship with my body and the way that the world interacts with my body. It's something that every woman experiences in some way or another. Yes, cool, people are starting to pay attention right now, but this is the reality of my life. I'm not trying to jump on some bandwagon. Just talking about my body as a straight, white woman, I don't think I'm doing some crazy brave… you know? I don't think I'm paving the way or anything."
Even so, "Head Alone", Jacklin's battle cry for bodily autonomy, has resonated with people. "I don't want to be touched all the time," she sings in a faltering falsetto, "I raised my body up to be mine". The song, she says, "came from so many different interactions that I'd had, being on tour, and being in a relationship at the same time, and having zero idea about what kind of behaviour you're supposed to exhibit in those spaces. What's appropriate, and when can I say no? At the beginning, because you want people to like you, you want people to think you're a good person, you kind of end up just being like, 'Oh, well I have to give everything, all the time'." For two years after the release of her debut album, she did just that. "I just didn't take any space for myself," she says, "or ever ask for it, or ever raise any kind of problems with the fact that I hadn't had ten minutes to myself in six months."
Eventually, she came to a realisation: "I'm giving so much already, I can't also be messaging everyone back who private messages me, and I can't talk to every person at the merch table, and I can't hug all these people who want to touch me in that way. You have to just draw a line eventually, otherwise I think this job will just destroy you."
The fear of doing or saying the wrong thing subsided when Jacklin realised there was no way to win. "A few things have happened where I felt like I behaved in a really good, fair way, and somebody still thought that I was being uppity," she shrugs. "A lot of time in this business, you can be the nicest, most accommodating person and people are still gonna have a problem with you. I still care obviously, but I know that I have a limit, and I obviously understand human nature. Sometimes, people are just jealous and don't like to see, especially women, doing well. Now I'm a lot better at being like, 'No, that's not on you Julia, that's their problem. Don't internalise things. Don't try and make them happy by reducing yourself'."
But as the release of Crushing approached in February, Jacklin had a different crisis. "I suddenly felt like, 'What do I do for a living? Isn't this odd?'" she recalls. "I experience things that are sad and a bit traumatic, I then write about them, and then I release them into the world. I suddenly started to think about the ethical problems with that. I was going a bit loopy. 'Is this OK to do? Is this good for me? Is this good for the people I'm writing about? Am I a bad person to be doing this for a living?' It was a very intense time, and so honestly, by the time the record came out, I was just not that excited about it. I was just like, 'I don't know about this anymore. I don't know if this is what I want to do with my life'. I remember saying to my manager, 'I don't know about this whole "being a musician" thing,'" she laughs. "He was like, 'Oh crap, we have this world tour booked...' I'm like, 'Yeahhh, I'm not sure about it.'"
Once the album came out, all those doubts dissipated. "It's been so nice," she says. "I don't have to explain it. People have heard it, they've spent time with it, they get it. We only started touring it a couple of weeks ago, and just seeing people singing along to the new songs and really engaged with the new material, it makes me finally feel like I'm doing it for the right reasons. Not so I can talk about myself and take photos and make music videos, it's just because I love singing, I love writing music, I love people." She smiles. "It's such a nice way to exist."
Crushing, the new album by Julia Jacklin, is out now
Join our new commenting forum
Join thought-provoking conversations, follow other Independent readers and see their replies