Why Justin Bieber's TikTok campaign for 'Yummy' is so embarrassing
The pop star's new single seems engineered for maximum social media clout, writes Annie Lord. But Bieber doesn't understand that the best viral videos happen organically
Wednesday 05 February 2020 10:34 Comments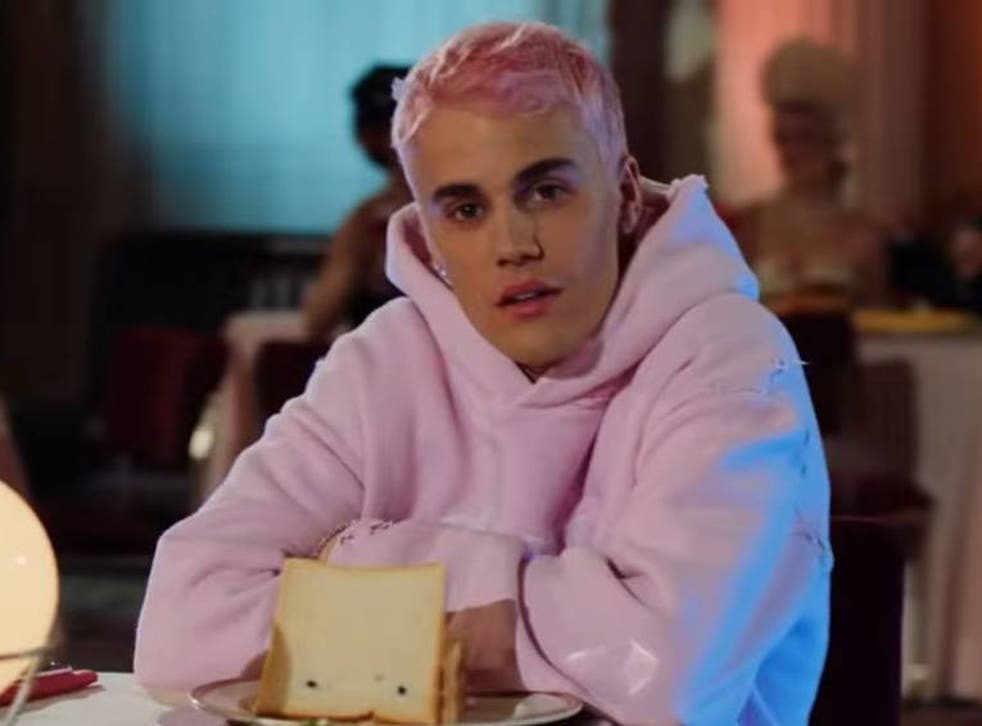 If you think the most embarrassing thing about Justin Bieber is the way his trousers sit below his bum, you are wrong. Since the release of his new song "Yummy", Bieber has been needier on social media than that reply guy who keeps popping up in your DMs with "you up?" messages.
In an attempt to push "Yummy" to the top of the charts, Bieber has been uploading TikToks of himself lying in bed topless, nodding along to the song. Given that on TikTok you can find videos of cats dancing along to "Mr Sandman" and whipped cream oozing out of Crocs, Bieber's uploads aren't particularly creative. He flairs his nostrils to the beat, caresses his moustache with his fingers or sways from side to side holding a fork.
Then, in an even more banal marketing push, last week Bieber teamed up with various TikTok stars to create content for Chipotle to go along with "Yummy". These ads aired during the Super Bowl's ad breaks. In response, people have been calling Bieber out for using TikTok as a promotional tool rather than engaging with the app's culture of weird and engaging videos. It's clear Bieber has about as much understanding of the platform as my mum does when she likes her own Facebook statuses.
The 50 best albums of 2019

Show all 50
Beyond the actual posts, even the sound of "Yummy" is engineered for maximum social media clout. Somewhere between "Hotline Bling" and a Cadbury's jingle, the song relies on Bieber repeatedly cooing "you got the yum, yum, yum, yum" and "yeah babe, yeah babe, yeah babe (yeah babe)". Listen to it and you might find yourself blurting out your most guarded secrets – so efficient is it as a means of torture. The upsettingly generic lyrics are purpose-built to hook in phone addicted tweenagers to dance along to in between Juul rips.
It is so depressing that the song has been released less as a work of music than a campaign for his forthcoming album, Changes. This, from a singer who only just established himself as credible to a wider audience with his last record, Purpose. Drawing a line under the relentless crooning over acoustic guitars of his "Baby" years, Purpose saw Bieber releasing boundary-pushing pop music: there was the fun trop-house of "What Do You Mean?" and the excessively woozy trap of "No Sense".
That said, it's not difficult to understand why Bieber is so active on TikTok. In recent months, a number of pop stars have gained popularity through the platform. Soon after Lil Nas X released "Old Town Road", fans were uploading TikTok's of cowboys galloping and cheerleaders tumbling along to its melody. But Lil Nas X didn't intend for his song to become the phenomenon it did; the TikTok community just clung onto "Old Town Road" because it inspired them.
Sadly, Tik Tok is not the only platform that's played victim to Bieber's ceaseless pursuit of attention. On Instagram, he uploaded a series of baby photos captioned #Yummy. He also posted and then deleted a series of graphics instructing Beliebers to play Spotify playlists of "Yummy" on low volume overnight to push up the streaming numbers. And then they told fans to buy the song multiple times through his online store and on Apple music. Users mocked Bieber's cynical tactics and encouraged others to listen to the single's chart competitor, "The Box", by Roddy Ricch.
The blatant marketing of "Yummy" to go viral is what will ensure it doesn't. Gen Z is so savvy when it comes to internet culture, they can sniff out the dark arts of a publicist a mile off. What's worse, in the streaming age, chart positions are an increasingly inaccurate measure of an artist's success. Bieber is vying for a number one spot but Gen Z-ers won't even care if he manages it.
With enough stans to take down the monarchy – 126 million followers on Instagram, 108 million followers on Twitter, and 50 million subscribers on YouTube – it is likely Bieber will get to number one with "Yummy". But then again, he could probably get there if he recorded a trap reimagining of "Twinkle Twinkle Little Star". So this whole promotional campaign is not only pointless, but makes Bieber look shamefully desperate. Is it too late now for him to say sorry?
Register for free to continue reading
Registration is a free and easy way to support our truly independent journalism
By registering, you will also enjoy limited access to Premium articles, exclusive newsletters, commenting, and virtual events with our leading journalists
Already have an account? sign in
Register for free to continue reading
Registration is a free and easy way to support our truly independent journalism
By registering, you will also enjoy limited access to Premium articles, exclusive newsletters, commenting, and virtual events with our leading journalists
Already have an account? sign in
Join our new commenting forum
Join thought-provoking conversations, follow other Independent readers and see their replies