Kacey Musgraves interview: 'The whole gender discussion in music is beyond tiresome to me'
The Nashville country star, who sings of sex, weed and queer acceptance, talks to Alexandra Pollard about her new album, finding love, and why she can't stand the label 'female musician'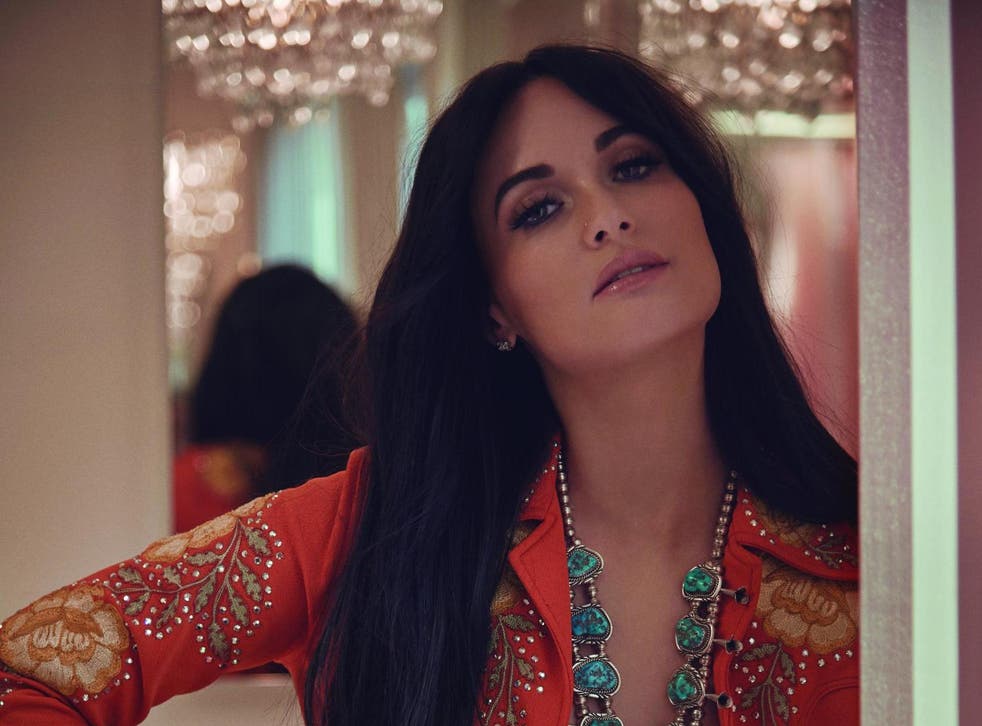 "It's sometimes a hard pill for a man to swallow when he's with someone that's, you know, successful," says Kacey Musgraves, resting a manicured finger on her temple and gazing at her dressing room wall from behind lavish false eyelashes. "Someone that's doing their thing, knows who they are, is comfortable with their sexuality… whatever. It can be intimidating for some men out there."
For a long time, the 30-year-old Nashville country singer found herself in this type of relationship. "Being with the wrong people can really do a number on your self-confidence," she says. "I started to not really think that much of myself."
We're backstage at Wembley Arena, an hour before Musgraves is due to play her biggest UK headline show to date. Dressed in a fluffy, baby-pink jacket and leopard-adorned leggings, she's both a little frazzled over a last-minute costume malfunction – I'm told a tailor might have to come in and work on her while we chat – and nervous about the "big concrete cave" in which she's about to perform.
"You can't really see anyone's face," she says, "so the audience is very anonymous unless they're jumping out of the seats… which I know that Brits don't do." They do sometimes, I protest. "They can, but… I feel like, most likely, they're gonna be kind of reserved." I'm not sure if she's underestimating British enthusiasm or her own popularity, but in a few hours the entire arena will get to its feet and sing along, a cappella and word perfect, to one of Musgraves's early singles, "Merry Go Round". We're a long way from Nashville, but her sound has travelled far.
Hers is a unique kind of country music. Until recently, primarily because of those confidence-shattering relationships, Musgraves mostly steered clear of one of the most dominant themes of the genre – love. Instead, with her warm Southern twang and a wit that flits between silly and scathing, she covered topics most of her peers wouldn't touch with a barge pole – casual sex, marijuana, macho culture, slut-shaming, the stronghold of religion, and queer acceptance among them.
"Make lots of noise, kiss lots of boys, or kiss lots of girls if that's something you're into," she sings over slide guitars and affirming shouts on 2013 breakout single "Follow Your Arrow". "When the straight and narrow gets a little too straight, roll up a joint… or don't / Just follow your arrow wherever it points."
The song was initially shunned by mainstream country radio stations, but its accompanying debut album, 2013's Same Trailer, Different Park, earned Musgraves both a Grammy nomination and a legion of fans for whom a liberal attitude within country music was a breath of fresh air. Its acclaimed follow-up, 2015's Pageant Material, tapped into the same formula while honing a more assured sound – one that drew as much from Neil Young and Electric Light Orchestra as it did Loretta Lynn and Dolly Parton.
But when it came to writing her superb third record, Golden Hour – which has already featured in a handful of publications' "album of the year" polls, including this one's – Musgraves' life had changed. She had fallen in love – the kind of love that was finally inspiring enough to write about. After meeting her husband, fellow country singer Ruston Kelly, in 2016, Musgraves went from "walking around with a scowl basically every day", to feeling a sense of peace she hadn't thought herself capable of.
"When I found myself getting really happy, and my life turning around, I was a little wary," she says. "I was like, 'Man, I wonder if I'm gonna be able to write. I've never felt like this before.' And it actually ended up being kind of the opposite for me. Just when I thought I was never gonna find any relationship worth a shit, he came along. I wasn't looking for it. It changed my world, it made me see the world in a more beautiful way."
Enjoy unlimited access to 70 million ad-free songs and podcasts with Amazon Music Sign up now for a 30-day free trial
Sign up
You can hear this newfound confidence in the music. "Now you're lifting me up 'stead of holding me down," she sings on "Butterflies", the lead single from Golden Hour. "Stealing my heart 'stead of stealing my crown." With synths and Daft Punk guitar licks added into the mix, the album, which Musgraves has dubbed "cosmic country", is rich and ambitious but never overstuffed. While making it, she even became known among her bandmates as the "axe man", because of how remorselessly she pruned out unnecessary instruments. Two of the album's most minimalist songs, "Slow Burn" and "Mother", were written while she was on acid. "It wasn't like a crazy trip; it was a little more than a micro dose," she says, but that subtle psychedelic gloss endures throughout.
It might have come as a surprise, to those familiar with Musgraves' more topical songs, that as the world became increasingly hostile and politicised, she turned inwards. "I think a lot of people expected me to go the other route and focus on hot button issues," she agrees, "but I was like, 'Dude, everyone has a soap box these days'. Everyone has their opinion. I mean, they're flying at everyone at hyper speed, and it's numbing and overwhelming at the same time. Let's just give something to people that is beautiful and truthful and feels hopeful."
This soap box fatigue might explain Musgraves' reaction to my next question. A recent Elle article, "The women of Nashville's music scene are calling Time's Up", revealed that female artists make up just 10.4 per cent of country radio playlists – a figure that has actually worsened over the past few years. Musgraves herself contributed to the article, recalling a long car journey where she kept track of the songs played on country radio – "It was, not shockingly, so offensive. Two females among 31 males" – but when I bring it up, she rolls her eyes. "The whole gender discussion in country music is beyond tiresome to me."
It is? "Yes, we can look at gender inequality, but I'm over here going, 'Wait, there's also so many other factors of inequality that are happening right now that no one's talking about.' What about song matter inequality? Sonic inequality? Everything sounds the same to a certain extent, and it's very hard for something that sounds any different to poke through.
"Where are country artists of colour?" she continues. "Where are the country artists that represents the LGBT+ community from a first-person perspective? Yeah, OK, gender's one of those things, but I also think it's ludicrous that gender is even mentioned when it comes to describing my music. Why can't I just be a musician, or an artist, or a singer-songwriter? No, it's always 'female musician', 'female singer-songwriter', and it's interesting because they just don't do that for men. It's never 'Chris Stapleton, male songwriter', 'Chris Stapleton, male artist'. Why is there a difference there? I can't really figure it out."
Perhaps, I suggest, if more than a couple in every 30 songs played on country radio was by a woman, there would be less need to point out their gender. She noticed those "two females", after all. "True, I guess," she says slowly. "I guess… Yeah, I mean fair point. Touché. But it's funny, everyone wants to talk about this issue, but it never really gets better. This is a very deep-rooted, broad issue, that I think is kind of fear based and greed based."
The music industry, as far as Musgraves can see, is driven by two things: money and success. "Statistically, they want to win," she says of record labels and radio stations. "They want to make money. It's just easier for them to crank more of the same things out, knowing this has worked before, than to go out on a limb and really promote something that pushes buttons. And it's sad because that's how all our icons and greats were discovered. We wouldn't have Dolly Parton, Loretta Lynn, Freddie Mercury or Elton John if people weren't willing to go, 'OK this is a little weird, but let's see how it goes'. Give it a fair shot, you know?"
She hopes people continue to give Golden Hour a fair shot, too. "I knew that there would be some people that wouldn't enjoy this new record, because maybe they want to hear their country music a certain way," she concedes. "I can be like that in a lot of ways, because I really love the old stuff. But I also respect when someone can forge a new path. So I don't feel like I would be doing myself, or anyone else, any favours if I was too fearful to venture out."
"I dunno," she shrugs, as her tailor finally arrives and she stands up, ready to be sewn into a sequinned, rainbow jumpsuit. "Fortune favours the bold."
Golden Hour came in fourth in The Independent's album of the year list
Join our new commenting forum
Join thought-provoking conversations, follow other Independent readers and see their replies