As Jesus is King fails to appear, is Kanye West trolling us all from on high?
The public's interest in the rapper's latest non-release is about as muted as the high-fashion sneakers he designed for Adidas, writes Ed Power
Saturday 28 September 2019 09:02
comments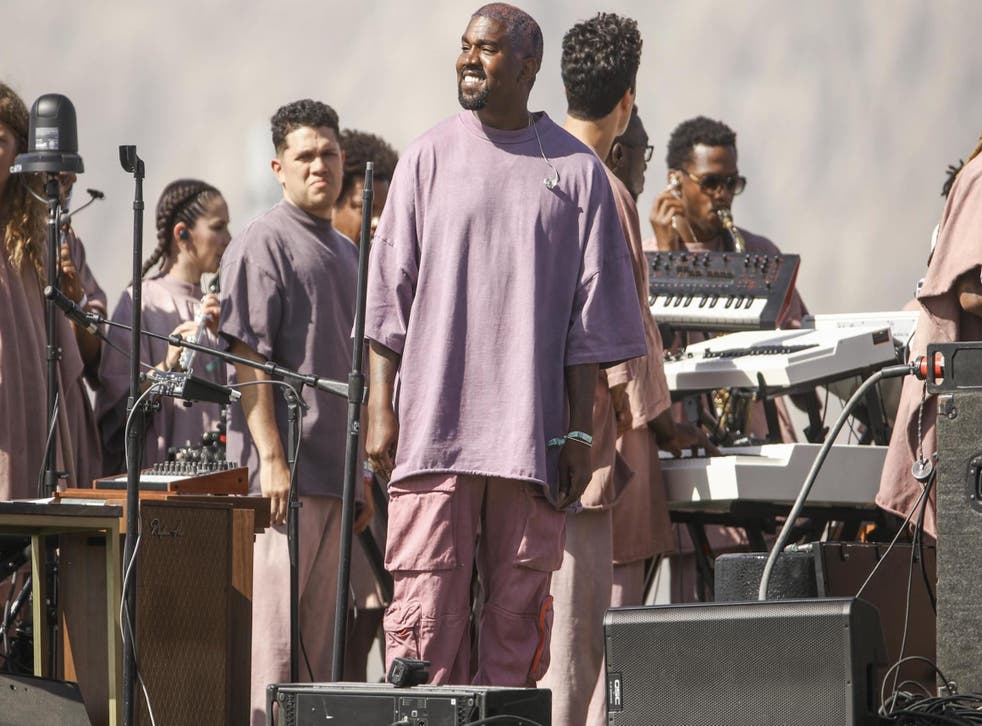 A
s of now, there is no mount and there is no sermon. As 27 September dawned, Kanye West fans – those that remain – were braced for the release of the rapper's much-heralded new gospel album, Jesus is King. But midnight came and went, and the wee hours trickled by. The Twitter pledge made by West's wife, Kim Kardashian – ­that the LP would see the light of day – rang increasingly hollow. Jesus had left the building. Assuming there ever was a building in the first place.
So it has gone whenever West has raised his head above the pulpit lately. He has – and perhaps not in a positive sense – claimed the mantle left by Prince, as pop's foremost eccentric. This resolve to fit nobody's parameters but his own was underscored at the 2019 Coachella festival in California, at which he introduced his new gospel troupe, the Sunday Service.
As if determined to take his God complex to the inevitable next level, Kanye sported Messiah-style robes. Flanking him were ranks of backing singers kumbaya-ing all the way to tea-time. They were arranged on a round green hill that resembled something from kid's television. It was like listening to your favourite hip-hop record after you've passed out watching too much Teletubbies.
The world needs outré chart stars. How dull pop has become since the genre was claimed as the plaything of the cautious and the careerist. But the most notable feature of Kanye's latest non-album release is what a trifling story it makes for. The public's interest in the rapper's latest non-release is about as muted as the high-fashion sneakers he designed for Adidas.
'Imma let you finish' - Kanye West's most controversial quotes

Show all 10
Shoulders were similarly shrugged as material from the rumoured next LP leaked in July. A Kanye data breach would once have tilted the pop world on its axis. But it was a tree crashing to earth in the world's emptiest forest. One rumour is that Kanye is holding out to achieve leverage over his record label. In January he filed a lawsuit again Universal Music. This was apparently in an attempt to gain the rights to his catalogue (a second case against EMI Music Publishing was settled this week).
Whether supporting Donald Trump or feuding with Taylor Swift, West has of course been busily sabotaging his career for years. It isn't entirely beyond the bounds that it's all some vast existential jape on his part (Prince would have got the joke). That isn't to downplay the genuine issue of his mental wellbeing. West has stated that he has bipolar disorder. In 2016 he was hospitalised for "temporary psychosis" caused by dehydration and sleep deprivation.
He addressed these issues – or at least winked at them – on 2018's Ye album. "I hate being bi-polar/ it's awesome" was the message scrawled on the cover of the record – one of several projects Kanye produced at his ranch compound in Jackson Hole, Wyoming. A sequel LP, Yandhi, was promised for later that year, again assembled in the mountainous American West. But then Kanye decamped to his hometown of Chicago and later to Uganda for further sessions.
Back in Wyoming, meanwhile, he has instituted his weekly "Sunday Service" rehearsal with a choir performing retooled highlights of his catalogue. A glimpse at his new direction could be gleaned from that performance at Coachella, which can be watched on YouTube in all its zany glory. And then it emerged that Yandhi had been sidelined by a renamed/ entirely new (nobody is sure) record, Jesus is King.
Such convolutions would be a lot to keep pace with, even if Kanye West was still the Kanye West of the mid-2000s. At that time, he embodied a thrilling new chapter in hip-hop. Rap had gone stadium-sized. Yet West was willing to showcase the previously verboten emotions of doubt and vulnerability. And on those occasions, he did venture out on a limb – mourning his mother on the auto-tune drenched "808s and Heartbreak", for instance – the onus was on us to keep up with a maverick rather than on Kanye to explain himself.
But the line between genius and freewheeling egotist can be thin, in pop especially. West's feud with Taylor Swift (difficult to regard as anything other than misogynist on his part) and his support for Donald Trump (who is difficult to regard as anything other than a tangerine racist) understandably alienated much of his fanbase. A gospel-tinged, come-to-the-light record might have gone towards salvaging a reputation more faded than the Shroud of Turin. Or it may have at least have made us care again. Instead, the LP's non-appearance will cause the one-time Kanye nation to suspect, and not for the first time, that their fallen idol is trolling us all from on high.
Join our new commenting forum
Join thought-provoking conversations, follow other Independent readers and see their replies