Keeping it in the family: Why do the children of some famous musicians fare better than others?
As anyone with an instantly familiar surname could explain, music is far from stable as a family business
Chris Mugan
Friday 14 November 2014 14:02 Comments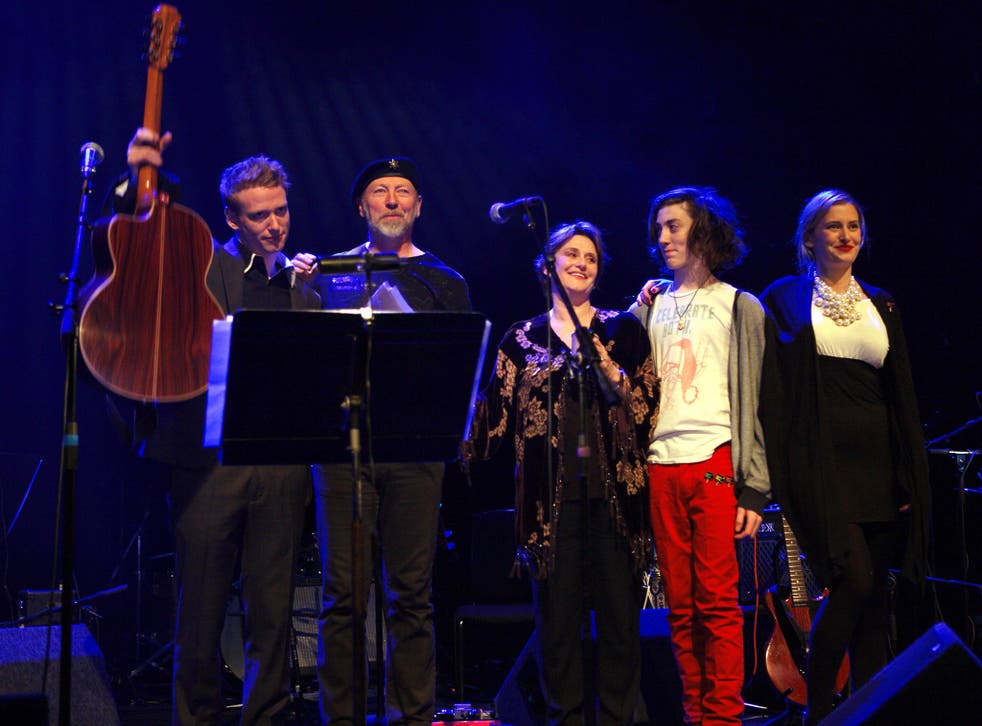 The offspring of established musicians are following in one or both parents' footsteps in greater numbers, it seems. Leonard Cohen's son Adam released his fifth album in September, while Wilco's Jeff Tweedy has made a record with his 19-year-old son Spencer on drums.
Few families, though, can match the continued output of that developing around former folk duo Richard and Linda Thompson. Now three generations of the family have come together to record a Thompson album, all contributing songs, their sustained talent raising a question: when so many such offspring fail, what makes a successful musical dynasty?
As anyone with an instantly familiar surname could explain, music is far from stable as a family business. Discounting any genetic perks, second-generation performers usually admit to a privileged background, while complaining about constant comparisons to those who have already made it. After an underwhelming response, Eliot Sumner (Sting's daughter) has ditched her I Blame Coco moniker, trying anew under her own name, while James McCartney has proved unable to build his own following, despite support from his father, Paul.
For the Thompsons' album, Family, Teddy Thompson has brought together mum and dad along with siblings Jack, and Kami – who records as The Rails with husband James Walbourne – plus nephew Zak Hobbes. Having encouraged Linda's return to music, Teddy has turned to his wider, atomised family network – mum and dad divorced when he was six – creating a varied yet strangely cohesive mix.
The only tribe that comes close to matching the Thompsons in such consistency is the one formed around Loudon Wainwright III and former wives Kate McGarrigle and Suzzy Roche. Leading their musical progeny is Rufus Wainwright, with sister Martha and half-sister Lucy Wainwright Roche. Intriguingly, there are both parallels between the two families and long-established links. Both were split by divorce and separated by national boundaries. Just as Richard made his home in Los Angeles while Linda stayed in the UK, Kate brought up her children in Canada while Loudon made his life in the US.
When Richard curated the 2010 Meltdown Festival, he organised a tribute to the recently deceased Kate, while Teddy and Rufus are old friends. Scions from both family trees have performed at each other's Christmas concerts, which seem to have operated as official reunions. Otherwise, family members have found time and space to develop their own musical directions, as Martha belatedly did when the flamboyant Rufus left home. Teddy, meanwhile, was brought up in a musical household, but it was his decision to move Stateside, playing with his dad's band during the Nineties before turning solo.
In a documentary to accompany Family, Teddy poignantly describes touring with his dad in 2013. While Richard preferred them to act as mates, he wanted "the opposite – 'hey, son, how are ya?' – that's what I crave". Complicated family life also gives a rich seam of lyrical inspiration, most dramatically for the Wainwrights, with both Rufus and Martha ragging their father in "Dinner at Eight" and "Bloody Mother Fucking Asshole" respectively, Loudon having used them for raw material in "Rufus is a Tit Man" (written when Rufus was a baby) and the apologetic "Hitting You" about his daughter.
Then again, Anoushka Shankar has enjoyed a glittering career playing sitar, just like her father Ravi, who taught her and gave her early breaks, while half-sister Norah Jones came to fame while estranged from him after growing up in Texas. Nor do divided families always spur success, otherwise Julian Lennon's career would have been more sustained than providing occasional hits during the Eighties, most notably "Saltwater". While England-raised Julian sounded uncannily like his father, the other son Sean's New York upbringing gives him a different sound, even if he too enjoys working with his partner – model Charlotte Kemp Muhl – in the duo The Ghost of a Saber Tooth Tiger. Not that falling close to the tree has been a hindrance to the Wainwright and Thompson apples. As the latters' album demonstrates, none of Richard's children prove unfamiliar with an acoustic guitar, instead tending to provide variations on a theme – Teddy showing more love for country styles than dad's folk-rock heritage.
Likewise, the Wainwrights maintain the tradition of personal, often searingly autobiographical, writing that Loudon pursued in his Seventies heyday. This has remained in Rufus's music, even though he has explored a more eclectic range of forms, ranging from opera to his 2012, Mark Ronson-produced, album Out of the Game. More important, perhaps, is the shade a particular tree casts. Being related to a Beatle means forever being in the shadow of one of the world's biggest celebrities. Beyond the Lennons, while Zak Starkey made the most of his contacts as Ringo's son to drum for The Who and Oasis, Dhani Harrison has been happy pottering in the margins, rather than pursuing a fully-fledged pop career. His greatest achievement may have been to persuade Apple Corps to agree to computer game The Beatles: Rock Band.
Enjoy unlimited access to 70 million ad-free songs and podcasts with Amazon Music Sign up now for a 30-day free trial
Sign up
Better, it seems, to have an uncool dad, such as Loudon, whose self-deprecating humour went out of fashion through the Eighties and Nineties, or have a mother such as Linda Thompson, who stepped back from music for much of that time. Also helpful is being born into genres where family affiliations are encouraged if not de rigueur. Originating in Hull, the Watersons were an integral part of the Sixties folk revival, setting in train a series of collaborations involving a new generation of performers, namely Eliza Carthy and Marry Waterson.
Just as Teddy gained valuable experience with his dad, Rufus first went on tour aged 13 with The McGarrigle Sisters and Family, featuring his mum, Martha and auntie Anna.
Country music follows similar habits, with Roseanne Cash enjoying an apprenticeship with her father Johnny. She started out as a wardrobe assistant on his shows, before graduating to backing singer then soloist.
Now that Jeff Tweedy is taking his son on tour, ending most nights with a hug, perhaps rock is finally learning how folk and country keep it in the family.
The Thompsons' album 'Family' is released on 17 November on Fantasy Records/Concord
Register for free to continue reading
Registration is a free and easy way to support our truly independent journalism
By registering, you will also enjoy limited access to Premium articles, exclusive newsletters, commenting, and virtual events with our leading journalists
Already have an account? sign in
Join our new commenting forum
Join thought-provoking conversations, follow other Independent readers and see their replies