How Kendrick Lamar and Jay Rock's 'King's Dead' music video achieved those impossibly long zooms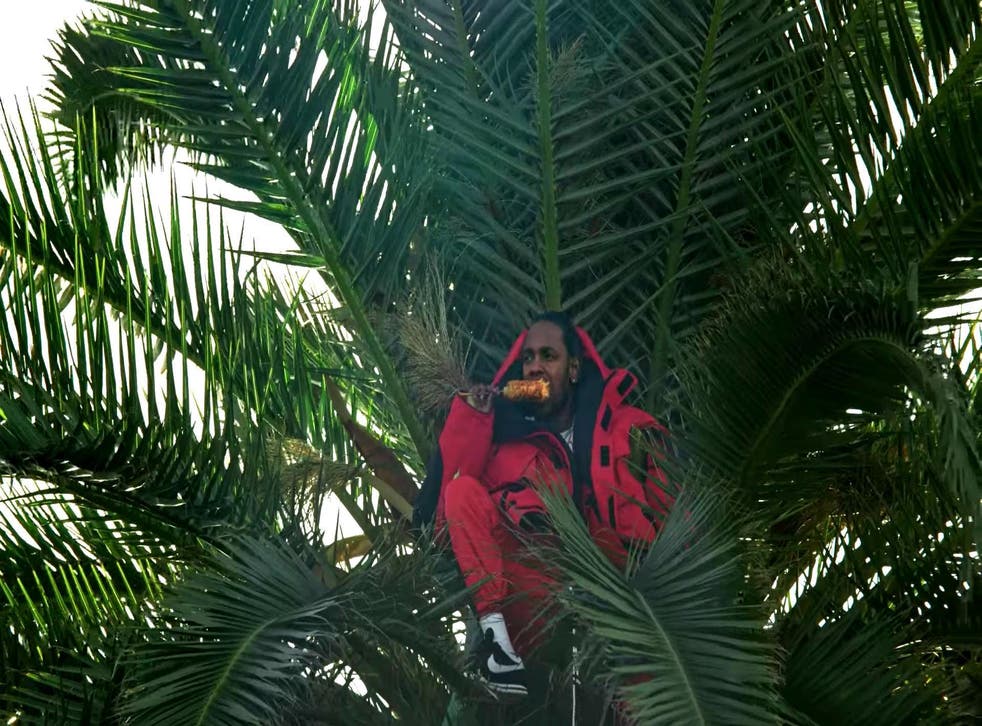 As if the sight of Kendrick Lamar eating an elote up a palm tree alone wasn't enough, there were more staggering, unprecedented visuals in the music video for his Jay Rock, Future and James Blake collaboration "King's Dead", including perhaps the longest camera zooms ever staged.
Pulling in and out of rooftops, the zooms were reminiscent of the kind Brian de Palma favoured back in the 80s, but had a hyperreal feel to them all of their own, the artists being shot as clearly as if the camera were there on the rooftops just a few feet away.
Achieving them took a lot of brain power, the sourcing of rare lenses and a heroic effort from the focus puller, Director of Photography on the video, Christopher Ripley, explains.
"From the beginning, we knew that a lot of the video's key moments would have to hinge on these impossibly long zooms," he told The Independent. "Dave [Free] and Jack [Begert, co-directors] were both really excited to avoid visual effects as much as possible. They wanted to really put all three artists on rooftops and find a way to do the zooms for real.
"I spent a couple days researching esoteric zoom lenses and eventually came across this rare Canon 50-1000mm zoom they had made for news and sports crews. We started calling around but nobody had that lens. Eventually, we found one on them available at a rental house in Burbank but even that wasn't really enough range to take us all the way from street level to a clear shot of someone performing on a rooftop. I ended up having to rent a ridiculously high resolution 8k camera so that they could digitally zoom even further into the image and get to where they needed to be."
Actually pulling the shot off by hand proved challenging however and (not for the first time in a Kendrick video) robots had to be brought in.
"Dave and Jack also wanted to be able to quickly zoom in and have the camera land on a perfect frame, perfectly on beat with the song," Ripley explained. "But when you're all the way zoomed in on a freakishly long lens, even the tiniest mistake makes the frame completely different. During our tests, we would sometimes even see the frame shake whenever traffic drove by.
"So I needed something that could give us a lot of really precise control over the framing. I called up a company in Santa Monica that specializes in robotic camera controllers and did a few tests, and we finally settled on a small robotic unit that would perfectly pan and tilt the camera and control the zoom, so it could smash in from a super wide into an impossibly close shot and land a perfect frame every time.
"I've done a number of crazy robotic rigs with that company over the years and they're always super nonchalant: "Oh, yeah, one of those, no problem. We've done that a million times," but when I pitched them the zoom setup, they stopped for a second and then said, "Yeah, we're gonna have to test that. We've never done anything like that before." I was thrilled I finally found something they hadn't done before."
Enjoy unlimited access to 70 million ad-free songs and podcasts with Amazon Music Sign up now for a 30-day free trial
Sign up
One element of the shots that couldn't be controlled by a robot, however, was the focus, as the team wanted to be able to react on the fly to the artists if they switched up their performance and moved differently.
Ripley added: "My focus puller Megan [McCarthy Johnson] was really under the gun—she had to keep everything perfectly in focus as the camera was robotically whipping around between people and crash-zooming in and out. She did an amazing job and kept her cool the whole job."
The results of this process, also used for the scenes of Kendrick in the palm tree and Jay Rock in the barbers, are iconic, and though the shots are dramatic they're edited in such a way that they still feel in keeping with the goofy overall tone of the video.

Join our new commenting forum
Join thought-provoking conversations, follow other Independent readers and see their replies