The Saturday Interview
Kesha: 'You're either hot or you're smart, you're classy or a party girl. F*** you, I'm all of it'
Having first emerged a decade ago as a hedonistic 22-year-old, the 'Tik Tok' singer saw her life and career derailed when she accused her former producer of sexual assault. She tells Alexandra Pollard how she 'scraped and climbed' her way back to happiness
Saturday 07 December 2019 09:00 Comments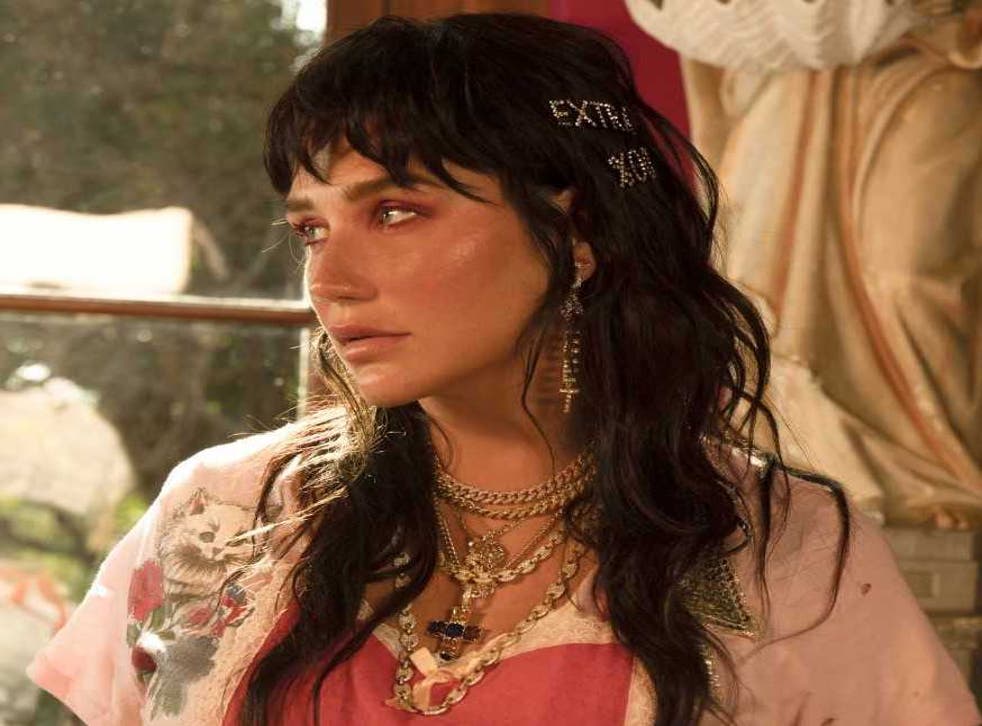 Track down a review of Kesha's music circa 2009, and you'll likely see at least one of the following words: bratty; vapid; trashy; vacuous; shallow; soulless. These are all direct quotes – written by critics during the era of "Tik Tok", which for a while was the best-selling digital single of all time. Back then, long before the high-profile sexual assault lawsuit that would darken her life, Kesha was a hedonistic 22-year-old Californian singing about sex, booze and partying. "Does she really toss a guy aside if he doesn't look like Mick Jagger?" asked one critic from The Boston Globe. "Does she even know who that is?"
"I was a wild child, and I wasn't ashamed or embarrassed about it," she recalls now. "And I did get an exceptional amount of s**t. But I wasn't that surprised. I expected people to have a stick up their ass about me talking about drinking and having sex, because, societal norms, women can't talk about that. A good chunk of my favourite musicians are men, and they've been talking about this stuff since rock'n'roll was created. So I wasn't surprised by people being shocked by it – but I also wasn't gonna let that stop me."
That same Boston Globe critic ended his review by saying that he could "hear the clock counting down Kesha's 15 minutes of fame". A decade later, the 32-year-old has just previewed her fourth album, High Road, to a room packed with journalists and members of the media. "This record is a very joyous, free, s**t-talking record," she told the crowd as she handed out tequila shots. "Cheers, to f***ing being happy."
Now, sitting in a London hotel room just around the corner, she's a little quieter, calmer. Her usually blonde hair is dyed dark brown, and the sleeves of an oversized jumper are pushed up to accommodate an army of bracelets, which add a percussive rattle to her words. "There's no more sparkling water," she tells her publicist as I arrive. "I like still, but I was gonna offer you some," she says, turning to me. Still is fine, I tell her. "Do you want sparkling? We can make it happen." No, honestly, I prefer still. "So do I!" I move to shake her hand. "I wanna give you a hug. Is that OK?" She pulls me into her arms, which are brimming with tattoos; of a skull and crossbones, a spaceship, a shark, a panther, a tiger and a faded dollar sign long since removed from her stage name. The words "live free" are spelled out on her fingers.
The 50 best albums of the decade – 2010 to 2019

Show all 50
She was "so nervous" about playing those new songs, she says, settling back into her chair. "It feels like you're presenting a child to the world to be judged." The child went down well. High Road returns to the unruly pop of Kesha's debut, Animal, though the autotune and staccato melodies are largely gone, her lively, expressive voice – which she nonetheless tells me is "mediocre" – shining through. "Raising Hell" is an old-school ode to excess, while on "My Own Dance", she sings, "We get it that you've been through a lot of s***/ But life's a bitch, so come on, shake your tits and f*** it."
It has been a few years in the making; and a lot of that time was spent deliberating over the appropriate tone to take. "I thought I wasn't deserving of putting out fun, dancey, drinking songs, celebrating life," she says. "I felt like I didn't deserve to be – or shouldn't be – happy. That it was somehow dismissive of what I'd so publicly been through."
In January 2014, just over a year after she released her second album, Warrior, and a few months after her Pitbull collaboration "Timber" became an international hit, Kesha checked into rehab for an eating disorder. Later that year, she filed a lawsuit against her longtime producer, Dr Luke (real name Lukasz Gottwald), claiming that he had sexually and emotionally abused her over 10 years. On one occasion, she alleged, he forced her to snort something before they boarded a plane, "and during the trip he forced himself on her while she was drugged". Gottwald denied it all, and because the statute of limitations had run out on the two specific rape allegations, the case was dismissed. The producer counter-sued for defamation and breach of contract.
"All I ever wanted was to be able to make music without being afraid, scared or abused," said Kesha in a statement in 2016, two years into the legal battle. "I think about young girls today – I don't want my future daughter – or your daughter – or any person to be afraid that they will be punished if they speak out about being abused, especially if their abuser is in a position of power."
Five years on, that case is still ongoing, so Kesha says she "can't speak too much" about it. But I wonder if she feels things would have been different if she first made the allegations now, post-Time's Up and #MeToo. Sony's statement at the time, when it called the accusations "a transparent and misguided attempt to renegotiate her contracts", smacked of victim blaming. She sighs.
Enjoy unlimited access to 70 million ad-free songs and podcasts with Amazon Music Sign up now for a 30-day free trial
Sign up
"I hope... that..." Another sigh. "There's a lot that I have had to deal with, from so many different directions. People often ask me how I feel about #MeToo and Time's Up, and my initial reaction is it just makes me horrifically sad. I feel very sad because there shouldn't be enough people that have been sexually assaulted to qualify a movement. And if the music business has gotten better, or had its moment..." She trails off.
In 2016, in the midst of all that turmoil, Kesha released the best album of her career – Rainbow. Weaving elements of country, gospel and guitar pop into its fierce empowerment anthems, the album bristled with defiance. It quite rightly received rave reviews. "That blew my mind," she says. "It was the first time I ever got good press in my entire career, and I didn't know what to do with it. I was so used to people telling me how I couldn't sing."
Despite the album's bold bravado, Kesha wrote Rainbow long before things actually started to improve. "I was in a really s**t headspace," she admits, "but it was like a letter to myself about how things were gonna go. 'We're gonna make it through this, me and you.'"
She did make it through. And on High Road, she decided to celebrate that. "Rainbow was the admission and internal confrontation of a lot of really serious things that were happening in my life," she says, "and this record is now reclaiming what I always have been, which is a fun, emotional, smart, wild, genreless, labelless human being. And people might say, 'Oh, you're just going back to your old party tricks,' but really, I'm reclaiming what I created in the first place." She resents the idea that she has to be just one thing. "You're either hot or you're smart, you're classy or you're a party girl," she says. "F*** you. I'm all of it."
Kesha was involved in every stage of this record: the writing, the mixing and the producing – to the extent that "I'm such a pain in the ass, probably". But it grates on her when people don't respect her process. "In 'Tonight', there's this middle-of-the-song random chorus that's sung in the wrong key," she says. It was designed to evoke a joyous, drunken singalong. "And someone was like, 'You know that's not the right key?' And I was like, 'Yeah I know, I've taken music theory, I know it's in the wrong key. That was intentional. It's all intentionally done.'"
Do people often underestimate her? "I think that sometimes in entertainment, people are not used to a woman knowing what reverb and EQ [equalisation] they would like on their vocal, or what guitar tone sounds good through what pedal. Hopefully, tides are changing. So where I've been dismissed before, I feel like I've worked through that with everyone, and now they realise that I do love to be hands-on with everything."
After two albums as executive producer, Kesha finally feels that she has a team who respect her. "Making Rainbow and High Road, I've found that there are good men in the music business," she says, with a tone of incredulity. "I went from being able to trust very few men to now, I have, in the double digits of men I can trust."
She cannot trust her president, though. "I voted, and it was not for Donald Trump," she says. "I am scared of the hateful rhetoric and the steps backwards we're taking socially, in terms of human beings and their rights. Recently, women's right to choose has been reversed in multiple states. I've been so anxiety-ridden about basic human rights being picked at one by one – things that have already been addressed in the Supreme Court and now all of a sudden are coming back up. It makes me so incredibly frustrated, and sometimes it's so overwhelming that I just have to listen to something that just takes me out of the headspace. I never understood, until now, the importance of pop music as a beautiful way to escape."
High Road, she says, has reminded her what joy feels like. "I almost demanded it out of the universe. I very much hold space for, and will probably never get over, what I've been through. While knowing that, I can still pursue being happy and free."
It's a happiness she feels she has earned. "I'm a grown woman now. I've fought for that happiness – it's not just young, innocent, naive happiness. I've been down, and then I scraped and climbed my way back up. It feels really good to be able to sit here and tell you, who will get to tell all the people who read what you write, that there may be a time in your life where you feel like you're never gonna ever feel happiness again. And I know how that feels. I really do.
"I didn't believe it when people would say, 'Everything will pass, you will feel happy,'" she continues, "because it just went on for so long. And I'm so... f***ing... ecstatic," she takes a deep breath, "to be able to tell you that it actually does."
High Road is out 10 January 2020
Register for free to continue reading
Registration is a free and easy way to support our truly independent journalism
By registering, you will also enjoy limited access to Premium articles, exclusive newsletters, commenting, and virtual events with our leading journalists
Already have an account? sign in
Join our new commenting forum
Join thought-provoking conversations, follow other Independent readers and see their replies