Kiss: Why the crazy crazy guys are still monsters of rock
After five decades, heavy metal's most outrageous made-up men refuse to grow old gracefully. James McNair meets Kiss
James McNair
Monday 26 November 2012 01:01 Comments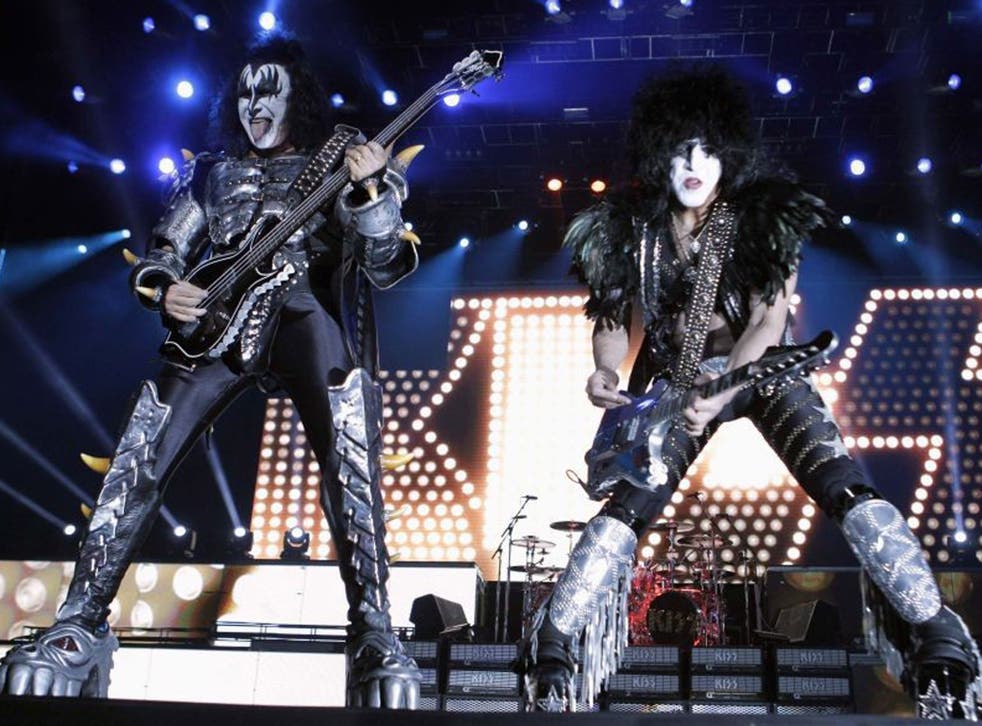 Kiss's lead singer and rhythm guitarist Paul Stanley is 60 now, but he had his first hip replacement op aged 52. It was the nightly strutting in eight-inch heels that did it. "Every scar on my body was proudly earned," he says when asked if he regrets Kiss's stilt-like footwear. "There's nothing worse than looking back and wishing you had done things, but I did 'em all. That's how life is supposed to be lived."
Today, Stanley is wearing flats – zebra-print flats. "Nice shoes," says the PR woman who's introduced us. "Thanks – I shot them specially for you," says Stanley. Together with fellow founding-member of Kiss, Gene Simmons, 63, this is how Stanley, AKA "The Starchild", talks. It's a playful and meticulous kind of braggadocio, the endearing silliness of which he and Simmons are at pains not to acknowledge. To drop the mask would be to undermine the welcome and enduring pantomime that is Kiss.
What they do like to talk about is merchandise. The Kiss Kasket that helps your funeral go with a kerrang!; the Kiss Kondoms that put the kitsch into kontraception – these and sundry other alliterative goods make Kiss seem more brand than band. This time around they are in London to flog Monster, a ridiculously outsized book of glossy Kiss concert photos that weighs for stone, costs around £2,740, and measures three-feet by two-and-a-half feet.
"People say of great books I couldn't put it down," says Simmons, "but this one's more I couldn't pick it up."
Monster the album is out, but as is so often the case with Kiss, the new music almost seems like an aside. The cartoonish, New York City-formed band's fabulously entertaining live shows remain the yardstick by which we measure their worth.
Can they tell me something of what new album, Monster, is about? "What are the songs about?" says drummer Eric Singer incredulously. "They're about rock'n'roll. It's nothing to do with age or politics – it's just the spirit of Kiss, and Kiss never tries to be anything it's not." For a man who spends part of his life in the whiskers and pussy-nose guise of "The Catman", Singer seems pretty intense.
Simmons and the seven-inch tongue he's quick to waggle at photographers have had plenty of female company over the years. Old flames include Cher and Diana Ross, and the teetotal, Israeli-born star also claims to have bedded over 4,800 women. Simmons once joked that he and his partner – the actress and former Playboy Playmate Shannon Tweed –were "happily unmarried" for 28 years, but they finally wed in Beverly Hills last October.
Stanley and Simmons have been co-piloting Kiss for almost 40 years now. You have to admire the genius idea of the makeup. It renders Kiss ageless and it still brings TV crews running.
You also have to respect Stanley and Simmons's incredible work ethic, but there's a fine line between dedication and megalomania. "The Kissology Volume 4 DVD will be 10 hours," says Simmons.
Enjoy unlimited access to 70 million ad-free songs and podcasts with Amazon Music Sign up now for a 30-day free trial
Sign up
The book and album 'Monster' are available now from Kissmonsterbook.com; the box set 'The Casablanca Singles' is released on 4 December
Register for free to continue reading
Registration is a free and easy way to support our truly independent journalism
By registering, you will also enjoy limited access to Premium articles, exclusive newsletters, commenting, and virtual events with our leading journalists
Already have an account? sign in
Join our new commenting forum
Join thought-provoking conversations, follow other Independent readers and see their replies