Korn interview with Jonathan Davis: 'This band's always been the black sheep. I like the fact that we're such outcasts'
The frontman of the Bakersfield quintet that changed heavy music forever reflects back over a back-catalogue of 12 albums over 24 years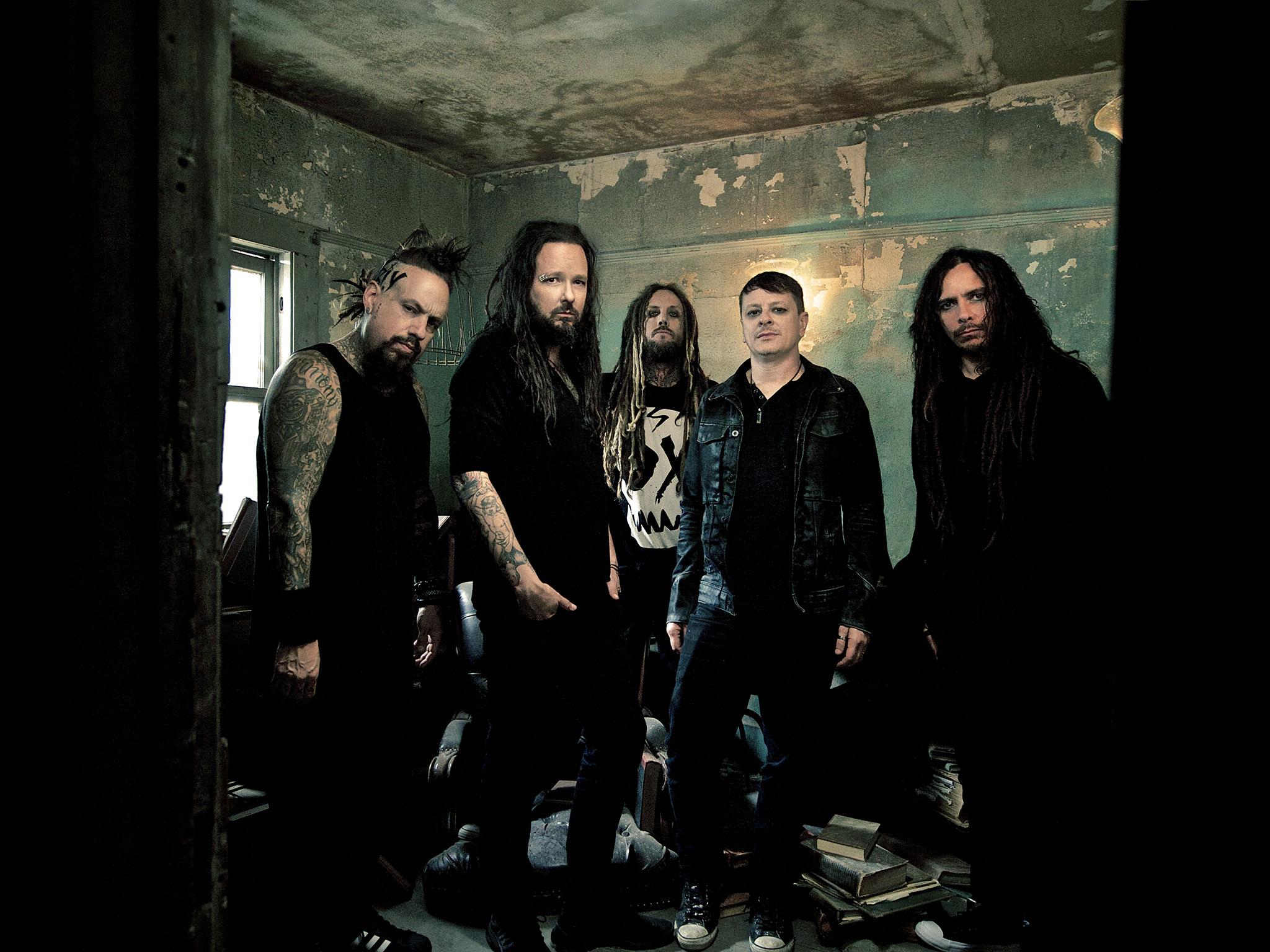 Over the course of 24 tumultuous years, Korn have been one of the most prolific heavy bands of all time, having released 12 albums since 1994. They've run through rock's gamut of hedonistic clichés and remain one of the last bands standing from an era where the music industry was a machine that had the infrastructure to be able to support musicians in their wildest endeavours. That machine is dead, unlikely to be resurrected in the foreseeable future; whether that is a good or bad thing is very much open to interpretation but Korn persevered throughout the highs and the lows, remaining constantly focused on making new music, regardless of what was happening around them. With nu-metal, the much maligned genre the band are often credited with creating, enjoying a renaissance after years of open belligerent mockery, it seemed like the perfect time to look back over the career of one of the true innovators of heavy music.
The origins of Korn lie in L.A.P.D, a funk-metal hybrid formed in 1989 that aped the en vogue sounds of early Faith No More and Red Hot Chili Peppers. The band contained 3 original Korn members; guitarist James 'Munky' Shaffer, bassist Reginald 'Fieldy' Arvizu and drummer David Silveria. L.A.P.D underwent a series of line-up changes in their short three year history, which culminated in the band briefly changing its name to Creep when they enlisted the services of future Korn guitarist Brian 'Head' Welch. The band were fans of a fellow local alternative funk-metal collective called SexArt, particularly the fiercely intense, emotionally raw performance of their frontman, a young 22-year old called Jonathan Davis. 'Creep had this weird, funky Alice in Chains vibe going on' says Davis of the band then, 'and this crazy dude called Corey singing for them who sounded exactly like Layne Staley. Their music was really dark, heavy and minor but he made them sound kinda happy. When I tried out, I heard the first note and immediately went for a darker feel; from that very first note I knew we had something special.'
With Davis in tow and a final name change to Korn, the band's down-tuned, deep-rooted primal grooves suddenly sounded much bleaker and more sinister; it immediately became apparent that the quintet was on to something fresh and unfamiliar. During early rehearsals at a modest, rented studio space called Underground Chicken Sound a crowd gathered like moths to flame, drawn in by the opening sledgehammer riff to an early version of Clown. Whilst at the studio, the band recorded a demo, entitled Neidermayer's Mind. It contained 4 songs, including markedly different versions of Daddy and Blind which Davis had brought over from SexArt. Both compositions would eventually be radically re-interpreted for Korn's self-titled debut album and become defining songs of the nu-metal era.
The band utilised the services of an unknown 26-year old producer who had a mere handful of credits to his name (one of which was Creep's demo tape). His name was Ross Robinson and alongside Korn, he would become a key player in creating the nu-metal sound that would soon dominate heavy music right up until the end of the 20th century. 'When I got into the band Ross was all giddy' says Davis of those early days. 'He came and listened to me sing and said, 'We gotta get in there and do a demo now!' I'd only been in the band for two weeks when we recorded Neidermayer's Mind and the songs were done real quick; they had to be because we were ripping off time from W.A.S.P. They were in the studio doing one of their records and they'd leave around midnight, so Ross would sneak us in and we'd use the studio at night until they came back in the morning. The opening riff to Blind on that demo was played on one of Blackie Lawless's guitars without him even f**king knowing about it.'
Despite the fresh, original sound, the world wasn't quite ready for Korn in 1993. Neidermayer's Mind received generally poor reviews upon its release. Despite the lacklustre reaction, a performance in Huntington Beach, California enabled the band to ink a deal with Immortal/Epic records. Whilst the label clearly knew they had something different on their hands, they initially struggled to saddle Korn with an identity, as is apparent from the range and diversity of support slots the label booked for them; House of Pain, Biohazard, Sick of it All, Orange 9MM, Marilyn Manson, Danzig, KMFDM, Pennywise, The Offspring and No Doubt all took the Korn under their wing at some stage in the band's early years. 'They just didn't know where to put us' says Davis. 'I always felt like we were a black sheep; to me, metal bands are Judas Priest and Iron Maiden, s**t like that. We were nothing like them; we were more of a funk band if anything, more about grooves and heaviness. When the nu-metal tag came out, I was like 'whatever, you've got to call it something' but I like the fact that we were such outcasts. It was very surreal back then but we knew we were doing something cool and different just from the reaction we were getting.'
There was clearly something very different to Davis's lyrical style as well; the majority of vocalists of that time were content to dress up song-meanings in metaphors so oblique, they were practically impossible to interpret. Korn's self-titled debut tacked issues such as depression, child abuse and drug dependency with a direct impact that left little to the imagination. But it wasn't merely the lyrics that captured people's imaginations; the raw performances on Korn, particularly the sound of Davis breaking down during the climax of the album's last song Daddy, provided a level of voyeurism and emotional honesty that had hitherto been unseen in the priggish, macho attitudes that had proliferated through heavy music. Producer Ross Robinson became synonymous with extracting deeply emotional performances out of vocalists and made a career producing some of the most essential, intense music of all time. But despite the raw nature of the delivery on Korn, Davis attests that Robinson's methods had not yet fully developed into the borderline psychotherapy sessions that they would soon become. 'I think we both helped each other figure out what our roles were on that first record' Davis says. 'Breaking down in Daddy and all that other emotionally open s**t, that was all coming from me. That stuff just happened and Ross was smart enough to keep the tape rolling. We grew together, I have nothing but love for Ross, I just feel sorry for the bands he works with!'
Korn revisited their debut for a 20th anniversary tour (that oddly enough began 21 years after the album was released) but it's unlikely they'll be doing so again anytime soon. 'I hated playing it' says Davis. 'It just made me realise what a dark-ass f**king record it is! These days, Korn is about bringing a positive party energy, people dancing, moshing and having a good time; that first record's just straight f**king depressing. That was me at that time, but that was 20-odd years ago and I'm a totally different person now. It was like pouring salt on old wounds.'
The self-titled debut was a slow burn that had gathered momentum by the time its 1996 follow up Life is Peachy arrived. But things really went stratospheric for Korn on their third album, 1998's Follow the Leader. The band had realised the power of MTV and snazzy promos for first single Got the Life and the Todd McFarlane directed Freak on a Leash opened the eyes and wallets of disaffected youth, making Korn one of the biggest rock acts of the 90s. The sound the band pioneered was being mercilessly mimicked by half a dozen contemporaries and a few thousand pale imitators, a fact cheekily alluded to in the album's title. Korn's party lifestyle sky-rocketed and for a short while, they garnered a reputation for being one of the most debauched bands on the planet. Whilst no-one knew it at the time, the music industry was about to implode under the weight of its own ego, and consequently Korn were one of the last bands to have heaps of money thrown at them. 'We're one of the last of a string of bands that sold out arenas, that had big budget videos, that lived f**king larger than life; it was crazy, we lost all sense of who we were for a while there. I had to walk around with two bodyguards 24 hours a f**king day. We used to play gigs, hang out in the crowd, pass out tapes, go to keg parties and all that s**t but after that album blew up, all of that was gone. It was an insane time, all of us were going a little cuckoo and got a bit cocky but that's because you lose your life. To this day, I still can't go nowhere in the world without being recognised. I don't expect people to understand that unless you go through it but it's f**king nuts! We were partying every night and I was at the height of my insanity. I got sober in '98 because it all became too much, I either had to kick that s**t or die.'
Korn released Issues, a substantially successful if less focused follow-up, just 15 months after Follow the Leader in November 1999. As the millennium dawned, Korn were one of the most successful bands in the world and they were about to start work on their most ambitious record to date. Untouchables is a substantially opulent record made just as the music industry was forced into frugality due to the proliferation of piracy. As a result, it is one of the last records of an era where album budgets were written on blank cheques and bands could take the time to experiment extensively. Many derided it at the time for costing $4,000,000, although that figure is slightly misleading – the majority went on Korn's crew who the band (perhaps unwisely) decided to keep on retainer whilst they were making the record (the actual recording costs are estimated to be nearer $750,000, a still not insubstantial amount). History has proved it to be one of Korn's most endearing albums, certainly one of their most diverse and experimental and it holds a special place in Davis's heart.
'The record I'm most proud of is Untouchables. I still think it sounds like the heavy metal Asia,' he says speaking of the 80s British prog rock band, not the continent. 'The production on it is of the same calibre in terms of sonic quality. We spent a lot of money making that record and it took us two years to make; I remember we spent a month just getting drum sounds. (Michael) Beinhorn is my favourite producer ever, he's just got a great ear and he's not afraid to tell you if you suck. I'd do vocal takes and think they were the best and then he'd tell me to go home because he thought my voice wasn't right. I'd get so mad at him, but I love him. It was so much work; if I can find the footage, I'm going to put a little documentary together about that record because it's a one of a kind that will never be made again.'
Despite Korn indulging themselves and releasing one of the greatest achievements of their career, Untouchables was never going to recoup its costs and no record company was ever going to pick up a $4,000,000 tab to burn a dozen or so songs on to compact disc ever again. 5 years earlier, things might have been different, but the industry was changing at a breakneck pace. 17 months later, Korn released the follow-up, Take a Look in the Mirror, a self-produced effort that was written on the road as a reaction to the high-fidelity recording techniques and stellar production of Untouchables. 'We had a mobile studio set-up out on the road with us so we'd f**k around and come up with riffs. We wanted to do something that was stripped down and raw, so we just wrote some songs out on the road and put it together and made a record.'
Take a Look in the Mirror was the beginning of a period where Korn suffered countless slings and arrows of outrageous misfortune. On 22nd February 2005, management announced that guitarist Brian 'Head' Welch would be leaving Korn. A long list of reasons was given in a letter of resignation, including a moral objection to the band's music after Head had re-evaluated his life and dedicated himself to Christianity. As time went by it emerged that the guitarist had picked up a crippling methamphetamine addiction from the band's hedonistic days; leaving Korn and turning to the church was the only way he could kick the habit. Davis pulls no punches when recalling his anger and frustration at that time. 'It f**king killed us! It was like losing a family member and for him to go that way, the born again Christian bulls**t? I was f**king mad, I really dislike the church and the assimilation tactics that a lot of born-again Christians use. If people want religion in their life, they'll go and find it themselves. You don't need to go shoving it down people's f**king throats and it seems to me like that religion is all about saying 'you're a piece of s**t if you're not one of us!' Now I look back and I understand that he needed to do that; if he hadn't found something other than drugs, he was going to end up dead. I respect all people's beliefs but it took me a long time to let that s**t go!'
Head wasn't Korn's only casualty either; in December 2006, it was announced that founding member David Silvera was to take a 'temporary hiatus' from the band (although it became permanent soon after.) On top of that, whilst promoting Korn's sixth record, See You on the Other Side, Davis was diagnosed with a blood ailment called Immune Thrombocytopenic Purpura (ITP) brought on by an allergic reaction to medication, forcing him to miss a sub-headline slot at the prestigious Download Festival, as well cancel the remainder of Korn's European tour. Add to this a decline in the popularity and oftentimes out-right mockery of nu-metal, the genre the band had significantly helped to pioneer, and it's fair to say that Korn had an extremely tough mid-period. 'I remember our old tour manager saying, 'All this s**t goes in waves'' Davis says in response. 'You'll have high points, you'll have low points but you've just got to ride those waves and eventually it'll all come back around again. If you survive and get back up to that high-point again, you solidify your legacy and you'll keep riding that wave for a long time. So I think we're at that point now, it's come around full circle. This band's always been the underdog, we've always been the black sheep and I'm fine with that.'
There is one thing that is irrefutably admirable about Korn in this period of time; even when the band was riding those low waves, quitting was never considered an option. So many of their contemporary's would have dipped out and waited until they could crest the high waves again; the number of bands that have used an indefinite hiatus as a strategic means of boosting their popularity is vast in modern music. But Korn never sunk to such lows and continued to experiment and push the boundaries of what heavy music could (or should) be. For See You On the Other Side, they brought in collaborators from outside the band to assist with writing, including Nine Inch Nails collaborator Atticus Ross and songwriting/production team 'The Matrix'. The latter were particularly contentious amongst some fans who couldn't abide their association with pop acts such as Britney Spears, Christina Aguilera, Avril Lavigne and Busted. Then there was 2007's Untitled, debatably the most radical departure from Korn's signature sound and an album Davis pretty accurately describes as 'our goth prog pop record.' It's also the closest the band has ever come to appropriating the nu-romantic influences so adored by Davis. Even when fans weren't willing to follow them down the rabbit-hole, at least Korn were a band open to unorthodox experimentation.
It was actually when Korn played things safe that they faltered the most; 2010's Korn III: Remember Who You Are was a self-conscious attempt to re-visit the dark themes and back-to-basics approach of the past as typified on the band's first two albums (hence the 'III' in the title). Ross Robinson was brought back on board as producer to try and rekindle the fire and stark, raw emotional impact of Korn and Life is Peachy but Davis considers the album one of the band's weaker efforts. 'I think it would have been a much better album if Ross hadn't been so f**king hard and let us have a bit of fun,' he says. 'There was a song that I wrote about my wife (penultimate track Are You Ready to Live?) when she was having problems with a pill addiction. And Ross called her without me knowing and asked her to show up to the studio and I had to sing that part to her! He pushes your buttons on purpose to get those kind of performances out of you and he wants to get you to the point where you're so fucking mad, the emotions just come pouring out. I get it but I don't necessarily want to be a part of it now that I've been there and done that. I love him and I respect him and I think he's amazing, one of the last great producers, but that record sounds forced to me and it took me to a very dark place that I didn't want to go back to. I think going backwards rather than forwards might have been the biggest mistake we made as a band.'
As a reaction, Davis took the reins for the next Korn record, diving head-first into the world of electronic music and collaborating with a wealth of producers including Skrillex, Noisia, Excision, 12th Planet, Datsik and Kill the Noise. Released just as dubstep had infiltrated into mainstream culture, The Path of Totality amassed mixed reviews; Q Magazine described it as the band's 'boldest and best album for years' whilst at the opposite end of the spectrum, The A.V Club boldly proclaimed it 'the worst slab of sludge (Korn) ever shat.' Whichever side of the fence you sit, it was undoubtedly a brave, audacious move from a band that had (wrongly) garnered a reputation for making the same album over and over again, silencing those who spouted such garbage. 'I wanted to push us with some new school heavy s**t' says Davis, 'that's one of the most exciting records we ever did. Untouchables is still my favourite Korn record but this one is not far behind because it was so innovative and different. We had all these rave kids coming out to our shows with f**king glow sticks, it was really f**king cool.'
Shortly after one of Korn's boldest experiments, Davis rekindled his relationship with Head. 'The whole thing started when I went to see him play some club in Bakersfield. My wife made me go, she was adamant and said 'you're going to go and see him!' and that was the first time I'd seen him in 8 years. Then after the show, I drove him to the studio and played him The Path of Totality. He was like, 'What the f**k are you guys doing!?' He thought it was cool, but he hates all that stuff, he's Mr. Metal. But that started the ball rolling, me and him were cool, the last one to come around was Munky. They met up at Carolina Rebellion Festival and that's when he came out and played Blind with us. After seeing the reaction from everybody, it seemed apparent pretty quickly that he was going to be coming back.'
Head was officially re-inducted back into the band's ranks almost a year to the day after that emotional performance and Korn became a quintet again for the first time in eight years. The most recent records, 2013's The Paradigm Shift and last year's The Serenity of Suffering have been the most critically appraised Korn albums since Untouchables. Bands like Stray From the Path, Cane Hill and Issues are at least attempting to revive the bounce and angst of nu-metal and though Davis prefers to distance Korn from the genre, it's undeniable that they continue to have a huge influence on new bands 24 years after they first formed. There's a big difference between Korn and the imitators though. 'My main aim isn't trying to satisfy fans, I want to push my art' says Davis. 'If you start doing things to appease your fan base, then you just dilute your art. If you're not taking a risk then what's the f**king point!?'
Korn play the main stage at Reading and Leeds 2017. They will also play a warm up show at Brixton Academy on 23rd August. The band's 12th album, The Serenity of Suffering, is out now through Roadrunner Records