Ladies und Gentlemen, the future has arrived
To the unenlightened (i.e. most of us), they were just naff. Now, with good reason, they are hailed as prophets. David Stubbs hails synthpop pioneers Kraftwerk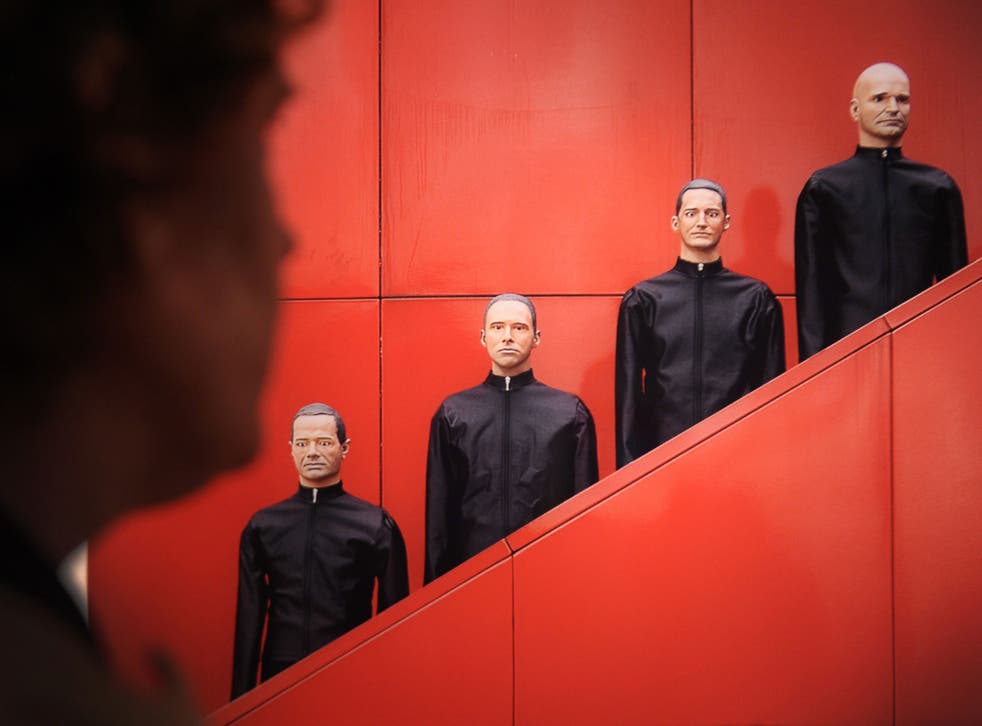 The fuss over the ticketing fiasco that followed the news that Kraftwerk were to play Tate Modern must have puzzled many. The "techno pioneers" sold out New York's Museum of Modern Art playing eight of their classic albums over successive nights, and they're now bringing the show to the UK. But why the palaver? What is the hold this veteran, enigmatic German group have over those scrambling like Boxing Day bargain hunters to see them, even at £60 a head?
To the uninitiated, Kraftwerk are a latter-day space oddity – elderly men crammed into shiny jet-black onesies, arranged on stage over keyboards-come-lecterns like the senior admirals of Star Trek: The Next Generation. They rarely do interviews. On BBC2's The Culture Show in 2009, their leader, Ralf Hütter, sent a robot of himself in his stead. So why are we taking them so seriously? Because, quite improbably, Kraftwerk constructed the power stations from which practically all modern music is generated. They are the godfathers of synthpop, hip-hop, techno and innumerable electronic offshoots. They practically invented large parts of the Eighties and Nineties, influencing acid house, Daft Punk and Orbital among countless others – anything with an electronic beat. They anticipated our 21st-century computer world decades ahead of its reality.
Kraftwerk's story, however, begins in the Seventies. They were from a generation of young Germans coming of age in a global era of student revolt with a particular bone to pick. To their horror, they were becoming conscious of the Third Reich and their own elders' involvement in it, none of which had been mentioned to them growing up. German pop culture, too, was in an abysmal state, mostly comprising slavish imitations of Anglo-American fare. No wonder a wave of musicians felt impelled to construct new modes of music that were German in origin yet untainted by the recent past. From Can to Faust, Amon Düül to Neu!, this was, necessarily, an era of innovation.
Initially, core Kraftwerk members Hütter and Florian Schneider (who had previously played in an experimental group called Pissoff) looked indistinguishable from their long-haired, flared-trousered, flute-wielding counterparts. However, they were always stand-offish. In Beano terminology, they were softies rather than menaces. Both from upper-middle-class Düsseldorf stock, they retreated to their own Klingklang studio. They began to pare away at the hippyish frills of their music in search of something new. There two epiphanies. The first was around 1971 when Hütter, having purchased a drum machine, left it playing onstage before joining a crowd to dance along to its rhythm loop. Then a visit to a Gilbert and George exhibition encouraged a makeover: on their third album, Ralf und Florian, the pair strike a cosy posture of arty reverie not unlike the artists' own. Hereafter, Kraftwerk would, like Gilbert and George, present artfully contrived personae to the world, carefully obscuring their private selves.
Influenced by the Modernist aesthetic of the Bauhaus era, which saw art as inseparable from everyday function, Kraftwerk took on two new members and embarked on a series of albums that serenely and vividly posited a perfect nature between humankind and technology. Their breakthrough was 1975's "Autobahn", a worldwide hit. The single was a synthesised tone poem on the simple joys of the German motorway network, and earned Kraftwerk a TV appearance – not on Top of the Pops but on its Thursday-evening predecessor, Tomorrow's World. "Sounds are created in their sound laboratory in Düsseldorf, programmed, then recreated onstage with the minimum of fuss," gravely intoned the commentary as if describing a new smelting process, over footage of the group looking like off-duty civil servants performing the hit. Schneider's benevolent leer caused quite a stir among Germanophobic older viewers.
The Seventies were dotted with one-hit synthesiser wonders –Space's "Magic Fly", Hot Butter's "Popcorn" – and it would have been tempting to file Kraftwerk in the same category. They persisted, however, and, what's more, began to be taken seriously, most vitally by David Bowie, then going through his "Berlin phase". Bowie had moved to Germany to take in the "Krautrock" vibe that inspired his albums Low and Heroes. He saw in them a vision of the future, an entirely reconfigured way of making pop music.
Kraftwerk possessed the zeitgeist of a time that hadn't yet come. They were an affront to Seventies rock conventions, which demanded passion, unbuttoned shirts or no shirts at all, solos, big hair, big voices, loud machismo and a Luddite mistrust of technology except the electric guitar. Kraftwerk had none of these. Hütter's vocals were fey and deadpan. They embraced the rhythms of sequencer-driven disco. They wore business suits and ties, cut their hair short. On the cover of 1978's The Man-Machine, they posed in lipstick and celebrated their voluntary "dehumanisation". All of this in an era of new modes of automation and early microchip technology when swathes of the workforce feared replacement by machines. Synthpop, even by those who made it, such as Gary Numan, tended to be full of far-fetched anxiety about a cold, automated future. Not Kraftwerk. In interviews, they drily traded on the novelty of their German-ness – one of the reasons why Kraftwerk are not so big in their own country is that Germans don't consider there to be anything especially novel or amusing about being German.
Kraftwerk's embrace of technology appeared provocatively naive but, with 1981's Computer World, they anticipated a world that is familiar to us today. "Pocket Calculator" teased the wizard-like pretensions of the caped synth-merchants of the day, such as Rick Wakeman. Decades before the iPhone, they showed the immense storage capacity of tiny devices, on which they played "little melodies" onstage.
Kraftwerk inspired an effete, synth-driven generation from Depeche Mode to Soft Cell, as well as the New Romantic movement with its unapologetic poseurs Spandau Ballet, Japan and Duran Duran. However, it was with Afrika Bambaata's 1982 hit "Planet Rock", borrowing as it did the metallic backbeat from 1977's Trans-Europe Express, that Kraftwerk truly reassembled the world. This was the moment that rap turned into hip-hop. African-American musicians had no time for the nostalgia of their white counterparts – what did they have to be nostalgic about? – and so embraced the futurism of Kraftwerk in Detroit, New York, in clubs and studios. Hip-hop, techno and house followed Kraftwerk's template. In the UK, too, the rhythms of Kraftwerk dominated pirate stations in the late Eighties and Nineties, as well as today's all-dominant stadium dance music, David Guetta, Swedish House Mafia and Deadmau5.
By the mid-Eighties, synthesisers and electronics had become fully integrated into mainstream pop and dance. Kraftwerk's mission was complete. Which probably explains why, since 1986's Electric Café, they have produced virtually no new material. What have they to say now that the future has arrived? Instead, for over 20 years, they have concentrated on touring, upgrading their visual presentation and losing Schneider, who hated playing live. Some would term their 21st-century show a Gesamtkunstwerk (total work of art), others a celebration of their greatest hits with a fab light show. There is an irony in the clamour to see them, an absurdity in nostalgically celebrating these ageing, camp, Teutonic exemplars of the days of future past. But, having ridden and even exploited uncomprehending derision for decades, they have earned our homage. Truly, they're having the last laugh.
Kraftwerk: The Catalogue 1-8, Tate Modern, 6-9 & 11-14 Feb
David Stubbs's forthcoming book on Seventies German music, Future Days: A History of Krautrock, will be published by Faber & Faber
Join our new commenting forum
Join thought-provoking conversations, follow other Independent readers and see their replies