Lady Gaga interview: 'I got really lost for a while - I didn't even know who I was anymore'
After falling sales and a crisis of confidence, Lady Gaga reveals how teaming up with Tony Bennett has reinvigorated her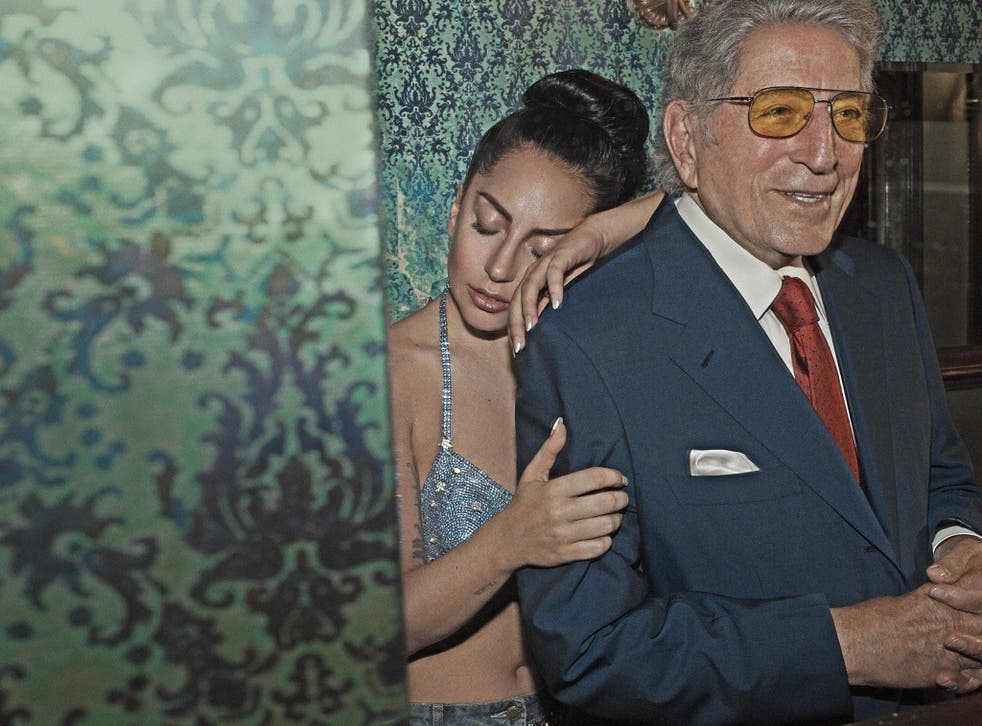 Brussels's Grand Place is a sight to behold.
The central square of the Belgian capital dates from medieval times, and is flanked by the City Hall, guildhalls and the neo-gothic King's House, now home of La Musée de la Ville de Bruxelles. It has survived bombardment by the French and the arrival of Starbucks. Now it's a Unesco World Heritage site, and was voted Europe's most beautiful square 2010.
It's quite an edifice – historic, imposing, classy but also jaw-droppingly extravagant. A fitting place, then, to meet Lady Gaga and her latest collaborator, Tony Bennett. The pair are in Brussels to mark the release, this same day, of their duets album Cheek to Cheek.
It's a collection of covers of jazz standards plucked from the Great American Songbook: "Sophisticated Lady", "Anything Goes", "Let's Face the Music and Dance" and (on the extended deluxe edition) 12 other songs that 88-year-old Bennett has been singing all his life – and that, Gaga insists, she's been listening to all her life.
"I wanted to do something different with Tony [from what] he'd ever done before, with any other jazz singer," the 28-year-old tells me. The New Yorker might have made her name over the last six years – and earned her 200 million album sales – as a singer/songwriter of electronically propulsive and lyrically knowing dance pop ("Just Dance", "Bad Romance", "Poker Face" and "Telephone", the latter a duet with Beyoncé), and of bleeding-edge fashion statements. But she's as aware as anyone of Bennett's illustrious one-time collaborators, a stellar roll-call of 20th-century legends that includes Count Basie, Judy Garland and Frank Sinatra. "But of course you always listen to the greats.
Lady Gaga's most ridiculous outfits

Show all 8
Amy was great," she continues, meaning Amy Winehouse, with whom Bennett sang on his 2011 album Duets II. "And Ella Fitzgerald was so great, and Billie Holiday..." Gaga isn't just trotting out the obligatory names. When she was plain Stefani Germanotta, just another middle-class Upper West Side girl with a passion for singing, she was listening to her parents' LPs of the music of Cole Porter and old school Broadway shows. And she was taking piano lessons and entering (and winning) inter-school jazz competitions. You can hear this passion – and her not-inconsiderable vocal skills – on Cheek to Cheek.
"It's wonderful," avers Bennett. "She has the gift – the gift of improvisation. And she just does it naturally. And it's something you can't go to school and learn how to do... She intuitively rephrases a song to make it even more believable than when it was originally written."
How, for the veteran crooner, did the experience of working with Gaga compare with working with Winehouse?
"Well, it was different, you know?" he begins in a voice that is slow, thoughtful and freighted with the experience of seven decades in the business. "Amy Winehouse was just a born jazz singer. Completely, at all times. I never heard anything quite like it out of a young child. I couldn't believe it – she was just as good as anybody that ever sang jazz. But there's something about Lady..." he chuckles.
They're in Brussels for a press conference in City Hall and a one-off show in the Grand Place. Belgium has been chosen to launch the album because this was the only place in the world where their schedules could be sync-ed. Gaga has just commenced the latest leg of her ArtRave: The Artpop Ball tour. The typically outré, quasi-conceptual, arena-filling spectacular began in the US in May, seven months after the release of her third full album, Artpop. Tomorrow she hits Antwerp, and at the weekend she was in Tel Aviv.
Enjoy unlimited access to 70 million ad-free songs and podcasts with Amazon Music Sign up now for a 30-day free trial
Sign up
She recounts all this in a speaking voice that is, well, rather posh and demure. While Gaga is in what we might call "TonyWorld" she has undergone a personality change, first evident in her dress today and tonight: nice, floor-length gowns, albeit with lavish trains and displaying (at the press conference) plunging décolletage. Beyond that, she seems to occupy a different mindset; a dialled-down, quietened version of the Twitter-dominating megastar known for her rabid following of 42 million Little Monsters, meat dresses, sexually provocative videos and – as notoriously showcased at this year's SXSW festival in Austin, Texas – onstage vomiting.
Tonight's open-air (and free) show will be their first public concert together. Does she have to change gears when singing with the stately old trouper?
"Well, it's not really a gear change so much as a change of partner and a change of intention. When I'm onstage with the Artpop Ball, the point of the show is to take what was the mess of my life and make art of it – to raise the spirit of artistic dreams and creativity and take all the things I was feeling in pain about, and rage..."
Gaga stops and, as she often does, turns the focus from her personal self to the impassioned ardour of her audience. "This is why I believe the fans have come together and are strengthened," she purrs. "I'm very happy and surprised to see that we're closer than ever."
This appears to be an oblique reference to the fans' fidelity in the face of the mixed reviews and lack of "Poker Face" and "Bad Romance"-sized hits on the 2013-released Artpop album. Compared to its predecessors it sold poorly, and next month's UK leg of the tour is yet to sell out.
This commercial stuttering in turn followed that "mess of my life" she mentioned. That was a pile-up of personal and professional troubles: a hip injury that put her in a wheelchair and necessitated the cancelling of the remainder of the world tour supporting 2011's Born This Way album; a chronic marijuana habit; and fractious splits with her manager and with the stylist, fashion designer Nicola Formichetti, with whom she'd created many of her signature, eye-popping looks.
She admits that she was suffering from a crisis of confidence. After schlepping around the lower rungs of the New York and Los Angeles music scenes from her late teens to her early twenties, she finally found success with the release of her debut album, The Fame, in 2008. But even though – or, because – she was the songwriter, "I was a 22- to 27-year-old girl in the studio with a lot of older men around me... So it's quite scary for the corporations that I work with, because everyone relies on me to produce the creative.
"And so everyone's looking at me, going: 'Sooo... is it gonna be electronic?' Or: 'You're gonna do dance music, right?' Or: 'You're gonna have another "Poker Face", won't you, or another "Bad Romance"?'" She sighs. "It's a very unhealthy way to take care of an artist. We don't do very well when we feel pressure. When we feel free and open, this is when creativity shines."
The Cheek to Cheek project, then, came at an auspicious time. The unstinting, unquestioning respect of Bennett has rebooted her confidence, and also caused her to reappraise how she takes to the stage. Singing together, "I take a much more... meditative," she says carefully, "approach to the performance. I've got wide-open ears. The ArtRave has routines, and there's a performance-art aspect that has been designed. [But with Tony] there's not a lot of rehearsal in terms of the steps, it's all completely improvised the entire thing."
What has her latest collaboration taught her?
"Gosh, it's taught me so much," she shoots back in breathy reply. "And more than teaching me, it's made me myself again. I got really lost for a little while. I felt like I didn't even know who I was any more. And with Tony I found that boxer, that fighter within me who was ready to take on the world."
'Cheek to Cheek' is out now. Lady Gaga's UK tour starts on 15 October in Birmingham
Join our new commenting forum
Join thought-provoking conversations, follow other Independent readers and see their replies