Perfect Illusion: Lady Gaga's Las Vegas residency is the role she was born to play
The musician will put on two wildly different shows – the futuristic pop odyssey Enigma, and Jazz & Piano, which will feature standards from the Great American Songbook. Helen Brown reports
Friday 28 December 2018 11:38 Comments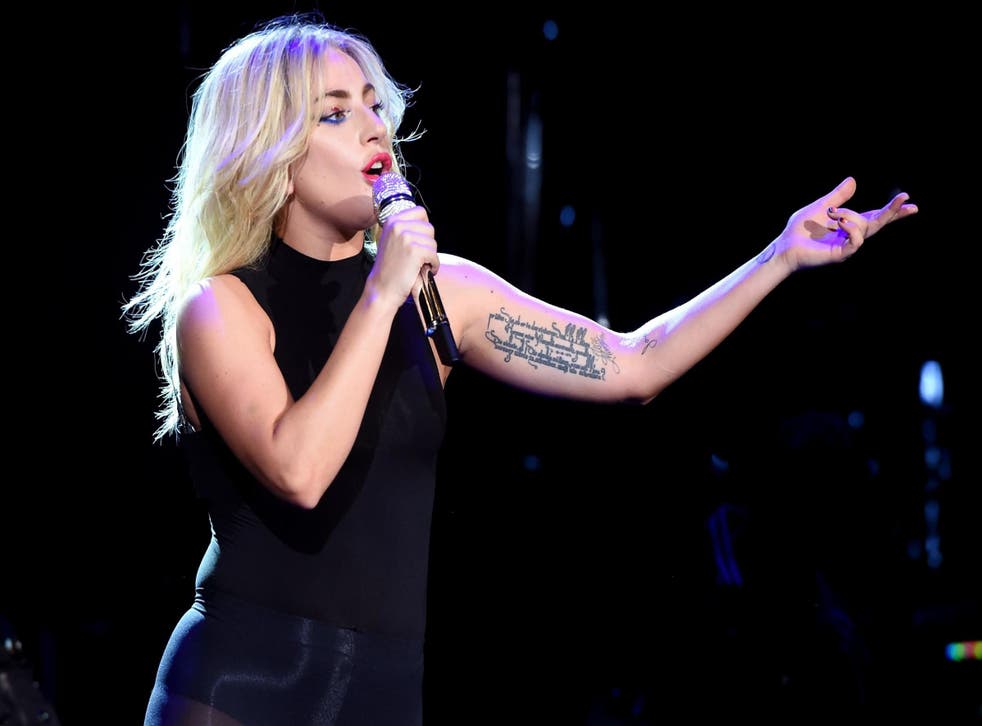 "Las Vegas," said the author Tom Wolfe, "is the only town whose skyline is made up neither of buildings, like New York, nor of trees, like Wilbraham, Massachusetts, but signs." Tonight, the newest of those signs will be lit up with the name of Lady Gaga, an artist who has spent the last decade dancing and limping by turns around the dazzling mirage of her own superstardom. While selling upwards of 31 million pop albums, 32-year-old Stefani Germanotta has dressed in meat, broken down the lyrics of her hits into robotic syllables and appeared in the raw drag persona of a misogynistic ex-lover at the 2011 MTV Awards, sneering on this most public stage that a superstar like her was incapable of expressing real emotion, even in the bedroom.
As anyone who's seen her live knows, the big reveal comes when she steps aside from the layers of detachment, irony and extreme theatricality to throw back her head to yell, "Surprise! A pop show, and the bitch can sing!", right before hurling her mighty heart and lungs into one of her whopping piano ballads.
It is a trick Gaga attempted to repeat – with less success – in the studio with her 2016 album Joanne. In a country increasingly unsure about what is real and what is fake news, her move away from winkingly artificial synth pop towards "music with the make-up off" could have landed a real punch. But the impact was cushioned by bland production, and the album shifted fewer units than her previous records.
She was more successful on celluloid, reaching a more mainstream, multiplex audience in Bradley Cooper's 2018 remake of A Star is Born, in which she plays a struggling singer-songwriter who gets her break with the help of a stadium-filling country rocker on the wane. The film's best scene sees a shy waitress make a reluctant dash on to the stage at her new beau's request and belt out her own song "Shallow" to rapturous applause.
Elsewhere, the film sags under the weight of Cooper's earnest message about the importance of musical authenticity, giving it what New Yorker critic Richard Brody nailed as "the throwback air of a feature-length 'disco sucks' rally" with too much of Cooper's character "art-splaining" to Gaga's. But A Star is Born has already grossed $382m (£302) and the soundtrack (co-written and performed by Gaga) has topped the charts in 15 countries (including the UK and US). Gaga is now hotly tipped to win Best Actress at the Oscars and Best Original Song at the Academy Awards.
Those out of the Sin City loop may think it odd for a star on such a trajectory to sign up for Vegas. For decades, the Nevada city has been the place where America put pop singers out to pasture. But the mood has been shifting since Britney Spears began drawing a younger, hipper crowd with her 2013-2017 Piece of Me show, which earned the MGM Park casino hotel around $135m (£107m) in ticket sales alone. While that show was something of a comeback – albeit for a relatively young performer – Bruno Mars signed up for his 2016 residency at the peak of his commercial and critical success and made 24K showbiz magic of it.
Gaga has reportedly been given $100 million reasons to deliver a two-year residency (also at the MGM Park). She's an even better fit for Vegas than Spears or Mars. Capable of both visually excessive pop and elegant old-school jazz (as showcased on her 2014 album with slickster Tony Bennett then in her 2015 Sound of Music medley at the 2015 Academy Awards), Gaga will deliver two shows. There's Enigma: a giddy, futuristic "odyssey" through her wildest pop adventures. Then there's Jazz & Piano, which will feature stripped-down versions of those hits alongside standards from the Great American Songbook, a nod to her Rat Pack Vegas heroes such as Frank Sinatra (whose signature tune "New York, New York" she performed at a 2015 tribute).
It seems odd that, as an outspoken campaigner for women's rights (speaking openly about being raped at the age of 19 and launching a domestic abuse awareness campaign with former vice president Joe Biden in 2017), Gaga is still keen to celebrate the sound of a violent narcissist like Sinatra (who once sent his bodyguard to throw a plate of spare ribs at a woman who challenged his politics). But Gaga says she has always been "aroused by danger" and drawn to "wild men", an issue she traces back to a childhood dominated by a wild and over-protective father.
In recent interviews, Gaga has been frank about how internet entrepreneur Joseph Germanotta was traumatised by the death of his sister, Joanne, who died of complications from lupus aged 19. Joanne hoped to become an artist until she was diagnosed with the autoimmune condition, which was possibly triggered by sexual assault. The 2017 Netflix documentary Gaga: Five Foot Two reveals the heartbreaking story of how doctors hoped to save Joanne's life by amputating her hands. But her mother – Gaga's grandmother – could not bear her talented child to be deprived of her hands and did not allow the operation. Instead, she watched Joanna die.
Enjoy unlimited access to 70 million ad-free songs and podcasts with Amazon Music Sign up now for a 30-day free trial
Sign up
There's a tender moment in the documentary when Gaga's eyes well up as she plays her grandmother the song she wrote about Joanne in 2016, holding a mobile phone to the elderly woman's ear. The bereaved mother smiles and remains steady, warning her emotional granddaughter not to "get morbid" over events that occurred before she was born.
Musically gifted from the age of three, Gaga grew up in a comfortable New York home surrounded by photographs of her "guardian angel" Joanne. The child felt a responsibility to explore the creative life her aunt never had the chance to experience. As an adult, she would realise that grief drove both her father's party lifestyle and his determination to keep his precious daughter safe. Joseph kept little Stefani indoors as much as possible; she says she battered her rage into her piano "until my fingers bled" and rejoiced in her freedom when he finally allowed her to move into a dorm to study at New York University's Tisch School of the Arts. There she developed a fascination with pop artists such as Andy Warhol and Damien Hirst. You could see much of her career – with all her zombie moves and blood spatters – as a flip of his shark piece The Physical Impossibility of Death in the Mind of Someone Living. Gaga's version is the possibility of emotional life in the mind of a woman who plays dead.
Her early shows as "Lady Gaga" (with a name lifted from the Queen song "Radio Gaga") were performance art pieces, incorporating elements of burlesque and drag culture. But she soon developed a knack for the catchy pop hooks that saw her break through to the mainstream with hits such as "Poker Face" in 2008. Dressed as a variety of freakish characters, she called on her "Little Monsters" fans to celebrate their individuality and unique sexuality.
Sometimes that message could seem a little rich coming from a beautiful, white, skinny, wealthy woman in a sparkly leotard. But Little Monsters of all shapes, sizes, ethnicities and sexual orientations took it to heart. They loved her for her honest account of her struggles with her mental and physical health as she battled – and sometimes allowed herself to give in to – the chronic pain of fibromyalgia, which worsened after she broke her hip on tour in 2013, and caused her to cancel the European tour dates at the beginning of this year.
The 40 best albums to listen to before you die

Show all 40
If her 2017 Texas Superbowl show lacked the culture-shaking ferocity of Beyoncé's black power moves the preceding year, it still included an upbeat plea for inclusivity in the LGBT+ anthem "Born This Way". Performing it made her the first person to say the words lesbian, gay, bi and transgender at America's biggest sporting event.
When she first released the song in 2011, some critics sniffed at the similarities it shares with Madonna's 1989 empowerment anthem "Express Yourself", but Gaga refuses to be compared with Madonna. "She's a nice lady and she's had a fantastic huge career," she said in 2016. "But I play a lot of my own instruments. I write my own music. There is spontaneity in my music, I allow myself to fail, I allow myself to break."
Ironically, I think the songs Gaga is so proud of writing may be her weakest spot. Her standard chord productions and MOR production have seldom matched the originality of her image and message. I doubt many of them will endure. But then, Vegas isn't going to be about the songs. It's going to be about the spectacle and spine-tingle of the live performances, at which Gaga excels. Like Barbra Streisand – who played the lead in the 1976 version of A Star is Born – she's a glorious diva. And one who, unlike Streisand, lives in a time when it's possible and empowering for a diva to expose the human flaws behind the façade. She's going to make a perfect illusion and gut-wrenching reality of her residency there. Gaga? Oh, ya ya! Gaga? Oh, Las Vegas!
Support free-thinking journalism and attend Independent events
Register for free to continue reading
Registration is a free and easy way to support our truly independent journalism
By registering, you will also enjoy limited access to Premium articles, exclusive newsletters, commenting, and virtual events with our leading journalists
Already have an account? sign in
Join our new commenting forum
Join thought-provoking conversations, follow other Independent readers and see their replies