Lady Gaga is back – and pop's morose period is over
Dressed as a baby pink Barbarella, the singer embraces her dance-pop roots in new song "Stupid Love", writes Bessie Yuill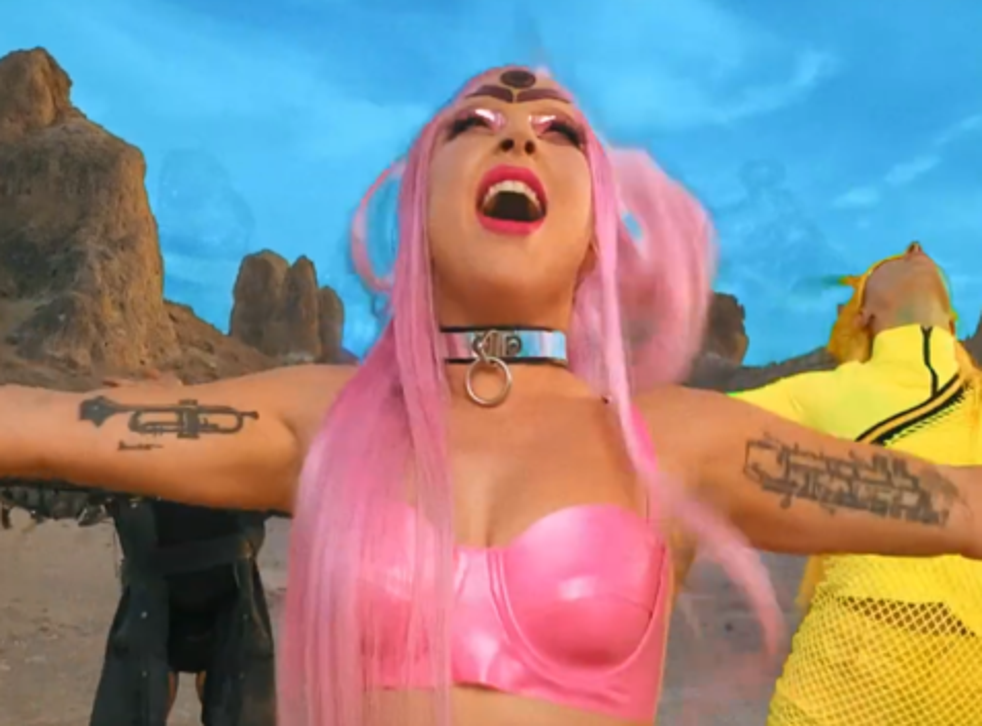 It's a good day to be a Little Monster. After three years without a solo single, Lady Gaga is dancing in pink chrome in the desert.
The wigs, alien makeup, and energetic choreography of "Stupid Love" hark back to Gaga's Born This Way era. And that's not to mention the concept of the iPhone-filmed video: vibrantly costumed tribes called the "spiritual ones" and the "kindness punks" fighting for the fate of "Chromatica" (rumoured to be the title of the highly anticipated album).
Gaga accompanied the intergalactic video by tweeting, "earth is cancelled". The more country-influenced sound and vulnerable lyrics of her previous album, Joanne, have been seemingly left behind, too, in favour of pure, unadulterated fun. "Gotta quit this crying," she sings over polished, pulsing beats.
"We are definitely dancing," the singer told Zane Lowe. "I put all my heart, all my pain, all my messages from the other realm that I hear of… what they tell me to tell the world and I put it into music that I believe to be so fun and you know, energetically really pure. I want people to dance and feel happy."
Gaga wants her new songs to be hits. "I would like to put out music that a big chunk of the world will hear," she said, "and it will become a part of their daily lives and make them happy every single day."
The 40 greatest song lyrics

Show all 40
Perhaps in an effort to achieve this, she's teamed up with Swedish hit-maker Max Martin – the man behind some of the biggest pop songs of all time, from "...Baby One More Time" to "California Gurls" – for the first time.
In recent years, Martin's brand of pop music has seemed increasingly endangered, with gloomy tracks from Drake, Post Malone and Travis Scott topping the charts instead. In 2018, Pitchfork's Jayson Greene noted "pop's morose new normal", and the trend for more melancholy songs seemed like it was here to stay.
But then, 2019 gave us welcome surprises like Lil Nas X, Lizzo and Dua Lipa's new disco-influenced sound. Taylor Swift emerged from the darkness of Reputation and a sexual assault case against DJ David Mueller to release the relentlessly upbeat "Me!". Opinions were divided, but it was clear that she wasn't afraid of being poppy anymore.
Kesha also released the new album High Road last month, which recreated the carefree party attitude of her early songs. Her ongoing legal tangles with alleged abuser Dr Luke (Lukasz Gottleib, now producing artists like Doja Cat and Kim Petras, who denies the allegations) have been well documented, and Lady Gaga herself defended Kesha in her recent deposition. Amid this ongoing saga, Kesha told The Independent that the upbeat album taught her the "importance of pop music as a beautiful way to escape" and allowed her to "pursue being happy and free".
Female artists are emerging from a more sombre period to bring back the type of music that made fans dance in their bedrooms in the early 2010s. This new model is campy, slick, and fluorescent enough to make you leave all your troubles behind on earth. The future of pop is as bright as Lady Gaga's holographic visor.
Join our new commenting forum
Join thought-provoking conversations, follow other Independent readers and see their replies