Laura Mvula: 'I don't think I'm good at being a pop star. It's making me too paranoid'
The singer-songwriter, nominated for two Brit Awards this week, opens up about the crippling anxiety that she was forced to confront on becoming a pop star – and is finally learning to overcome. Plus, we predict this year's Brits winner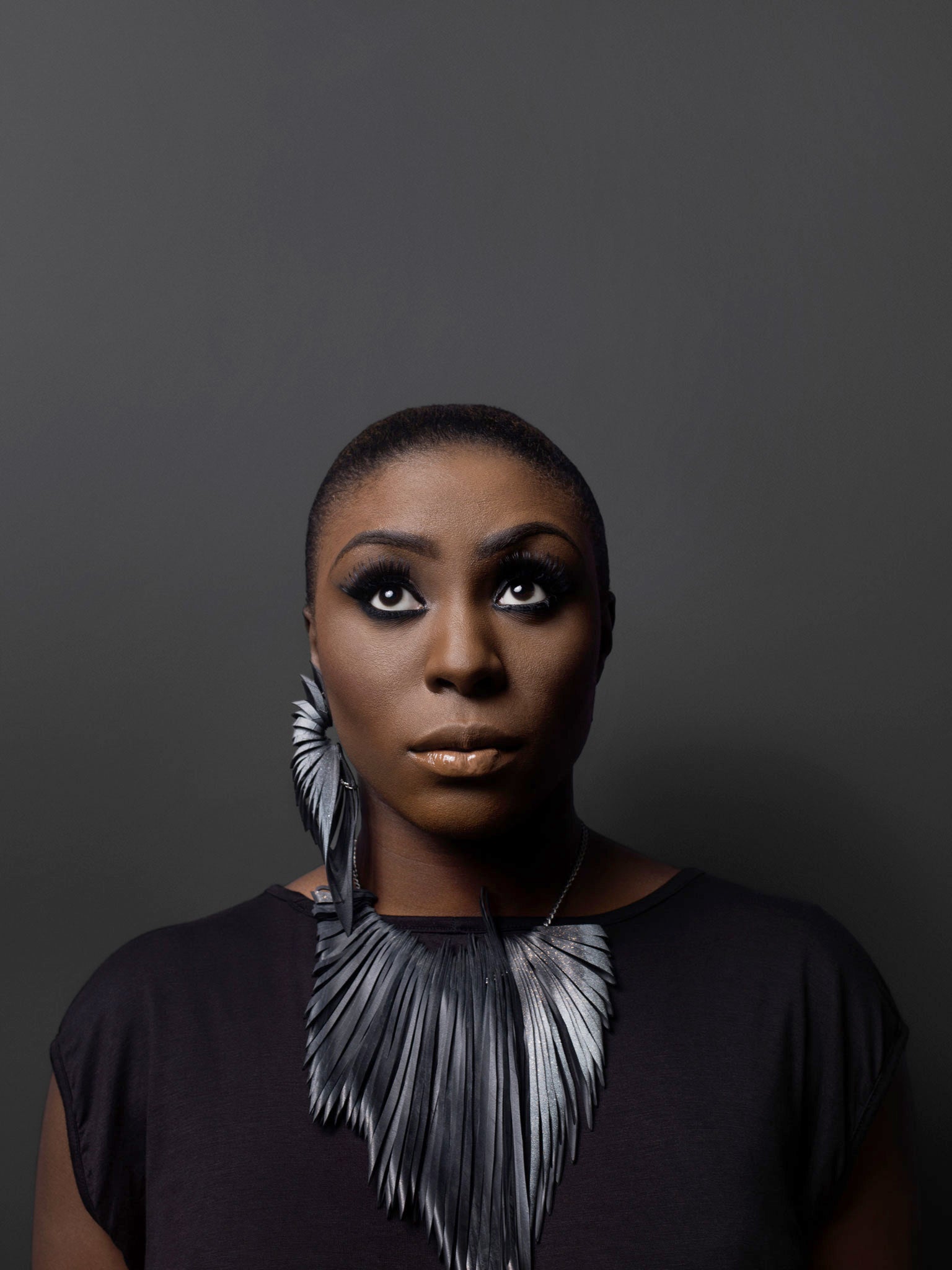 On stage in Los Angeles recently, midway through her set, Laura Mvula was coming to the end of "Father, Father", a bewitchingly melancholic song from her Mercury- and now Brit-nominated album Sing to the Moon. It's a quiet, fragile song that deals with the fall-out from her parents' divorce, and towards its conclusion in LA, Mvula whispered the words, "Father please don't let me go/Father Father, why you let me go?" and the venue fell into an awed hush.
"But then," she says now, "all of a sudden, from somewhere in the crowd, somebody shouted out: 'YOU UNDERSTAND ME!' He really bellowed it! Everybody laughed, but with empathy, you know? With understanding." She smiles at the recollection. "I suppose it reminded me that, through songs, we can all understand each other. And that's nice, isn't it? Though it can make things a little awkward, too…"
Mvula is telling me this story a long way from America's West Coast, on a cold January afternoon in the private room of a hip diner in Hoxton, east London, while sucking a fruit smoothie through a straw. In the flesh, she is striking: her face is perfectly oval, her eyes wide, her lashes as long as ski slopes. Her teeth, when she smiles, are as white as piano keys.
She sits opposite me, far too upright on a leather sofa she refuses to relax into. But if she is reluctant to get too comfortable here, then it is at least with good reason: I am a stranger, and the things she is telling me now will end up in print, here, for people to read and comment on; it is as if the things she says are somehow of greater import now that she is "famous" than they were when she wasn't. This unsettles her greatly.
For the past year, the 27-year-old from Birmingham has been tagged "the new Adele", but this is misleading as their only similarities, really, are a shared gender and career choice. Mvula's music is far stranger, rich and complex in arrangements that hint at her classical training, and full of a haunting otherworldliness that recalls, at least in spirit, the exotica of Björk and the freeform musings of jazz. Sing to the Moon has, perhaps unexpectedly, captured the public's imagination, and since its release in March last year has shifted more than 100,000 copies.
Eighteen months ago, Mvula was still a receptionist at the City of Birmingham Symphony Orchestra (CBSO), but now she is someone who regularly has to be fitted into dresses appropriate for awards ceremonies, and finds herself in the disquieting position of having to write thank-you speeches in the event her name is called out at one of them. It wasn't at the Mercury Prize award ceremony last October (that went to James Blake), but she is hotly tipped to win at least one of her two Brit nominations (Breakthrough Act, Female Solo Artist) on Wednesday night.
It's all gone to her head, of course, though in a fundamentally different manner than it does for so many of her peers. In conversation, she speaks regularly of losing the plot, and "hanging on for dear life". And though she is warm and bubbly, you sense it's an effort, largely because she tells you it is. "I'm still very shy, and very private," she says. In an ideal world, she'd remain so, for the spotlight is blinding her.
Taking a deep breath, she explains: "Being a pop star is something I don't think I'm very good at. I'm worried it's making me too paranoid, because all of a sudden, life has become this constant assessment. When you put something out there and people get to hear it, then those people react to it, socially, culturally.
"Nowadays, whenever I sit down with someone, or I see someone I haven't seen for a long time, or even if I'm in the toilet in a restaurant, people want to stop and talk about me. They tell me either that they love my stuff or, quite possibly – and this has happened, at least once – that they don't. They want to know about my hairstyle, or what I'm wearing, who I'm wearing. I didn't even know that was a question until a year ago: who are you wearing? It's a very strange existence. The internal mind gets cluttered. It starts to over-analyse everything, and that is a very… pressurising thing."

Enjoy unlimited access to 70 million ad-free songs and podcasts with Amazon Music
Sign up now for a 30-day free trial
Sign up

Enjoy unlimited access to 70 million ad-free songs and podcasts with Amazon Music
Sign up now for a 30-day free trial
Sign up
Laura Mvula has always existed around music. Her mother, a teacher, and father, a social worker, loved jazz and classical, and filled the house with both, encouraging their children to become musically creative themselves. There were piano lessons, violin lessons; Laura, her brother James and sister Dionne sang in the church choir, and then formed a band, the Douglas String Trio (Mvula is Laura's married name), playing at weddings and birthday parties in the greater Birmingham area.
"I'm sure we were awful in the beginning," she laughs, "but we did improve, slowly. The constant practice was hard, though, especially because we were dealing with puberty, and stuff. But then my dad always said that music was a discipline before it became a pleasure. He was right about that."
She went on to study composition at university, but had little idea what to do with her degree once she'd attained it. At her mother's encouragement, she fell into supply teaching ("Not so much teaching as crowd control; the children were a nightmare"), then ended up working at the CBSO's front desk.
On her husband's encouragement – he is a Zambian-born classical baritone – she recorded her own music and posted her songs on the music-streaming website SoundCloud, requesting advice and feedback. One producer responded ecstatically, and she suddenly found herself with management and a record contract. Success duly, and rapidly, followed. If her husband has handled this change in fortunes well, his wife has struggled with it.
For many years now, Mvula has suffered with an asphyxiating anxiety. "It's been difficult," she says quietly. As with most sufferers, she did her best to ignore it, and plough on. But it was in becoming a pop star that she felt she must at last confront it. She came across something called the Lightning Process, a three-day training programme created by a British osteopath called Phil Parker. The process claims to help people retrain "negative brain patterns" by breaking the "adrenaline loop" that keeps the nervous system's stress responses unhealthily high. Though it is not without its critics, the treatment has been successfully used by sufferers of stress, depression and other auto-immune conditions. Esther Rantzen, whose daughter suffered with chronic fatigue, has publicly praised it, as have several athletes.
"Oh, it helped me enormously," Mvula says. "It encouraged me to access a part of my brain that had been very flustered for a long time. I got into the habit of filtering out all the good in my life, focusing on only the negative. I'm not sure why I did it, but it's a pretty depressing state."
Her anxiety led to a condition called monophobia, a fear of being alone. Solitude would only exacerbate her anxiety.
"To be honest with you, I've been pretty secretive about all this," she says hesitantly. "I don't know why. Perhaps I'm embarrassed? But then, no. I've been giving this a lot of thought recently, and I don't think being embarrassed helps. What I learnt with Phil Parker was that my anxiety was my body's way of trying to protect me, to look after me. So the impulse was coming from a good place, but overall it wasn't being helpful."
Until recently, she refused to watch herself on TV or read back any interviews, for fear, she says, "I might find something out about myself that could destroy me." But, mindful of her Lightning Process instruction, she is now challenging this. After singing on The Jonathan Ross Show recently, she forced herself to watch it. And her reaction? "Um, I was pleasantly surprised."
This gradual easing of her anxiety means that she is beginning to enjoy life as a pop star, and perhaps even embrace it. This year she will see at least two major musical ambitions fulfilled, both of which she tells me about before realising she shouldn't, because they are not ready for public consumption just yet, and there are rules in this industry about when she can reveal things and when she can't. So instead, eyes luminous, she says: "The opportunities that have been coming my way are just amazing."
This week, because of the Brits, she will be a pop star to the hilt. She's got the dress, and is likely working on a speech, just in case. Would she like to win?
"Oh!" she says, bringing a hand up to her mouth. "I'd be profoundly surprised if I did, to be honest." She falls silent now, for almost a full minute. "But, yes, yes of course. I'd love to win, I think."
'Sing to the Moon' is out now. Laura Mvula appears at the Cheltenham Jazz Festival on 1 May as its artist in residence. The Brit Awards will be broadcast live on ITV on Wednesday. To apply for a chance to win a free ticket to attend Laura Mvula's next Priceless Gig with MasterCard in April: pricelesslondon.co.uk
What to expect at the Brits
Best British Solo Male
Who will win?
David Bowie, because the torrent of righteous outrage that will stream forth from middle-aged rock critics if he loses does not bear thinking about.
Who deserves to win?
We'll go with nu-soul singer John Newman and his formidably pained rasp, which gave more catharsis in 2013 than the entire cast of EastEnders.
Best British Solo Female
Who will win?
Ellie Goulding, aka the establishment's pop star of choice. She plays Royal weddings and sings on John Lewis ads. Victory is elementary, really.
Who deserves to win?
Laura Marling, because her recent album was a brilliant and badass repudiation of the perception of her as an ethereal wisp.
Best British Group
Who will win?
Arctic Monkeys, because we reckon it's about time for another revolution in the "renaissance/death of British guitar music" narrative cycle.
Who deserves to win?
Fuck Buttons, who not only produce awe-inspiring electronica, but would also cause a right pickle for organisers in the pre-watershed.
Best British Breakthrough Act
Who will win?
Bastille, because, as far as I know, they managed to sell a huge amount of records without anyone knowingly liking one of their songs.
Who deserves to win?
Garage duo Disclosure, despite them giving some thirtysomethings unfortunate reminders of that summer of 2000 in Ayia Napa.
Best British Album
Who will win?
Bastille's Bad Blood, presumably in a twisted campaign organised by Emeli Sandé's people to make her 2013 awards sweep look more exciting.
Who deserves to win?
The Pet Shop Boys' Electric, a honking house record which included the track "Love is a Bourgeois Construct". Listen and learn, Calvin Harris
Join our commenting forum
Join thought-provoking conversations, follow other Independent readers and see their replies