Leona Lewis: The singer on her traumatic – but empowering – split from Simon Cowell's label
X Factor winner's words from the time evoke a breakup from a lover
Emily Jupp
Sunday 13 September 2015 17:26 Comments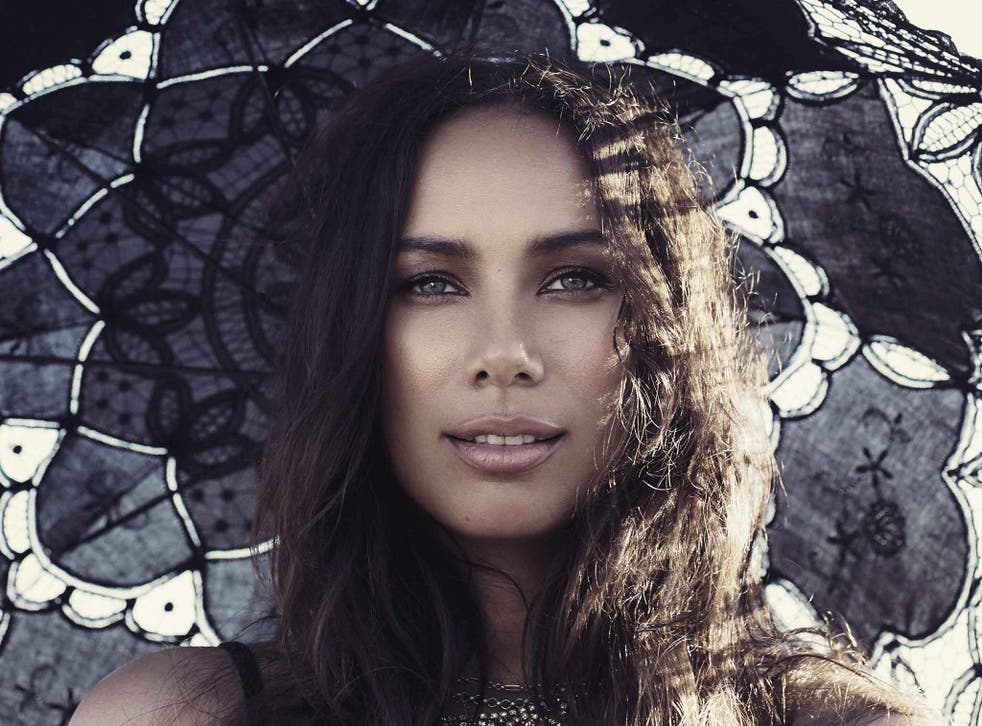 "Like most relationships we had our good times and our bad, I will always be grateful for what we shared and the lessons I learned. After several years, I thought about leaving over and over again. I was terrified about walking away from a somewhat secure relationship even though I knew that we were no longer right for each other and at times even bad for each other. However, I clung to the safety net I had grown so attached to..."
At 2:32 p.m. on 5 September last year, a message written on lined A4 pages, torn from a notebook and photographed lying on a brick floor was posted to Twitter and Facebook. The words evoke a breakup from a lover after a relationship has soured, but Leona Lewis wasn't talking about her boyfriend when she posted that open letter to her "beautiful fans", she was talking about her split from Simon Cowell's record label, Syco. It all came to a head when she was asked to make a covers album rather than writing and singing her own material.
"Simon Cowell has been incredible but at the end of a day it's a huge label now. I felt like at that stage all they were doing was holding me back from fulfilling my potential, to ask me to do a covers album was... there was no love in it. They weren't giving me any choice. So no, I said, we're done now. It's all good, I've still got so much love but we're done."
This version of the "Bleeding Love" singer is not the corseted mannequin of the early X Factor years, who smiled and wore gorgeous dresses and had an astounding singing voice but didn't say very much. This Leona is happy, relaxed and not so afraid of seeming vulnerable or opinionated. Although she's had her hair and make-up done, her look is very natural. She's even wearing dungarees.
"In the past I have been reserved," she says, reflecting on those early years, "you have to remember I was catapulted into this fame that I never thought would happen and it was amazing but then the privacy is just not there, so to compensate I would choose my words really carefully because I needed to save a piece of me for me and on top of that I had people saying 'make sure you don't say this in interviews', 'don't do that'. You're a 20-year-old and you just think, 'Oh God I just have to shut my mouth and not say anything'."
After Lewis's X Factor win in 2006, when she'd just turned 20, she was immediately "riding the wave" of success. Her winner's single, a cover of Kelly Clarkson's "A Moment Like This", was released straight after she won the show, peaking at number one in the UK charts and breaking a world record for having 50,000 digital downloads within 30 minutes. It was a symbiotic relationship from then on, she and Cowell had driven the show to new heights and both had a lot to gain from the partnership, but as Cowell grew more powerful, Lewis found herself working with teams of people she no longer knew. In 2013 she released Motown-inspired album Christmas, with Love, on which Lewis showed off her classical training with a stunning recording of "Ave Maria". The album was made on the condition that her next album would be a studio album, but that didn't happen. Instead, when she said no to a covers album she was left with nothing to work on for about a year.
X Factor winners: Where are they now?

Show all 10
"Simon probably doesn't even know what went on in that way, but I felt disrespected and I felt it was a very callous way to act when all I was trying to do was do what I loved. I was in limbo and that's the worst place to be. You can't leave me hanging on a string."
The first song she wrote after making the move away from Syco was "Fire Under My Feet" co-written with long-time collaborator Toby Gad, who wrote for Madonna and Beyoncé. The lead single from the new album, I Am, is a thrusting, powerful track that makes you want to dance. "That was where it first began for me and I thought I need to build energy into the record and I needed that encouragement and empowerment... If there's one message throughout the album it's to know your own power, that's not in a way of strength but it's OK to just be you, just be yourself and be authentic and that's good enough."
The video for "Fire Under My Feet" features an albino model, a runner who was born without the lower half of her legs, a dancer with a birthmark on her face, a drag queen and a boxer, all with stories to tell (but you have to watch the "making of" video to hear them).
Enjoy unlimited access to 70 million ad-free songs and podcasts with Amazon Music Sign up now for a 30-day free trial
Sign up
"I wanted people to showcase the challenges people face," explains Lewis, who came up with the concept for the video. "So many people judge a book by its cover and I've learnt you can't do that. My friend Shaun Ross is in the video, he is the first male albino model and he is doing so well in his career. I think that we are embracing people's differences much more now and we are making progress."
In the open letter to her fans, she described how "at some points I've felt extremely depressed and other times experienced amazing highs, but it got to a point where the downs were outweighing the ups".
"That was the most down I've ever been in my life and I am usually a very happy person so my parents seeing me like that, they were like, 'No, you have to do something about this'.
"It's so terrible we let ourselves get to that point where you're so unhappy with a situation before we change it. And that's the thing, when you're unhappy with your work situation it filters into everything. It filters into your relationships and your friendships and your whole life is affected, that's no way to live at all. But you have to go through it to learn. I won't let myself go through that again. I will not."
Many reports at the time describe her as "having depression" and she's quick to clarify.
"At the time I was speaking of feeling down but not labelling myself as having depression because I know people who have it as a clinical illness and that's not what I have, but there were personal issues I was going through and with the label and I did have ups and downs."
Lewis also broke up with her childhood sweetheart; former electrician turned talent scout Lou Al-Chamaa in 2010 and is now with classically good looking boyfriend Dennis Jauch, a dancer. That relationship gets a look-in on the album, on garage-influenced "Another Love Song".
Determined and defiant, Lewis's new album is all about that journey from breaking away from Syco and signing to Island Records ("They are still quite big but the heart is there" she says of the new label) and for want of a less clichéd phrase, finding herself. And that self isn't brash or wild; she's a far cry from the headline-grabbing, crotch-baring, weed-smoking antics of Miley Cyrus or Rihanna. She cares deeply about her family ("Thank you" was written for her parents, who put her through private school even though they were a low-income family) and loves animals. She has four dogs and two horses back in LA, plus a sanctuary that she runs with a few friends: Hopefield Animal Sanctuary in Brentwood, Essex, which has 300 animals.
Does she ever feel the pressure to wear crotch-skimming gear to grab headlines? She pretends to think about it for a moment. "G strings are really uncomfortable, so no," she says. "A French knicker is about as much as I'd go – but not showing it to the whole world. Sometimes you can get drowned out if you're not out there and loud and aggressive. It's definitely taken me a while to figure out how to get my point across in a way that's not forced or fake or confrontational and it takes a while to learn about yourself. I am still on that journey but I'm so much better than I was."
Leona Lewis's new album, 'I Am', is out now.
Register for free to continue reading
Registration is a free and easy way to support our truly independent journalism
By registering, you will also enjoy limited access to Premium articles, exclusive newsletters, commenting, and virtual events with our leading journalists
Already have an account? sign in
Join our new commenting forum
Join thought-provoking conversations, follow other Independent readers and see their replies