The Saturday Interview
Lewis Capaldi: 'Paige Turley has every right to talk about me, I've written songs about her and made money from them'
The Scottish singer-songwriter has hit a billion streams for 'Someone You Loved' and reached No 1 in the UK and America. He talks to Roisin O'Connor about humour, heartbreak, his ex-girlfriend winning 'Love Island', and having a panic attack at the Grammys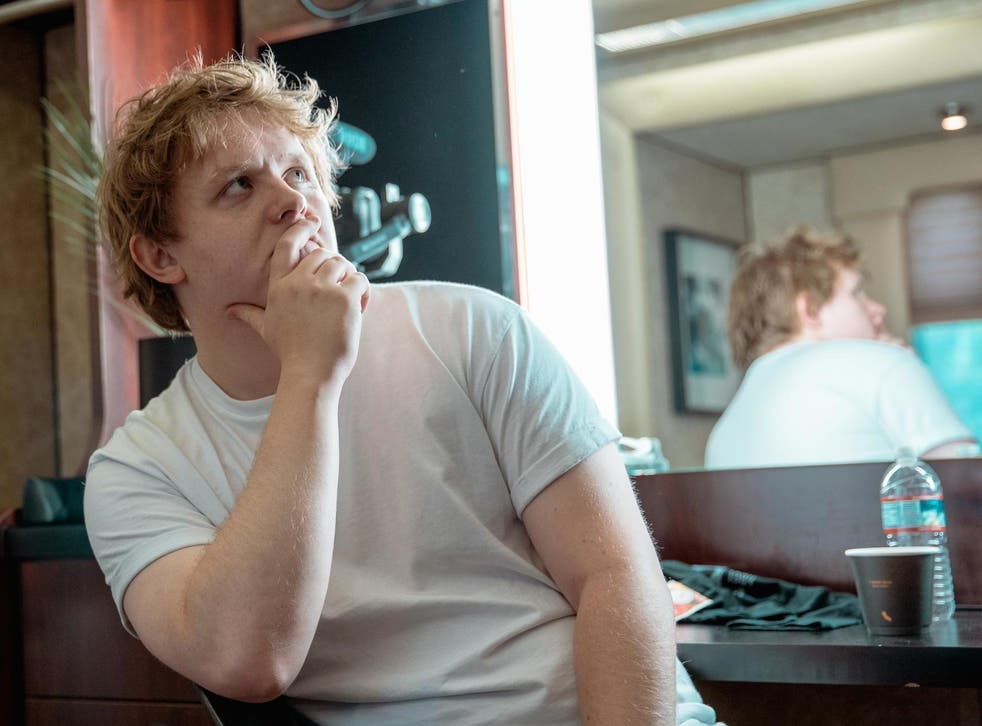 Outside the Olympia theatre in Paris, people have begun to gather to see Lewis Capaldi. Hours go by, and the queue stretches far beyond the front doors and down the Boulevard des Capucines. As the fans wait to be let in, the pop sensation's "Someone You Loved" hits one billion streams.
It's the latest landmark in a career that has, by anyone's standards, gone from 0-100 in the blink of an eye. Around this time in 2018, the Scottish singer-songwriter was performing to 30 people at by:Larm festival in Norway. Afterwards, while their breath turned to plumes of cloud in the freezing air, Capaldi and his manager swapped jokes and discussed his debut EP, Bloom, and its lead track, "Bruises". Capaldi was convinced he'd never write a better song and was destined to become a one-hit wonder. What he couldn't have foreseen was the fuss "Someone You Loved" – never intended to be a single – would create.
"Everyone thinks 'Someone You Loved' is about Paige," the 23-year-old begins, when we meet backstage in his dressing room. He's referring to his ex-girlfriend Paige Turley, who recently won the winter series of Love Island with her new partner, Finley Tapp. "It's actually 'Bruises', and a bunch of other songs on the album that are about [Paige]," he continues, flicking back his straw-coloured hair, which is in its typically bedraggled state. "But 'Someone You Loved' is about my grandma." It's unlikely she'll be appearing on any reality TV shows to discuss the experience, he deadpans: "We made sure of that when we cremated her."
Really, while the tabloids have peddled a narrative that paints Turley as "the ex-girlfriend behind Lewis Capaldi's heartbreak songs", he says they're on great terms. They began dating when he was 18, then split around two years later. She'd called him, in tears, after being splashed across the front page of The Sun when they (incorrectly) assumed that she was the inspiration behind his biggest hit to date. "It's tough, if you don't invite that attention," he says. "I'm quite thick-skinned, so I willingly stepped into it. And with Love Island it's on Paige's terms." The only thing he does find strange is seeing someone from back home on TV: "I guess that's finding out what it's been like for everyone else," he grins.
He thinks it's fair enough if Turley is able to profit from their relationship. "This sounds very crass, but when you go out with a singer they can write songs about you and make money from that. So she's got every right to talk about it, too."
Born to a fishmonger and an NHS nurse from the West Lothian town of Bathgate, and discovered on SoundCloud by his manager Ryan Walter, Capaldi is remarkably adept at taking things in his stride, given how much has been thrown at him. His debut album, Divinely Uninspired to a Hellish Extent, is filled with songs of heartbreak and loss, all delivered in a voice that sounds as though it's being torn from him: husky and wrenching, with echoes of Joe Cocker. It reached No 1 in the UK and became the fastest-selling album of 2019.
"Before You Go", Capaldi's latest single, has become his second No 1 and currently has a modest 210 million streams on Spotify. It's another that could be interpreted as a breakup song – in fact it's about Capaldi's aunt, who took her own life when he was five years old. "You start to think about it more when you get older," he says, "and I was talking to my mum about her feelings, like, initially you're angry, like: 'Why would you do this?' Then you get angry at yourself." He admits he gets nervous writing about things like mental health: "I don't want to overstep the mark or assume people's experiences."
I'm surprised he feels that way, because mental health is an issue Capaldi is very familiar with. At concerts, there have been moments where he's had to leave the stage or take a breather due to sudden bouts of anxiety. He looked particularly nervous at this year's Grammy awards, where he was nominated for Song of the Year ("Someone You Loved"); he tugged self-consciously at his shirt as he was interviewed by Sharon Osbourne. At one point he glanced at the screen that shows the camera feed and remarked: "Oh dear, I don't look very good, do I?"
"I was having a panic attack the entire time," Capaldi says, although he adds that he enjoyed Usher's tribute to Prince ("It was more sexual than I was expecting"). The Grammys is a notoriously long ceremony ("like, three f***ing hours") and Capaldi found he could only relax once Billie Eilish won Song of the Year for "Bad Guy". "I knew I wouldn't have to say anything to anybody, and then it was OK." He had another panic attack on the flight out of LA, which he links to a few days of heavy drinking after the show: "After that I was quite anxious. But overall I'm feeling very good."
Enjoy unlimited access to 70 million ad-free songs and podcasts with Amazon Music Sign up now for a 30-day free trial
Sign up
Music Box #46: Lewis Capaldi
Naturally funny, possessed of the kind of bawdy humour Scots excel at, Capaldi was still accused by some of making up a story where he was mistaken for a seat-filler at the Grammys. "I'm totally aware that it seems that way, I got tweets saying stuff like 'that never happened'. But I don't make stuff up for tweets." I observe the dwindling number of pubic hair-related jokes on his timeline and wonder if he's toned it down just a little. "I feel like once you've been nominated for a Grammy, you have to clean it up a bit," he muses. "Although I was talking to press in Belgium about diarrhoea the other day..."
He's gained confidence when it comes to responding to critics, too. He hasn't had any alcohol since the Grammys ("I've been patting myself on the back and it's only been three weeks," he gripes). A week after our interview takes place, he does drink, because he's celebrating his wins for Best Song and Best New Artist at the Brit awards: again, you could see the nerves on stage, although some mistook this for drunkenness. For one speech, he took a bottle of Buckfast with him to accept his trophy. Then, after the ceremony, Scottish Labour activist Leah Franchetti tried to call him out: "We have an unhealthy relationship with alcohol in Scotland. This doesn't help," she claimed, tweeting a photo of Capaldi on stage. "Imagine having a drink on my first night off in months after winning two Brit awards, can you believe it?!" Capaldi retorted. His tweet has received more than 300,000 likes.
Some people have a hard time reconciling Capaldi's self-deprecating humour with the earnestness of his music. But the fact that he can see the funny side of being a sensitive, soul-searching singer-songwriter seems to make him easier to relate to than some of his more on-brand rivals. "I'm not a very serious man," he says.
His manager recently pointed out to him how a number of other musicians seem to be mimicking his online antics. It never works, because Capaldi's Twitter isn't some marketing ploy – it's just him, being himself: "I do stuff because I find it funny. Like with the stupid sunglasses, that was me pretending to be famous." Another short-lived skit was when he walked onstage at Radio 1's Big Weekend festival flanked by two men firing fake money into the crowd, to the tune of "Here Comes the Money". After Noel Gallagher mocked him during an interview, Capaldi appeared at Glastonbury wearing a parka and a T-shirt with Gallagher's face on it, as he played the audio of the Oasis star asking: "Who's this Capaldi fella?" But these were one-offs, because Capaldi is not one to milk a joke: "As soon as people expect it I don't wanna do it anymore."
The media would do well to take note. After one interview where Capaldi was forced to taste unusual snacks, a number of publications decided to try the same thing: "Every f***ing bit of promo was putting local delicacies in front of me that they knew I wouldn't like." All this resulted in was Capaldi feeling rather queasy. "I had to say to Ryan, 'I feel awful.' I have a laugh when I want to have a laugh, you know what I mean? Most of it's in hotel rooms, because that's when I get bored."
The 35 best debut albums of all time

Show all 35
I wonder whether he's begun mapping out a follow-up to Divinely Uninspired: "I've got loads of half-ideas but haven't started writing yet," he says. The first song he ever wrote, aged 11, was about the credit crunch, but it's unlikely he'll start tackling Brexit anytime soon. "I'm not that clever," he shrugs. "I feel like you have to be quite clever to write about politics, to do it well at least."
At home, Capaldi's father used to question singers who lectured their fans about how to vote. "I think you should encourage people [to vote]," Capaldi says. "But I don't want to ever tell people how they should think or how they should be. Personally, I know I would side with Labour, but if I came out and went 'vote Tory' you'd be f***ing raging. You just have to give people the facts and let them decide for themselves."
He's written a song with his friend, former One Direction star and now solo artist, Niall Horan, which has yet to see the light of day. "I love that song. I would like to write more with Niall; he's quite meticulous as a songwriter, and I'm not," he says. "I'm like, 'F*** it, that'll do.' I always say I'm not a perfectionist, which basically means I'm a bit lazy." A look of mischief crosses his face. "Just ask some of the critics."
Lewis Capaldi plays Wembley Arena in London on 12 and 13 March, and the O2 Arena on 2 and 4 October
Join our new commenting forum
Join thought-provoking conversations, follow other Independent readers and see their replies