How are queer musicians subverting religious oppression? By spinning it into perfect pop
Troye Sivan, Years & Years, Janelle Monáe and Panic! At the Disco are among the artists using the hallmarks of religion to express their sexuality like an act of defiance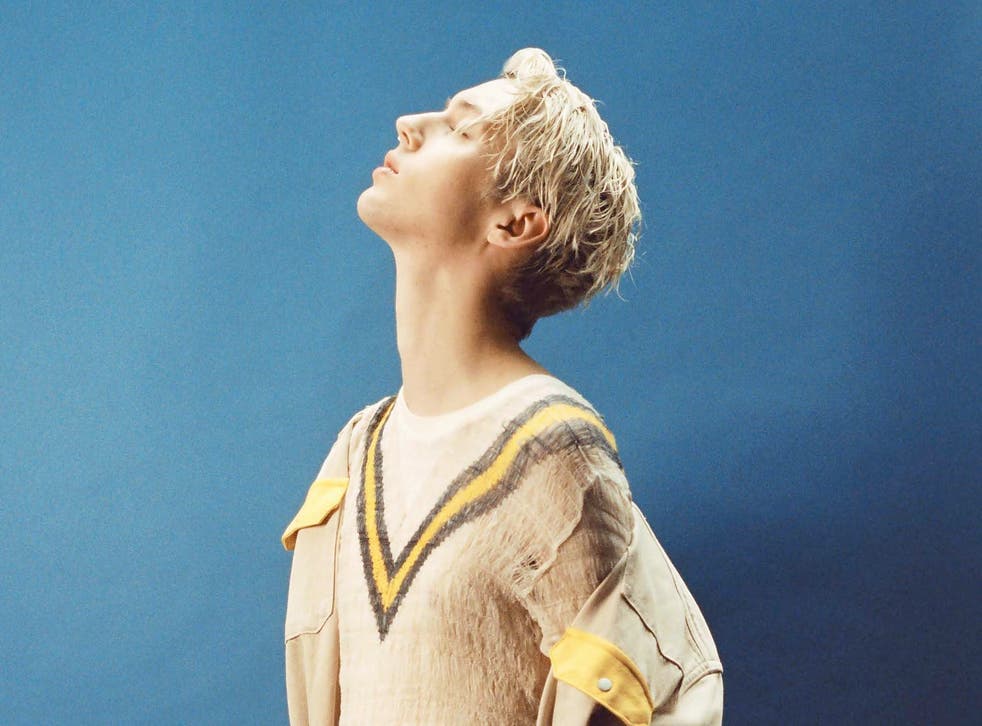 Anti-queer messages of hatred and disapproval, spread via religion, have inevitably shaped the way society – devout or not – sees the LGBTQ+ community. But animosity is often the greatest catalyst for queer people in art.
You only have to look to pop music to find artists reckoning with religion just as flagrantly as they are with the LGBTQ+ experience. The most outward facing members of pop's queer community are using the hallmarks of religion to express their sexuality – as an act of defiance.
Take, for example, doe-eyed, cherubic pop star du jour Troye Sivan. The lyrics on the 23-year-old's latest record, Bloom, are peppered with references to religion and queerness, side by side. On "Animal", Sivan wallows in his sins, safe in the knowledge the love he shares with his boyfriend is so strong he's willing to reject the Rapture for it. "No angel can beckon me back," he coos on its chorus: "It's hotter than hell where I'm at."
Queer women in music too, have appropriated the idea of divinity when it comes to their bodies, something religion has so often policed. Aware religion so often presents women as nothing more than creators of life and care givers, Janelle Monáe – a woman who's had relationships with women – wrote "Pynk". It's a song that can be painted as a feminist anthem that celebrates the power of female genitalia, but it's also an ode to humanity as a whole. Pink is the colour, Janelle says, "found in the deepest and darkest nooks and crannies of humans everywhere".
Then you have Olly Alexander, the queer Years & Years frontman who kicked off his sophomore album cycle with a song about commanding straight-identifying men to "sanctify [his] body with pain". It was a slick sequel to the group's debut record, spattered with queer-themed pop. Titled Communion, it was proof the arena-filling pop group are kings of turning sacred themes into something proudly and overtly gay – without any of us really noticing as we sing along.
"Religion is the cornerstone of repression and [censorship], so it's an essential target for queer art," Martin Aston, author of Breaking Down the Walls of Heartache: How Music Came Out tells me. "[But] I think most pop – queer or otherwise – has taken many potshots at religion and its iconography". Aston is referring to gay idol Madonna's provocative "Like A Prayer", while also noting George Michael's ubiquitous cross earring in the 1980s – an accessory he had donned since before he publicly came out – as prime examples of how queer artists have subtly tried to subvert religion in the pop sphere.
But English speaking stars are still a little more coded with their approach to queering religious iconography. Iranian-Norwegian pop act Tooji's video for his song "The Father Project" sees a stranger walk between the pews of a church, approach the priest and seduce him in the shadows of the altar. "When it's done [like that]," Martin says, "it's much more powerful. It [becomes] so easy – and so much fun – to cause offence."
Of course, the opportunity to take shots at a system that has oppressed you can be a cathartic way of subverting Christianity's bigoted attitudes. The London-based, South Africa born, singer-songwriter Nakhane used to sing about his conservative Christian upbringing as a folk musician in Cape Town. Once his congregation decided to use him as a poster boy for gay conversion therapy in the church, after he first expressed homosexual thoughts, he actively stepped back from his upbringing – in his 2018 album, You Will Not Die. Now he's making riveting, no-qualms pop songs about his queerness instead. "What's a better way to gain power from something that has fought tooth and nail to make you feel like a piece of s***, than to look at it straight in the eye and use it for your own good?" Nakhane says.
On songs such as "Teen Prayer", a track that recounts a youthful sexual encounter, Nakhane twists his lyrics to the point the listener can't differentiate his lover from God: "Lord in your house," he sings, "He pins me down. He moves in me."
"Re-appropriation is a powerful tool," he explains. "It's brave to have a staring contest with something that has been used to destroy you. You render it powerless by changing its hate to love."
Nakhane poses an interesting question: just because a queer artist with a religious upbringing has distanced themselves from it, can they ever truly escape their ingrained love for it creatively?
"A lot of the people who are subverting these icons are people who come from them. They loved those icons [who] once meant a lot to them – or still do, and they're allowed to use them as much as the people who use them for their bigotry," he adds.
That partial dedication to a religion queer people can't let go of is something Panic! At the Disco founding member Brendon Urie experienced. Having lived as a Mormon up to the age of 17, he left the religion and pursued punk-pop. Pop-punk itself is adored by young gay and bisexual audiences but Urie only felt comfortable disclosing his pansexuality in a July interview with Paper magazine – nearly 15 years after leaving the Mormon church and now happily married to a woman. On "Say Amen (Saturday Night)", he flits between "[praying] for the wicked on a weekend" and "travelin' in packs [he] can't carry no more". In an interview about the song's contradictory lyrics in reference to his religious past, Urie said: "I can't knock all of those traditions that I feel so positive about."
Maybe we have failed to notice the parallels between the queer community and religious devotees: their language, their way of thinking and gathering to share experiences. After all, die-hard fanbases – known affectionately as "stans" for their unwavering loyalty – are often comprised mainly of queer people. They have a habit of appropriating religious language when it comes to their discussion of their favourite LGBTQ+ artists, or artists that support the community.
Hayley Kiyoko, a Nickelodeon star turned award winning pop entity, has been credited with bringing love songs about women that are by women into the mainstream. Her catalogue, including the Lorde-approved "Curious", has earned her the title of "Lesbian Jesus" among her fans. It is undeniable proof pop's queer power is great enough to normalise blasphemy, turning the tables on a group that's scrutinised the community for so long.
If you happened to catch one of Britney Spears' most recent tour dates, you would probably have heard her fans screaming "Godney!". The concert itself, populated primarily by straight women and queer people who have long idolised the singer, is transformed into a churchlike setting for 100 minutes: she was the preacher, her 20,000-strong audience the congregation. Religious people follow an omnipresent being to bring comfort and happiness to their everyday lives. It just so happens that that's what queer people – and queer artists, their deities – find so beautiful about pop music too.
Join our new commenting forum
Join thought-provoking conversations, follow other Independent readers and see their replies