Lily Allen: The girl grows up
Lily Allen's stormy childhood paved the way for a number one hit - and a yearning for family life
Lily Allen: The girl grows up

Show all 2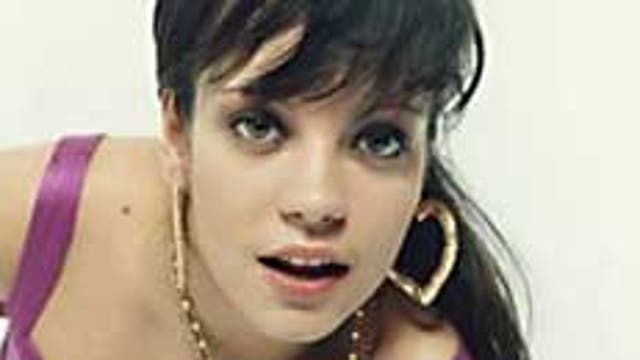 Reclining lazily on a big, white bed, Lily Allen looks every bit the pampered star. She is propped up on a mass of oversized white pillows and the only thing missing is a minion to feed her grapes and re-fill her recently emptied champagne flute. But just as you've taken in the decadent tableau, the illusion is shattered. "Please excuse my gammy leg," says Allen, drawing attention to her bruised, swollen and, indeed, somewhat gammy appendage.
Revelling in the detail with the wide-eyed fascination of an eight-year-old, she explains how an errant wasp stung her between her toes three days ago and the swelling still hasn't died down. "You should have seen it on Saturday - it was out here," she adds, excitedly miming a balloon shape around her foot."I've never been stung before." she grins, clearly still engrossed.
It appears to be a week of firsts for the London-born-and-bred pop phenomenon. Aside from the accidental altercation with a wasp and conducting an interview from a hotel bed, Allen has just released her debut single proper, the sugar-coated revenge tale "Smile". And according to the midweek chart calculation, come Sunday, the sultry, calypso-pop number is set to enter the chart at number one.Like the Arctic Monkeys, Allen is poised to turn industry hype and a cult-like presence on the internet into bona fide pop success. It's been a rocket-like rise for the 21-year-old, who bagged her first cover story before she'd even played her first gig.
But despite her imminent landmark achievement, Allen actually has something else on her mind. And it's not her itchy, swollen foot. As readers of her online blog are well aware, Allen is suffering the pangs of a broken heart, after recently breaking up with her boyfriend of two years. "I know I should be sitting there going: 'Yes! Fantastic! I'm number one in the midweeks!'" she sighs, with a likeable air of vulnerability. "I should be enjoying life, but to be honest with you, I really don't feel like it. I just want to be back in bed with my boyfriend having a hug."
It doesn't take long to realise that soap-like drama is central to Allen's life. That much is abundantly clear from either reading her utterly unguarded blogs or listening to the autobiographical narratives of London life that litter her imminent and hugely impressive debut album, Alright, Still.
Allen is the daughter of a film producer mum and actor/novelty-hit-maker dad, Keith ( pictured right). Her parents split when she was four, and with her dad, she jokes, "off helping people in Africa", she, her brother and her sister lived with their mother. "I lived in a council flat for the first nine years of my life, eating spaghetti on toast," she says, a little defensively.
Although songs such as "Alfie", paint a portrait of a weed-smoking, job-dodging little brother, and hint at the singer's unconventional upbringing, today she is reluctant to reveal specifics of her early home life. "When I made that song about Alfie no one knew who I was," she says. "I was just writing songs about my life." But the recent media attention has made her regret giving so much away. "Alfie will get back at me, don't you worry," she says with a nervous giggle that speaks of years of elaborate sibling revenge between her and the brother who, according to her blog, recently smashed her laptop. "I have learnt that speaking about my family upsets them, so I'm not going to do it any more."
Yet Allen's home life is integral to the way she's turned out. As her music implies, daily life was rather full-on chez Allen. With her mother busy working hard and her father off being something of a professional bon viveur, the little Allens, says the singer, were often left to their own devices. And as the quiet, middle child, Allen contented herself taking in the circus happening around her. "I love my mum, dad, brother and sister more than anything in the world," she says with genuine affection, "but we were all very outspoken, argumentative and tough people to live with."
Existing on the periphery meant Allen developed the keen knack for observation that brings alive her everyday-with-a-twist tales. "Until I was 12," says Allen with a girlie giggle, "I had this blanket that I would hold and suck my thumb. And for ages I wouldn't say a word. I was so quiet I think people forgot I was there in a way. I'd just sit and watch what everyone was doing - observing them and their conversations. I was definitely the easiest out of my mum's three kids," she says puffing her chest out a little with childish pride. "Well, until I lost my blanket."
As puberty set in, so did Allen's rebellious streak and she started working her way through posh public schools as though they were Kleenex, lasting on average a couple of terms before being expelled. Allen was impatient with adolescence. "I remember being young and thinking - I just want to be old so that everyone listens to me and takes me seriously," she says. In an effort to grow up fast, the young teen took to hanging out with a much older crowd. When she was 15, she stayed on in Ibiza after a family holiday. She told her parents she'd stay with friends, but she spent a month living in a hostel, selling ecstasy pills to clubbers.
It doesn't take a child psychologist to guess that Allen's adventures were an attention-seeking ploy in a family of big personalities. But ask her why she thinks she became a teenage tearaway and she screws up her forehead pondering the question. Half a moment later, she says: "I guess it was because my brother and sister were both quite crazy and I felt like it was my turn.
"I remember when I was with my first boyfriend, Lester, I went to his family home in Ireland and sat down for dinner with his mum, dad and two sisters - all of us eating round the dinner table - and I burst into tears because it was like being in the Waltons!" She lets loose a bark of laugh. "Not that I come from a bad family, but I realised that was exactly what I was after. I just wanted to be cuddled and hugged and loved."
Despite her growing pains, Allen is adamant that she wouldn't have had her childhood any other way: "I'm very happy with myself. If I hadn't had the upbringing I've had, then I wouldn't be the person I am, so I'm very grateful. I feel like I've dealt with a lot of emotional shit that people don't normally deal with until their twenties or thirties and I'm already on my way to figuring out happiness."
It's clear that hers is an old head on young shoulders. Fiercely independent, she simmers with a solid self-assurance that falls just on the right side of cocky. She yields a mighty and infectious bawdy laugh and possesses a cheeky determination not to take herself or anything else too seriously. She's keenly aware of what she sees as her own imperfections- her tendency to fall in love too fast and too hard, for example -but these niggling insecurities coupled with her own self-deprecating humour only serve to make her, and her music, all the more likable.
Lily Allen's album is poised to be the sound of summer 2006: clever and irreverent enough to charm the trendsetters, and imbued with the kind of storming, failsafe hooks to seduce the pop mainstream, it will be played (and enjoyed) everywhere, from fashionable dinner parties in Primrose Hill to budget self-catering holiday apart- ments in Benidorm.
Across the pond, the music industry cannot contain its excitement about Allen, despite the fact her album's not due out there for another year - and she seems to be a shoo-in for this year's Mercury prize short list.
Several years after her father helped her to get what proved an ill-fated and short-lived deal with London Records, success is now Allen's for the taking. And this time, she insists, she has done it entirely on her own.
"I'm not a music geek," says Allen, who happily admits to not knowing a bass from a guitar, "but I am a music enthusiast. If I hear something I like, I go and get it and I listen to it until I'm sick of it." From annual outings to Glastonbury - "I went to the festival for first time when I was five weeks old," she says giddily - to strolls through Covent Garden with her father "to listen to those Peruvian guys with their tape-players" and nights out in underground clubs, Allen was subjected to an eclectic sonic barrage. The effects of that can be heard loud and clear on the delightful pop/reggae/rap/cabaret/ rock mash that is her album.
Inspired by everyone from Ian Dury, the Clash and Blondie to the Streets, the Happy Mondays and the Specials, Alright, Still is a culmination of everything Lily Allen has experienced. The record spins vivid tales of her London scrapes and reveals her revenge fantasies to unapologetic exes ("It's the best way to get over a broken heart," she laughs). It's bolshy and swaggering, cheeky and cocksure. But if you listen hard, you'll find evidence of the singer's underlying quirks - the insecurities that smoulder beneath her spiky exterior - that make her so endearing.
Allen is a delicious contradiction. The fact that she's seen the effects of fame (her father's) from an early age, could explain why she's wary of the glory-hunters increasingly buzzing around. "All of a sudden, there are all these people who want to be your friend," she shrugs. But at the same time, she admits to feeding off the much-needed validation she gets from her internet fans and recounts her first autograph requests (four times on one walk down Tottenham Court Road).
"By no means do I think I've arrived," she says. "And, to be honest, this success is not what I really want out of life in general. It's just a part of a very big picture." Other elements of that picture, she explains sweetly, include having children, family dinners on a big table and a vegetable garden. Not that she's in any angst-ridden hurry to achieve all that just yet. "For now, I'm doing quite well," she beams. "So I'm just going to enjoy this for a bit."
'Alright, Still' is out 17 July. 'Smile' is out now
Join our new commenting forum
Join thought-provoking conversations, follow other Independent readers and see their replies