9 artists from Live at Leeds festival you should listen to
Here's some of the essential new talent we saw live 
Matthew Kent
Tuesday 09 May 2017 13:42 Comments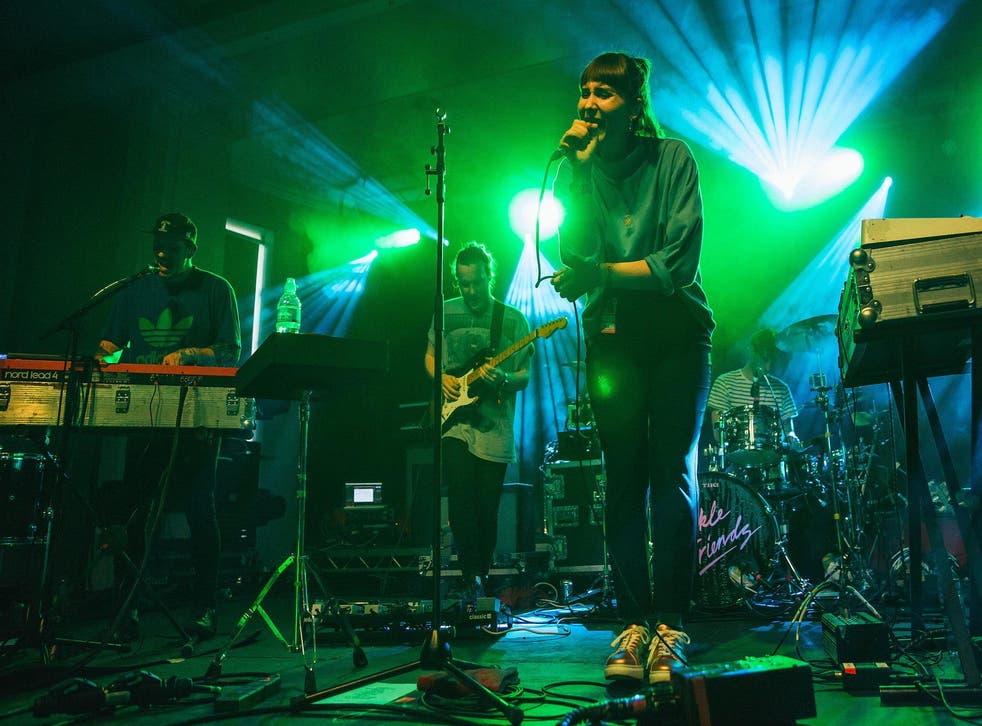 Live At Leeds has a pretty spectacular record of picking up acts when they're small and showcasing them before they're household names. Some called it The Great Escape of the north, but it's definitely its own entity.
The festival is held across multiple venues in the city, showcasing brand new and more established talent from all over the UK and in fact the world.
This year The Independent had its own stage, with Rag'N'Bone Man starring as festival headliner.
We're hear to talk less about that, though, and more about some of the essential new talent we managed to watch:
Bryde
The first set of the day comes from Bryde, the stage name of singer-songwriter Sarah Howells, one half of folk-pop duo Paper Aeroplanes. To the technicolour backdrop of the stained glass window in Holy Trinity Church, Howells meanders her way through stripped back tracks and full band ensembles.
The final show of her latest UK tour, Howells shines brightest with just her voice and guitar as silent rows of pews look on in awe. Debut single "Wait" must always be a magical moment.
Carys Selvey
At the city's coolest venue, the one with a pizza and a burger kitchen, Belgrave Music Hall & Canteen, 17-year-old Carys Selvey is ready to raise the roof with just an acoustic guitar and keyboard.
Using her songwriting to channel the complex world that is the human condition, "Pins and Needles" deals with the naivety of youth and thinking you can simply "take pain away". Selvey shows release promise, not only on haunting debut "Shallow", but unreleased cut "Go With It" is brighter, more upbeat and has the whole room hanging off her every word.
Matt Maltese
The Wardrobe's dungeon-esque darkness is the perfect setting for Matt Maltese's "post-emo piano music". While it may only be 2pm, Maltese and his piano make it feel like midnight.
Coasting through his back catalogue of intelligently written songs he takes aim at the world's failing political systems, latest single "As The World Caves In" is about "Trump, May and the other shitheads having an orgy and watching the world blow up outside" and a song about Tesco describes the supermarket giant as a rock, stable no matter what mayhem is going on.
Enjoy unlimited access to 70 million ad-free songs and podcasts with Amazon Music Sign up now for a 30-day free trial
Sign up
Maltese is simply captivating, despite a few giggles even the Tesco song has the room stunned to silence, "Studio 6" is another highlight with its warped Bowie grandeur and introspective awareness.
Bloxx
London's Bloxx are up next at The Wardrobe, a last minute addition having travelled up on an coach in the early AM to make their slot. Newly signed to Chess Club Records (MØ, Sundara Karma) this four-piece may only have two tracks released, but they're well worth checking out live.
The fledgling quartet may not have songs of their own in their arsenal for a festival set, but a double whammy of ace The 1975 covers ("Milk" and "Me") make up for that. Set highlights include latest single "You", a grunge-pop triumph, and yet-to-be released track "Colourless" which we can see becoming a sing-along sensation at the band's headline shows.
Pop music doesn't need to be saved, but if it did then Anna Straker could be the one to do it with her set at pizza hot-spot Belgrave Music Hall.
Her debut EP Serious is packed to the brim with pop gold, like singles "How We Are" and "Late Night Swimming". It's live though where we really get to see Staker's genius at work, multi-instrumentalist, producer, vocalist and songwriter her new material sounds like a step-forward, an evolution.
"Ignite Me" could be the result of a Kate Tempest/Charli XCX collaboration, whereas "Press Play" is a straight-up banger that needs to takeover radio ASAP. Don't underestimate Straker or her seriously powerful vocal.
Clay
Leeds-based band Clay bring their pop-rock musings to Beckett 1. Having already amassed a dedicated fanbase here on their home-turf the crowd are ready for a good time and Clay don't disappoint.
Highlights come from the four piece's run of impressive 2016 singles and their Heaven EP which features stand-out "Nothing Happened".
Despite the sound in the venue being far from perfect, the band manage to keep things together. New single "Saint" is massive, especially with less of the extreme vocoder effect that features on the recorded version.
Fickle Friends
To the Independent Stage at the massive Refectory at Leeds University, where Fickle Friends bring their candy-coated indie-pop.
While Fickle Friends may not be one of the newest bands on the bill this Brighton sure know how to put on a show. In a set full of old and new, highlights include tasters from their long awaited debut album like "Glue" and "Heavy Rotation".
The tea-time slot at days festivals like this can often be a tricky one in terms of numbers, but us northerners didn't seem to care, too busy singing along to the infectious "Swim" and Radio 1 B list addition "Hello Hello".
Off Bloom
Leeds doesn't seem to have embraced the magical world of Danish alternative-pop yet, but this doesn't stop Off Bloom from putting on the show of their lives in The Games Room at Brudenell Social Club. Mette, Mads and Alex aka Off Bloom are based in Copenhagen.
With support slots on LANY and Dua Lipa's latest tours their set is slick and polished, paired with Mette's fearlessness make the band perhaps our highlight of the entire festival. Singles "Love To Hate It" and "Falcon Eye" are addictive, the band also tease forthcoming single "Shut Up And Let Me Walk", if you can't wait for that make the trip to their headline show at The Pickle Factory later this month.
Chinah
More alternative-pop from another Danish trio closes the night, and Belgrave still haven't run out of pizza. Instead of the in-your-face power-pop of Off Bloom, Chinah's slinky R&B-inspired tunes are soothing and sleek. Highlights come from the three-piece's two sensational EPs, last year's Once The Lights Are On and their second Hints which was released earlier in the year.
Effortlessly, vocalist and songwriter Fine glides around the stage delivering cutting melancholy-soaked lyrics with her crystalline voice. Simon and Simon deliver tantalising synth and guitars solo respectively. Tracks like "Even Love" and "We Go Back" are swoon-worthy, but "Away With Me", their debut single, is eternally transcendental.

Register for free to continue reading
Registration is a free and easy way to support our truly independent journalism
By registering, you will also enjoy limited access to Premium articles, exclusive newsletters, commenting, and virtual events with our leading journalists
Already have an account? sign in
Join our new commenting forum
Join thought-provoking conversations, follow other Independent readers and see their replies