The Independent's journalism is supported by our readers. When you purchase through links on our site, we may earn commission.
Lo Moon: 'The head of the label said 'Don't f*** this up''
Los Angeles band have stunned the music world with their gorgeous breakout single "Loveless"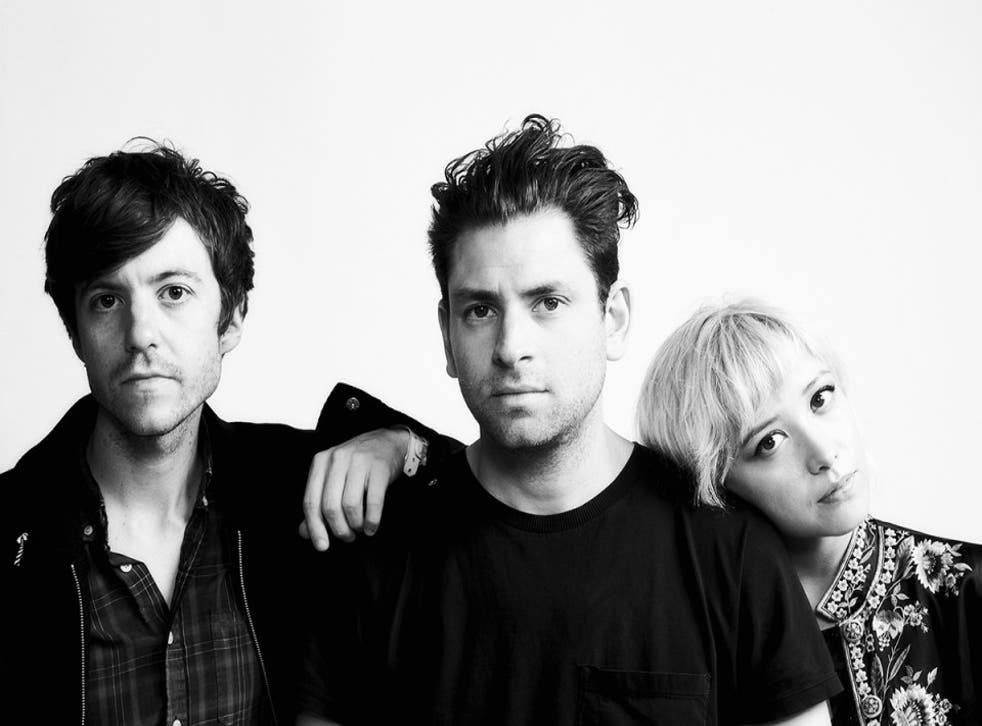 For Matt Lowell, Lo Moon really started with a song he wrote five years before the band even started. That song - the icy, melodic "Loveless" - would become the indie-rock group's breakout single.
Lowell, a New York native, had been cutting his teeth making music in Los Angeles - first in a band called Stranger and then back on his own, just crafting songs that would end up being a part of the Lo Moon project. Through friends, he found bandmates Crisanta Baker and Sam Stewart, who have been along with him for the journey.
The culmination of Lowell's songwriting and the band's collaboration resulted in Lo Moon's self-titled debut record earlier this year. The spacey, seductive rock songs were subsequently produced by former Death Cab For Cutie band member Chris Walla who fell in love with Lo Moon's music upon hearing it. With their rise in the indie rock scene, the band has found themselves in good company, touring with artists like MUNA, The Lemon Twigs and Glass Animals.
Now, the band finds themselves about to start a leg of shows in the UK. Ahead of their tour, we caught up with Lowell about Lo Moon's sudden success, his fateful meeting with Walla and being trusted to make an album they wanted to make.
How did you end up as a musician?
Ages ago. Probably when I was around seven or eight. My parents got me a drum kit in the basement in our house in Long Island. It was my second love: my first love was ice hockey. I kept up with the drums. I went to middle school, we had a little band and practised each Friday. During eighth and ninth grade I went to school in New Hampshire, and I started singing at prep school from learning the drums. And then my sophomore year of high school 9/11 happened, and I was in Connecticut and my family was in New York, and it really hit me.
So, I picked up an acoustic guitar and wrote my first song, which was about 9/11. From then on, I continued playing guitar and singing and then went to Berklee School of Music for college, which was a big decision for me because I wanted to play college hockey and then I decided I was going to throw it away and go to music school. My parents were really supportive of the idea, so then after that it was on and on: touring and continually digging.
Did all of the members of Lo Moon had their own individual solo projects prior to the band?
Yeah. I basically had a band in high school called Five Chance and then I left Berklee after three years as a singer-songwriter thing opening up for Howie Day. It wasn't for me. I learned how to tour by myself and I just got out and did it. I met a bunch of great people like John Vanderslice who I ended up working on a bunch of stuff with. I went to an apprenticeship, wrote some terrible songs and got out in front of of people and played them awfully. I learned what I didn't want to do more than what I did want to do. When I started to work on "Loveless" it started to make sense to me, which was about five years ago.
You worked on "Loveless" for five years. What does it feel like to have your breakout single be one that took five years to make?
It's extremely strange and extremely rewarding. It was the song that kept finding people and it was the gravitational pull to the band. I think that's why it kept living on and on for five years. It kept developing and I kept absorbing things that were happening musically behind me and brought them into the song. Then when it came out, It was really rewarding to see that people were into it. It would be insane if I worked on a song for that long, put it out and nobody cared. It would have been a shame if we put it out and no one cared.
Enjoy unlimited access to 70 million ad-free songs and podcasts with Amazon Music Sign up now for a 30-day free trial
Sign up
How did you end up working with Chris Walla?
It's a really weird story, but we had all of the demos for the record and a bunch of songs we were at the point of showing producers and talk through what kind of record we wanted to make. At first I met this guy Frank [Tetaz] and I thought he'd be a great person to make the record with, but Chris had been received the demos and he had said he wanted to meet up and talk. I met up with Chris a week after I met up with Frank. It was funny because Chris was like, "I'm really busy, but I really wanted to meet you because I liked what you're doing." He had left Death Cab For Cutie six months before and he was moving to the Arctic to start a studio.
He then said he heard the production from this guy Frank who did the Architecture in Helsinki and Gotye records. I think he's amazing. I just heard something he did and thought he'd be a great fit for the record if I can't do it. It was the same Frank I had met a week before. I was really freaked out and I said to Chris, "That's really weird because I just met with Frank and I really like him. Do you know him?" He said, "No I just like his work." So I introduced them and weirdly the timing seemed to work out that both of them could work on it. It was a weird way to align, but it was all based on the music. The second I met Chris I was like, "I really want to work with you." Especially we wanted someone who had been in a band to work on the record. It was a great experience.
What were you listening to when you put the record together?
We listened to so much music when we did the record. There was a moment where we were listening to Jon Hopkins or The Blue Nile. It was a really interesting way to do it because we didn't listen to much in the studio. We actually tried not to.
How did the band come together?
I moved to Los Angeles about four years ago, and I had "Loveless" and some other songs and I had told a few friends that I wanted to start a band around those songs. Crisanta received "Loveless" and a few other songs through a friend. She loved it, so I asked her to hang out and talk about it. I didn't ask her what instrument she played. Then I asked her to get in a room and jam on them.
We did, and we had a lot of fun. When we decided we wanted to start playing shows, we were a trio and we were called "Stranger." That faded to a point I realised I needed to take a year and start writing songs. Through that year, that's when we met Sam and Stirling [our drummer]. That's when it started feeling like Lo Moon.
What made you want to sign to a major label for your debut?
Columbia was the only label that was really interested in the band, and the way they came at it was we're gonna let you figure it out and let you make the record you wanted to make. They were just true believers and it was just about finding partners that were true believers. They were all about it, so it was easy. They were the only label that paid any attention to it. We weren't really seeking a record contract. I won't forget. The head of the label said, "Don't f*** this up." Major labels are the big, bad scary people and they're taking on this hard ground-level project. We don't have two trillion streams or whatever. We were just getting started.
Is there a cohesive theme on the record or is each song an anecdote?
There's a lot of dark and light. It's hard to explain, but I think with every song there's a moment of hopefulness, and it's a weaving theme throughout the album. Emotionally, I think there's a lot about the stages of being in a relationship. A lot of it for me is human emotions: music is cathartic for me so I tap into that thing that helped me express my feelings. Not in an emo way, but I think it helps me articulate what I'm feeling.
There are a lot of bands out all the time. What sets you apart from new bands?
The thing that sets us apart, I hope, is that we're trusting the music we connect to and I don't think it's connected to and I don't think it's actually connected to anything that's happening right now. I think that's tough because some days we feel like we're the outsiders and maybe we have this diluted world-view of what it's like to put out an album in 2018. But at the end of the day, we really trusted each other and our world view of the band instead of being nervous about the state of the industry and where we fit in the industry. We really believe in the band.
Lo Moon play The Great Escape in Brighton on Friday 18 May
Register for free to continue reading
Registration is a free and easy way to support our truly independent journalism
By registering, you will also enjoy limited access to Premium articles, exclusive newsletters, commenting, and virtual events with our leading journalists
Already have an account? sign in
Register for free to continue reading
Registration is a free and easy way to support our truly independent journalism
By registering, you will also enjoy limited access to Premium articles, exclusive newsletters, commenting, and virtual events with our leading journalists
Already have an account? sign in
Join our new commenting forum
Join thought-provoking conversations, follow other Independent readers and see their replies