Lockdown anniversary
Elvis Costello, The Anchoress and Frank Turner on the state of music in lockdown: 'All this livestreaming has really highlighted what we're missing'
Mark Beaumont surveys the wreckage (and the upsides) of life for musicians under Covid, with the help of established stars from Brandon Flowers to Paul Weller, and newcomers like Flyte and Celeste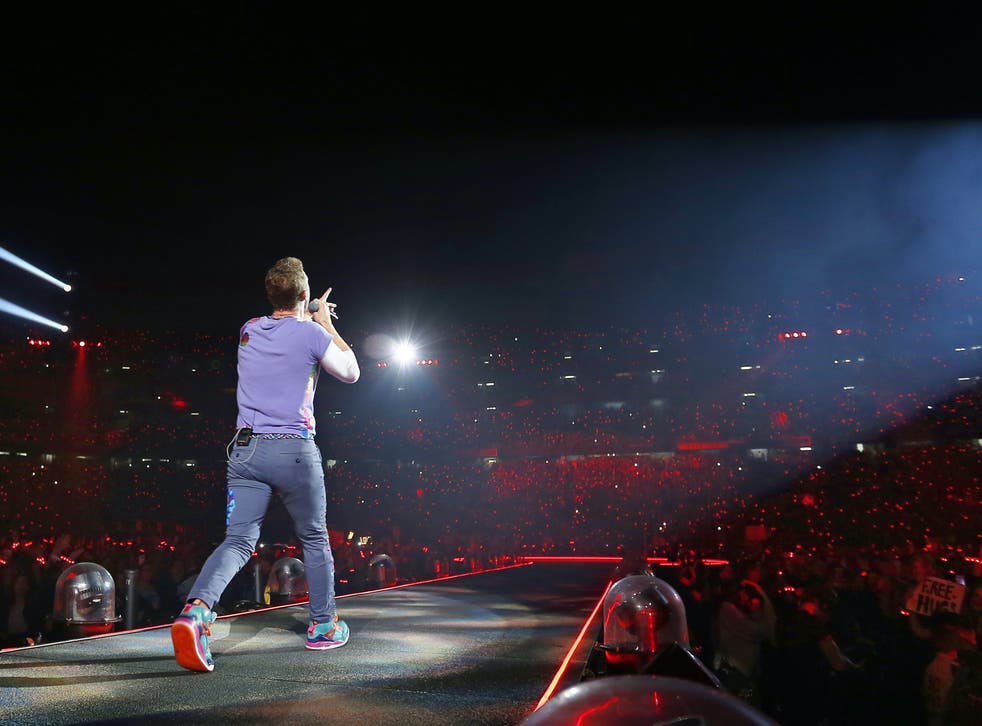 Leer en Español
E
lvis Costello read the rooms. He saw the holes in the crowd at his sold-out show in Manchester on 12 March, watched the lights dim on half a house at the Hammersmith Apollo the following night, and realised – a full 10 days before Boris Johnson officially put the live music industry on ice with the first Covid lockdown on 23 March, one year ago today – that any sort of decisive action to protect his band, crew and audience was going to have to come from him.
"I woke up the next morning and thought the game's up," he told me, "if nobody's gonna take the lead here, I'm calling it… two weeks later I'm reunited with my family after two weeks of quarantine when I get home, I'm in a little cabin on Vancouver Island going, 'Where did the world go?'"
Frank Turner, on a solo acoustic tour of the UK, sensed the same tension in the air. "The last few days of the tour were so weird," he says. "The government, in their endless wisdom, announced that large gatherings were probably a bad idea, but they weren't banned. It was like, 'f***ing cheers Boris, that's really useful for me', both in terms of decision making but also financially, insurance, all that kind of thing. On the one hand I have a contract to do the show, people have bought tickets, this is what I do, and on the other hand you don't want to make things worse or put anyone in harm's way… we played Southend, and only about 60 per cent of the people showed up and the national conversation had just changed over those few days… everybody was just a bit off with each other. That was the 15 March. Three songs into the set I turned to my guitar tech and whispered in his ear, 'Tell the tour manager that we're going home tonight.' The vibe in the room was off."
Across the UK and Europe in mid-March 2020, with only the fluffiest of governmental guidance, music scrambled. At the Italian border, futuristic electro punks Never Not Nothing waited to hear if their Milan gig would go ahead, then went to ground in the mountains of Slovenia: "We were in a place called Lake Bled, or Lake Blood," says singer SPACE. "We spent a couple of days off writing ideas for what became the Art Ritual EP." Ash's Tim Wheeler found himself stranded in Europe, waiting to play a tour that would inevitably be pulled, then had to escape back to his home in New York via Turkey. "We knew things were gonna get cancelled," he says, "but it's a tough position to be in because we couldn't cancel the gigs, it had to be the promoter doing it, otherwise we would've been liable to pay back a ton of money. It's tough that the government didn't shut down the UK shows before they did."
Little could the music world have known that the vibe would remain very much off for at least a year to come. Most musicians went into lockdown anticipating a few months of much-needed writing and detox time before gigs could return as normal. What transpired was the most challenging year for music in living memory, with venues left teetering on the brink of closure, musicians and crew members granted barely any support beyond being told to retrain for cyber and the £10bn-a-year arts industry left largely to sink or swim on its own ingenuity. That, a year on, we are anticipating any festivals, tours and grassroots gigs at all in the foreseeable future is testament to the inventiveness and tenacity of music's irrepressible talents.
From the top-down, music's support structures dissolved overnight; tours, festivals and album release schedules wiped out like a Jurassic meteor strike. Yet speaking to musicians over the first months of lockdown, they made up a choir of Mr Brightsides, focused on the positives. David Byrne took the opportunity to cycle around a deserted Manhattan to "explore parts of New York – it's a big city – that I hadn't been to before". Paul Weller heralded "the change in the air and nature, hearing all the birds singing again and coming back, you see how quickly nature repairs itself in a very short space of time, all the damage we've done over decades." The Killers' Brandon Flowers was amongst those who thrived creatively in those early months of isolation. "The songs have been flowing," he told me. "This is the point where I'd usually be on tour promoting and celebrating the record that we just made and having that swept out from underneath me, I just turned right back to the piano and the studio. I was pleasantly surprised to find that you kinda have this muscle that you're exercising and massaging and strengthening while you're writing and then you just go on tour and you stop it. It's been real interesting to keep that going and a lot of songs have been coming."
There was, however, a tangible sense of music hanging in limbo and burgeoning careers potentially hitting buffers. "There is a level on which you have your moment to make your mark in this industry," says Turner, "some great musicians have almost certainly missed that and I think that's a crying shame. My heart breaks for the people who, for example, were going to South by [Southwest] in March last year and they were just at that moment when it was starting to peak. That's been absolutely destroyed, and I think that's a tragedy, not least because as and when those kinds of things happen again, a lot of attentions will have moved on."
"We were just getting a head of steam going in 2019," says Flyte singer Will Taylor. "We'd just finished an album [This is Really Going to Hurt, now due in April], we were ready to go straight out on the road again, it was an exciting moment for us and there was definitely a feeling of being a little bit thwarted… take [touring] away and suddenly you don't feel like an artist, you don't feel like a performer anymore, you feel like a social media manager on no wage." Even 2020's Brits Rising Star winner and sure-fire breakthrough act Celeste felt her wheels spinning in air. "It's hard to tell at the moment what impact, good or bad, this year would've had on my career," she told me for The Evening Standard. "I'd received some accolades early on in the year, there was this focus to 'keep going, keep going' and then we couldn't but you're still in motion to do that, so there was a period where I was still in this overdrive."
Such problems were only exacerbated by the total decimation of musicians' primary sources of income. Turner, a touring tornado in any other year, estimates his income fell by 95 per cent in 2020, forcing him to move out of London, but with other income streams from royalties, merchandise and production, he fears more for less established underground acts. "I'd already been sat on the record for a year," says Catherine Anne Davies, aka The Anchoress, of delaying her second album The Art of Losing, "so I was frustrated, angry, devastated. And then, as someone who relies on income from live and from selling records, I completely fell off a cliff."
With much of the live music industry falling through the holes of Rishi Sunak's colander-like support schemes – "who's gonna furlough a singer-songwriter or a DJ," Turner asks – suddenly classical flautists were delivering your Amazon orders, folk singers conducting your Covid tests, tour managers stacking your supermarket shelves, and those were the lucky ones. "I know a lot of musicians who have moved in with their parents," says Davies, who paid her mortgage during 2020 by posting covers of her favourite songs online to take advantage of the influx of goodwill traffic to Bandcamp's monthly commission-free Bandcamp Fridays. "I know a lot of musicians who've gone and got other jobs or given up entirely and it's really sad because we've all invested – some of us hundreds of thousands of pounds – in our education and career and training and equipment. Maybe you've been a professional musician for 10 years, it's insulting to suggest that you should retrain and do something else."
In the eye of the crisis, music's instinctive altruism kicked in. Turner was one of the first to throw himself into regular livestreaming, as much to raise funds for struggling venues and his out-of-work crew as to keep his housebound fans entertained. His first, staged beneath his stairs on 17 March and featuring a "meet the cat" segment, attracted a viewing audience of 15,000 and was shut down by Facebook as "suspicious activity", but helped raise £45,000 to pay his crew and get his US touring partners home. Since then, unlike most early adopters, Turner has kept livestreaming all year, raising an estimated £250,000 for grassroots venues under threat of closure.
"I was expecting it to just disappear after a few weeks because honestly, how many times do you want to see me sit in my front room and play guitar?" he says. "But I was really impressed with the way that the audience sustained week on week, and the fundraising level was sustained."
Turner found livestreaming a grounding process. "It kept me sane. One of the hardest challenges of the last year has been trying to find shape and structure in this endless wasteland of nothing to do. In terms of my own history of mental health and addiction, it's the moments when I don't have any form or structure to my life that I get into my terrible habits. So it was definitely useful for me to know that every Thursday I was gonna do a show."
In early lockdown, livestreaming exploded. Chris Martin, Neil Young, Bono and John Legend got crash courses on which way up to hold Instagram Live. Major events such as Lady Gaga's One World: Together at Home and Willie Nelson's virtual 'Til Further Notice festival drew huge online audiences. More recently, Toyah Wilcox has broken several internets by doing covers with her husband Robert Fripp every Sunday on exercise bikes, with snakes or dressed as a nurse, cheerleader or French maid. The livestreaming sector doubled in size; out of catastrophe, a new form of music entertainment was born. But even as acts such as Nick Cave, Sleaford Mods, Gorillaz and Biffy Clyro (in virtual reality) began launching imaginative, paid-for streamed shows as surrogate gigs, the format clearly wasn't going to become a viable alternative to touring.
"Touring works as a financial structure because it is geographically specified," Turner argues. "Tonight, I will play to the people in Berlin who want to see me play and tomorrow night will be the people of Hamburg who want to see me play. By virtue of the fact that you're potentially streaming to everybody every time you stream, you're sort of streaming to no one in particular. With my two ticketed livestreams, we did roughly 5,000 tickets for each one and it's weird because I can sell 5,000 tickets in a fair few cities in the world, but that's not an add up of everyone who'd buy a ticket to see me anywhere in the world all in one go."
And for up-and-coming acts, livestreaming couldn't come close to alleviating the cashflow problems which, according to a study by booking site Encore, were causing 64 per cent of musicians to consider quitting music for good. "It's really difficult for bands that are just emerging and just starting to build their fan base because essentially the bottom's being cut off the ecosystem," says SPACE. "If you've got loads of fans you can stream to them and do stuff, but if you're in the process of building a fan base and connecting with people it's made it so much harder."
Then there were the psychological issues of playing to a laptop or phone camera rather than an audience. "When you stand on a stage in front of people there's a sense of urgency, you have to be really good," says Celeste. "If you're standing in your room it doesn't feel like there's that sense that you need to deliver."
"The minute I can play in a f***ing venue and not to computer, I'm excited about not having to livestream anymore, because it isn't the same," says Turner. "The show is an exchange of energy, it's a conversation, and you can't have a f***ing conversation with your laptop…"
Naturally, acts concocted every scenario imaginable to get their fix of non-emoji applause. The Flaming Lips played shows with both band and audience encased in inflatable bubbles. Never Not Nothing invented a system they call Sonic Shock Therapy, yet to be fully deployed, whereby every socially distanced audience member wears headphones and subsonic vest. "Everyone becomes their own sound system," says SPACE. "They're completely immersed in the sound, everyone gets that feeling of standing right at the front."
During the less restrictive summer months, Flyte announced a stripped-down "prototype" outdoor gig on Parliament Hill at 24 hours' notice and began turning up at the addresses from their mailing list with an acoustic guitar to play on fans' doorsteps. "We'd try to give them a bit of warning but sometimes they'd open the door and definitely weren't expecting it," says Taylor. "It was only ever really warm and emotional, a really beautiful exchange. We realised we had to perform, not just for our own mental health but [because] we're performers, ultimately." He tells of east London singer Olivia Dean touring London with her band in a truck that opened to reveal a stage. "She'd just drive around giving gigs to people. At that point we felt a bit outgunned."
Turner performed to 200 seated fans at the Clapham Grand last July to trial the government's proposed safe-gig measures. Despite proving that the plans were unviable for venues, he remembers it as being "absolutely f***ing incredible to just play a show… I remember finishing the first song and there was a round of applause. I was just like, 'holy s***!' The weirdness was easily counterbalanced by the sheer fact of a communal experience. A gig is as much about swaying next to a stranger, singing along or moshing, it's that sense of being part of something larger. All this livestreaming has really highlighted what we're missing."
Even after the most testing year imaginable, British music remains unquenchably positive. Everyone I speak to feels lucky in some way; to have had a home studio, production skills, a generous and supportive fanbase or releases to keep them occupied. Davies is grateful for the time she's had to learn how to make her own videos and the lack of pressure for introverted artists such as herself who would "rather sit in a room on their own and make a record never speaking to anybody". Flyte felt fortunate to be part of an online songwriting collective dedicated to producing a song a day, even though they've seen their peers' creativity drying up of late. "You need to be able to get out and live in the world and have experiences in order to collect that creative juice that's required," says Taylor.
Turner sees such experiments in remote writing and recording outlasting the pandemic. "My band and I have been in a studio in Oxford, our producer has been in Vermont," he says. "We are two thirds of the way through finishing a new album and to everybody's surprise it's actually a really efficient way of working… I know a horn section in Sweden, and if I have a song that needs horns on I send them the files and they send me the recording back again and it's done. No-one has to get on a plane." London art punks HMLTD have also found their own form of WFH revitalising. "We adapted our working process so that we just send each other stuff and work on it remotely," says singer Henry Spychalski. "I think we've probably made ourselves more productive than we used to be, because when we're six of us in a room all fighting and clashing over stuff we never actually get anything done."
There's hope that, in highlighting the economic plight of musicians, the Covid era might inspire an overhaul of the streaming system which notoriously pays artists in fractions of peppercorns, or encourage the rise of NFTs, which promise to return value to digital music. And Davies has found lockdown to be a massive opportunity for independent acts: her delayed second album went Top 40.
"That would not have been possible in non-lockdown times," she argues, also pointing to Scottish post-rockers Mogwai landing a No 1 album this year. "That would not be possible if a major label was buying up front-racking in HMV and we were competing against the Top 40 records in Tesco. It's shifted the power away from the major labels [and] opened up the possibilities of success at a different level for independent labels and artists. When major label marketing spends can't be thrown into billboard advertising and can't have that impact on the tube, it becomes more of an even playing field."
A year on, and as the light at the end of the lockdown tunnel increasingly resembles a Reading & Leeds firework display, there's some wariness over the government's gung-ho, welcome-to-the-Roaring-Twenties approach to the return of live music. "The idea that on 21 June everyone's going to be happy to have 2,000 people in a 2,000-cap venue pushing past each other to get to the bar is ludicrous," says Turner, who anticipates returning to his early DIY punk roots for shows in 2021. "That doesn't mean nothing's gonna happen, it just means that things that will happen might be unusual, they might be weird and they might be exciting and really cool."
"I'm hoping it's gonna be a heyday for live music," says SPACE. "You don't really fully appreciate something until you've lost it." "Gigs are like therapy for some people," adds his bandmate VIBES. "You go to a show, it's loud music, it goes through your whole system, you get this emotional response, you're with people, you get adrenalin, it's high energy and you leave feeling so refreshed. People haven't had that for a whole year and people's mojos are down."
"I'm certainly less inclined to stand at the back and watch now," says SPACE, speaking for every music fan, everywhere. "I want to get right to the front and get involved."
Join our new commenting forum
Join thought-provoking conversations, follow other Independent readers and see their replies