From early recordings to tai chi materials: Lou Reed's life story unfolds in an intimate new archive
You may lose yourself in a maze of call slips and registration forms, but it's all at the New York Public Library, ready to be seen – tiny fragments of Lou Reed's life coming together at your fingertips, writes Clémence Michallon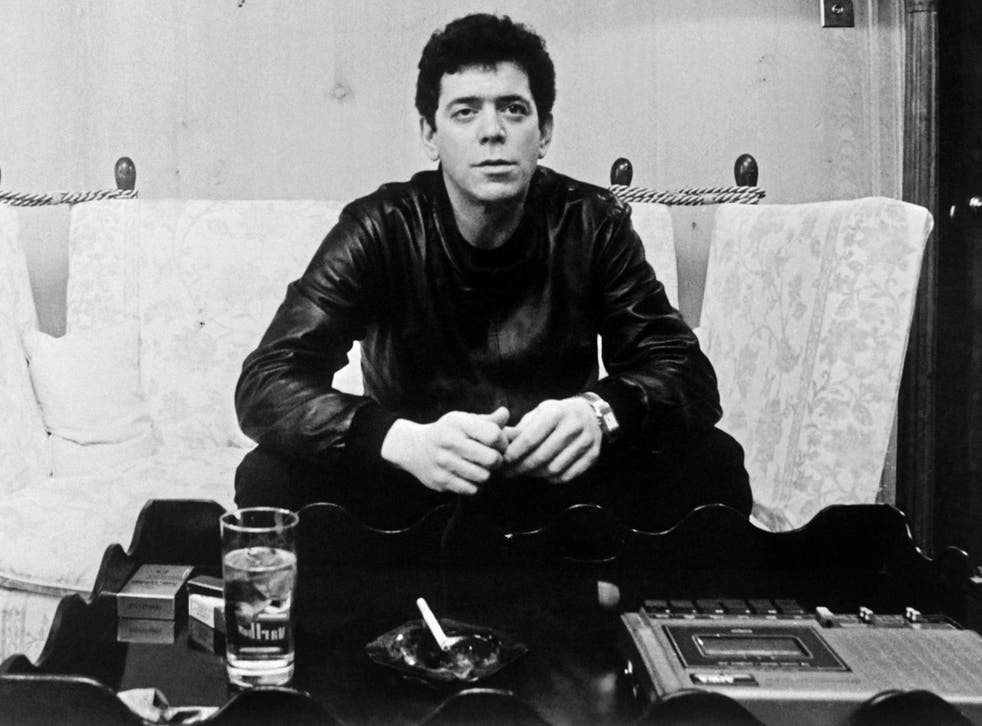 There are things you don't know you needed to see until they're right in front of you. Among them is a letter sent to Lou Reed by Martin Scorsese, vouching for Johnny Depp during the casting of a film inspired by Reed's song "Dirty Blvd". It's an artefact from a different time – a time when people still wrote letters, and advocated on behalf of Depp as an actor. It's one of many items that tell a microscopic but cumulatively telling story of Lou Reed's life, now accessible in a newly unveiled archive at the New York Public Library.
Two years ago, the library acquired all these boxes of materials gathered during Reed's lifetime. It was Laurie Anderson, his widow, who approached the NYPL to ask whether it would be interested in conserving the items and, crucially, making them available to the public. Reed, who died in October 2013 of liver disease, already had a "de facto" archive, according to curator Jonathan Hiam. This was in the care of Sister Ray Enterprises, Reed's publishing entity and touring company. After initial discussions, everyone agreed that the NYPL and Reed's materials were a "perfect fit" for each other. Reed, Hiam points out, was "in many ways the consummate New Yorker", and wouldn't it make sense for his story to live on in the city that so inspired it?
That's how the boxes came to arrive, full of items ready to be sorted through, inventoried, and prepared for public consumption. There were two waves: one for Reed's papers and one for audio and electronic records. His materials were already "fairly organised", as Hiam remembers it, but they still needed to be vetted, rehoused for long-term conservation, registered in a finding aid (a long list in which each document is assigned a reference number, to help library users request them), and digitised. The archive opened in March, the month of what would have been Reed's 77th birthday.
It's a little unsettling to find Reed the rock star, who sang "Perfect Day", "Satellite of Love" and "Walk on the Wild Side", who got his start in the Velvet Underground, befriended Andy Warhol, and gave us the Berlin album, reduced to an assortment of bric-a-brac. Still, rock star or not, Reed acquired stacks of paper over his life, just like the rest of us, and everything now gets to be organised as part of a larger project.
It begs the question: was Reed aware that these documents – legal forms, breakfast instructions issued to staff, an ironic "Ten Commandments for a Rock Band" list – would one day come together to paint a broader picture of his life? According to Hiam, Reed wasn't exactly the type to hold on to old drafts. It's hard to tell exactly how much energy, if any, he dedicated to his own past.
The 40 best albums to listen to before you die

Show all 40
"I do know that Lou Reed himself didn't really keep a lot of lyrics that he may have scratched out or older things. He was very much a forward-looking person," Hiam says.
Those around Reed, however, might hold on to "things that might otherwise seem like details", such as receipts for dinner and drinks – anecdotal titbits that only make sense as pieces of a larger puzzle.
What has been rescued, then? It all fits into eight parts. The first comprises 100 audio recordings made between the 1960s and 2012, including a 1965 reel that is believed to be one of the earliest known recordings of Reed's original work. Then come the office files, including fan mail, licensing papers, financial documents – all the components of Reed's business affairs. The third part, called "tours and performances", documents Reed's life on the road. Here you will learn that Reed apparently had a reputation for blaming wrong notes on "the nearest technician", post-dating "all checks", and constantly straying from his own setlists.
Then come photographs, both by and of Reed, including some of his tai chi practice and candid shots of friends and family. The fifth section, "Writing", includes typed manuscripts, drafts of short stories, speeches, poetry, and lyrics from Reed's commercially released albums – all typed and, alas, free of annotations. "Art and Design", the sixth chapter of the archive, embodies Reed's visual life, from album artwork to postcards, posters, and promotional shirts. Press clippings come next, followed by Reed's "personal collection", a miscellaneous assemblage of yearbooks, cameras, glasses, personal letters, passports, Tai-Chi materials, and even a Halloween costume.
Enjoy unlimited access to 70 million ad-free songs and podcasts with Amazon Music Sign up now for a 30-day free trial
Sign up
Despite those titbits, Hiam acknowledges that most of the archive reflects Reed's professional existence, rather than his personal life. It is fitting, in a way, that Reed – a notoriously tricky interviewee who revealed only as much of himself as he wanted – would remain somewhat mysterious even in death. Hiam points out that there may be logical reasons why Reed's archive isn't full of emotional, intimate letters to his family: a native New Yorker, he only left his hometown to go to college, and even then, only travelled so far as Syracuse in the state of New York. Besides, as a child of the 20th century, he would most likely have picked up the phone to catch up with his relatives, rather than put pen to paper.
Reed's relationship to his parents has been a subject of speculation throughout his career. His 1974 song "Kill Your Sons" is said to have been inspired by his experience receiving electroshock therapy as a college student. In a 2015 essay, his sister, Merrill Reed Weiner, denied claims that the treatment was intended to repress "homosexual urges" on the part of her brother. Instead, she painted a dire picture of Reed's mental state, writing: "Lou was not able to function at that time. He was depressed, anxious, and socially unresponsive. If people came into our home, he hid in his room. He might sit with us, but he looked dead-eyed, non-communicative."
"My parents were like lambs being led to the slaughter – confused, terrified, and conditioned to follow the advice of doctors," she added. "They never even got a second opinion. Told by doctors that they were to blame and that their son suffered from severe mental illness, they thought they had no choice."
Reed's archive is not entirely an exercise in control. Hiam, who cautions that it's hard to know which items Reed chose to have in his possession and which were gifted or sent to him, was surprised to see a Kiss album in Reed's record collection. (Judging by Hiam's description, he's referring to Music from 'The Elder', Kiss's ninth studio album – a commercial failure – on which Reed had a writing credit). Some things, naturally, didn't make the cut: "medical records, personal tax forms, and things that are family-oriented, that have deeply personal information about living people and family", says Hiam. Some artists, he adds, may give their more personal materials to an archive after sealing them for a number of years, but he's not aware of any plans to do so on Reed's side.
Those who have seen the Lee Israel biopic Can You Ever Forgive Me? will know what consulting an archive entails. Materials must be requested. Jackets and bags must be set aside. You may lose yourself in a myriad of call slips and registration forms. But here the archive remains, ready to be seen – tiny fragments of Lou Reed's life coming together at your fingertips.
Register for free to continue reading
Registration is a free and easy way to support our truly independent journalism
By registering, you will also enjoy limited access to Premium articles, exclusive newsletters, commenting, and virtual events with our leading journalists
Already have an account? sign in
Register for free to continue reading
Registration is a free and easy way to support our truly independent journalism
By registering, you will also enjoy limited access to Premium articles, exclusive newsletters, commenting, and virtual events with our leading journalists
Already have an account? sign in
Join our new commenting forum
Join thought-provoking conversations, follow other Independent readers and see their replies