The Saturday Interview
Louis Tomlinson: 'Being in One Direction was like a drug. The break-up hit me like a ton of bricks'
The former boyband star's first solo album, 'Walls', has taken four years to make, a period in which he has lost his mum and his sister. He talks to Fiona Sturges about grief, getting arrested and why he's sure 1D will reform
Saturday 25 January 2020 07:24 GMT
Comments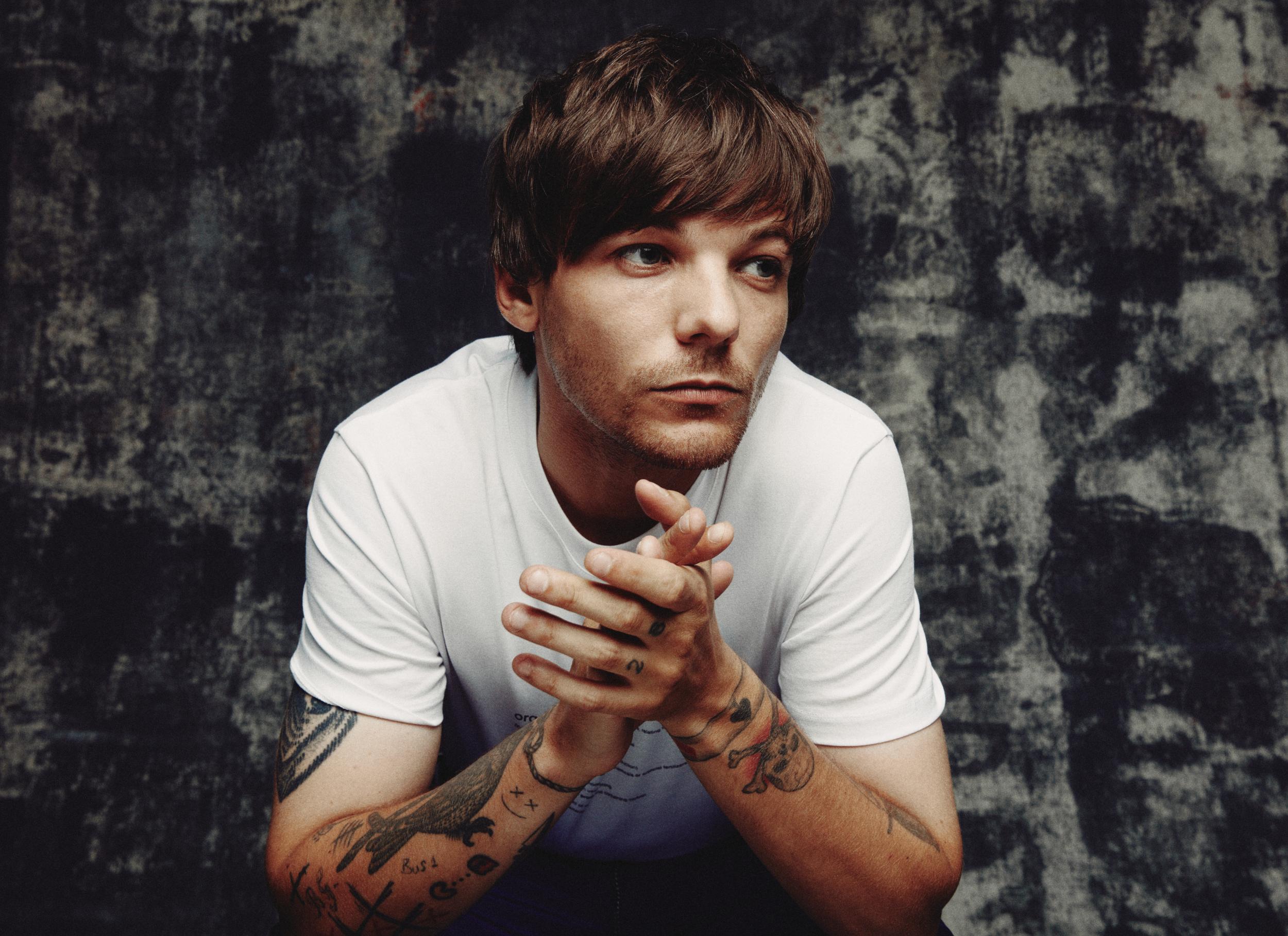 In 2017, Louis Tomlinson was at the centre of a brawl at LAX airport in Los Angeles involving a photographer and a small crowd of fans. At the time, he said he was protecting his partner, Eleanor Calder, from a paparazzo who, in turn, claimed Tomlinson had grabbed him and dragged him to the floor. The singer was arrested but wasn't charged.
"I probably shouldn't be talking about this but f*** it," he tells me now. "My point is, I clearly wasn't in the best frame of mind, you know? And the situation definitely got out of hand and people were goading me. It wasn't my finest hour but it was a difficult time. I was already on edge and, in that headspace, it got the better of me."
By "that headspace", Tomlinson means that he was grieving. The airport incident took place a few months after his mother Johannah's death from leukaemia at 43. (In March last year, his 18-year-old sister, Félicité, died from an accidental overdose. Quite reasonably, I've been asked not to bring this up.) Tomlinson, who is now 28, says his experiences of grief in the public eye have been "really tough. There have been mixed emotions. I've hated the fact that everyone's talking about it, but that's the way it is. I didn't like the idea of people feeling sorry for me. But I've also felt the support from fans and people reaching out on social media or whatever… and I do feel I've got this ability to see the glass as half full. Because what else am I going to f***ing do?"
I meet Tomlinson in an upstairs room of a pub in a residential corner of London's Notting Hill. He is dressed in jeans, a red tracksuit top and trainers. The only visible evidence of his previous life in One Direction, the biggest boyband in pop history, is his hair, which is artfully swept sideways as if he's standing in a wind tunnel. An old hand at winning over interviewers, he greets me with a hug before sitting down, leaning back and putting his feet up.
Tomlinson is on the promotional trail for his debut album, Walls, which has been four years on the making. It includes "Two of Us", a ballad which lays bare Tomlinson's loss ("You'll never know how much I miss you/ The day that they took you, I wish it was me instead"). In a change of mood, it also contains the Britpop-flavoured "Kill My Mind", a throwback to his mid-teens and the indie night he'd go to with his friends in his native Doncaster.
The 50 best albums of 2019
Show all 50
Tomlinson grew up listening to Oasis and Arctic Monkeys, though right now he can't get enough of Catfish and the Bottlemen: "I like anything with big guitars and a big chorus." He reckons "Kill My Mind" will struggle to get on the radio but he doesn't care since, musically, "I've often been swimming against the tide."
He puts the album's long gestation down to creative insecurity. "A good two years [was spent] treading water and trying to work out exactly what my sound was, and what I was capable of." Clearly, One Direction, who sold 50 million albums, are a tough act to follow, though Tomlinson has also had to contend with his former colleagues putting out solo work before him (Harry Styles is already on his second LP, while Zayn Malik, Niall Horan and Liam Payne have all released debuts). But he rejects the suggestion that they are all in competition, remarking, "I don't like to look at it that way."
I ask if he and his ex-bandmates have a WhatsApp group. They don't, he replies, "and we should, but we've never got around to it". But he says they are frequently in touch, which must be something people ask a lot since, entirely unbidden, he gives me a breakdown of their recent activities. Let the record show that he spoke to Liam two days ago; he and Niall exchanged texts a fortnight ago; and Harry sent him a congratulatory message when he released his last single. There is no mention of Zayn.
Tomlinson says the face he presents to the public and journalists these days is fully unfiltered, a change from his One Direction days when he had to be careful not to cause inadvertent upset within the band or with fans. "No one was saying 'Don't do that', but there was the [pressure] of being role models. So it took a second to understand that [as a solo artist] I could get away with completely being myself, even though I can sometimes be a bit of a dickhead."

Enjoy unlimited access to 70 million ad-free songs and podcasts with Amazon Music
Sign up now for a 30-day free trial
Sign up

Enjoy unlimited access to 70 million ad-free songs and podcasts with Amazon Music
Sign up now for a 30-day free trial
Sign up
In fact, there are two Tomlinsons that emerge throughout our chat. There's boyband Louis, full of sweet but bland blather about self-expression, his gratitude to fans, and the luck that he's enjoyed as an artist. But another version of him frequently comes through who is funny, sweary and thoughtful about his decade in the limelight.
Tomlinson has had four years to digest his time in One Direction which I note, from the outside, looked a bit like being held hostage. But even with the fan fervour, the police escorts and the nonstop media glare, he says he wouldn't change anything. "We were always in control of our destiny," he explains. "We rose to fame pretty quick and, because of that, we had some power and some say within the record label and with management." The sheer pace and drama of their day-to-day existence was, he says, "like a drug. It's that feeling of heightened emotion and every day being manically busy, and the hysteria. Although you might complain about it, none of us said, 'No we don't wanna do that.' We were just in it. We were f***ing loving it."
Still, he says, the initial 18 months were hard as he struggled to see his value within the band. "I would wonder, 'What difference would it make if I was there or if I wasn't?' Under the spotlight that was difficult, but that's what gave me the fire in the belly to get right into it." It was through songwriting that he found his place and his confidence – he has writing credits on 37 One Direction songs, more than anyone else in the band. "That's something I'm really f***ing proud of," he says. "Now I can say I made a difference."
The end of One Direction was a shock to Tomlinson, even though he knew it was coming. "We'd done such a lot of work in a short space of time so a break was inevitable. But I don't think I was necessarily ready for how long. We had a band meeting and everyone just said, 'Maybe we'll put it on the back burner for a bit,' and I felt a bit petulant about that at the time. It actually hit me like a ton of bricks." Now the band are officially on hiatus – "even though that's a stupid f***ing word", he says. "Truthfully, none of us truly know [if we'll reform]. I just know what my gut says and my gut says we will get back together at some point. I think it was too magical for all of us to never do it again."
The eldest of seven siblings, as a child Tomlinson says he was "well-mannered but a bit of a show-off. I was a lot cockier than I am now. Being in One Direction made me realise I'm not always the coolest kid in the room".
He wasn't good academically at school but enjoyed performing and, for a while, toyed with being an actor. Before auditioning on The X Factor, he did a string of jobs at weekends and in school holidays for some extra cash. One summer was spent as a waiter at his beloved football club, Doncaster Rovers. Another yielded a stint at a well-known cinema chain dispensing popcorn. There, he tells me unexpectedly, he was earning "an extra wage". An extra wage? "As in taking a few quid from the till," he says with a grin. "It all started because there was a McDonald's over the road and I wanted money for my lunch." His trick was to hand customers two boxes of popcorn but only put one through the system and put the money for the second in his pocket. "I didn't want to short-change the customer," he explains. "I'd take from the company. I'm a man of the people."
It was his mum's idea for him to try out for The X Factor, though it took three attempts to get through to the televised auditions. He says the experience of going on stage in front of the live audience, under the glare of the lights and with four famous judges looking back at him, remains the most terrifying of his life.
We talk for a bit about Tomlinson's return to The X Factor in 2018 as a judge alongside Simon Cowell plus Robbie Williams and his wife Ayda Field. He asks what I made of the show so I decide to be honest and tell him that I thought the whole thing looked tired and Cowell appeared bored out of his mind. "Well I couldn't possibly comment on [Cowell]," says Tomlinson, good-naturedly, "though I actually loved it. But yeah, I feel that, as a show, it needs a rest. There's a place for a show like it and I've got my career to thank for it, but we've had a lot of it, so let's just let it rest and make people want it again."
These days Tomlinson divides his time between London, where he lives with Calder, and Los Angeles where his four-year-old son, Freddie, lives with his mother, the stylist Briana Jungwirth. Life has slowed down since the madness of One Direction but he still can't find the time to read a book or watch a box set. Where, in his pre-fame days, he struggled to hold down a job, now he's happiest when he's busy. Should the singing career stall, he would like to run his own management company. Five years ago, he launched a record label, an imprint on Cowell's Syco label, but life got in the way and his plans to create a girl band fell at the first hurdle. Originally he had gathered a list of 20 acts that he was keen to sign, and points out that "like, four or five of them are signed [elsewhere] now… I think I have an instinct for these things".
I ask, rather unfairly, if the solo career of a former boyband member is ultimately a doomed endeavour – for every Robbie Williams, there's a Howard, Jason and Mark whose careers sink without trace. For a moment Tomlinson looks stumped but then he prevaricates like a pro. "Of course, there are days where I might have unreal expectations and when I have to tell myself to stay grounded," he says. "But I had a breakthrough moment last year about what success really means and I think I can look at it for what it is now. I have to look at how happy I am and remember that I'm lucky to be doing what I'm doing."
Walls is released on 31 January on Syco Music
Join our commenting forum
Join thought-provoking conversations, follow other Independent readers and see their replies