Loyle Carner interview: 'I'd rather have a real life than lots of girls and drugs'
As the rapper releases his second album, 'Not Waving But Drowning', he speaks to Helen Brown about ADHD, dealing with criticism and why he doesn't understand why men like Jay-Z cheat
Saturday 13 April 2019 11:01 Comments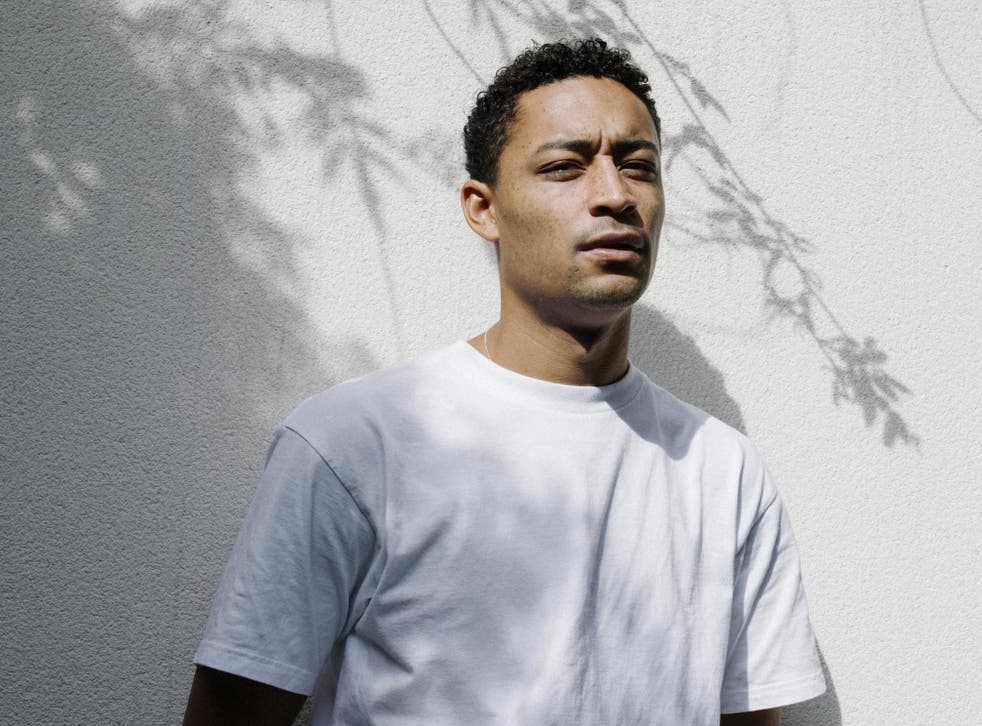 Intense emotion," grins Loyle Carner, is "never far beneath the surface of my weird, froggy face." Though that freckled face is so strikingly handsome GQ chose it for the cover of their first digital issue in December, it does warp and wobble into a wonderful range of heartfelt and wacky expressions as he talks. And there's a swell of tears in the frog prince's eyes as we discuss the opening track from his second album: Not Waving, But Drowning.
"Dear Jean, I hope this doesn't come as a surprise / But I've fallen for a woman from the skies…" the song begins, in a twinkling of electric piano. Carner takes the pace at a careful lope, but fans will feel the emotional jolt. The "Dear Jean" of the title is the 24-year-old rapper's mum: a special needs teacher, widowed when Carner's beloved stepdad died suddenly (of an epilepsy-related seizure) in 2014.
The family story lay at the tender heart of Carner's 2017 Mercury-nominated debut album, Yesterday's Gone, on which Jean read a poem in praise of her "scribble of a boy" against the glow of his jazzy, Nineties boom-bap grooves and an original piano melody written and recorded by her late husband. Videos – starring Jean, Carner's younger brother, Ryan, and their giant poodle, Ringo – were shot in the family's cosy Croydon terrace.
Two years on, Carner wrote a song to tell Jean he would be moving "Out of the house / Out of the South / Never out of touch". He had met a woman, he jokes is "truer than the [Mercury] prize" (which he lost to fellow South Londoner, Sampha) with "Eyes deep blue like the flicker of a flame 'fore it dies / But this aint dyin' it's risin' / Like that big round orange on horizon…"
Carner says the "woman from the skies" is "a teacher like my mum". "So I guess Freud would have something to say about it. But, yeah, I wanted my mum to be proud. I mean, it's what she wants for me, but moving on is always going to be hard. Mum listened to the song on her own in the car," he tells me. "She says she sat there, crying in the car, for a long time afterwards."
I tell him I cried when I first heard it too, and we have a hug. Because my nine-year-old son has ADHD, like Loyle Carner. I related to all the lyrics about it on his first album: all that stuff about watching TV upside down, while bouncing a ball. My own "scribble of a boy" does that. I know, first hand, how uniquely inventive, exhausting, fearless and emotionally vulnerable ADHDers are. How they struggle to regulate their feelings, maintain friendships and achieve their academic potential.
ADHD mums don't get much sleep – if we're not lying awake worrying about our children's futures, we're making them a fourth dinner at 2am while they're bouncing off the walls, unable to locate that day's off-switch. Through Carner's work, I've felt a comradeship with Jean and hoped that my little son will, one day, turn into a human with as much self-awareness and compassion as her big one. I find it impossible to choke back tears at the bittersweet mix of loss, pride, love and relief Jean must feel at the thought of her son flying the nest, with a successful career and a loving partner.
I want to raise a glass to her in the new video to "You Don't Know", in which she's seen on a series of dates in the same restaurant, while her son sizes up potential candidates from the sidelines in a series of roles as waiter, chef, security guard and taxi driver. The track is built up from a crackle-glazed soul sample of Little Ann's 1967 single: "Deep Shadows".
It occurs to me that hip hop – creating new melodies while fidgeting with familiar bits of old ones and bouncing beats off of both — is ADHD made sound?
Enjoy unlimited access to 70 million ad-free songs and podcasts with Amazon Music Sign up now for a 30-day free trial
Sign up
"You're right," nods Carner. "Like I say on the album, 'ADHD is the best and the worst of me,'" he says. "It means I can make this music, but I'm also incredibly sensitive to the criticism. I try not to look at social media because if people tell me a song about my mum is shit I take that personally. I still feel like quitting when somebody attacks me."
"It's like a superpower – it's hard to handle. Think of Cyclops in X-Men – the one with the laser vision? He can't walk around normally without his glasses. Even his girlfriend can't look in his eyes and that sucks. But, when you need him to do it then he can zap a building in half so… that's cool."
The 40 greatest song lyrics

Show all 40
Today Carner has found that tidying up helps steady his chaotic brain. "I started at home, but now I'll also tidy the venues after gigs," he says. "I have good fans, so most of the rubbish goes in the right bins. But I look at anything left over and think: that plastic cup wouldn't be on the floor if I hadn't done a show. It's my responsibility to clean up my own mess. The next tour, we're trying to ban disposable plastics completely. Just like every part of the CD is recyclable. Even the shrink wrap."
Carner also runs cooking courses for 14-16-year-olds with ADHD. "I trust them with knives and fire," he says. "Because nothing keeps the focus like danger. And giving kids responsibility helps them behave responsibly. We do simple things, make tortellini and learn to respect the ingredients, relish the flavours. It can be a meditation." The course has also featured guest chefs like Yotam Ottolenghi: one of two chefs to get a shout out on the new record. The other is the late Antonio Carluccio, who gives his name to a song on which Carner rhymes a line about "pouring sparkling pressé" with one about his mum "marking essays".
Carner laughs when I tell him my son didn't initially believe that a man who made such mellow music could possibly have ADHD. "Yeah! I know. It's about the only place I can be relaxed… and considered. I think fast, I talk fast. But getting words down, finding a beat, gives me the space to say what I really mean."
Because he is also dyslexic, Carner's writing was often so jumbled he muddled his own name on schoolwork. To be fair, Ben Coyle Larner is a bit of a mouthful. And he got the last laugh when, at Jean's suggestion, he spoonerised his surnames into a stage name.
Although he tried medication as a kid, Carner felt it turned him into "a zombie", so he used cooking and music as a way to find focus. "I've always had a thing about being underwater," he says, "just floating into the antigravity and shutting out all the white noise. And music can be like that." He grew up loving rappers who told stories: Roots Manuva, Common, Nas.
A former scholarship pupil at Whitgift, the south London-based public school, Carner also studied at the BRIT school of performing arts (whose graduates include Amy Winehouse and Adele) and was aiming for a career in acting (taking a small role as Young Hunter in Roland Emmerich's 2008 flop 10,000 BC) before the death of his stepfather saw him drop out of drama school.
In the absence of both his biological father (who split up with his mother when he was young and with whom he has little contact) and stepdad, Carner cast about for male role models and found a musical brotherhood with artists like jazz guitarist Tom Misch and hip-hop producer Rebel Clef. Together they appeared to promote a new kind of male experience, speaking more openly about their feelings and taking the time to listen.
Campaigning for Calm (the Campaign Against Living Miserably) Carner has said that: "We need to accept that every man cries," Loyle adds. "We get our hearts broken, these things do happen, and they do affect you. Accept that over time bad s**t will happen and it's OK to be upset about it."
But he says he's still not as confident as he'd like to be when it comes to expressing himself directly. Which is why most of the songs on the new album were written as messages for friends, family and his girlfriend.
Loyle Carner & Benjamin Zephaniah
"Krispy" is the painful tale of a friendship torn apart by money. "I still remember your mum buying me a flat-pack mattress… we'd lie awake dreaming of an encore / And laugh at all the things we'd say when we won awards / Now two best friends who shared the torch barely talk / And when we do it's money not remorse… But the beats stopped / So now what? / Give a f*** about the money or the E-track / I just want my G back."
"'Krispy' is Rebel Clef," nods Carner, fiddling with his notebook. "We've worked together since my first EP. I'm the youngest out of the friends I started making music with so it's weird for me to become the boss and we all struggled with it. I think I'm emotionally advanced for a young man of my age, but I couldn't talk to him. I had to write him a song just so I understood how I felt. I hope it would spark a conversation and it has. But it's still a slow process."
Another track – "Looking Back" – finds him interrogating his mixed-race heritage. "Being black and white / I grabbed it with both hands," he raps. "I'm thinking that my great-grandfather could have owned my other one / I'm lost/ Wondering my cost." Discussing the track, Carner says he's interested in learning more about his Guyanese roots and hints that future releases will take him "more in that direction. I'm interested in looking into black expression. Well, I'm mixed raced so what do I call it? Colourless expression? Colourful expression?"
But most tracks find Carner rhapsodising about how love is nourishing him through the challenges of life in a "vacuous" industry. "Making music – working in this machine – can kill your love for it," he says. "But my missus is a massive hip-hop fan. She was playing me old skool stuff I'd let drift. But sharing songs reignites them."
That said, Carner was surprised to realise how many of their favourite tracks found rappers boasting about "the need to have more than one girlfriend. We both love J Dilla's 'Won't Do'. But: really? One won't do? I mean, why are all these guys cheating? It doesn't make you happy. It's great when somebody like Jay-Z apologises for that behaviour but it's still heartbreaking that it happened."
Carner shakes his head: "I mean, I've been on tour. If your music starts to take off there will be a lot of girls who want to sleep with you and a lot of boys who want to hang out and give you drugs. There will be a lot of boys who want to sleep with you and girls who give you drugs. So you can do that. Or you can take that little bit of cash you've made and invest in having a real life. I focus on the fact I've managed to help my family, I've got a girlfriend who loves me, I'm thinking about getting a dog. These things are so wicked to me. These things have been my dreams since I was a kid. Why would I mess that up?"
As I leave, Carner writes an inspirational message for my son and asks if I can bring him to the album launch. "Are you sure?" I ask. "He'll be upside down in the corner!" The frog prince grins wide. "That's fine. I'll be the rapper upside down in the other corner."
Not Waving, But Drowning is out on 19 April
Register for free to continue reading
Registration is a free and easy way to support our truly independent journalism
By registering, you will also enjoy limited access to Premium articles, exclusive newsletters, commenting, and virtual events with our leading journalists
Already have an account? sign in
Join our new commenting forum
Join thought-provoking conversations, follow other Independent readers and see their replies