The Independent's journalism is supported by our readers. When you purchase through links on our site, we may earn commission.
Machine Head interview with Robb Flynn: 'Music isn't about being perfect, it's about capturing lightning in a bottle'
The Oakland, California metal band are on the cusp or releasing the most eclectic and controversial album of their career to date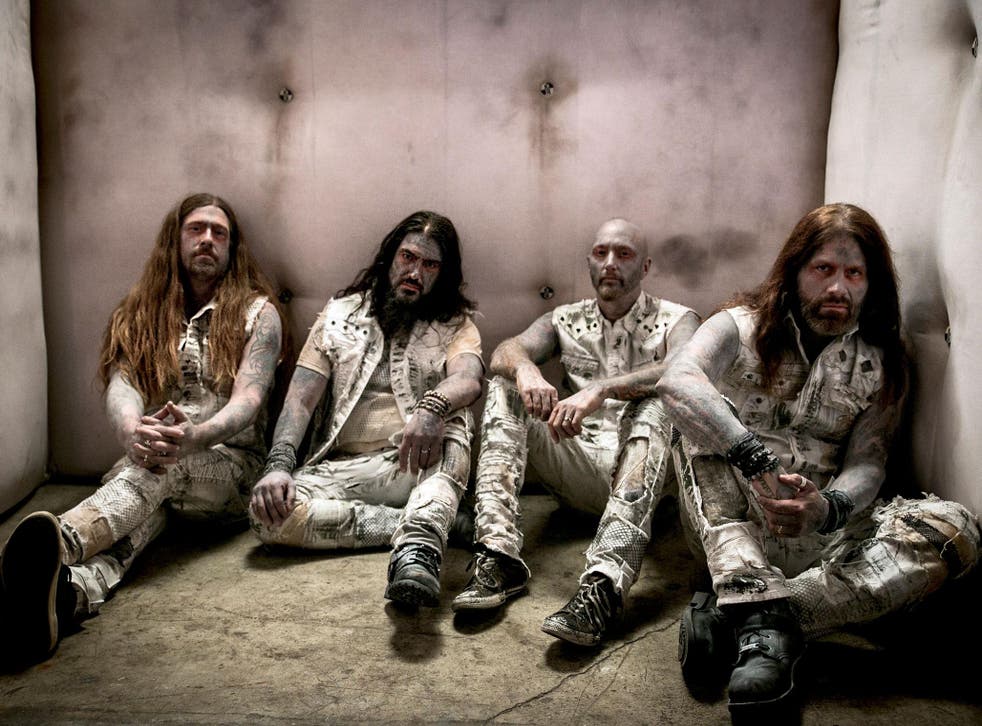 The release of a new Machine Head record is always a seismic event within the metal community and Catharsis, the Cali-quartet's ninth, is already shaping up to be one of the most contentious albums of the band's career. Early reviews have been varied to say the least, with some praising Machine Head's fearless explorations into uncharted territory, whilst others have expressed white hot fury that the band would be so bold as to try something different. A cursory listen suggests that Machine Head have gone back to the raw, groovy, nu-metal bounce that typified many of the cuts from 1999's The Burning Red and 2001's almost universally derided Supercharger. But peeling away the layers reveals a record with far more substance than either of those divisive albums was able to muster.
It's certainly the most diverse Machine Head record by some distance, which is perhaps why it's caused so much consternation amongst fans and critics alike. There are a number of songs that exist in a realm that Machine Head have barely even hinted at, let alone pursued so fervently before. The sprawling epics that gave the band a second renaissance (most notably on the band's 2007 undisputed masterpiece The Blackening) are almost entirely absent, replaced instead by punchy, 4-5 minute tracks designed to relate Flynn's grievances with the world as he sees it. "A lot of the record for me became about trying to keep a fairly basic arrangement so that I could tell a story," he says. "It's really hard to tell a story when you're playing 35 riffs a mile a minute. I'm so sick of listening to metaphors in metal; everything's cloaked and it just doesn't make me feel anything; that's the part that really bums me out. I really wanted to have super clear communication on this record. I grew up on a ton of rap and punk rock which was all very direct and confrontational. The language of rap has gone so much farther in its extremes than metal ever has and whether you love it or hate it, that language is very blunt, coarse and vulgar and that's what I wanted to bring to this. We had a lot of discussions asking if we could go this far, could we say some of the things that we're saying on this record? There are some really provocative lyrics and I don't know if it's the right thing to do or the wrong thing to do but to me, it feels right."
Flynn has never been a man who's felt the need to mince his words and in many ways, Catharsis is merely a natural extension of his desire to communicate to the world at large. 'We looked back at this very eclectic record and it was obvious that there were a lot of different things being said on it. On the one hand, you've got all the socio-political stuff like "Volatile", you've got a song like "Triple Beam" which is about my life as a drug dealer, you've got "Eulogy" which is about depression and then you've got a song like "California Bleeding" which is about getting fucked up, which is its own sense of catharsis.'
One of the album's biggest curveballs by quite some distance is "Bastards", a song that emphasises the stylistic change that Machine Head have begun to explore. The song's simple structure is testament to Flynn's new found desire to communicate to his audience rather than batter them senseless with a cavalcade of blistering riffs and turns of pace. "To me it's a folk song," says Flynn. 'It's four simple chords that have been played a million times over the last hundred years and I knew that when I was writing it. It's based on a conversation that my wife and I had the morning after the election in America with my two boys and it was a really difficult, intense conversation. I was sitting there looking at my kids holding each other, which really affected me.'
Flynn uploaded a version of the song to YouTube a few days after the election, simply as a means to get the song and the message behind it out of his system. Writing for the Machine Head album had been progressing steadily for the past two months, but there was no grand plan to turn "Bastards" into a Machine Head song. That is until Flynn turned his attentions to "Eulogy", the album's emotive and stirring final track. "I didn't realize it but "Eulogy" had the same chords as "Bastards" but it was in a totally different area of the guitar, so I didn't put 2 and 2 together. So I just went into the chorus of "Bastards" over those "Eulogy" chords and it fit perfectly. As the record evolved, that idea of 'stand your ground, don't let the bastards grind you down' kept on popping up in other songs like "Hope Begets Hope" or" Grind You Down" or "Catharsis". All of a sudden, there was a thread that was tying the record together and so we tried a band version of "Bastards" and it became the centrepiece of the album."
Machine Head are undoubtedly one of the most divisive bands in modern metal, eliciting rabid, passionate devotion from their affectionately monikered 'head-cases' and equal amounts of scorn from metal-heads unwilling to forgive a few poor fashion choices made at the turn of the 21st century. Catharsis is set to fire up debate across social media and forums and one gets the sense this is exactly the position Flynn wants Machine Head to be in in 2018. Few bands are able to inspire such passion or ignite such ire 27 years into their career but Flynn's desire to keep pushing Machine Head forward is exactly what sets them apart from their contemporaries. "We're nine albums deep now, so we had to ask ourselves 'how do we do something different?' Bob Dylan once said 'it's about finding new ways to say the same thing'. We have our sound but I always want to explore new territory, I always want to try and push what we can do or even what is considered acceptable in metal music. To me, music isn't about being perfect, it's about capturing lightning in a bottle and I feel like we've been really bold on this record."
The writing for Catharsis began just a couple of months after Flynn turned 50. Such a milestone birthday might afear certain fans that we're in for a less sonically intense Machine Head experience this time around but they need not worry. For all this talk of curveballs, Catharsis still contains plenty of the bile and vitriol which has come to typify Machine Head throughout their career. It's there in the searing, opening statement of intent that is "Volatile", the puerile, punk n'roll Motörhead worship of "Razorblade Smile" and the furious, down-tuned bluster of "Grind You Down". But did celebrating a half century on this planet affect any changes in Flynn's outlook on the band that has been his life for the past 27 years? "It made me look at my life in a different way in the sense that I'm not going to be here much longer. We're not Metallica, we're not The Beatles, we're not the biggest f**king band that ever lived. When I die, we're probably not going to be a very famous band that everybody remembers and everybody talks about. I think people now maybe more than ever think that everybody's watching them because of social media but nobody's paying attention. Nobody gives a f**k, they're all too busy caught up in their own lives. We're just going to do our thing and live our lives the way we feel is best and hopefully look back one day and say 'I had a life less ordinary.''
Doing things their own way has always been Machine Head's modus operandi; whilst touring their criminally under-rated 2014 album Bloodstone & Diamonds Flynn vowed that the band would be forgoing the usual festival circuit rat-race and instead, play their own 'An Evening With...' shows. Each night, the band played a different 2½-3 hour set with no support act in tow. They provided an opportunity for fans who know the Machine Head back catalogue inside out to see deep album cuts that rarely get aired live. "We've always had these mellow songs that we never really played. We dusted them off almost out of necessity for the 'Evening with...' shows because when you're playing a 3 hour show, you need to give the audience a break and we sure as hell need a break! So we started to pepper the set with songs like "The Burning Red" or "Descend The Shades of Night" or "Darkness Within" or "Sail Into The Black", these mellower moments that we rarely used to pull out live. From a creative standpoint, it was so revitalising for us as a band."
Despite the 'Evening with...' shows being an unmitigated success in the eyes of all those who attended, criticisms still flared over the band's decision to eschew festivals altogether. The keyboard warriors can bash the bejesus out of their well-worn keys as much as they like but Flynn's resolve is not budging one solitary inch. "I hate playing festivals," he says "the last festival we ever did I just wanted to get offstage as soon as possible. It was pouring with rain, I was freezing my f**king ass off, there's water getting in all our gear, everybody's there in their parkas standing in a foot of f**king mud and I'm just thinking 'when did metal become this?' It sucks for us and it sucks for the people standing out there watching us. Don't get me wrong, there are some great festivals out there that create their own culture and their own vibe and I love that. But there's a lot of festivals out there that are just thrown together bulls**t and you can't afford to not do those ones when you're out on the circuit; that's the s**t that grinds you down."
Enjoy unlimited access to 70 million ad-free songs and podcasts with Amazon Music Sign up now for a 30-day free trial
Sign up
Above all, Flynn's rhetoric centres around fans experiencing the best live show it's possible for Machine Head to deliver. "The biggest thing for me is I just didn't feel any connection with the people we were playing to," he continues. "We've done festivals for 23 years but we got to a point where we had to try something else. Just because it worked for us 15 years ago or 10 years ago or even 5 years ago, it doesn't mean it's going to work for us now. Everything's changing at such a rapid pace; I've been in the music business for 32 years and I've never seen as much change as we've had in these last 5 years. I'm not saying it's a bad thing, I'm not saying it's a good thing but it is what it is and we've got to constantly re-evaluate and ask ourselves what's right for us. Believe me, we're making way less money and we're playing to way less people than we would be if we were playing a festival but if that connection between us and our audience isn't there, then there's no point in us even being there. We might be playing to 3,000 people instead of 30,000 but those 3,000 people are losing their f**king minds and I feel this unbelievable bond when that happens. That's the sole reason why I do this, to feel that connection and that sense of release that unites us all."
That sense of release, or catharsis if you will, is what Machine Head will be bringing to a dedicated audience of the bold and strange upon the album's release. The healing power of music has never been a topic that Machine Head have shied away from and it's something that Flynn can relate to more than most. "When I was a kid, I was super introverted, very socially awkward. I started my first band with a friend of mine, we had this stupid name, Inquisitor, we didn't even know what it meant, it just sounded cool and he told me I should be the singer. He saw something in me that I couldn't see in myself and over the years, I got the confidence and belief in myself that I could get up on stage and be a commanding, larger than life presence. But at the same time, I learned along the way that it couldn't just be about that, it had to be about peeling away the onion and showing all your flaws because we can all connect with that somehow; at the end of the day we're all a f**king mess."
He chuckles as I ask what point in his career he had this revelation. "It was definitely whilst I was in Machine Head," he says. 'I started going to therapy around '97-'98 and that helped. I had to deal with some pretty self-destructive tendencies that I was having, from my cutting to bulimia. It used to be me fighting the world and it turned into me fighting myself. I had to do something, it'd been going on for too long. I'm still figuring things out and playing every night helps me figure those things out. Sometimes I look out into the audience and I see people exorcising their demons and it makes me push so much harder; we're all healed in some way because of music."
Of the many themes that run through-out Catharsis, perhaps music as an all-conquering healing antidote to life's travails is the most pertinent of all. The lessons Flynn learned through therapy and peeling away the onion has allowed Machine Head to create one of the most visceral albums of their entire career. "I feel like if we hadn't pushed things in the direction that we did on this album out of fear of offending anyone or turning fans off, we would have looked back and regretted it. I'm 50 years old man, I'm gonna be f**king dead pretty soon and I don't want to look back on my life and say 'Gee I wish we'd taken those songs off the Catharsis record because of X,Y and Z'. It's a bold statement in a time where I don't feel like there are many metal bands making bold statements and I'm really proud of it."
Catharsis is released through Nuclear Blast on 26th Januray and is available to pre-order now. Machine Head tour their 'Evening with...' show across the UK in May
Join our new commenting forum
Join thought-provoking conversations, follow other Independent readers and see their replies