Madonna is writing and directing her own biopic – and we should all be terrified
An awkward Instagram Live between Diablo Cody and the greatest living pop star in history doesn't promise great things for the newly announced Madonna biopic, Adam White writes
Wednesday 16 September 2020 15:34
Comments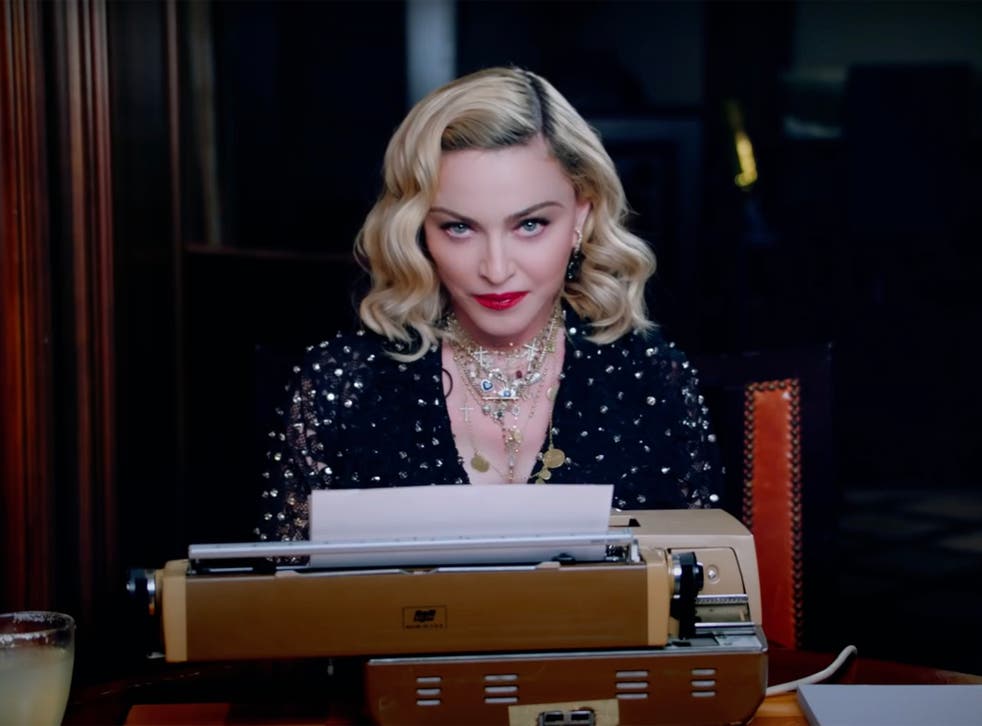 Leer en Español
Of course Madonna is co-writing and directing the story of her life. Who else would dare try and grapple with one of the most uniquely intimidating cultural icons of modern music left standing? A woman who shaped the narrative of pop, sex and feminity in the mainstream, and whose importance as a trend-setter, envelope-pusher and creative force has never truly received the respect it deserves. It's just unfortunate that it will probably be a disaster.
"I want to convey the incredible journey that life has taken me on as an artist, a musician, a dancer," Madonna said in a statement. "There are so many untold and inspiring stories and who better to tell it than me?"
While it's debatable whether that is true, with objectivity usually key to any adaptation of real events working, it's a powerful sentiment all the same. And, in fairness, she's also surrounded by two powerful voices – the Oscar-winning screenwriter Diablo Cody (Juno), who will be co-writing the script, and film producer Amy Pascal, who last brought the wonderful Little Women to fruition. But Madonna is Madonna, with any group creative endeavour becoming less a meeting of minds than a king cobra colliding with a pack of hamsters.
There's also The Video. Dubbing it "The Video" is most likely premature, seeing as few outside of Madonna's hardcore fanbase will have seen it yet. But when her biopic inevitably falls apart mid-production, or Cody leaves the project, or the resulting film proves to be a dud, historians will look at a particular hour-long Instagram Live and spot the poor foundation on which the film's script was built.
Streamed on Madonna's Instagram on 10 September, the live video saw her and Cody broadcasting their writerly process. Cody is perched awkwardly on the edge of Madonna's cream sofa, while Madonna herself is endlessly cycling through ideas and often distracted by fans asking questions about her last tour. There is an undeniable tension in the air. Madonna's sheer force of presence is enough to make even the most secure of people somewhat edgy, but Cody seems particularly exhausted.
Cody appears to be doing everything wrong – she is apologetic because Madonna is losing track of where they are in the script, she makes jokes about a trilogy of Madonna films that Madonna doesn't get, and her shoes, which Madonna constantly pokes fun at, are horrible. In previous Instagram videos featuring the pair, Madonna seems curiously fixated on Cody's clothing, mocking her "Little House on the Prairie" blouse and sartorial choices. She also once sniped at her for not looking directly into her eyes when they toasted their screenplay.
Any Madonna fan will recognise and even enjoy this sort of thing. Madonna's sandpaper-dry sense of humour and withering disdain for everything and everyone around her is well documented, and has always lent her a cool, unapproachable iciness that is very much part of her appeal. But in this particular context, it feels unhelpful and potentially destructive for the biopic itself.
Judging by the video, the pair's screenwriting process involves Madonna monologuing stories from her life, Cody typing them out and Madonna re-drafting them or "fixing" lines of dialogue. They both have laptops, but only Madonna's appears stuck to her lap. In the Instagram Live, she repeatedly snatches Cody's laptop away from her, and often shoves it directly on top of her own, leaving Cody sitting idly while Madonna types.
They also seem to have disagreements about what the film should even be. Based on their conversation, the script they are writing will encapsulate most of Madonna's life and career – from her early childhood to her arrival on the New York scene in the Eighties, to at least the end of the Nineties. Unsurprisingly, only Cody seems to have a handle on plot structure. She mentions the unusual importance of Madonna's sister Paula in the script, with Madonna later remarking that Paula was always more creatively talented than her, but had none of her drive or vision. Cody says Paula serves as a connection to Madonna's humanity, providing the ordinary voice of reason while Madonna's career skyrockets.
Enjoy unlimited access to 70 million ad-free songs and podcasts with Amazon Music Sign up now for a 30-day free trial
Sign up
Cody also hints at one point that she would prefer the entire film to be set in Madonna's pre-fame days hustling on the streets of New York. There's a lot to explore there, from her earliest professional struggles to her interactions on the city's art scene with Andy Warhol and relationship with Jean-Michel Basquiat. But, for some reason, the pair are also including the making of Madonna's 1996 musical Evita in the script. Evita was a creative challenge for the star – she had to radically alter her voice through training and reportedly clashed with producer Andrew Lloyd Webber – and she also discovered she was pregnant with her first child on the set. But Evita is also sort of incidental to the overall "Madonna story". It didn't drastically alter the way in which she was seen, and she's had far more interesting hurdles to overcome elsewhere.
The odd presence of Evita also suggests why a Madonna biopic may generally not work. Madonna's life and career, considering the scale of her fame and cultural importance, isn't particularly cinematic. There has never been a smooth trajectory to her journey, or a singular event that could serve as a clear climax. That's partly because she's still actively working, with her most recent album Madame X proof that she is still doggedly political and creative even if her commercial dominance has long passed. But it's also because her career has never been a smooth one with clear peaks and troughs. A lightning rod for controversy, she has always pushed boundaries and offended the masses, and has hardly ever been totally embraced. There's simply too much story for a two-hour film to contend with, too many rich relationships to mine, too much success and backlash to cover.
If anything, a Madonna film should be something vaguely abstract – her version of the Bob Dylan movie I'm Not There, in which Dylan was played by a number of actors including Cate Blanchett and Heath Ledger. Or even the unusual pop star/terrorism art film Vox Lux starring Natalie Portman, which was as baffling as it was admirable. Making something traditional and crowd-pleasing, a la Bohemian Rhapsody, about such a fascinating and polarising icon in pop culture feels inappropriate. Yet here we are.
Truth or Dare, Alek Keshishian's celebrated documentary about the star, remains the best distillation of Madonna's genius. Released in 1991 and recorded during Madonna's groundbreaking Blond Ambition world tour, it demonstrated her stunning on-stage magnetism, artistic ambition and unparalleled brilliance. It also presented her as petty, calculating and mean, as well as nurturing and compassionate when she wants to be. It's a messy film that blurs fact and fiction, with Madonna either a game participant play-acting her way through a not-particularly-real documentary, or entirely exposed against her will.
Cody is at her best when she writes about complex, brilliant women who can be cruel and messy (it's why Jennifer's Body and Young Adult, and not Juno, secretly remain the best films she's ever written). With that in mind, she is the perfect writer for a Madonna biopic, and the person best placed to convey all of Madonna's dynamism and contradictions. She just needs to be allowed to let her vision fly. Based on everything we know so far, though, it seems unlikely. As for the poor actor cast as Madonna herself? The girl tasked with embodying the greatest pop star in history, all under the thumb and critical, probing eye of the woman herself? Just imagine the carnage.
Register for free to continue reading
Registration is a free and easy way to support our truly independent journalism
By registering, you will also enjoy limited access to Premium articles, exclusive newsletters, commenting, and virtual events with our leading journalists
Already have an account? sign in
Register for free to continue reading
Registration is a free and easy way to support our truly independent journalism
By registering, you will also enjoy limited access to Premium articles, exclusive newsletters, commenting, and virtual events with our leading journalists
Already have an account? sign in
Join our new commenting forum
Join thought-provoking conversations, follow other Independent readers and see their replies