Manufacturers are struggling to keep up with the resurgence in vinyl records
The cost of building new record-pressing machinery is prohibitively expensive, so greater volumes are being pumped through ageing machines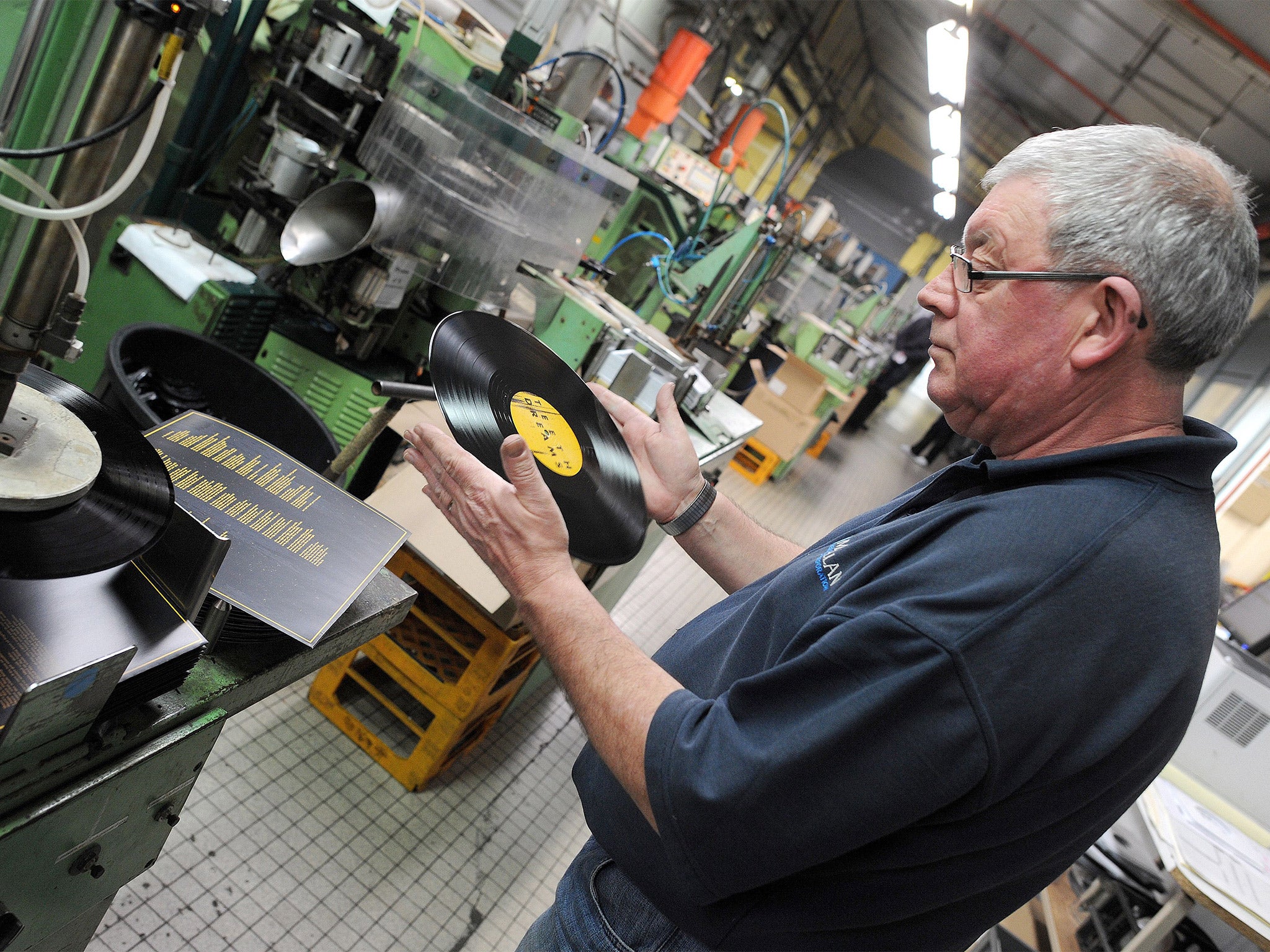 The crackle of a vinyl revival has been getting louder this year as dropping the needle on a record becomes ever more in vogue. But what has been championed as a victory for music purists is putting a strain on a creaking industry.
Pressing plants are struggling to meet the increased demand for records. The cost of building new record-pressing machinery is prohibitively expensive, so greater volumes are being pumped through ageing machines in the few plants left.
Lead times for pressing records have been pushed back from a month to three in the past two years as orders stack up globally, frustrating labels, artists and fans. The world's largest vinyl producer, GZ in the Czech Republic, reported its busiest-ever day this year, pressing 42,000 in a day in February. The company has recently bought six ageing machines in an attempt to increase production, but is reportedly unlikely to get more than half working.
And there appears little sign of vinyl's reborn star waning. The frisson of excitement that rippled across the internet was palpable last week when the reclusive electronica artist and nerds' favourite Aphex Twin revealed that a ballot will run on 200 copies of his long-awaited new album on triple vinyl.
Record sales were up 40 per cent in the first half of the year, according to SoundScan research, even disregarding records sold directly from music labels. Findings by ICM Research earlier this year showed that 15 per cent of those buying physical music do not intend to listen to it, but only collect it. The 12in and 7in slabs of music are back in mainstream fashion, making a beat-up Dansette player as trendy as craft beer and a beard.
"People are dusting down their turntables from the shed or the attic and their kids are interested in owning something tangible," says Adam Teskey, manufacturing director at the Vinyl Factory, over the hum of pressing machines at its plant in Hayes, Middlesex. "Vinyl sales have some room to grow yet," adds the Vinyl Factory's creative director, Sean Bidder. "A huge swathe of teenagers have fallen in love with vinyl, despite the fact that this is a demographic that have grown up only knowing digital music."
The Vinyl Factory presses everything from innovative special editions by The xx to Elvis classics, on machines built in the 1970s. These begin as puck-sized pieces of PVC and are squashed under 90 tonnes at 200C, coming out at 14in before being trimmed down.
The plant itself has history. Images of a 14,000-strong workforce pressing records and making gramophones for the music industry giant EMI on the 58-acre site dominate a small museum in an adjacent building. King George and Sir Paul McCartney beam from old snaps of the plant, which was bombed in the Second World War when it was commandeered as a munitions factory.
But Teskey, who is taking on three apprentices this year, is frustrated by references to vinyl's heyday when the industry is booming. "I like the history, but we employ people, we are an innovative, forward-thinking business," he says.

Enjoy unlimited access to 70 million ad-free songs and podcasts with Amazon Music
Sign up now for a 30-day free trial
Sign up

Enjoy unlimited access to 70 million ad-free songs and podcasts with Amazon Music
Sign up now for a 30-day free trial
Sign up
It's a feeling shared by Shane Whittaker, co-founder of mastering and manufacturing firm Curved Pressings. "I'm still thriving in an industry that does not exist if you go to a bank manager," he says, speaking from his new Ibiza office. "I expect vinyl just to get bigger and bigger until production capacity reaches breaking point."
According to Teskey, Record Store Day has become "the new Christmas", replacing the traditional peak from October to December. "For the vinyl collector to change that huge peak is quite something," he says. "Usually there's been a blip after Record Store Day but this year it just carried on."
But the labels are facing a constant conundrum. "Do they press more than they originally need as it would take time to get a second run," asks Record Store Day organiser Spencer Hickman. "Or risk it selling out, waiting two months for more and the interest waning? If you're sending a band out on tour, timings are crucial.
"The problem is everyone wants colour, picture or splatter vinyl and it's very time consuming to make."
Vinyl has defied the odds once to return to prominence, but with production close to snapping, fears are growing that prices could spiral and the expense could edge out the newly indoctrinated. For now, however, musos are enjoying giving their records another spin.
Join our commenting forum
Join thought-provoking conversations, follow other Independent readers and see their replies