Just rewards for Glitter… and Glory… and Hear'Say: The pop superfans propelling lost classics back to chart success
As overlooked albums by Mariah Carey, Britney Spears and Madonna top the iTunes charts, Adam White talks to the fans championing and reclaiming pop's secret masterpieces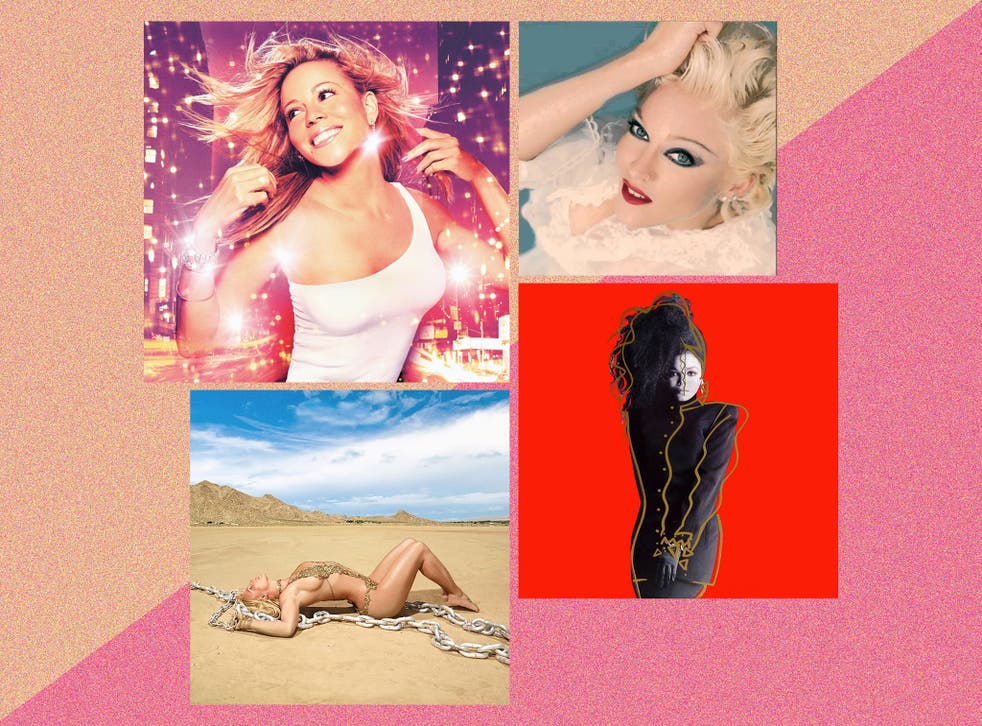 A Mariah Carey billboard promoting her film debut Glitter and its CD soundtrack stood, pink and dazzling, in Downtown Manhattan. Behind it, the Twin Towers burned. It was 11 September 2001. For years, Glitter was cosmically tied to one of the worst atrocities in modern history. Both movie and soundtrack were released amid high-profile speculation about Carey's health, in a country ashen with grief. 9/11 was the reason the album and movie flopped, Carey insisted. Her fans always said it deserved more than it got. In late May, after nearly two decades of mockery, the album finally made its way on to streaming services, the product of a Twitter campaign, #JusticeForGlitter, designed to celebrate its overlooked brilliance.
The fruits of #JusticeForGlitter came at the end of a month dominated by pop artists returning to the top of the iTunes charts with classic albums. Madonna's Bedtime Stories (originally released in 1994), Britney Spears's Glory (2016) and Carey's E=MC² (2008) were all suddenly in the news again, their respective fans determining that pop justice had finally been served. Linking the albums was a perceived cultural ignorance about their shared genius. These were records that should have been far bigger than they were at the time of their release, underrated gems awash in creativity but cruelly tossed aside by listeners and the mainstream music press.
That struggle is ever present in pop fandom. Considering its cultural power, pop music has had to fight for legitimacy since its inception. A genre largely dominated by female artists, and beloved most of all by teenage girls and gay men, both pop and its most hardcore fans exist at the centre of "things not taken seriously". Pop has been historically derided as disposable, unserious and banal. Pitchfork, a site that up until relatively recently defined "real" music as that which was made by white men with guitars, reviewed Ryan Adams's Taylor Swift cover album long before it actually reviewed Taylor Swift.
That dynamic has made pop fandom its own form of rebellion, with protest and cheerleading in its bones. It's therefore a strand of fandom powered as much by its flops and underdogs as it is by the genre's icons. Christina Aguilera's expensive and wildly unsuccessful 2010 record Bionic is, in pop circles at least, shorthand for albums simply too ahead of their time for the masses. In the world of pop, Samantha Mumba and Rachel Stevens are recognised as disrespected geniuses. Pop stars who always seemed just out of the reach of true stardom, such as Tinashe, Keri Hilson and Natalia Kills, are heralded as gods, their names ubiquitous not on the charts or in the mainstream press, but certainly online. Flop albums clear the skin and replenish the electrolytes of any self-respecting pop fan, but sometimes more is wanted, a need for everyone to see and appreciate the inner beauty of these records.
"I think #JusticeForGlitter was about Mariah as much as it was about that album," says Darrell, a Mariah superfan speaking over the phone from Atlanta, Georgia. "It's only been in the last couple of years that she's been truly respected as a songwriter. There was always this image of her as a diva and as an amazing vocalist, but so much ignorance about her knowledge of form and melody and lyrics. She's written all of her own material, and still writes all of her own material. [Fans] know that, and we love her for it. But there's so much ignorance when you step outside of her fans. She's never had the respect somebody of her skill set and legend deserves, and I think this was an attempt to remind people."
Few will argue that Glitter, or E=MC², are among Carey's strongest work, but they do contain career classics – Glitter's sugary 2001 single "Loverboy", or the bouncy T-Pain collaboration "Migrate" on E=MC². Glory, though, is widely recognised as Spears's late-career magnum opus, a sprawling epic about agency, loneliness and infatuation. That it could be her final ever record, Spears recently hinting that her current hiatus from the industry may be permanent, only made its relative failure at the time of its release that much more frustrating.
"Any artist will tell you that there's a law of diminishing returns," says Pop Music Activism's Rob Johnson. "The first few albums are big. The next one the critics might like a lot less, then the sales might still be respectable but they're not like the initial ones. And that might mean the general public are given this idea that it's been a failure, or that it's just not very good. But now we have fans trying to take back the narrative of those albums."
Pop Music Activism foretold the rise of Twitter hashtag campaigns for overlooked albums, pushing labels to upload a litany of forgotten pop to streaming services. The acts the site has championed are often far less A-list than the likes of Carey and Spears, among them Popstars winners Hear'Say, cult Nineties teen controversy-magnets Daphne and Celeste and former Coronation Street actor turned recording artist Adam Rickitt, but the impulses are the same: identify underrated artists and records, and ensure they have the digital legacy they deserve.
Johnson believes that every act has that one album fans tend to gravitate towards, that they believe never earned a fair shout. "There's always a cherished record," he explains. "Sometimes I think the fact that so many people didn't appreciate it makes you appreciate it even more. It's like it's your own special thing, but you also want other people to like it as well."
Enjoy unlimited access to 70 million ad-free songs and podcasts with Amazon Music Sign up now for a 30-day free trial
Sign up
It's a desire that's also never been easier to put into action. Bedtime Stories, E=MC² and Janet Jackson's Control all made high appearances in May's US iTunes charts as a result of a discount offer that saw them on sale for $4.99 each. Album sales are also so low that only 1,000 copies or so need to be shifted for a record to hit number one on iTunes, which updates in real time. While those boosts weren't enough to propel the albums into the official Billboard chart, America's version of the UK Top 40, fans have come to consider the optics of such rises as being positive enough. David Lim, co-host of the Right Back at Ya! podcast, suggests that it acts as a form of reclamation.
"I remember growing up and being sort of indirectly told by the press or by my friends at school of what is good and what isn't good music," he says. "There was this notion of guilty pleasure, which I completely resent. You shouldn't have to feel ashamed for liking a particular record, or a particular kind of artist. I feel like now that we've come out of that, and we're on social media, it allows us to connect with other fans that also appreciated specific records and we can swap stories and kind of put away the more negative parts of their reputations."
Amid all of this, there's also the hope that renewed interest in classic pop will eventually get back to the artists themselves. Spears and Carey have already rewarded their most devoted followers since their recent iTunes success – Spears unveiled new cover art for Glory, while Carey launched a new line of merchandise inspired by Glitter. Even smaller acts from years gone by, among them girl band Bardot, winners of the Australian Popstars, and the Pop Idol alumni Sarah Whatmore, have similarly been touched by renewed interest in their old hits, courtesy of outlets such as Right Back at Ya!
"We can't tell people how to feel about their music," Lim adds, "because it's their lives and there would have been some, I have no doubt, very real and traumatic experiences for some of them [from] being part of the music industry that [meant] they just wanted to walk away from it. But it's always worth noting that it brought someone joy, and that it's still bringing people joy. Now that there's been a bit more time and a bit more distance from when they first came out, people can start reclaiming these albums and hopefully finding closure. It's beautiful to see."
Join our new commenting forum
Join thought-provoking conversations, follow other Independent readers and see their replies