Mark Knopfler: How I fit Bob Dylan in around the school run
The former Dire Straits frontman tells Paul Sexton about tours, hit albums, and not slowing down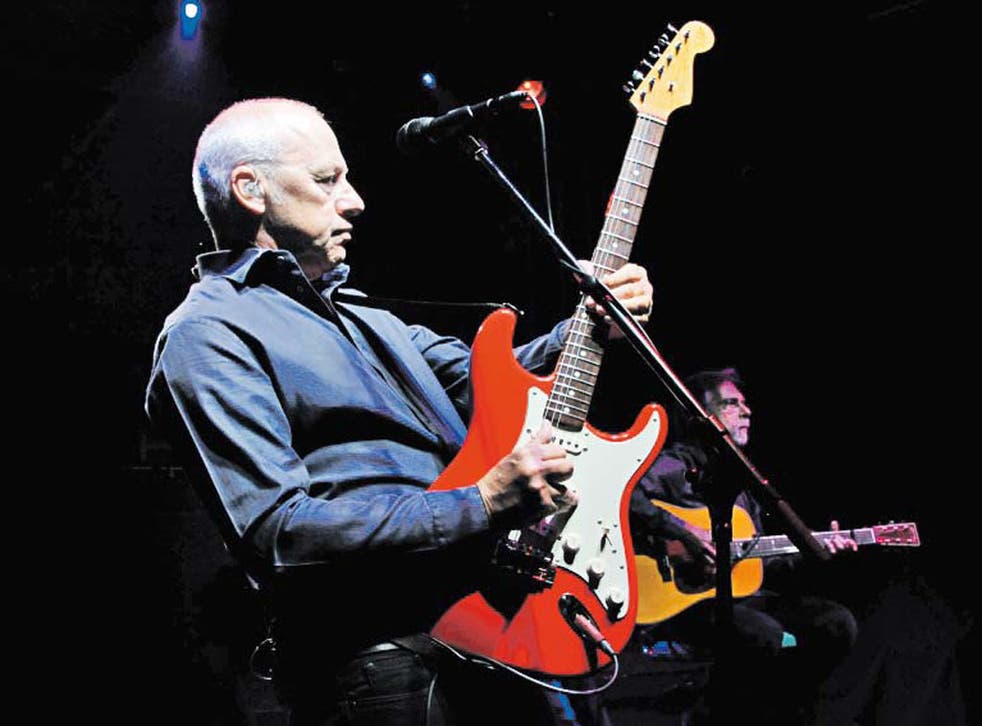 Mark Knopfler doesn't seem to have read the rules. In their sixties, rock gods are supposed to slow down, release an album every five years and either tour unwillingly or just stay at home and count their millions.
Instead of which, last week the former Dire Straits frontman released his seventh solo studio album (not counting nine film soundtracks, a record with Emmylou Harris and other collaborations beyond number). It's another beautifully turned collection of folk, blues and Americana portraiture – two discs and 20 tracks of vivid tales of perseverance, with a cast of sheep farmers, truck drivers and sundry other survivors.
With barely a peep of publicity, it effortlessly achieved Knopfler's usual top 10 berth last weekend and conquered charts across Europe. "It could have been a triple album, but that would have been just terrible," says Knopfler, an extremely chipper 63, his eyes smiling at his own productivity. "Unforgiveable, really. I decided to put the brakes on, but I didn't want these things to lose their moment. There is a kind of a moment, isn't there?"
Next month, Knopfler and his fellow privateers will set off across the Atlantic for a 30-date run around North America opening for Bob Dylan, following a sellout European run together last year. "We're doing 75 minutes each, then I've got time to get back on and play with Bob for a few songs. We had fun in Europe, the bands get on great and the crews get on great.
"I see Bob every day on tour. His soundcheck goes into mine, so we'll have a little chat about what songs I'm going to do. It's nice, because we go back aways. The first tour we did in America [in 1979], Bob came to see us in Los Angeles." Dylan went backstage after a Roxy show to ask the rising British guitarist to play on his Slow Train Coming album, and Knopfler went on to co-produce his 1983 set Infidels.
Next year, the Privateering tour will cross Europe for more than three months. "It came as a huge shock to me, when I was a kid, to realise that there were people out there playing who didn't like each other," he says. "I had this little comic book idea that we're all the best of friends."
His own inter-band issues came relatively early in 1980, when his brother David left Dire Straits while they were on their way to a level of fame and fan-worship that Mark himself found ultimately unmanageable. It taught him some lessons about success that he's never forgotten.
"Surviving that had its tricky moments, but being that little bit older really helped," he muses. "It's really traumatic for teenagers. I think when they experience deification they're never quite right afterwards."
Often seen as the most private of privateers, Knopfler happily describes to me how his third wife, Kitty, and their children Isabella and Katya will occasionally come on the road. "Where it's a nice place, and you're going to be there for two or three days, for instance when we're in Los Angeles, I would always have the family come. You can play with the kids and have dinner with your missus, and that's very important.
Enjoy unlimited access to 70 million ad-free songs and podcasts with Amazon Music Sign up now for a 30-day free trial
Sign up
"And the tours are all planned around the school holidays. School days, I'm just like any other parent. I get up, make breakfast for the kids, I take one to school and Kitty takes the other and then we just get on with our work. That's what we do."
'Privateering' is out now on Mercury. Mark Knopfler tours the UK next May as part of his European tour
Register for free to continue reading
Registration is a free and easy way to support our truly independent journalism
By registering, you will also enjoy limited access to Premium articles, exclusive newsletters, commenting, and virtual events with our leading journalists
Already have an account? sign in
Register for free to continue reading
Registration is a free and easy way to support our truly independent journalism
By registering, you will also enjoy limited access to Premium articles, exclusive newsletters, commenting, and virtual events with our leading journalists
Already have an account? sign in
Join our new commenting forum
Join thought-provoking conversations, follow other Independent readers and see their replies