Mark Ronson did it, but is working with literary giants on lyrics a tried and tested formula?
The write stuff: David Gilmour and his novelist wife and lyricist Polly Samson
Chris Mugan
Friday 21 November 2014 12:27 Comments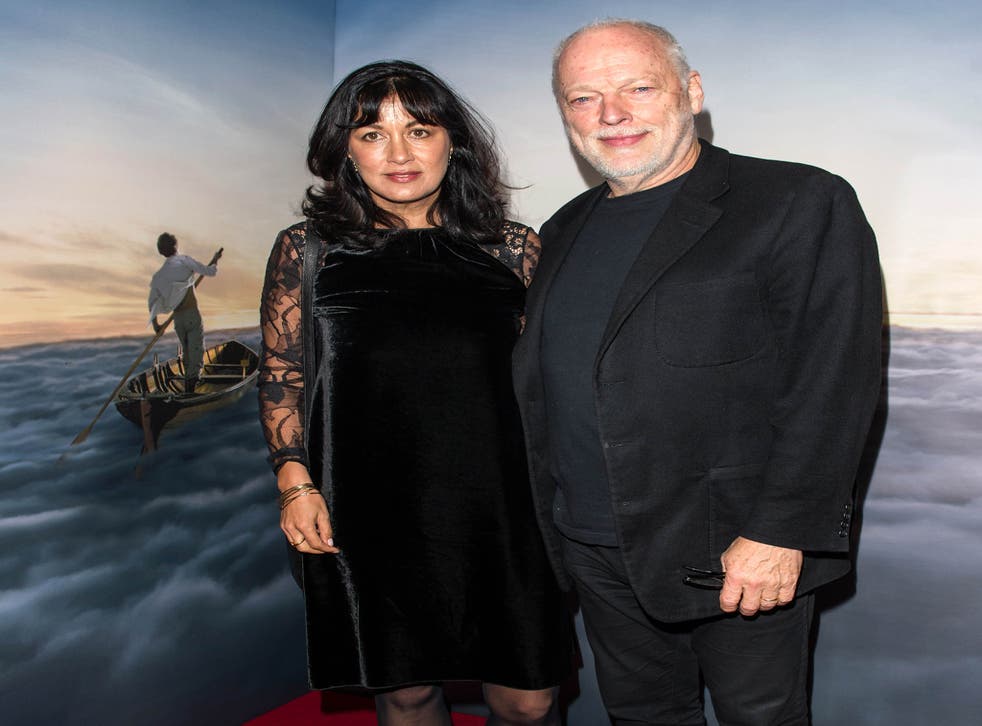 News of Mark Ronson's first album in four years has proved a promotional double whammy: not only has social media been ablaze with praise for infectious lead track "Uptown Funk", a collaboration with Bruno Mars, but more thoughtful outlets have been intrigued that the well-connected producer has been working with an author, Michael Chabon.
This Pulitzer prize-winning novelist agreed to contribute lyrics to Ronson's forthcoming Uptown Special, an unfamiliar project even for an avowed music fan and a rare meeting of high and low-brow culture. That Chabon agreed to participate is intriguing.
Ronson explains he was originally entranced by Chabon's 2000 epic The Amazing Adventures of Kavalier & Clay, though had also sussed from the more recent Telegraph Avenue – set partly in a second-hand-record store – that the novelist was familiar with pop culture. So when he began work a year ago on a follow-up to 2010's Record Collection and felt he needed a fresh direction, the artist contacted the author. Ronson has said he sought lyrics that were "more ambitious, that were about more than heartache or the dance floor and actually told stories".
A worthy ambition, though past efforts suggest enticing authors from their garrets may not result in an especially fruitful partnership. Writers are understandably wary of getting closely entwined with pop. But you cannot accuse the literary world of looking down on contemporary music, not after Hanif Kureishi's Buddha of Suburbia with its allusions to Seventies punk or Salman Rushdie's The Ground Beneath Her Feet, a rock-star reboot of the Orpheus myth. Indeed, that 1999 work led to an unexpected meeting of authorial and musical minds. In the book, Rushdie devised lyrics to a song written by one of its two protagonists ("Go lightly down your darkened way/ Go lightly underground/ I'll be down there in another day/ I won't rest until you're found"). Apparently, Bono read a manuscript of Ground and was so impressed he encouraged U2 to compose a melody for it. The author was flattered. Unfortunately, U2's label were less happy as the band were about to release 2000 album All That You Can't Leave Behind, so the track was earmarked for the soundtrack to tedious film The Million Dollar Hotel, before appearing as a bonus on U2's album.
Instead, most planned collaborations are geared instead towards rock's more intellectual end, with one of the most fruitful recently revealing its latest iteration: that between writer Polly Samson and her husband, David Gilmour.
Even then, when Samson first worked with his band Pink Floyd she had yet to publish a collection of short stories (Lying in Bed came out in 1999). The daughter of a writer, she had occasional pieces of fiction appearing in weekly magazines or Sunday supplements. When Gilmour and Samson got together, ahead of Floyd's 1994 album The Division Bell, the prog giants were regrouping after the bruising experience of recording and touring their effort from seven years before, A Momentary Lapse of Reason. Gilmour had found leading the group without Waters hard going and had been abusing cocaine.
His partner (they married in 1994) initially provided emotional support, but ended up with seven co-writes, including the deeply personal "High Hopes" about Gilmour's childhood ("In a world of magnets and miracles/ Our thoughts strayed constantly and without boundary") and the slyly sardonic '"A Great Day For Freedom". In 2006, Gilmour returned with solo album On an Island. This time, Samson came billed as principal lyricist for a record that again topped the UK chart. Now she has gained another footnote in Floyd history, with a credit on "Louder Than Words", the only vocal Gilmour sings on the group's promised final album, Endless River, itself a set mainly built from Division Bell outtakes, a welcome change to its generally ambient feel.
In 2007, Idlewild frontman Roddy Woomble curated Ballads of the Book, an album that matched Scottish writers with musicians for individual tracks. The cream of the nation's literati – among them Ali Smith, Michel Faber and Alasdair Gray – teamed up with the likes of James Yorkston and Vashti Bunyan. The result was lacklustre, bar odd gems such as Aidan Moffat and Ian Rankin, coming together on "The Sixth Stone" to tell the story of erstwhile Rolling Stone founder and keyboardist Ian Stewart.
We will not know until next January whether Chabon has revelled in the freedom of pop writing to focus on each number as its own self-contained piece or attempted a more complicated exercise. So far, Ronson has only unveiled one fruit of the author's labours – the funky psych-pop of "Daffodils". With lines such as "run your fingers down the cool underbelly of the blue evening", Chabon is already providing kudos for an artist better known for reworking other people's tracks. He may want Chabon to provide artistry, but he still needs Mars to provide a hit.
Mark Ronson's single 'Uptown Funk' featuring Bruno Mars is out on 11 January on Columbia
Register for free to continue reading
Registration is a free and easy way to support our truly independent journalism
By registering, you will also enjoy limited access to Premium articles, exclusive newsletters, commenting, and virtual events with our leading journalists
Already have an account? sign in
Join our new commenting forum
Join thought-provoking conversations, follow other Independent readers and see their replies