Marvin Gaye: How the singer created one of the most stinging break-up records of all time
At the age of 39, Marvin Gaye's marriage hit the rocks, and he was forced into the studio to pay the divorce fees. Reissued 30 years after its first release, 'Here, My Dear' remains the most bitter break-up record of all time
Nick Coleman
Sunday 17 February 2008 01:00 Comments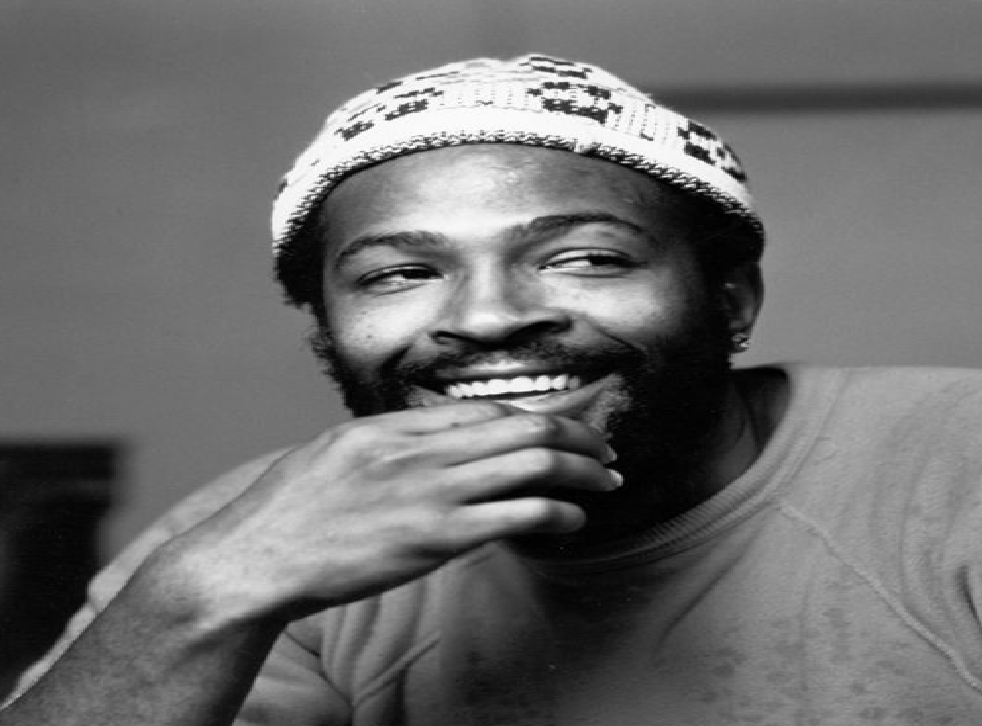 There must be parallel universes in which it's a good idea to marry the boss's sister. There must be universes where it's a good idea to marry the boss's sister when you're in your twenties, she's 17 years older, and the boss is the owner of the biggest black music corporation in the world. It certainly must have seemed like a fantastic idea at the time to Marvin Gaye, when he hitched his wagon to Anna Gordy in 1964 with the blessing of the ruler of the Motown corporation, her sibling, Berry. At that stage, Gaye had only a handful of hit records to his name.
The divorce petition was duly filed by Anna 12 years later, by which time Marvin was a deeply conflicted international superstar, trailing bad habits and two small children by another woman with whom he was distractedly in love. We may presume that, by then, Anna was thoroughly browned off.
The unhealthiest of Marvin's habits was the cocaine one, and coke habits can be expensive. So when Anna demanded a million dollars in settlement, Gaye could only plead poverty. He just didn't have the cash.
Instead, his lawyer came up with the idea of offering Anna the $305,000 advance made by Motown against Gaye's next album, plus the first $295,000 it would inevitably turn in profit. Anna bought the deal. The judge duly wrote the order and the weirdest album deal in history was struck. What followed was even weirder.
Let us put ourselves in Gaye's shoes. Faced with such an imperative, most of us might well quail, utter a few resentful oaths and then knock out a routine piece of work in double-quick time, fulfilling the letter of the contract but no more – not least because there'd be no financial reward for whatever work was done.
Not Marvin. Gaye decided that the righteous thing to do was use the opportunity to write a "poison pen" missive in musical form to punish the missus in public. He would warrant himself emotionally with the indignant thought that Anna was denying him access to their child. The album he would make would give a detailed account of the breakdown of the marriage, calculated to cause maximum hurt to Anna and embarrassment to Berry. He got down to work in 1977.
Gaye's best biographer, David Ritz, has written the liner-note to a new edition of the album, Here, My Dear (it has been remastered and coupled with a disc of outtakes, off-cuts and alternate remixes).
Ritz was an astute observer of the Marvin method and his take on the curious transformation which took place as the singer immersed himself in the project rings floridly true. "In the course of creating this ode of rebuttal and revenge," he writes, "something very different happened. Art overwhelmed anger, and healing, the by-product of courageous introspection, was miraculously achieved." Which is another way of saying that what came out at the end didn't exactly match up with what went in at the beginning.
Here, My Dear is about as self-pitying and self-serving as a work of art can get. It is inconsistent in its perspectives, indulgent of its author's religious sentimentalism, deluded in its prospectus of what a marriage can be. Some of it is juvenile. It's saved from being pusillanimous only by the determination of the wounded Gaye to be as big-hearted as he could bring himself to be in the circs, and by the courage he exhibited – perhaps unwittingly – in revealing his own weakness of mind.
Enjoy unlimited access to 70 million ad-free songs and podcasts with Amazon Music Sign up now for a 30-day free trial
Sign up
The album is one long baroque non sequitur. It is also fantastically beautiful. If nothing else, Here, My Dear represents the apotheosis of the gospel-soul tradition, in which sophisticated, shudderingly elaborate vocal harmony stands for the outreach of the human spirit in the general direction of the ineffable.
One of the many musicians hired for the project was the guitarist Gordon Banks. It's not clear how much of Here, My Dear he actually played on – he can't remember. Furthermore, he was young (22) in 1977 and of relatively low status and so was not granted much access to Gaye's creative sanctum. "He was the captain of the ship," he says bluntly, 30 years later. "He gave orders about how he wanted things played."
Which basically entailed dispatching the captain's handpicked ensemble of groovers off to work up rhythm tracks, over which the skipper would then create his multitracked vocal empyrean in private. Once something acceptable had been achieved with the microphone, the instrumental parts were erased and sent away for re-recording with more precise specifications. It was an incremental process and Gaye, being Gaye, only worked in bursts.
Banks went on to become close friends with Gaye, a key creative collaborator ("Sexual Healing" bears his mark) and the confidant with whom the singer went into exile in Belgium as he began the long slide into paranoia and death at the hands of his own father in 1984. Banks owns the rights to film of Gaye's final concert. Unsurprisingly, the guitarist won't hear a word against him.
Was he aware at the time of Marvin's vulnerability? "Not in the beginning. I didn't get to know him properly until after the Here, My Dear thing. Gaye was a pure musician – even sitting around watching TV he was planning music; in the loo he was planning music. He planned music every single day. Music came out of him [all the time]. That's what he was. He was just a genius."
Which might perhaps explain why what began as a vengeful act became in the end, in its creator's mind at least, a votive act of self-mortification and prayer – an act of self-rescue. What really drives Here, My Dear is not a weak man's need to get even but his need to feel better. All that stacked-up, improvised, lambent beauty, all those trailing sad voices, do, in the end, say something worth hearing: they say: I may be many things of little or no value to you or to anyone else for that matter, but at least I can do this.
Gordon Banks has another take.
"He'd met someone else. Anna was over for him and it was time to move on. He was planning on Here, My Dear to leave Motown. It was, like... the nepotism thing? He wanted to prove that he could succeed on his own without Motown. And his tie to Motown was Anna." So you're saying that the divorce album was partly about the pain of divorcing his wife but also about the pain of divorcing his record company?
Banks leaves a half a beat's pause, as all good musicians do, and then hits the note.
"Riiiight."
It is not recorded whether every last penny of the divorce settlement was delivered. Nevertheless, Here, My Dear was only a succès d'estime at the time of its release – it yielded no hits and was bought in relatively modest quantities. As for Anna, it was reported at the time that she was poised to file an invasion-of-privacy suit. "Does this album invade her privacy?" wittered Gaye in response. "I'll have to give it another listen... but all's fair in love and war." The suit did not, in the end, transpire.
Later, Anna told David Ritz that she was embarrassed and humiliated by the album. "It hurt. For a long time, I wouldn't listen to it again. But with the passage of time I've come to appreciate every form of Marvin's music, even songs written in anger. In the end, you know, when Marvin was very sick, he came to see me often. We stayed close."
The expanded edition of 'Here, My Dear' is out now on Motown records
Hits from splits: Five other records that ask: where is the love?
Bob Dylan: Blood on the Tracks (Columbia, 1975)
The daddy "divorce album" draws deeply from the well of disillusion following the disintegration of Bob's marriage to Sara Lowndes. "We're idiots, babe," he sings. "It's a wonder we can even feed ourselves."
Richard & Linda Thompson: Shoot Out the Lights (Hannibal, 1982)
Richard and Linda T had already made the most harrowing folk-rock records of the 1970s. They then split up, recorded Shoot Out the Lights as an account of the process, and went on tour together to promote it. Unsurprisingly, they didn't have much fun.
John Martyn: Grace and Danger (Island, 1980)
Men have a self-pity gland, and if ever a suite of music worked that gland to the point of inflammation then Martyn's mournful split-up album was it. Interestingly, the work entailed a substantial contribution by drummer Phil Collins, whose own divorce album, Face Value, was released the following year.
Peter Hammill: Over (Charisma, 1977)
You want suffering, depression, agony, recrimination, darkness, harshness, hoarseness and Catholic guilt? You'll find quite a lot of that in the Van Der Graaf Generator singer's account of his big mid-1970s love-split.
Beck: Sea Change (Geffen, 2002)
Guess what? Beck Hansen is human. This was the largely acoustic, wholly downbeat album which described the fall-out from the breakdown of a long-term relationship and gave us a first good look at Beck's palpitating heart. A Blood on the Tracks for the Noughties.
Register for free to continue reading
Registration is a free and easy way to support our truly independent journalism
By registering, you will also enjoy limited access to Premium articles, exclusive newsletters, commenting, and virtual events with our leading journalists
Already have an account? sign in
Join our new commenting forum
Join thought-provoking conversations, follow other Independent readers and see their replies