Massive Attack - 'We've always been into telling a story'
Trip-hop act Massive Attack have their first stand-alone album for seven years. Here one half of the band, 3D, gives an exclusive inside view of the record that also features Damon Albarn and Martina Topley-Bird
Friday 12 February 2010 01:00 GMT
Comments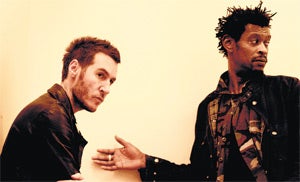 The title, 'Heligoland'
I was watching Shadow Of The Vampire, which was partly shot or partly based on the Heligoland Islands and when the word came up on the screen I thought: "Wow! I love that!" Then, when I was doing my research, I realised that the place had quite a lot of really weird and wonderful history. One of the meanings of the name is "holy island", which is obviously very poetic in this day and age.
And I love the fact that the British tried to detonate the biggest sub-nuclear bomb ever, called The Big Bang, on the island just after the Second World War. The actual destruction of the islands was thought of as an acceptable consequence of the detonation, which I thought was mental.
The artwork
To be honest, I've mostly been coerced back into painting, either by Banksy, or by James Lavelle. The minstrel on the front cover represents this tendency to recreate a fictional reality to replace real reality. That's what's happening now. You create these talent shows and these reality TV shows and you start to replace reality with reality, but the reality you're looking at is actually manufactured.
The black and grey rainbow came about because I noticed that rainbows are popping up everywhere, all over people's advertising. It felt that in the manual for the recession someone had gone: "Add colour to your advertising! If you can, add a rainbow! It'll cheer everyone up and they'll start spending their money again." So that's why I thought, "I'm gonna desaturate the rainbow and present it as it really is". This rainbow is not going to make you happy. There is no pot of gold.
'Pray For Rain'
We recorded it mostly in Brooklyn and a bit of it in Bristol. There were a few different chapters, and when we started to piece it together it felt like a bit of an adventure. We've always been quite into the idea of telling a story musically, even from the first records like "[Hymn of] The Big Wheel" and "Unfinished Sympathy".
The tracks went on little musical journeys themselves that had a proper beginning, middle and end, as opposed to verse-chorus-verse-chorus-middle eight. I appreciate the pop song and I marvel at people's writing abilities, but when it comes to music for me I've always gravitated more to a kind of symphonic journey.
TV On The Radio are very different from us obviously. But I related to that fact that there was a collision of ideas and the resulting bang was interesting, you know. I think with Massive Attack the idea was always to chuck a lot of different and opposing ideas together and create what we did out of that.
I can relate to the lyrics in "Pray For Rain" a lot. Lyrically, it's like a parable and it kind of reminds me a bit of Cormac McCarthy's Blood Meridian: a kind of crazy apocalyptic Western with a sense of connection with the spiritual world as well, which I really dig.
'Babel'
Martina [Topley-Bird] would describe "Babel" as a teenage love song. When we were working on it she said, "Oh, my lyrics have gone all teenage!". With all the people we've worked with successfully, the thing we've really admired is their ability to convey themselves through their voice when they sing and bring everything to it. It's not a singing lesson and they're haven't always had the most acrobatic of voices. It's what they're expressing that counts. Dave Sitek [from TV On The Radio] said, "I always get people who can't sing to sing". It's like... wow! That's how you get the natural, untrained thing that is really beautiful and it's what we're looking for.

Enjoy unlimited access to 70 million ad-free songs and podcasts with Amazon Music
Sign up now for a 30-day free trial
Sign up

Enjoy unlimited access to 70 million ad-free songs and podcasts with Amazon Music
Sign up now for a 30-day free trial
Sign up
'Splitting the Atom'
That was more of an ironic title, I guess. I find that people are constantly arguing about the same thing and it was a metaphor for that kind of constant debate and the fact that nothing ever changes. The lyrics were just like a very short poem that was just saying, "here we go again"; from the 1980s with Thatcher's Britain, to the start of the 1990s with our first album, with the political climate and the background of the Middle East crisis, recession, boom, bust, the whole thing, you know. And obviously all with more than a nod back towards the Specials and UB40 and what they represented at the time. Because they're two bands that were really important to me when I was a kid.
But the end of it is like, "the last of the last particles, the visible invisible". It will all just reduce and reduce and reduce until maybe you can find peace in sort of like miniature. Because it only needs one clear starry night to make you feel like your problems don't mean anything anyway.
'Girl I Love You'
Some people have said in reviews, "Oh, this is classic Massive and Horace doing what Horace does." And I've thought, "well actually that's not quite right", because, with Horace, you've got to understand the depth of the man. He's really coming from this kind of reggae, lovers' rock, Studio One type of background and we've taken him out of that and got him to do completely different things with us. Horace would love us to do lovers' rock. He goes back to Jamaica and his old-skool sparring partners over there are like, "what is that weird white-man music you've been making with those boys in Bristol again...?". They don't really understand that shit at all. And Horace is like, "why don't you make me a hit single, so I can have a big hit in America like Shaggy?". And we're like, "shut up Horace, we've done this minimal tune". But he loved the results. It's fun working with him.
'Psyche'
"Psyche" came from the time when me and Neil [Davidge, Massive Attack's producer since Mezzanine] were working in the studio and messing around with things. I was scratching CDs up... classical CDs... to get them to do this jumping thing. I was familiar with Steve Reich's work, and I knew how complex it was, and I thought: "Do you know what, I'm going to fast-track this. I'm going to get a classical album and then I'm going to make it jump and then I'm going to sample each jump." Then we just recorded guitar notes and layered them and played it to Martina. She fell in love with it and came back with these very bizarre lyrics. To me, the song is like when you close your eyes and you've got that strange shimmer of water or sunlight going through trees and it creates a strobing effect over your eyelids. You instantly get taken back to every single summer you've ever experienced, all in one collage.
And you have that really weird sense of immortality, and then a deep melancholic sadness about things that are lost and things that haven't happened yet. And that really weird bit in between where you don't know how you're every going to capture that or keep it. But you know you can't. And it's that weird moment where you actually recognise... I know this sounds really profound... you recognise that everything will end, and for a brief moment you're happy with it. You can deal with the fact this ain't going to last forever, you know. Other times the idea can fill you full of dread, but sometimes, in those moments, you're completely content with that being the case. And this song kinda gives me that sense.
'Flat of the Blade'
This track began with the Victoria and Albert Museum installation that we did with UVA [UnitedVisualArtists] who do our LED lights with us. One of the elements of that was just loads of snare drums flying off when you walked through it, and loads of kick drums underneath your feet. It just sounded mental as a piece of audio, like the musical equivalent to the opening scene to Saving Private Ryan, I guess. We played it to Guy [Garvey, lead singer of Elbow] and he went, "that'll do". And we built a song from it. The soldier theme was inherent in the idea, but Guy took it to a different level. It was that particular line about "I'll build for my family a bullet-proof love," which really struck me. It was really such a lovely image and such a great line, and the track kinda went backwards from that line.
'Paradise Circus'
That was one of G's [Grant, the other half of Massive Attack] adventures actually. And they did it all by wire. None of us ever met Hope [Sandoval, who sings on it]. On the whole, our most successful collaborations come from being with people in the studio. This one is actually the complete opposite. And it's only one of a few we've done like this, another being with David Bowie when we did a track for Moulin Rouge. I quite like the idea of it being that way. Musically, we were trying to get a sense of being in a room, almost as if during a seance. We wanted to make it feel slightly conspiratorial, very visual and simple and really personal and up close.
'Rush Minute'
This is very much my little nod to a sort of 1979 punk new-wave feel. It's got a little bit of a "Bela Lugosi's Dead" beat in it as well. And that opening line "I want to be clean, but I gotta get high" is a general observation really. For myself and other people I know, we look for these moments of absolute lucidity and sobriety and then you find you need to completely get off your tits to make any sense of that. And it's a battle, you know. It's not a battle with addiction so much as it's just about trying to moderate everything.
'Saturday Come Slow'
Damon wrote this about Bristol and the sort of limestone caves of the south-west land. "One sound that the believers understand": you know, it's definitely about Bristol and Damon interpreting our relationship with our own land. It's almost, like, you know, frontiers and medieval times, when the land was divided into counties, this being the county of Bristol and his view of it. And also I think his experience of passing through it and of places like Glastonbury or Devon.
'Atlas Air'
There are lots of mixed messages in there and this was a song that changed direction a few times. It ended up being almost about rendition, about secret flights and torture. But it's not really something that's easy to sing about. Some of it's actually sung from the point of view of those who actually empower themselves and actually are the perpetrators of these crazy situations. It's like stepping into different shoes. It's kind of ironic, like, "let's go on a holiday to a secret prison we've got lined up for you as a package deal".
The track was meant to be slightly schizophrenic. I had the Middle Eastern drum part. It had the very analogue organ part which also felt it could have been seen slightly Turkish but European as well and the drums, disco but slightly Arabic. And then obviously the keys at the end just going off, electronically, in a more twisted fashion.
'Heligoland' is out now on Virgin. 3D was talking to Andy Morgan
Join our commenting forum
Join thought-provoking conversations, follow other Independent readers and see their replies