Maybeshewill Interview: 'It's really nice to be able to go out at this point and finish on a high'
The much admired Leicester-based instrumental quintet Maybeshewill are bowing out with a final tour that will see them play their largest ever shows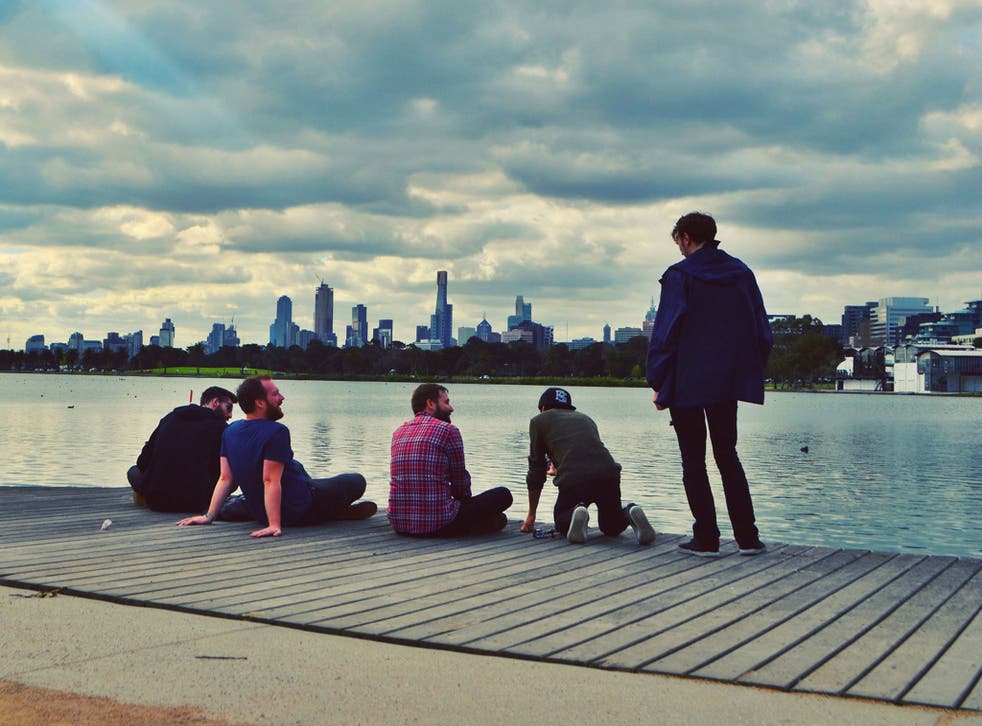 On 14th September 2015, Maybeshewill announced that they had some sad news … after 11 years, 4 albums and hundreds of live shows around the world, the band's next tour would be their last. Beginning life as a bedroom project in university halls, Maybeshewill outgrew their inauspicious beginnings and slowly metamorphosed into one of the most beloved instrumental bands of the 21st century.
The band's early adoption of cyclical piano motifs and programmed samples over more traditional guitars, bass and drums gave them an immediately identifiable sound, a rare attribute in instrumental music. As they developed, their music became more cinematic in scope, utilising orchestral elements to elevate their grandiose emotional peaks.
The canvas may have grown larger but their methods stayed autonomous, with the band striving to be as self-sufficient as possible, managing themselves, booking the majority of their own tours and recording and mixing their own records. They formed the Robot Needs Home Collective, an assortment of musicians and grass-roots creative industries that work together to make good things happen. The collective have put on shows, festivals and club nights and helped bands release records, print merchandise and provided them with tour transportation.
Maybeshewill's impeccably strong DIY ethic has remained constant in an ever-changing music industry. With the band's last shows on the horizon, it seemed a fitting time to look back with guitarists John Helps and Robin Southby and bassist/producer Jamie Ward over the albums that shaped this extraordinary band.
Maybeshewill - Throughout the years

Show all 7
Japanese Spy Transcript EP
Maybeshewill's origins lie with John and Robin, who met whilst studying Music Technology at De Montfort University in Leicester. They recorded a 4-track EP, Japanese Spy Transcript and distributed it themselves on CDr's as the first release on their own Robot Needs Home label. The EP later got picked up and re-released in Japan by XTAL Records.
Robin Southby (Guitar): We met on the first day of the course, we got chatting, started talking about music and discovered we had some similar interests. The band started out as just a bit of fun, a sort of side-project for John, whose main commitment at that point was Two Minute Warning. We lived in halls together and we just wrote some songs in a bedroom with no real intention of starting a band. The first proper song we wrote was for a university project … it was really weird, about six minutes long and started out with a really ambient intro, then went into this really stupid math-y tech metal bit before finishing with white noise.
John Helps (Guitar): If I remember correctly parts of that song were robbed for '…In Another Life, When We Are Both Cats' from Japanese Spy Transcript. We were quite lucky with that record, because we were studying music technology, we had access to studio spaces, so we could bring those bedroom demos into a studio. Once we graduated, we had to step back and rely on those bedroom recording techniques for Not for Want of Trying and Sing the Word Hope in Four-Part Harmony, which were both recorded in spare rooms and places where we worked and that kind of thing.
Robin: Usually a band goes from strength to strength in terms of the recording facilities they have available to them but we sort of peaked with Japanese Spy Transcript and then went downhill a little bit with the subsequent couple of records.
Not for Want of Trying
With the reaction to the Japanese Spy Transcript EP exceeding both John and Robin's expectations, work began on their debut album, Not for Want of Trying. Released 12th May 2008 through Field Records, it became DJ Huw Stephens album of the week on BBC Radio 1 and contained two of Maybeshewill's most enduring and popular songs in the form of He Films the Clouds Pt.2 and the title track.
Enjoy unlimited access to 70 million ad-free songs and podcasts with Amazon Music Sign up now for a 30-day free trial
Sign up
John: Jim (Collins, drummer) was in another band called Fight Fire with Water and they were in the process of re-locating to Sheffield. He was renting a place up there and I think he had every intention of doing that but then we got an offer to go out to Japan which was perhaps instrumental in him sticking around to do Maybeshewill.
Robin: We really didn't know what we would do if Jim wasn't in the band, because once you start playing with him, you realise that there's no-one else who will really live up to his ability. The thought of losing him was a really difficult thing to contemplate.
John: I think there was a point where he wasn't in the band, so we rehearsed with another drummer and it just wasn't the same. It changed the dynamics within the band dramatically and it was clear that it wasn't going to work without him. Fortunately for us he decided to come back, but we were also having trouble trying to secure a bass player. I think it's fairly well reported that we've had a few bass players in our time, we'd had a couple of friends try out on bass for a while. Working really hard towards something only for it to have numerous setbacks became a theme of that record to some extent.
Robin: Looking back on Not for Want of Trying now, it's not so much an album but more a loosely related collection of songs that had been kicking around for a while. I think it almost has the flow of an album but not quite. There's some stuff on there that I find difficult to listen to just because my tastes have changed so much musically, I don't find a huge amount to enjoy in them, but then there's other stuff on there that I really like and I'm proud of. The tracks that we still play live regularly work really well. My main criticism of the album is the recording, it was really cobbled together because of the limited time and spaces we had available to us.
John: There were a lot of compromises and a lot of 'making do', with the recording. If something went wrong we'd sort of deal with it rather than fix it.
Jamie Ward (Bass/Producer): I actually sent John an arrogant, precocious e-mail around this time, when I was trying to make my way as a producer, asking them if they'd let me mix Not for Want of Trying because I thought the sound quality took a step back from Japanese Spy Transcript.
John: I told him where to go (laughs)
Jamie: You were pretty polite.
John: We really had no idea that anyone was ever going to listen to either of those records, so there are certain considerations that you don't make when you're not expecting people to hear it and make judgements of it.
Sing the Word Hope in Four-Part Harmony
Considered by many as the heaviest and most politicised album of their career, Maybeshewill released their second full-length LP on 8th June 2009, just 13 months after their debut. The sleeve-notes contained a written proclamation of the band's DIY ethics as well as a breakdown of the equipment and recording methods used for those who wished to emulate the band's home-made recording techniques.
Robin: That record came out of touring with ... And So I Watch You From Afar. They massively influenced the sound of that record, especially the slightly more aggressive nature of it. It was written just after we got back from our first tour with them and recorded pretty soon afterwards.
John: We did three tours with those guys in pretty short succession, they're such lovely personalities and incredibly talented musicians, you can't help but feed off that. We were sort of learning to be a real band at that point. It was definitely the start of Maybeshewill being a proper project rather than whatever it was before.
Robin: I was definitely more aware of putting samples into tracks at that point, it kind of felt like that was what we did, it had become our 'thing' in a way. The general message of that record is reflected in the title, it was around the time of the American presidential elections, when Obama was gaining support and momentum. A lot of the samples on that record reference that feeling of a vaguely liberal socialist bent ... it felt like a really positive time for the world.
John: One of the samples isn't actually a sample but a piece that was written for the title track that outlines that message, the glimmer of hope coming out of a lot of difficult things that were going on in the world at that point. That has a more over-arching message because it was specifically created for the record as opposed to being taken from another source. We were feeling really positive about our music scene in Leicester as well, so there's a lot of references to that on the album. We've gone through waves of wanting to show our more socially and politically aware sides on our records, our broadly left-leaning tendencies, and this was definitely one of those points where we wore it on our sleeve.
I Was Here for a Moment, Then I Was Gone
Released through Function Records on 24th June 2011, the band's third record saw the line-up finally settle. Jamie Ward took up bass duties and lent his producing talents to the next two records. Once the band started touring again, they were bolstered by the full-time addition of Matthew Daly on keyboards. At this point, Maybeshewill were able to call on favours from various musicians from the local Leicester scene, including members of Her Name is Calla and Fight Fire with Water, with certain songs employing the use of violins, cellos, trumpet, trombone and even a choir.
Robin: We wanted to go in a slightly less guitar-heavy direction than the previous record and expand things sonically with electronics and more orchestral embellishments. That went hand-in-hand with Jamie being able to offer his skills in terms of the lushness of the production, so those two elements joined together nicely. It was a really good opportunity to wipe the slate clean and move away from some of the aspects we'd grown less fond of from a song-writing point of view. The songs are really strong on that one and the sound was a notable step-up from the last record.
John: Even though we were recording in studios with this one, we were still working with basically zero budget. We'd never had any outside investment in the band, so it was very much us making do with what we could source from friends, calling in favours to make the record happen.
Robin: We had a larger friendship group by then so we knew more people that played different instruments and we could call on them to help us out and play on the record. Having those extra instruments definitely lifted the songs from what they were, in some cases maybe a little flat and one dimensional, into something more vivid and vibrant.
Jamie: We started in a very different place on that record to where we finished. On the release tour, we played Harry's Bar in Stoke to 10 people and the last show we played we were supporting The Dillinger Escape Plan at a sold out Koko in London. The shape of the band over that release completely changed, but not over-night, it took about two years in total.
Robin: It was weird being in the touring bubble, it's sometimes difficult to get any sort of outside perspective on how things are growing. But obviously, we noticed the shows were getting better and we had more opportunities given to us but it is a bit strange being on the inside and seeing things grow around you.
John: It was slow glacial transitions into a small degree of success.
Fair Youth
Maybeshewill's fourth and final LP saw the band pushing the guitars back even further in order to create more space for the orchestral instrumentation that they'd first started experimenting with on the previous album. Released on the 25th August 2014 via Superball Music, Fair Youth was the sound of a band maturing and experimenting, whilst still retaining the emotional depth and resonance that fans were familiar with.
Robin: It was very much a textural record, we still wanted to have the same intense moments that we had in our old songs but we didn't want to rely on just hitting the distortion pedal because we'd done that so many times before and so many other bands do that as well. It just felt like it had become over-done and personally I lost interest in that kind of thing. We were exploring dynamics and sonics in different ways. In hindsight, maybe it didn't always work, but I think a lot of the experimentation on that record works pretty well and I just love the sound of it. We had even more electronic textures on that one which gave these songs a different feel to the rest of our albums.
John: I think there was maybe some polarisation from fans but I don't think that's necessarily a bad place to be. It means you're not making the same record again.
Jamie: It feels like a really natural transition for me. If you compare Red Paper Lanterns to In Amber, it's not that much of a jump, so I was surprised when people felt like it was a big change. We recorded Fair Youth in one big chunk which was pretty ambitious because there were a lot of different elements to record. We definitely burnt ourselves out a bit on that one. By the time it came to mixing it, I was basically sat there on my own for about a month trying to make it sound as good as possible. I'm super-proud of it, it's a real achievement but I wouldn't want to do it again tomorrow.
John: Jamie's a total perfectionist and we always put some sort of hurdle in his way, like starting a tour immediately after he's supposed to have got the mixes in for mastering or setting these accidental hard deadlines where he has to achieve the unachievable.
'So We Have Some Sad News'…
John: At this point, all of us are at quite different points in our lives. People have moved away from Leicester, and whilst that's not really a deciding factor, it certainly makes it harder to do the band as we once did. There's a compromise between the band and real life. Balancing those two things at times can be a real challenge and as people move through different stages in their life, it becomes harder to do that. And that's basically the crux of it. But it's really nice to be able to go out at this point and finish on a high rather than potentially slowly disappear or fall apart under less positive circumstances. We're obviously all still unbelievably close friends, we've been through so many things as a band over the years and spent so much time living in each other's pockets that I don't think we could know each other better at this point. We're playing the biggest shows we've ever done, across three continents, and we're finishing the band as five close friends. That's a really nice thing to be able to do.
Tickets for Maybeshewill's final tour are available now. Their last ever show at Koko in London is sold out.
Register for free to continue reading
Registration is a free and easy way to support our truly independent journalism
By registering, you will also enjoy limited access to Premium articles, exclusive newsletters, commenting, and virtual events with our leading journalists
Already have an account? sign in
Register for free to continue reading
Registration is a free and easy way to support our truly independent journalism
By registering, you will also enjoy limited access to Premium articles, exclusive newsletters, commenting, and virtual events with our leading journalists
Already have an account? sign in
Join our new commenting forum
Join thought-provoking conversations, follow other Independent readers and see their replies