Maybeshewill stream their final show
After 11 years, 4 albums and hundreds of gigs around the world, the instrumental quintet played their final show at Koko in London on 15th April 2016. They're now offering fans a chance to download the full show in return for a small donation to Friends of the Earth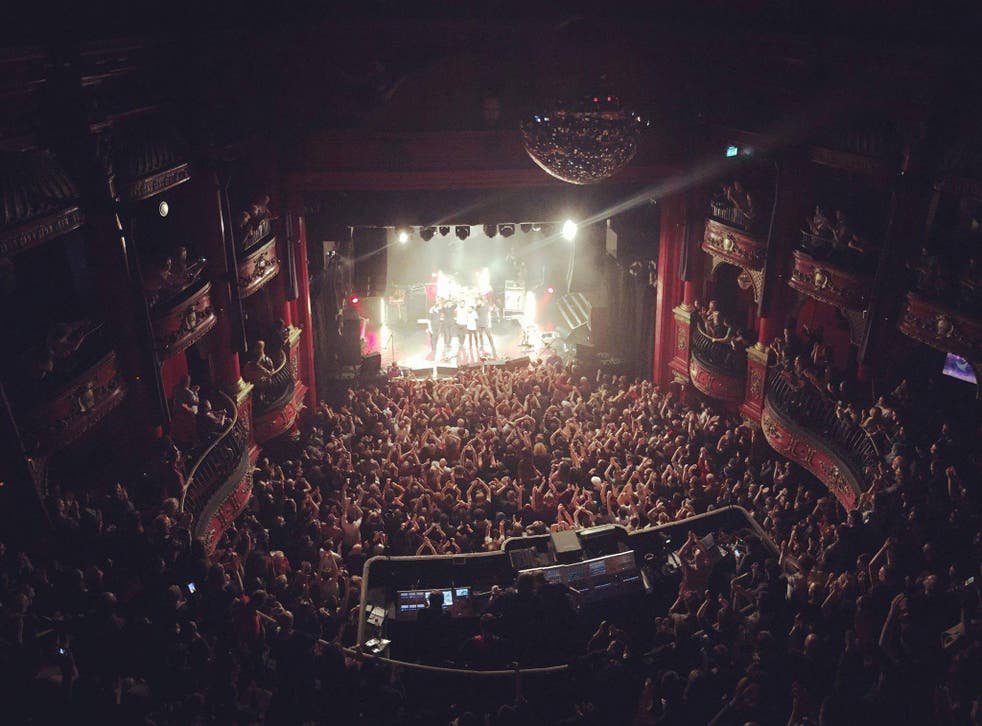 Maybeshewill were an astonishing example of what five friends could accomplish with a whole heap of ambition on a shoe-string budget. Constantly striving to write and record sweeping, cinematic, swathes of stirring, emotionally-charged music, they always managed to pull off incredible feats without ever compromising their DIY ideals. The band announced their plans to tour one last time in September 2015, with their final show taking place at Koko in London, a venue the band expected to sell half the allocated tickets for, maybe two-thirds if they were lucky.
The show sold out months in advance, which came as a surprise to nobody but the band themselves, as people flew in from all over the world to see them play for the very last time. The show was a triumph, a 90 minute celebration of the music that had soundtracked these 1,500 people's ecstatic highs and despondent lows for the previous decade – effectively, Maybeshewill wrote music that provided a perfect backdrop to life itself.
They also were a band unafraid to express their opinions, particularly when it came to political, sociological or environmental issues – for these five boys from the city of Leicester, it was always vital to raise their voices rather than stay mute. Their final move as a band is indicative of their career as a whole. Beautifully shot footage of their last show is available to stream for free, but for those who would like to download and own their own copy of this momentous occasion, they can do so by following this link and giving a small voluntary donation to Friends of the Earth. An international network of environmental organisations in 74 countries, Friends of the Earth our working to provide a peaceful and sustainable world based on societies living in harmony with nature and the environment.
Guitarist John Helps had the following to say about the band's last show, the footage and their decision to support Friends of the Earth.
When we announced the last tour we knew we wanted to document the final show at Koko. Partly that was for us - to have something to look back at in ten or twenty years and remember that moment - but we were also humbled by how many people wanted to see us one last time, and we know there are many who couldn't. We're incredibly lucky to be in that position.
We've worked on this with our long time collaborators WeTheConspirators, who have put so many hours in to getting it just right, and we can't thank them enough for that. Our very own Jamie Ward has slaved over the audio to make sure the mix is as good as it can possibly be, and we think it sounds amazing. We never imagined we could produce something this ambitious on a shoestring budget, keeping everything within the small team we built up over the last decade. We hope it's an adequate substitute for the real thing if you weren't there, and an accurate document of that evening if you were.
We're streaming the whole thing for free, but should you wish to download and keep a copy in HD, with uncompressed audio – that looks and sounds amazing – you can do just that. In return all we ask is a small voluntary charity donation, 100% of which will be sent to Friends of the Earth.
At this particular point in time more than ever we think it's important to acknowledge the impact that we as humans are having on our planet and its climate. As a band our carbon footprint is embarrassingly large – predominantly through more air travel than we care to remember and thousands of miles in vans between shows - and if we can go some small way to offsetting that, we believe we should.
Maybeshewill's final show can be downloaded in exchange for a small contribution to Friends of the Earth
Join our new commenting forum
Join thought-provoking conversations, follow other Independent readers and see their replies