Meet the Israeli and Palestinian heavy metal bands head-banging for Middle East peace
Orphaned Land and Khalas have shared a stage, cramped tour bus - and touching message of optimism- on their European tour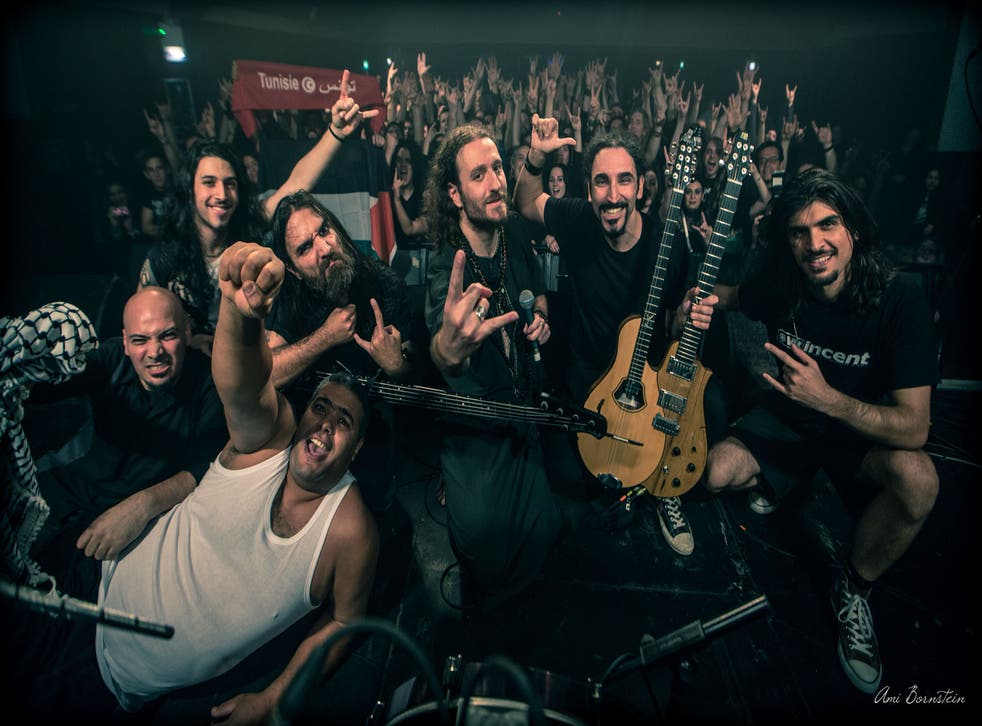 Many Israelis and Palestinians have long felt as if they have been knocking their heads against a brick wall in the pursuit of a solution to their conflict.
But a pair of heavy metal bands from the two nations have taken an unconventional approach to ending the stalemate - literally head-banging for peace.
Sharing a cramped tour bus, a stage and a touching message of optimism, Orphaned Land - composed of Israeli-Jewish pioneers of "oriental metal" - and Khalas, their Palestinian band of "brothers", have rocked out in London, Manchester, Norwich and Bilston in Wolverhampton, as part of a European tour.
Khalas, also known as the Arabic Rock Orchestra, formed in 1998 and cite AC/DC and Black Sabbath among their inspirations.
Orphaned Land, who have been around since 1991, have supported Metallica and have been described as "quite possibly the most popular Israelis in the Middle East". Last year, their fans even started an online petition to nominate them for the Nobel Peace Prize.
The two groups do diverge when it comes to songwriting, with Orphaned Land creating politically-charged songs, while Khalas (Arabic for 'enough') "let the music speak for itself".
"I feel that as a Palestinian, I have the right to write songs about beer, about ladies throwing bras at us on stage," says Khalas' lead guitarist Hathut.
"And it annoys me because when I answer that, a lot of people say, now you are an Israeli. Well f**k that - if I don't talk about the occupation, I am an Israeli, suddenly."
Hathut and Kobi Farhi, 38, lead singer of Orphaned land, grew up and still live in ethnically-mixed cities - Farhi in Jaffa, next to Tel Aviv; Hathut in Acre, northern Israel.
Enjoy unlimited access to 70 million ad-free songs and podcasts with Amazon Music Sign up now for a 30-day free trial
Sign up
The pair met in a radio studio a decade ago and have since built up a firm friendship, which has evolved into a musical coalition opposing artistic boycotts and promoting a small-scale peace process that simply bypasses the excuses and the extremists.
Neither man has ever voted and both claim that by uniting in the name of art, "we're p***ing on all the politicians".
"I don't believe in politicians on any side," says 33-year-old Hathut. "It's a dirty game."
Farhi, who has long hair, a beard and copious tattoos, says: "I could never find any algorithm to translate what I know into politics - I'm still waiting.
"While it takes the leaders half a year just to negotiate the terms to sit at a table - not even to discuss the issues - we feel that we are above the problem. Israelis and Arabs are brothers. This is according to history - both are descendants of Abraham."
Hathut, who rocks a shaved head and goatee, says: "In daily life, I feel that each side does everything to keep us apart. When people are afraid, it's easier to control them. What we do, our friendship, it's very dangerous to those [leaders]."
"We did have some boycott issues," laments Hathut. "When we announced the tour, they cancelled two of our concerts in Ramallah. And I understand where this is coming from, but I don't believe that it's the right way."
Referring to Pink Floyd frontman Roger Waters, who earlier this year called on "artists around the world to declare a cultural boycott on Israel", Farhi says: "I am not Roger Waters, we are not Pink Floyd. But I'm an Israeli admired in the Arab countries. I have succeeded to do that without boycotting.
"I mean, there are human rights violated in Syria. In Iran, rock and roll music is illegal. Maybe I should boycott them as well. Yes, you can raise awareness, but you can also p*** off your fans and they close themselves even to be more defensive."
The Israeli singer is a walking illustration of what can be achieved by embracing, not shunning, "the other".
"I was brainwashed as a kid," he says. "I even did a graffiti once - 'Death to Arabs' - when I was about 14.
"There was a terror attack in my city and a child was killed and I decided: 'there you go, they want to kill us all, I hate all Arabs'.
"I am very ashamed of it today, but I'm very proud to say that, from that level, I have reached a completely different point of view."
Orphaned Land counts tens of thousand of fans among neighbouring Arab countries, from Syria to Saudi Arabia, but many ban their music and all ban Israelis from entering.
One song on their new album is dedicated to the children of Syria, and Farhi says he yearns to visit.
"I will go by foot to perform there. I will pay money to perform there. The dream of a band is to meet your fans, anywhere. I'm reaching 40 countries around the world, but the ones near my country, I cannot visit them.
"I am a musician - I have a sensitive heart. I hear about children injured in Syria, in Gaza, in Be'er Sheva [Israel's seventh largest city]. What the hell do I care where they come from?"
The duo even have an answer to the seemingly impossible question of how to resolve the political standoff.
"Actually, it's not so impossible," insists Farhi. "A few things should happen. First, a change to the whole education system.
"Instead of starting to feed the kids with toy guns when they are three years old, we will start to just teach them about the value of life.
"I would take Israeli kids to visit Arab villages, I would take Arab kids to visit Israelis, they would play football together, they would learn about similarities in their languages, they would learn about history, they would learn how similar they are.
"The second thing is, out of millions, we need two politicians whose friendship will be similar to mine and Abed's. And they will be as shepherds leading their nations. And it will be a generation until everything is fixed, just like that."
They both laugh when Hathut chips in with a wry smile: "And it's not going to happen."
Register for free to continue reading
Registration is a free and easy way to support our truly independent journalism
By registering, you will also enjoy limited access to Premium articles, exclusive newsletters, commenting, and virtual events with our leading journalists
Already have an account? sign in
Register for free to continue reading
Registration is a free and easy way to support our truly independent journalism
By registering, you will also enjoy limited access to Premium articles, exclusive newsletters, commenting, and virtual events with our leading journalists
Already have an account? sign in
Join our new commenting forum
Join thought-provoking conversations, follow other Independent readers and see their replies