Metallica: 48 hours in London with the biggest metal band on the planet
On the eve of the release of Metallica's 10th studio album, 'Hardwired... To Self-Destruct', The Independent was granted unprecedented access to a BBC session recorded at Maida Vale Studios, as well as an intimate gig at House of Vans before 850 lucky fans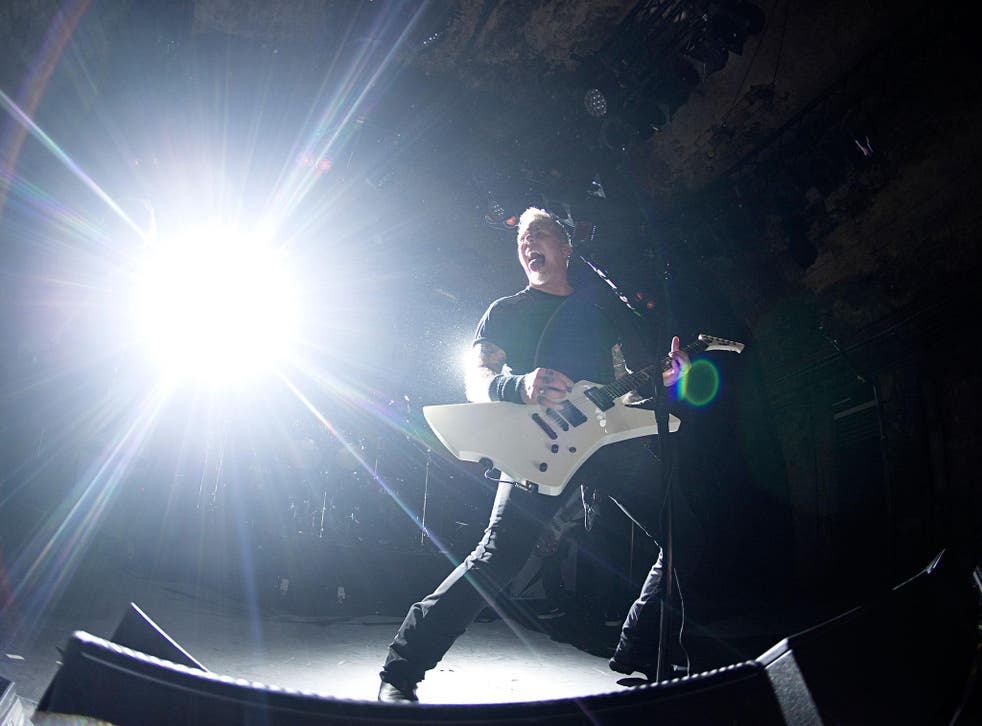 Birth – School – Metallica – Death
Those four words perfectly surmise the devotion that Metallica, the biggest heavy metal band on the planet, inspire. Admittedly, the sentiment first came from the band itself, appearing on a T-shirt sold during their colossal Wherever We May Roam tour in support of the biggest-selling album of the past 25 years, 1991's Metallica (universally referred to as The Black Album).
It may seem a bold, antagonistic, even downright arrogant statement, but try replacing the word "Metallica" with any other band from the past 50 years; there are only a mere handful that could even be considered to have sustained fanbases so fervent, devoted and passionate.
Even fewer have maintained this devotion over a period of 35 years, an idea that must have seemed far-fetched even to Lars Ulrich, the band's diminutive, ever-enthusiastic drummer, most vociferously vocal member and self-confessed number one fan. Once you're hooked on Metallica, you remain addicted for the rest of your life.
In May 1981, Ulrich placed an advert in the Musicians Wanted section of a free local Los Angeles newspaper The Recycler that read: "Drummer looking for other metal musicians to jam with. Tygers of Pan Tang, Diamond Head and Iron Maiden." The call was heeded by a shy, alienated 17-year-old misfit called James Hetfield but their first practice was an unequivocal disaster, with the two musicians failing to gel musically or personally. Despite this inauspicious start, they eventually bonded over a shared love of the New Wave of British Heavy Metal (abbreviated to NWOBHM), a movement that all three bands mentioned in Ulrich's advert fell under, and in October 1981, Metallica were officially formed.
Since their inception and right up until the turn of the millennium, they spent their career setting the standards by which other metal bands would follow. They pioneered (and debatably invented) thrash metal in the early Eighties, an amalgam of punk rock's speed and heavy metal's ferocity. They led the charge for writing longer, more complex songs with unconventional structures in the mid-to-late Eighties, a move that is still inspiring and pushing the genre forward today. And when metal was perceived to be going through a particularly rough ride in the media during the nineties, they reinvented themselves as a hard rock band, a move that at one stage seemed almost compulsory for any veteran heavy metal act.
But even when Metallica have been the source of ridicule (and they have been numerous times), they've always managed to maintain the unconditional support of millions – whether recording a critically mauled collaborative double album with Lou Reed, making a 3D concert film with a dubious semi-narrative running throughout or taking on Napster (and, by proxy, their own fans), at no point in 35 years have people stopped caring about Metallica en masse. That's something it's difficult to say about almost all of the band's contemporaries – Iron Maiden, Black Sabbath, Guns N' Roses – they've all had severe lulls in their popularity, even amongst their most staunch supporters.
Hardwired ... To Self-Destruct is the band's 10th studio album and their first since 2008's Death Magnetic. The 12-track, double-disc album is truly an event, especially considering that this is only the fifth full-length album of original material from the band in the past 20 years. It was recorded at Metallica's usual gradual pace over a 15-month period, between May 2015 and August 2016 at their headquarters in San Rafael, California, with writing for the album believed to have begun way back in October 2011. Reactions to the record have been broadly positive, with the majority proclaiming it to be the best the band have released since the hard rock and shorn locks period of 1996's Load album (some accounts go even further, declaring it to be their best since The Black Album).
Metallica marked the week of release for the new record with a promotional trip around three cities in Europe; Berlin, Paris and London. Their first stop in the English capital is at the prestigious Maida Vale studios to record the band's first ever session for the BBC. We're huddled onto the balcony overlooking Studio MV4, one of the smaller studios of the six currently in operation on site but with a most distinguished history, having played host to the famous John Peel sessions from 1967 until his death in 2004. It's since been used to record the majority of sessions that appear on BBC Radio 1, with today's performance being recorded and filmed for Daniel P Carter's Radio 1 Rock Show.
If it's not obvious from the vast articulated lorries parked outside the studio, the sheer amount of people running around the pokey Studio MV4 preparing to capture the five song session confirm just how huge the Metallica operation is. Including the BBC film and sound crews, there must be close to 50 people running around going about the very technical business of visually and aurally capturing one of the most influential bands in the history of music. It's a vaguely intimidating environment, especially for the two journalists who've miraculously managed to blag their way in, who both confine themselves to the shadows in case anyone important deems them unworthy to be in the studio at this particular moment.
Enjoy unlimited access to 70 million ad-free songs and podcasts with Amazon Music Sign up now for a 30-day free trial
Sign up
At twenty minutes to seven, almost two hours later than originally scheduled, the four members of Metallica stroll into the room with much less pomp and circumstance than you'd imagine a band of their stature would. The atmosphere is immediately jovial, with the whole band joking around in-between songs; when lead guitarist Kirk Hammett requests everything to be turned up in his monitors except the drums, he elicits huge guffaws from the entire room, much to Ulrich's mock exasperation. The band thunder through renditions of new songs "Atlas", "Rise!", "Moth Into Flame" and "Hardwired", before concluding the session with classic cuts "Harvester of Sorrow" and the song that brought them house-hold recognition, "Enter Sandman".
Watching the session unfold is probably the closest one can get to witnessing the dynamic of the deep-rooted friendship that was forged over a love of those NWOBHM records 35 years ago. Ulrich is the motor-mouthpiece, seemingly worried that his jaw muscles might seize up if they're not put to constant use, whilst the more subdued Hetfield is extremely adept at a cutting yet brotherly put-down for his compadre (a typical exchange emerges when Ulrich complains his clothes are too small: "Usually when we're jamming at home, I don't have the stage-gear on", to which Hetfield replies, "Is that what's throwing you off!?").
The chalk and cheese chemistry is a big factor when it comes to the success of this band, maybe even the biggest factor. It's the same creative magic formula that McCartney/Lennon, Plant/Page and Jagger/Richards were all blessed with – otherworldly, indescribable but undoubtedly as tangible and real as the instruments they play.
Metallica at House of Vans, London, 18th November 2016

Show all 10
On the day of Hardwired... To Self-Destruct's release, the band play an intimate show at the House of Vans underneath Waterloo station in London to 850 lucky ballot winners and fan club members. To put this in perspective, the last time Metallica played in the capital, they played two sold out shows at London's 20,000 capacity O2 Arena. It's safe to say tickets are more valuable than gold dust and those in attendance are well aware of what an extraordinarily rare opportunity this is to see their idols in such small confines.
As the lights dim, a roar erupts, and the band file onstage with little fanfare, even foregoing the usual obligatory entrance to Ennio Morricone's "The Ecstasy of Gold". From the shadows, James Hetfield emerges, blasting out the opening riff to their blistering cover of Welsh hard rock mob Budgie's "Breadfan", and like a bullet from a starting pistol, they're off.
The band smash through a 15-song set that includes the five songs from yesterday's Maida Vale session plus an additional 10 tracks from the first decade of the band's history; "The Four Horsemen", "Battery", "Master of Puppets", "Fade to Black", "One and For Whom the Bell Tolls" are tossed out with absolutely no concern for the minds that may be blown all over the walls of these old railway tunnels. All are cast-iron reminders of why this band has been worshipped so devoutly by millions around the world for 35 years. The sheer ecstasy pasted on the faces of these fortunate patrons is proof-positive that people still care immensely about Metallica and will likely continue to until their dying day; after all; sandwiched between birth and death, there's nothing but Metallica.
Hardwired... To Self-Destruct is available through Blackened Records now. Metallica will tour extensively throughout the UK and Europe in 2017
Join our new commenting forum
Join thought-provoking conversations, follow other Independent readers and see their replies