Metallica - the metal gurus
Did you ever doubt them? Nick Hasted on Metallica's triumphant return, in concert and on record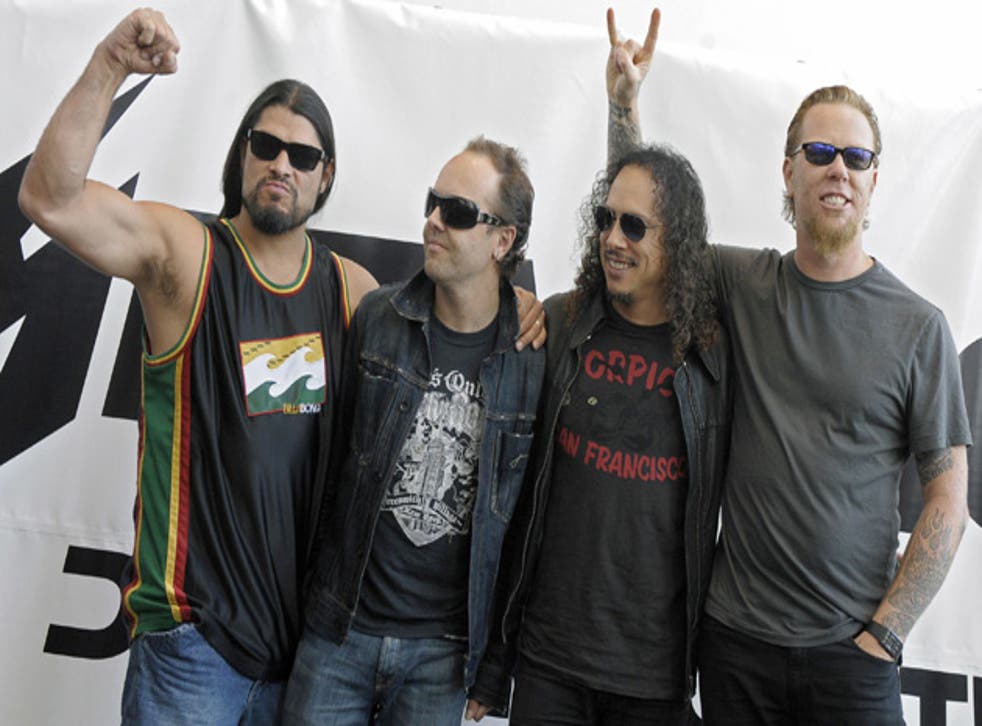 Metal doesn't rust. In a career that began when The Specials were at No 1 with "Ghost Town", and has rumbled on to keep Glasvegas from the top of this week's album chart with Death Magnetic after just two day's sales, Metallica prove that more than anyone. Radio 1 may play Katy Perry's "I Kissed a Girl" in the daytime, but they cleared five hours of their schedule on Monday night to welcome back heavy metal's mightiest.
Death Magnetic's success is hardly a comeback. Metallica's fans are impervious to fashion and, after 100 million album sales, numerous enough to conquer a small country. Even their last album, St Anger (2003), from which the band now ruefully distance themselves, was No 1 in 30 countries. This is partly a function of the metal community's global reach and conservative instincts. Iron Maiden, a band with no profile left beyond the faithful, were No 1 from the Balkans to Brazil with their last release, A Matter of Life and Death (2006).
There were black Maiden T-shirts at Metallica's O2 Arena gig on Monday, in the gathering of a tribe that has been constant for years: outsiders, loving couples all in black, and hippieish rock veterans. Like most UK metal crowds, they were likeably good-natured, and there to have fun to music with lyrics of death and self-loathing. Metallica gave them hard-working showmanship, fierce riffs and an honest sense of belonging. That is why, in Kerrang!'s words, "Metal triumphs over indie" in this week's chart.
But Metallica's success is also because they are not like other metal bands. They have been the form's essence for more than a quarter-century. They have dared to tinker with their own formula, suffered a group mental breakdown while acting like Spinal Tap in the documentary Some Kind of Monster (2004), and, almost, matured.
They began in LA in 1981, when singer and rhythm guitarist James Hetfield met Danish drummer Lars Ulrich, a fan of Britain's new wave of heavy metal (Maiden, Saxon and, above all, Motörhead). With a line-up briefly settling on lead guitarist Kirk Hammett and bassist Cliff Burton, they instantly defined thrash-metal, combining guitar riffs of athletic velocity with moments of ponderous heaviness on Kill 'Em All (1983).
The spotty, denim-clad metalheads the band, barely out of their teens, are pictured as on the sleeve are unrecognisable from the svelte rock Vikings they would become. Hetfield, a small-town Californian kid whose Christian Scientist mother's beliefs led to her dying young from cancer after refusing treatment, looks especially dead-eyed and suspicious. As the album-opener "Hit the Lights" made clear, back then, they were their fans. "These outcasts started turning up, people who liked music a little more extreme than the American music industry provided," Ulrich said. "We took the riff structures of AC/DC and Judas Priest and played them at Motörhead speed."
"Mental anguish is what I like," Hetfield said of his lyrics, which reached a bleak nadir with 1984's melodic contemplation of suicide "Fade to Black". A few fans did just that, while, as Ulrich noted, thousands wrote to say the song kept them alive. Either way, devotion ran deep. Burton's death when their tour bus crashed on 27 September 1986 overshadowed their uncompromising major-label debut Master of Puppets. The vodka-bottle-a-day party continued anyway, for the band who called themselves "Alcoholica".
Their commercial peak came with Metallica; 1991's so-called "Black Album" (in reference to its blank, black sleeve), vaulted Metallica past their peers. The nightmare child-snatching lyric of "Enter Sandman" and its swaggering riff, their equivalent to Led Zeppelin's "Kashmir", kicked open the door to the mainstream. Bob Rock's crunchingly clean production ensured that 14 million bought it. Crushing Guns 'N Roses on a joint tour, they bulldozed their way to U2's rarefied stratosphere.
The same year, Nirvana's Nevermind opened a more intimately agonised path for hard rock. Metallica's course barely altered. Fans feared the worst when, for the belated follow-up Load (1996), they were photographed by U2 favourite Anton Corbijn as short-haired, louche rock stars. The fear was that Metallica were leaving their tribe for the new, post-grunge hard rock of Pearl Jam and the Smashing Pumpkins (Hetfield's rival as the music's biggest star, Kurt Cobain, had already faded to black).
Enjoy unlimited access to 70 million ad-free songs and podcasts with Amazon Music Sign up now for a 30-day free trial
Sign up
The formula was tweaked, even outrageously expanded. Steel guitars appeared, evidence of Hetfield's fondness for "outlaw" country star Waylon Jennings, and Bob Rock's production visited ZZ Top's arena blues-rock territory. When Hetfield, still a wild man, vanished on a hunting trip in Wyoming's interior, Ulrich and Hammett took the opportunity to make the usual stiff rhythms swing, a little.
What was really noticeable, though, as one album followed another, was how thrash's adrenalin rush was being rationed to a track or two. This was rock made for the biggest stage, not the puny, surly suburban metalhead losers Metallica themselves had been, and their fans remained.
They seemed to search for direction. Garage Inc (1998) was a compilation of back-to-basics covers. Then they followed in the footsteps of Deep Purple to dragoon the San Francisco Symphony Orchestra for S&M, 1999's live hits double album. "That's got failure written all over it," Hetfield crowed. "It's like fucking in church. Let's do it!" Michael Kamen's syrupy arrangements broke no new ground, holy or otherwise, in a whacked-out, amusing indulgence.
It was St Anger, and the startling documentary, that left Metallica at a crossroads. The iron control Ulrich and Hetfield had exercised for so long had forced Burton's replacement as bassist, Jason Newsted, out of the band in 2001, after 14 years. Guilt-ridden, Hetfield found himself lost in a "mid-life crisis... identity crisis". He withdrew into rehab for addictions the young men of "Alcoholica" had innocently bragged of, and then into therapy's "cocoon".
While the band waited to see if he'd ever come out, a Tap-esque "performance coach" was employed, and the cameras rolled. "It's deep-seated anger that's deep within our personalities," Hammett realised. The bile bubbling in earlier lyrics was then vented in St Anger. "Can I get my wasted days back?" Hetfield asked, in an album full of therapy-speak. Bob Rock remained, but the production was no longer cleanly efficient. This was newly interior music, by a band distracted and grappling with negativity, lost inside itself. Hammett implicitly apologised for it on-stage this week.
The underwhelming result, and the documentary's often absurd revelations, left Metallica exposed as never before. Ian Fortnam wrote in Classic Rock: "To their rabidly loyal fan-base, Metallica ideally define blue-collar metal's strict ideal of manhood. Four testosterone-steeped backwoods carnivores; unrefined hellraisers to a man who drink, fight, fornicate... weakness, sensitivity and living their lives at anything less than eleven is simply not an option."
Add the sense that some of the fire and freshness had inevitably seeped from their work, that no riff since had pummelled quite like "Enter Sandman", and that multimillionaires in their mid-forties might no longer speak to an ever-regenerating core of adolescent fans, and Metallica's place in heavy metal's heart was shaken for the first time.
But the downbeat St Anger was also the sound of a band trying to surface. Now, Death Magnetic does what is necessary. With professional legend-burnisher Rick Rubin producing, it is a relatively stripped-back return to speed, death and darkness.
Metallica may no longer really believe in such things. But this is no more dishonest than the sensitive agonising that indie songwriters roll out by the yard. Death has been very real in Metallica's world; but it is also just a turn of phrase, passed on from Motörhead, and down to the cancer-ward musings of My Chemical Romance, whose emo fans might once have been theirs.
Watching Metallica at the O2, what mattered was the gleeful fun they were having, a rejuvenated, grinning Hetfield most of all. Like latter-day Bowie, he's been cleansed by coming through his torments to a place of muscular health. He has sloughed off his excesses, and some of the interest they caused.
When they finished with songs from Kill 'Em All, it was only an impersonation of the bludgeoning frenzy those early days produced. Such days won't come again. Metallica in 2008 are a reliable, riff-heavy night out, not pioneers. In the venue where Led Zeppelin returned, they became thrash-metal's first heritage band.
'Death Magnetic' is out now on Vertigo/Universal; Andy Gill's review is on page 19
PRECIOUS METAL
Kill 'Em All (1983)
The boyish young band's innocent lyrics about war, Tolkienesque demons and their connection to their fans are ground into the dust by Hetfield and Hammett's definitive statement on thrash guitar. "Seek & Destroy" remains a live staple.
Ride the Lightning (1984)
Acoustic guitars and songcraft creep in, notably on "Fade to Black". Made notorious when a high-school shooter sang it as he killed, its contemplation of suicide is effectively blunt. For a band then obsessed with death, it counted as a ballad. Contemplation of nuclear apocalypse reveals them as products of Reagan's America.
Master of Puppets (1986)
No compromise on their major-label debut. The prog-rock implicit in Metallica's thrash work-outs became blatant, especially on the eight-minute instrumental "Orion" (Ulrich was a Rush fan). Soon after its completion, bassist Cliff Burton was killed when their tour bus crashed.
Metallica (1991)
The 'Black Album' sounded designed to trample all its rivals, and did so. "Enter Sandman" is the riff that won them the world, and the pace never relents. Only Bob Rock's burnished, near-1980s production now grates. "Nothing Else Matters" was Hetfield's first, straight-from-the-heart love song.
Load (1996)
A still more approachable and varied deviation, taking in country steel-guitars, blues-rock and contemplation of Hetfield's mother's death ("Mama Said"). It feels too smooth, and somehow unnecessary.
Death Magnetic (2008)
A return to the old days of death-fixated songs and barely relenting aggression (plus hideous sound-compression). Contrived as its darkness seems for men seemingly in rude health, it should reassure fans. Future innovation seems unlikely, though.
Register for free to continue reading
Registration is a free and easy way to support our truly independent journalism
By registering, you will also enjoy limited access to Premium articles, exclusive newsletters, commenting, and virtual events with our leading journalists
Already have an account? sign in
Register for free to continue reading
Registration is a free and easy way to support our truly independent journalism
By registering, you will also enjoy limited access to Premium articles, exclusive newsletters, commenting, and virtual events with our leading journalists
Already have an account? sign in
Join our new commenting forum
Join thought-provoking conversations, follow other Independent readers and see their replies