State of the Arts
Leaving Neverland: Streaming Michael Jackson's music is sending money to people who may have helped cover up child sex abuse
Like many, our columnist Lucy Jones is reassessing her fandom after watching the 'Leaving Neverland' documentary. For her, it's a disturbing portrait of the long-lasting, violent and pernicious effects of child abuse
Thursday 07 March 2019 10:31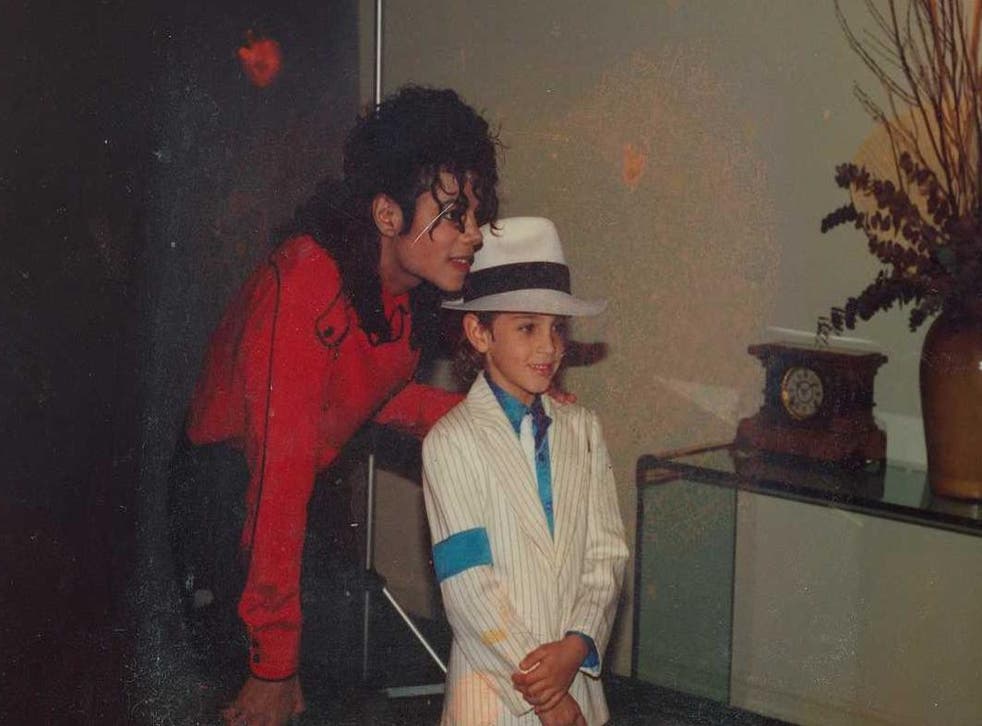 On 1 March, a few days before Leaving Neverland aired on HBO in the United States and Channel 4 in the UK, a video was tweeted from the official Michael Jackson account. It showed a toddler, perhaps three or four years old, watching and dancing along to the video for "Thriller".
It was the kind of footage you've probably seen before. A little kid instinctively responding to the sublime rhythm and melody of Jackson's work like millions of children have done over the years. I remember exactly where I was the first time I heard the track "Bad" in my aunt's car, aged seven or so. It zapped me, immediately, like it did so many children, with its liquid rhythm and seductive melodies. And it's continued to zap me ever since, on dancefloors, at weddings, when DJing. I even love "Stranger in Moscow", Jackson's lowest charting song.
Now, like many, I'm reassessing my fandom after watching Leaving Neverland, a documentary about the extensive molestation allegedly suffered by Wade Robson and James Safechuck at the hands of Jackson when they were children, and how it has affected their lives, and the lives of their families, since. The film is a disturbing portrait of the long-lasting, violent and pernicious effects of child sexual abuse.
Leaving Neverland – photos show Michael Jackson with his accusers

Show all 9
I didn't want to watch it at first, for a few reasons. People are innocent until proven guilty, after all, and Jackson is dead, having been tried and acquitted. I loved his music, especially as a child, and part of me wanted to look the other way. I didn't want to believe the man who made the greatest pop tunes could commit the most abhorrent crime possible. It didn't tally up with the way his music made me feel. Also, I find the general "can you separate the art from the artist?" debate difficult and confusing. I'm uncomfortable with the role of moral arbiter. Who am I to judge the people in my record collection? People f*** up; that's what they do. It's human nature. Well, this is what I thought before I watched the documentary.
In the first hour or so, I told myself that he had had an abusive childhood himself. Hardly a childhood to speak of. That he had probably been abused, that he was mentally ill because of the damage and childhood sexualisation inflicted on him. But by the third hour, that wasn't an excuse I could swallow anymore. There weren't any excuses left. I believed Robson and Safechuck's accounts that he raped and assaulted them in a pattern of seduction and grooming and brainwashing that continued for years. I found the case for Michael Jackson the child rapist and paedophile too convincing and compelling to ignore.
The graphic details and elaborate ways of how Jackson seduced and abused Robson and Safechuck are difficult to watch. He built up a fortress of security around the bedrooms in Neverland, of cameras and wires, so he would be warned if anyone was approaching. But he had also, somehow, built a fortress around him, made of people who must have known something was going on. Who were these people? The documentary doesn't answer these questions, but they are important. After Lisa-Marie Presley divorced Jackson she described his inner circle in a 2010 interview with Oprah Winfrey as "spiders, vampires," "sycophants, sucking his blood". Where are they now?
The role of Robson and Safechuck's mothers is explored in the film. How could they possibly have allowed their young sons to sleep in a bed with Jackson? Or leave their boys alone with him overnight? We see how their delusion, their love of Jackson, their pride that he loved their sons, their desire for the trips and experiences and trappings you only get if you're the chosen paramour of the biggest superstar in the world, blinded them to what was really going on behind closed doors. While watching it, I oscillated between feeling disgust and disbelief at their stupidity to pity, at the end, when Safechuck's mother in particular, quietly, shows how the guilt and remorse is brutal and never-ending.
Are the parents and Michael Jackson's team implicated? We don't know. But, we, as a culture, build up these stars. Our sinister obsession with celebrity and fame allows this kind of abuse to happen. What is the spell that we all fell under? What is its nature? And how can we break it?
A wave of progressive change is certainly helping. The stories feel very different post-MeToo and child sex abuse revelation in institutions such as the Catholic Church. We are more aware now of the damage sexual abuse can cause, cascading through the years. Our eyes have been opened and our consciousness raised.
Enjoy unlimited access to 70 million ad-free songs and podcasts with Amazon Music Sign up now for a 30-day free trial
Sign up
Trailer for new HBO documentary about Michael Jackson abuse victims Leaving Neverland
Can we still listen to Jackson today knowing that he was a child rapist? Some people will be comfortable with that. I put some of his songs on yesterday to see how it felt. Immediately, instinctively, my head moved to the beat of the songs I've listened to for so long. But then I remembered that by streaming his music on a service I'm actively giving money to his estate and potentially people who may have covered for his abuse for years. I remembered the awful sexual assaults that Robson and Safechuck had endured, which may have taken place before or after the recording of the songs. Listening to "Who's Lovin' You", my favourite Jackson 5 song, felt less dissonant.
But how we feel about his music doesn't ultimately matter. It's a personal choice and there are loads of other songs to listen to. What matters now is that this moment leads to a change in how we consider fame and celebrity, who we worship and what we turn a blind eye to.
This is much bigger than the music, it's bigger even than Michael Jackson. It's about our hitherto lax attitude to men in positions of power who use their fame, talent and stardom and the infrastructure around them to get away with hurting and abusing other people. What is important now is that survivors' stories are heard, that we listen, and that child abuse is stopped.
It's not yet clear whether the documentary will affect Jackson's market appeal. Will more radio stations ban Jackson's music? Will the musical Don't Stop 'Til You Get Enough go ahead on Broadway in 2020? Will the allegations make a dent in the money the estate makes (between $20m and $25m a year on recording royalties, according to Billboard)?
The fairytale character always associated with Jackson is Peter Pan. But while watching Leaving Neverland, I couldn't stop thinking about the story that used to terrify me as a child, "The Pied Piper of Hamelin", whose titular character leads children away from their parents with the entrancing music of his pipe, out of the village and into a cave, or over a cliff to be drowned in the sea. The story may be hundreds of years old but still serves as a stark warning: people with talent can do terrible things – and we are susceptible to being blinded by their power.
Register for free to continue reading
Registration is a free and easy way to support our truly independent journalism
By registering, you will also enjoy limited access to Premium articles, exclusive newsletters, commenting, and virtual events with our leading journalists
Already have an account? sign in