Kind of Blue: The jazz album by Miles Davis that transformed music
To mark its 60th anniversary, Martin Chilton tells the story of how the trumpeter created a multimillion-selling masterpiece that still ranks as one of the greatest albums of all time
Saturday 02 March 2019 09:04 GMT
Comments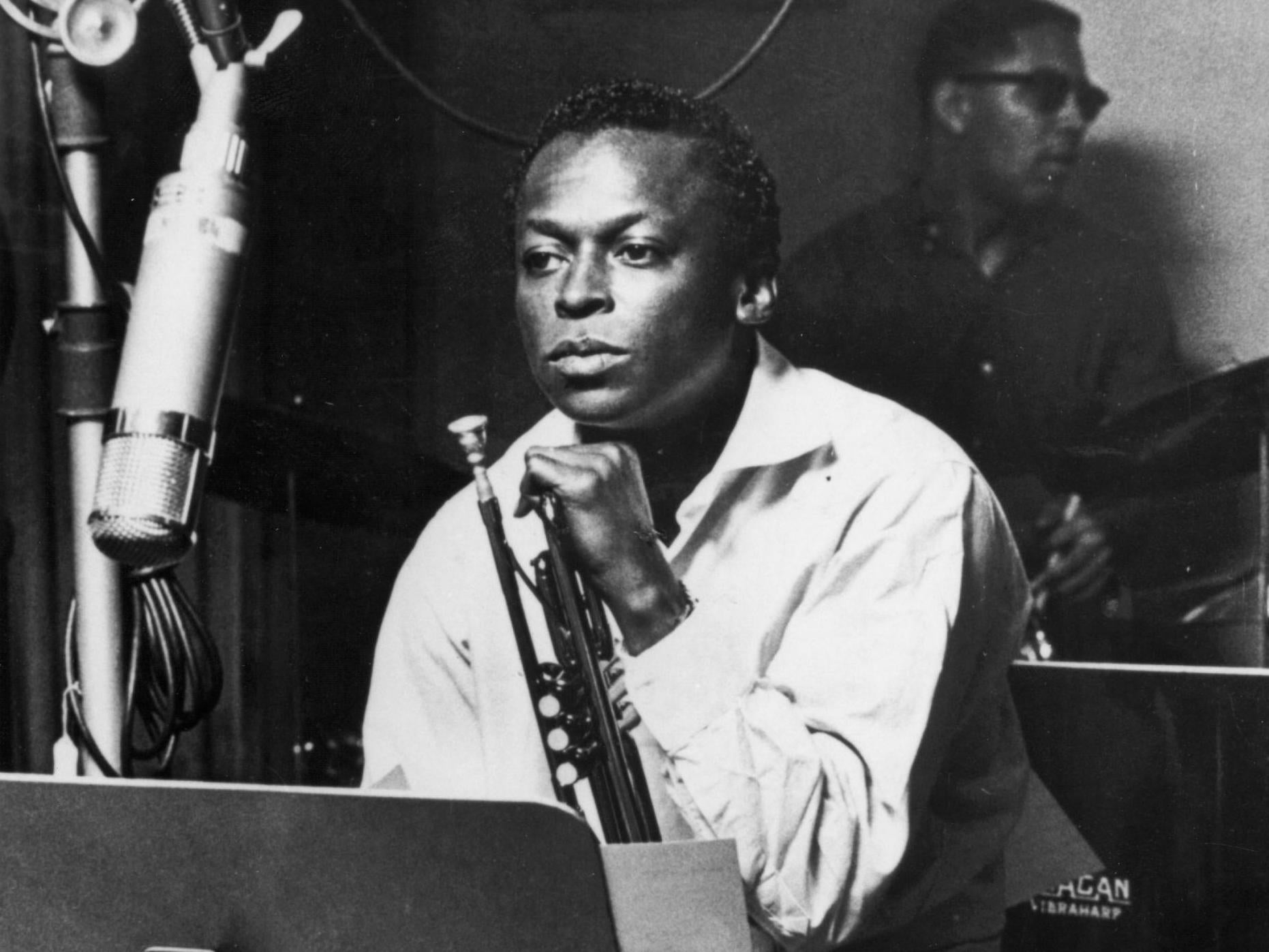 When Miles Davis visited the UK in the autumn of 1960, there was no big fanfare about his recently released album Kind of Blue. The trumpeter played now-lost venues such as the Gaumont Palace cinemas in Kilburn and Lewisham, London – starting and ending his sets with songs from the album – and at the time, he told a friend of my father's, a promoter called Jim Ireland who was looking after parts of his tour, that he expected to make little money from Kind of Blue.
Sixty years on, the album is hailed as a masterpiece of modern music. It is the bestselling jazz record of all time, having sold nearly 5 million copies and been certified quadruple platinum. It was No 1 on the BBC's 50 greatest jazz albums poll in 2016, No 12 on Rolling Stone magazine's list of the 50 greatest albums of all time and even, bizarrely, featured in VH1's "100 Greatest Rock 'n' Roll Albums".
Kind of Blue's 46 minutes of improvisation and first-class musicianship still attracts fans of all ages. Jazz musician Courtney Pine said it was "the record I'm proudest to own"; Quincy Jones called it "my daily orange juice"; Steely Dan's Donald Fagen described it as "the Bible" of music. Pink Floyd pianist Richard Wright said the album influenced the whole structure of The Dark Side of the Moon.
Music from Kind of Blue has featured in numerous popular television series, including The Wire, Dexter, Better Call Saul, True Blood, Mad Men, The Simpsons, Homeland, The West Wing and The Marvellous Mrs Maisel. Actor Judy Dench says that "the glorious" track "Blue in Green" is one of her favourite pieces of music. "I knew Miles Davis in New York, and the moment I hear Kind of Blue, I am back in one of those wonderful smoky rooms in New York," the Oscar-winner told Desert Island Discs.
The 40 best albums to listen to before you die
Show all 40
In a memorable scene in the movie Pleasantville, in which Tobey Maguire and Reese Witherspoon's characters are transported back to the black-and-white 1950s world of a fictional television show, Kind of Blue is playing in the background. Less impressively, Davis's album is also the ringtone on the mobile phone of former Tory MP Eric Pickles.
Sixty years ago, as he was about to make a quantum leap in music, the reputation of trumpeter and composer Davis was tarnished. He was 32, still thin after recovering from an addiction to heroin, and widely considered to be unreliable. Musically, he was worried about being overshadowed by younger rival Chet Baker, who had recently won the DownBeat critics poll for "best trumpet player". Despite all this, the man Duke Ellington dubbed "the Picasso of jazz" knew he had it within him to create something as momentous as Kind of Blue.
At 2.30pm on Monday 2 March 1959, Davis assembled a magnificent band at East 30th Street in New York, the site of Columbia's recording studio. It was in a converted Greek Orthodox Church, one subsequently destroyed to make way for yuppie flats. Apart from Davis himself, who plays supremely well on the album, Kind of Blue features John Coltrane on tenor saxophone, Julian "Cannonball" Adderley on alto saxophone, Bill Evans and Wynton Kelly on piano, bassist Paul Chambers and drummer Jimmy Cobb – all superb performers at the height of their powers. Unlike many supergroup sessions, this was largely a working band and they were relaxed in each other's musical company. To them, it was just another freelance booking.
The band were given sketches of the first three tunes, two of which Davis had been working on that morning. They had never previously played the compositions. "While I was setting up the drums, I was thinking, 'I wonder what we are going to play today?'" Cobb said in 2009. "The songs were just something Miles had on a slip of manuscript paper. The guys had to really work to build something from that little bit."
The trumpeter, who is the subject of the forthcoming film Miles Davis: Birth of the Cool, said the informality was deliberate. "If you put a musician in a place where he has to do something different from what he does all the time ... that's where great art and music happens," he wrote in his 1989 autobiography.

Enjoy unlimited access to 70 million ad-free songs and podcasts with Amazon Music
Sign up now for a 30-day free trial
Sign up

Enjoy unlimited access to 70 million ad-free songs and podcasts with Amazon Music
Sign up now for a 30-day free trial
Sign up
Davis wanted to capture the musicians' pure spontaneity. In the original liner notes, pianist Evans said the musicians were willing "to bend for the result" and cope with his testing demand for "group improvisation". Evans, whose beautifully understated piano playing sets much of the musical tone of Kind of Blue, wrote a note to Adderley as they were playing "Flamenco Sketches" urging him to "play in the sound of the scale". Adderley obliged with some haunting ad hoc "blue notes".
The album's so-called "modal jazz" – improvisation based on scales rather than a chord progression derived from the blues or a popular song – was revolutionary. Herbie Hancock says that even professional musicians marvel at the way Davis and co improvised within the sound and structure of the compositions and moved into "new uncharted territory". Chick Corea was also bowled over by the album. "It is one thing to play a tune or a programme of music, but it's another to practically create a new language of music, which is what Kind of Blue did," said the pianist. Quincy Jones went as far as calling it "a work of art that explains what jazz is".
Cobb said that most of five tracks – "So What", "Freddie Freeloader", "Blue in Green", "All Blues" and "Flamenco Sketches" – were sealed in one take. "That's what Miles liked," added Cobb. "If you keep doing it over, it gets to be stale. He figured your first shot is your best shot." The impromptu nature of the sessions is evident from transcripts of the master tapes. Just as "Blue in Green" is about to be recorded, Davis says to Coltrane: "Why don't you play on this?". His innovative saxophone-playing helps transform the ballad.
By 1959, swings bands were in decline and bebop was beginning to change the face of jazz. "All of a sudden, everybody seemed to want anger, coolness, hipness and real clean, mean sophistication," said Davis. Cobb believes that part of the appeal of Kind of Blue was that "it was different from what was going on at the time ... show tunes or popular tunes, with a lot of chord changes and stuff like that. This was just a kind of subdued, easy-listening kind of stuff that you didn't have to be really steeped in the music to enjoy."
Cobb said Davis was a perfectionist. The trumpeter would lean in close to a non-soloing musician to whisper instructions in his ear during a take. If he didn't like how a rehearsal was going, he would call a halt by blowing a whistle, an instrument he used instead of shouting instructions, following permanent damage to his vocal cords caused four years before during a shouting match with a nightclub manager.
The sessions for Kind of Blue were not tense affairs, however. There was the usual musician banter. At one point, Davis complains to co-producer Irving Townsend about the noise from the squeaky floor, at a studio chosen for the natural acoustic resonance of the high ceilings. Former schoolteacher Adderley replied that he should not worry about the "surface noise", before Evans chimed in with a quick pun, asking Davis why he did not like the "surf-ass noise".
Fred Plaut, the engineer at the sessions, usually worked on classical music recordings and was precise about the location of the four-tape recorders he ran in synchronisation for an album recorded in mono and stereo (a common practice at the time). Unfortunately, the mono tapes were lost in the 1960s, seemingly forever. The original Side A pressing was issued at the wrong speed (a fault in one of the tape recorders had been corrected by the second session in April), at a pitch that was a quarter-tone too sharp. These flaws were corrected when the albums were remastered and re-released in the 1990s. In addition, the first album sleeve bore incorrect track listings.
Despite these technical imperfections, Kind of Blue was released on 15 August, as a 12-inch vinyl record, to immediate acclaim. "This is a remarkable album," said DownBeat, giving it a maximum five-star rating. "Using very simple but effective devices, Miles has created an album of extreme beauty and sensitivity ... this is the soul of Miles Davis and it is a beautiful soul."
Kind of Blue was still selling in large quantities a few years after its release and it was only then, Cobb said, that the musicians began to realise they had made "something special". The drummer was adamant that none of them had the slightest notion in 1959 that they were creating jazz history. "That never came up. It was just another great Miles Davis recording that everybody played well on," added Cobb. "If Miles even had an inkling that that was happening he would have asked for a truckload of money and four Ferraris sitting outside. That's the way he thought about things."
It is a sobering thought that the talented musicians missed out on a fair share of the profits from this multimillion-selling treasure. Ashley Kahn, the author of Kind of Blue: The Making of the Miles Davis Masterpiece, was once asked what the sidemen earned from this global hit. "Miles's sidemen made roughly $130 for the two sessions combined. But another memo reveals that Miles insisted – somewhat uncharacteristically – that the three senior members of his group [Coltrane, Cannonball and Chambers] receive an additional $100 each. After a little back and forth between various departments at Columbia Records, the cheques were cut. Final amount paid to Coltrane, Cannonball and Chambers: less than $250 each. Evans and Cobb: less than $150 each. Wynton Kelly, who performed only on the first session: less than $75."
Evans did not even get credit at the time for helping to write the beautiful "Blue in Green" and "Flamenco Sketches". When he asked Davis for royalties, he was given a cheque for an extra $25. Another Evans, the arranger Gil, was also never paid properly for his gorgeous introduction to "So What", a brilliant solo that must have been learnt by heart by thousands of aspiring jazz musicians in the six decades that followed.
For a record that still sells more than 5,000 copies a year, it was remarkably cheap to make. As well the miniscule payments to the musicians, Columbia funded just nine hours of studio time, three reels of Scotch 190 recording tape and a nominal fee paid to a piano tuner. The piano, incidentally, was the same instrument used later that year on Dave Brubeck's "Take Five" recording. Nineteen fifty-nine certainly was a transformative year for jazz.
The photograph of Davis on cover was taken by Jay Maisel. "I like jazz, but I'm not a big jazz fan. I'm not a big fan of anything. Just photography," Maisel said in 2015. "Everyone thinks I shot the Miles Davis album cover for somebody. I didn't. I did that for myself. Columbia called and asked, 'Do you have anything on Miles Davis?' And that's how that happened."
The album's title was reportedly chosen by Davis, who later told biographer Quincy Troupe that he meant it to be a comment on the bittersweet nature of the African-American experience. He had his own shattering experience of being a black man in what was still a segregated America only 10 days after the album's launch. Just after finishing an Armed Services Network broadcast at New York's Birdland, a club on 52nd Street, he was savagely beaten with nightsticks by patrolman Gerald Kilduff and detective Donald Rolker. Newspaper photographs show him with a blood-soaked suit and a head wound covered in bandages that had required five stitches.
Recounting the event in his autobiography, Davis said the attack came after the officers had seen him walking "a pretty white girl" to a cab. "This white policeman comes up to me and tells me to move on. I said, 'Move on, for what? I'm working downstairs. That's my name up there, Miles Davis,' and I pointed to my name on the marquee all up in lights."
The verbal exchange ended in police violence. Davis, whose father was a dentist and whose mother was music teacher and violinist, said that after a quiet childhood in an affluent Illinois home, the brutal attack taught him the lesson that "if you're black, there is no justice". He said the incident "changed my whole life and my whole attitude, made me bitter and cynical again when I was really starting to feel good about the things that had changed in this country".
Davis was arrested and charged with assault and disorderly conduct. After two court appearances, he was acquitted on both counts. He had been temporarily suspended from working as a musician during that time, however, and during this hiatus the Kind of Blue band broke up. On that UK tour in 1960, he was accompanied by different musicians, with saxophone great Sonny Stitt replacing Coltrane. In The Blue Moment: Miles Davis' Kind of Blue and the Remaking of Modern Music, music writer Richard Williams discussed the "disintegration" of the famous sextet and reflected on how sad it was that Evans never recorded again with Davis.
Williams described Kind of Blue as "a rare example of human perfection ... speaking more clearly as the years go by", but not every jazz fan was wowed by Davis. Poet and jazz critic Philip Larkin, who preferred traditional jazz, dismissed Davis as "a master of rebarbative boredom". Larkin's waspish view is a minority one, even if it is likely that Kind of Blue is owned by tens of thousands of people who have never bought another jazz album.
Davis said that the initial inspiration for Kind of Blue was rooted in a childhood memory of walking home from church on a dark road when he was six, his head filled with gospel music. "That kind of feeling came back to me and I still remember what that music sounded like and felt like. That feeling got in my creative blood, my imagination. That feeling is what I'm trying to get close to in Kind of Blue."
Six decades on and it is still easy to get lost in Miles Davis's dreamily beautiful album.
Join our commenting forum
Join thought-provoking conversations, follow other Independent readers and see their replies