Moby finds a more innocent lifestyle
Now sober and drug-free, the musician talks in his LA home about rediscovering his passion for electronic dance
Tim Walker
Friday 14 February 2014 18:00 Comments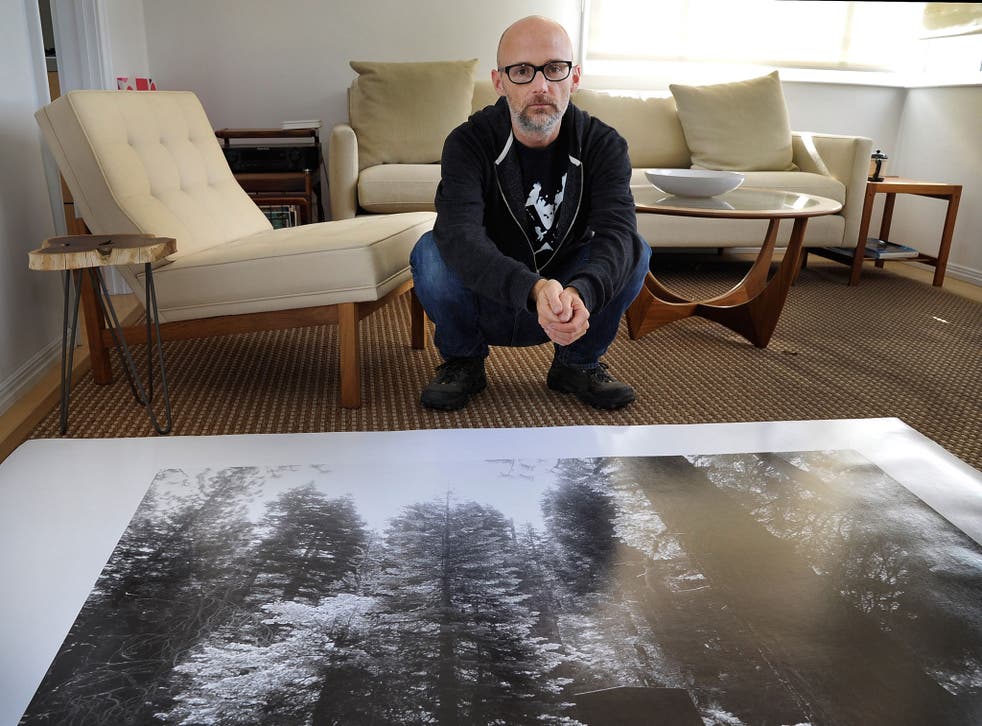 Several years ago, not long after he got sober, lifelong New Yorker Moby – aka Richard Melville Hall – decided to move to Los Angeles. Arriving at his home, high in the hills above Beachwood Canyon, it's not hard to imagine why.
The Hollywood sign looms large over the back garden, from which, on a clear day (ie every day), there are envy-inducing views across the Hollywood reservoir on one side, the Griffith Park Observatory on the other, and downtown LA dead ahead.
The house itself is a faux-medieval castle, built in the 1920s, while the gatehouse containing Hall/Moby's home studio was designed several decades later by celebrated SoCal architect John Lautner. It has a turret that once housed a former owner's pet chimp. The property played a cameo role in movie history: Marlon Brando lived here during a mid-career slump in the 1960s. One day, as he was taking out the recycling, Hall says: "A very old lady walked past and asked me whether I lived here. She said: 'Did you know Errol Flynn used to host sex parties in your house?'"
Hall's recent record, Innocents, is his first since making the move, and the city undoubtedly influenced the LP's moody, mid-tempo electronica.
"LA is a strange, apocalyptic city that ought not to be here," he says, sipping herbal tea in his sunlit kitchen. "I grew up in Connecticut and New York, surrounded by people. Living on the East Coast, you feel as if the world is a human world, whereas LA is just a little pocket filled with people. To the West is the vast, uncaring ocean; to the East, the vast, uncaring desert. We go about our little suburban lives while on either side of us are environments entirely inhospitable to human life."
Innocents is Moby's most collaborative album to date, and features vocal appearances from, among others, Damien Jurado, Mark Lanegan, and Wayne Coyne of The Flaming Lips – with whom he has been friends since 1995, when they toured together as twin support acts for Red Hot Chili Peppers. At least one potential collaborator proved elusive, though. "James Blake was No 1 on my list of people to collaborate on the album. Every couple of months I'd ask my manager, 'have we heard anything from James Blake?'. And we never did."
Eventually, Hall concluded he must not be cool enough for Blake. Moby's relationship with cool has been complicated throughout his career, but especially since the crazed success of his 1999 album Play, which sold 12 million copies and – much to its critics' annoyance – saw every single one of its 18 tracks licensed to films and commercials. Its ubiquity made Moby deeply uncool.
"There was a huge backlash, which I hated. Because I'd really liked being liked. But over time I stopped caring so much. There are still plenty of people who hate me. I just don't pay attention. Ignoring them seems the easiest, healthiest option. In the early days of social media, I thought people particularly hated me. But eventually I realised: they hate everybody. Who isn't hated? James Murphy from LCD Soundsystem. I bet he's the only person on the planet that no one hates."
The first time Moby was considered cool was in the early years of electronic dance music (EDM), the late 1980s and 1990s, when he was categorised alongside the Chemical Brothers, the Prodigy and Fatboy Slim. Today, as EDM's second wave breaks over the US, he holds an almost godfatherly position, with semi-regular headline spots at Hakkasan in Las Vegas: the club at the centre of the EDM scene, which is also frequented by Calvin Harris, Tiesto and Steve Aoki.
Enjoy unlimited access to 70 million ad-free songs and podcasts with Amazon Music Sign up now for a 30-day free trial
Sign up
"I'm 48 but I'm still an old raver," Hall says. "I became reacquainted with the EDM phenomenon in 2007, when my booking agent asked if I wanted to DJ at the Electric Daisy Carnival. I asked him: 'Are there still raves?!' I showed up to find 70,000 kids in a stadium going crazy – and the event didn't even have a publicist.
"The next day I went to a barbecue with a bunch of music-industry people, and none of them had heard about it. I remember thinking: 'There's a musical phenomenon going on, and nobody in the music business knows.' It's been fascinating to watch it grow."
For a fellow who professes to be strange, Hall leads a remarkably normal existence – albeit a comfortable one. He gets up around seven, drinks fresh juice from the grapefruit trees in his garden, reads the papers on his iPad and eats breakfast: oatmeal, toast, tea. He works in his studio all morning, and then meets a friend for lunch or a stroll. He exercises in the afternoon: kickboxing, yoga, a swim in the summer.
Later he'll go for dinner at a vegan restaurant, to a party, maybe a film or an art opening. He's single, but his three best friends are all ex-girlfriends, an arrangement he admits is "a little Scandinavian". A cleaner comes once a fortnight, but otherwise Hall does the domestic chores himself; cleaning reminds him of his childhood, when he'd help his mother clean other people's homes to make extra cash. He drives a BMW estate that ought to belong to a suburban soccer-mom.
He still owns a Manhattan apartment, but he's considering selling it because he's so rarely there. His sensible life in LA is a response to the somewhat insensible one he had in New York, where, by his own estimate, he drank 10 or more units per night, five nights a week. Though alcohol never led to serious health problems, it was a source of significant embarrassment – not to mention the soul-destroying hangovers. Hall swore off drugs and alcohol altogether five years ago.
"I can't drink in moderation, and I have no interest in being a civilised drinker," he says. "I like dive bars, I like doing tequila shots with homeless people, I like doing bags of drugs that I find behind toilets – which has happened a few times."
In New York, he found sobriety a drag, hence the move west. "In New York the bars are open until 5am, everybody drinks, there are bars everywhere. After I got sober I'd walk home from my studio through streets full of people drinking and having fun, and I'd eat cereal and watch The Daily Show and feel like I was missing out. But in LA people wake up early, you have to drive everywhere, there are almost no bars, and they close at one in the morning. When I meet recovering alcoholics from LA I wonder how they did it; it's like being a surfer in Nebraska."
Moby's single with Damien Jurado, "Almost Home", is out on 24 February. The DVD 'Almost Home – Live at the Fonda LA' follows on 3 March
Register for free to continue reading
Registration is a free and easy way to support our truly independent journalism
By registering, you will also enjoy limited access to Premium articles, exclusive newsletters, commenting, and virtual events with our leading journalists
Already have an account? sign in
Join our new commenting forum
Join thought-provoking conversations, follow other Independent readers and see their replies