MUNA: 'We want to use our songs as a way to start conversations'
Politicised pop trio from Los Angeles channel tough realities into their life-affirming music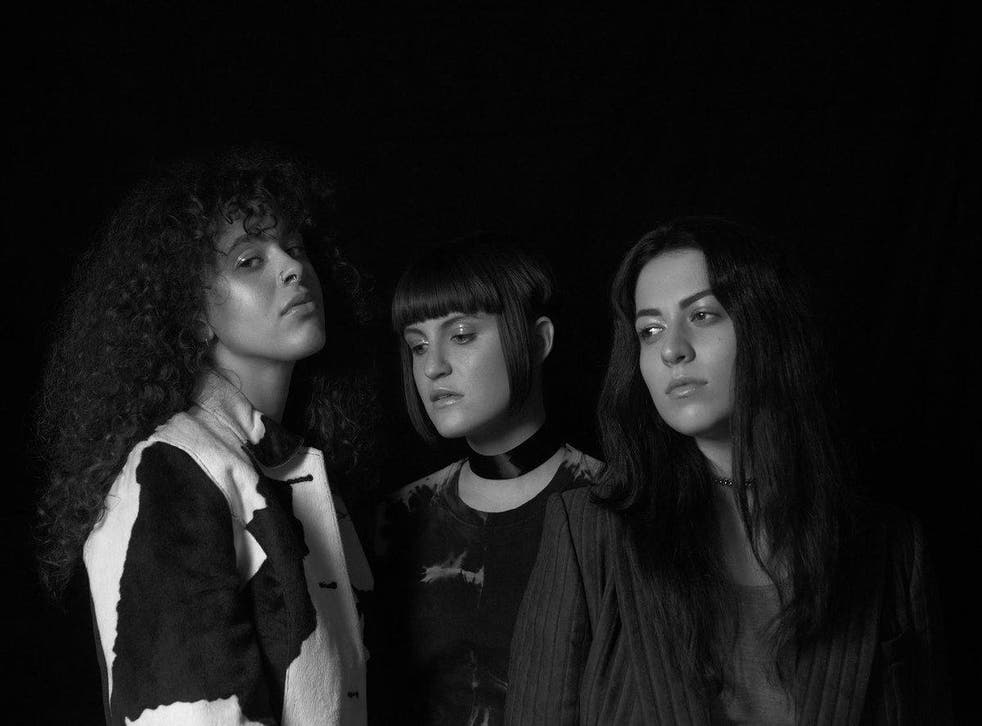 "Are you in the deep zone, right now?" MUNA vocalist Katie Gavin asks her bandmate Naomi McPherson.
"I am," McPherson admits, laughing, somewhere between a trance and a seance. "I'm lost in thoughts. I feel like I'm in college right now. I'm having my thoughts!"
For those not familiar with the Los Angeles trio, this isn't the first time MUNA have found themselves lost in deep conversation, and it won't be the last. They don't shy away from big topics. At a time when every musician and their dog can declare themselves politically-motivated, the group's 2017 debut album About U strikes a perfect balance between thunderous ideals and a universal inclusivity – all contained within bold, glossy pop songs.
Guitarist Josette Maskin sums things up when praising bandmate Gavin, noting of her lyricism: "She's able to make a human connection with something that's political."
That's the real appeal of About U. It's a record that takes on big topics headfirst and allows an ever-growing fan base to join the ride.
The group met while at The University of Southern California – Gavin and Maskin studied music, McPherson studied Narrative Studies and American Studies & Ethnicity. Since forming, they've seen their songs take on a life of their own. "I Know a Place" is their go-to-rallying cry, a track that sees Gavin singing: "I know a place we can go, where everyone gonna lay down their weapon."
The track has personal roots, but last year it found itself starkly applicable to the shooting at Pulse Nightclub in Orlando, Florida. This safe space for the LGBTQ community hosted a tragic act of violence. With that, MUNA shared the song alongside a note on Time magazine, writing about how a track once written for Pride Week became weirdly relevant to a queer culture that's constantly under threat.
"Let us push ourselves to imagine a peaceful America where no one has to live in fear," Gavin wrote.
Months later, the song was realigned when performed on Jimmy Kimmel Live, two weeks after Donald Trump's inauguration and directly after his travel ban executive order (eventually ruled illegal by a federal court).
Gavin changed the song's lyrics to sing: "I throw my arms open wide in resistance. He's not my leader even if he's my president."
Enjoy unlimited access to 70 million ad-free songs and podcasts with Amazon Music Sign up now for a 30-day free trial
Sign up
"That song has taken on so many lives," admits McPherson. Gavin speaks about her aim to write music that's "timeless and universal," and she notes how "I Know Place" could be applied to so many situations. "There have been countless events in recent history that have required us to respond with a statement that says: 'I know that there exists a place where we can all be peaceful.'"
At the core of MUNA's work, there's always a arm reaching out, telling those listening in that they don't need to be afraid. McPherson adds that there can often be "a divide between artists and the people who consume their art", but that the trio aim to "tear down that fourth wall".
MUNA were once asked why they didn't apply their political ideals to punk songs. A strange question, given it suggests political music should be contained to just one genre, while also ignoring an influx of #woke pop from big-name acts like Katy Perry and Gorillaz. "We contain multitudes. It doesn't need to be so simple," states Gavin.
In some ways, she feels like she's in a punk group. "We have principles that involve not putting money or a financial incentive above what we believe to be a higher purpose as a band," she says. But in 2017 it's becoming impractical to put bands into a neat, genre-fied box.
For all the noble efforts to remark on troubled times, it's becoming increasingly fashionable to sport political songs with something to say. Several once-forgotten bands have come out of the woodwork with a reignited voice and an anti-Trump stance. Some of these efforts come from a genuine place of wanting to instigate change, others hop on a bandwagon. But McPherson believes this movement, whether a fad or a landmark moment, is more down to young, politicised music fans.
"Kids on the internet have access to literature and concepts that maybe kids 15 years ago didn't," she asserts. "So many kids now identify as feminists, and I didn't know what that was until I was in high school. People identify as queer, which I had no idea about until I was 16 or 17. That makes a difference. The ones that buy music and go to shows are young kids. They're the ones that move culture forward."
It's one of many positive lessons MUNA are drawing from difficult times. Gavin admits that she's still trying to deal with the fact that "you can love people who believe in ideologies that you find personally harmful", after members of her family voted for Trump. None of the trio are applying a false, positive spin to ground-shaking events, but they've come to their own proactive resolutions.
"We're just not seeing people as people," claims Maskin. "There's a separation that needs to be broken down. People who support Trump are going through a struggle. We need to understand their struggle, they need to understand ours and we need to reach a medium. Otherwise this is just gonna persist and we'll never figure it out."
Thankfully, MUNA aren't sick of being asked about politics. They're more than willing to get lost in their own thoughts. "We're talking about this stuff a lot right now because we're getting ready to write more music." Gavin corrects herself: "We are writing more music, actually. It's always been a part of who we are as a band to conceptualise what's going on.
"We want to come at it with an intention. I want to use our songs as a way to start conversations."
MUNA's debut album About U is out now via Columbia
Register for free to continue reading
Registration is a free and easy way to support our truly independent journalism
By registering, you will also enjoy limited access to Premium articles, exclusive newsletters, commenting, and virtual events with our leading journalists
Already have an account? sign in
Register for free to continue reading
Registration is a free and easy way to support our truly independent journalism
By registering, you will also enjoy limited access to Premium articles, exclusive newsletters, commenting, and virtual events with our leading journalists
Already have an account? sign in
Join our new commenting forum
Join thought-provoking conversations, follow other Independent readers and see their replies