The Independent's journalism is supported by our readers. When you purchase through links on our site, we may earn commission.
Mura Masa interview: 'Last year I had to prove myself'
The 21-year-old musician and producer on his forthcoming debut album and live shows, and working with everyone from A$AP Rocky to Damon Albarn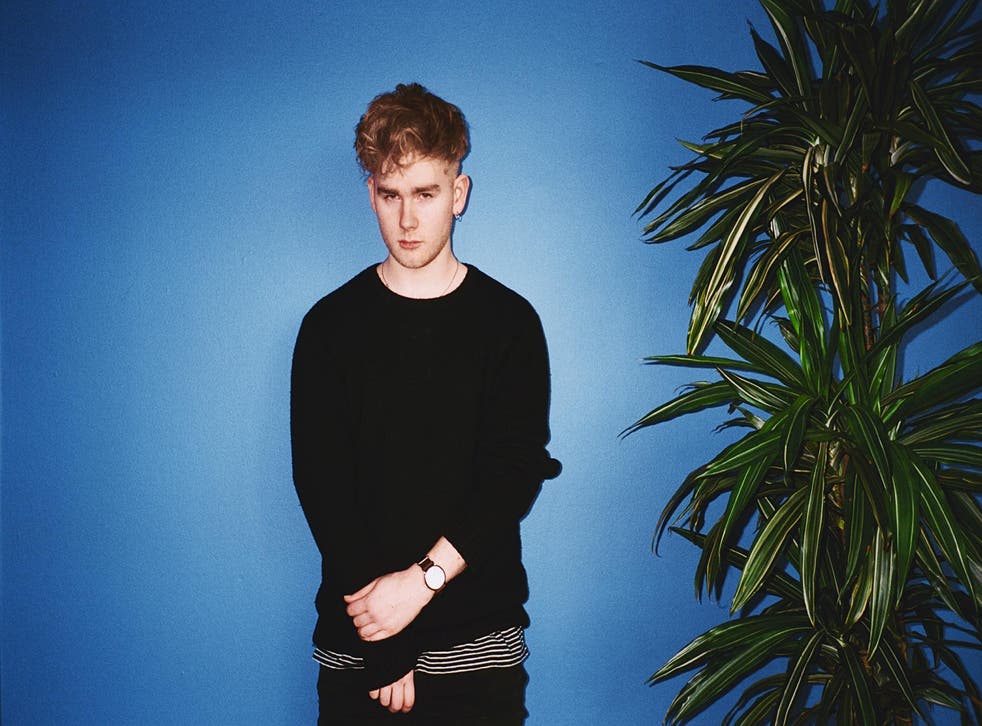 It's been a long time since Mura Masa did what he refers to as a "proper release".
Sat in a cafe in Peckham, south London, where a cool breeze is floating in through the door (some respite on one of the hottest days of the year so far) we're talking about his forthcoming debut album, something that has taken around three years to put together.
It was recorded "all over the place", the 21-year old born Alex Crossan says, which suits the collaborative mood.
"But most of it was made in my living room or my bedroom, which I think is really cool," he adds.
"At least for this first album I thought that was important. When I started making music I wanted it to have a narrative and be conceptual, but as time went on I thought it was probably more practical for a first album just to have good music. And I'm so young as well, I probably don't have much to talk about."
He notes that while the record may not have a concept as such, the approach and theme is very British in the best way – a melting pot of different voices, influences, cultures.
"It reminds me a lot of London," he says. "I wanted to bring a little bit of that onto my record."
Mura Masa twists and turns over 13 tracks and boasts an impressive range of featured artists, from A$AP Rocky to Charli XCX, Damon Albarn to Christine and the Queens.
On the second track, 'Nuggets', there's a superb performance from Dublin-raised artist Bonzai who sings in crisp, assertive tones, before it floats into the album's second single "Love$ick" ft Rocky which positively buzzes with summer vibes, thanks to a deft working of calypso and hip-hop sounds.
Meanwhile on "Second 2 None", Christine and the Queens sings over a beat that darts back and forth with sombre intent before her voice lifts and harmonises in a way that recalls Imogen Heap; "Blu" ft Albarn is an immersive, surprising closer.
"I wasn't hand-picking people for certain reasons, but I did want to have a mix," Crossan says. "I wanted this to be an album in the traditional sense. I don't think it's a dead format. A lot of electronic musicians probably wouldn't be bothered making an album, which strategically makes total sense.
"With Damon Albarn, we were sending things back and forth, I was sending him things for Gorillaz, he sent me things for my own stuff. On Desiigner's track ["All Around the World"], he did his thing and I think we found a really nice medium between our styles – something different from him, something different from me."
Enjoy unlimited access to 70 million ad-free songs and podcasts with Amazon Music Sign up now for a 30-day free trial
Sign up
The Christine and the Queens track came about right as he was finishing the album: "She'd written a whole song to this sample loop that I sent to her, recorded it all in one take then asked if I wanted to do it again – which was even better. I took it away and made it into what it is on the album. I guess for me that was about bringing her French sensibilities onto the music."
"Love$ick" definitely felt like a turning point for Mura Masa – he says the huge reaction was "a side effect of working with someone like Rocky" – but the intention had always been to get a rapper onto the track that originally came out as an instrumental, and Rocky brings "a different flavour to it".
Perhaps part of Mura Masa's success comes from how he seems to approach each song individually - each has its own stamp which is partly down to having a different voice, but also because he finds inspiration outside of the Top 40.
Growing up on video games like Pokémon and martial arts movies he began bringing woodwind sounds into his music. So while the use of the flute or panpipe in modern music is nothing new, it hadn't made many notable appearances since the 00's until Mura Masa began releasing his music.
Drake's latest record More Life prompted a spate of articles asking whether he in turn had jumped on a trend for woodwind instruments in rap music, following artists like Future and Kodak Black who used the flute on "Mask Off" and "Tunnel Vision" respectively, and producers who collaborated with those artists, such as the 23-year-old Murda Beatz.
Only for Mura Masa fans, that record probably made them cast their minds back to his 2014 track "Lotus Eater". Crossan knows where I'm going with this and gives a sort of exasperated smile.
"Drake does it every day. There's always a new thing that he's hopping on. Not to say that he's doing it in a bad way, but he happens to be the biggest artist in the world and if he does it a lot of other people do it."
In contrast, Crossan is something of a quiet tastemaker – reluctant to step on anyone else's toes or lift sounds from other genres just for the sake of it.
"I definitely don't want to appropriate... not in an 'overly PC' way though," he adds. "It tends to be white people who aren't from those cultures who are accusing artists of doing that. As long as you know where it comes from, you're respectful and tasteful with it, and look at it as a celebration rather than stealing – I don't think there's anything wrong with that."
Mura Masa is one artist of a generation who grew up with access to music from all over the world, and has brought that ethos onto his own album. As seen most recently with the Reggaeton-pop track "Despacito" – a remix of which featured Justin Bieber, audiences are more than willing to listen to songs in other languages.
"Especially now, we can't be protective about borders and line-drawing, because then you just turn into… certain Americans," Crossan says, wryly.
His own views changed fairly radically after he moved from his home in Guernsey to Brighton.
"It's very white in Guernsey, not racist, but there's not a lot of understanding about different cultures there," he explains. "So I grew up there then moved to Brighton and found all these other people with different experiences, different narratives.
"Then here in London is 100-fold, like some sort of weird pirate port," he continues, laughing. "I remember looking out the bus window when we were going through somewhere in south London and thinking this is like an amazing cultural meeting place. It comes through in the album as well."
This year he's been performing bigger and better slots around the UK, Europe and the US – "Last year I had to prove myself – we didn't play bad slots but it was just a bit earlier and… brighter" – and is set to perform at this year's Field Day, Wild Life and Reading festivals before a headline show at O2 Academy Brixton in October.
Most of the time his live set has comprised of him, a keyboard, some drums, "some buttons and a guitar" - he makes a guitar-playing gesture then laughs at himself. "That was a guitar by the way."
"And I have this girl who's amazing, Fliss, who sings the guest vocals - she does A$AP's verses very well.
"I think a lot of people go expecting a DJ set, but I like having the live vocals. It comes back to different people's voices – the face of the project constantly changes."
"Most of the time I was really lucky with the shows I've had so far. To not have an album out is very contentious but I'm pretty pleased with what I managed to achieve. Coachella this year was probably the best show I've ever played. When Rocky came out it was like Michael Jackson had appeared – people were climbing over each other just to get near him.
"I think it's important to work with people like that," he says. "Artists like Rocky or Desiigner are never on a hype thing. Productive people tend to be very real, because they just don't have time to be fake."
Mura Masa plays Field Day on 3 June and a headline show at O2 Academy Brixton on 19 October. His self-titled debut album is out on 14 July – pre-order now
Register for free to continue reading
Registration is a free and easy way to support our truly independent journalism
By registering, you will also enjoy limited access to Premium articles, exclusive newsletters, commenting, and virtual events with our leading journalists
Already have an account? sign in
Register for free to continue reading
Registration is a free and easy way to support our truly independent journalism
By registering, you will also enjoy limited access to Premium articles, exclusive newsletters, commenting, and virtual events with our leading journalists
Already have an account? sign in
Join our new commenting forum
Join thought-provoking conversations, follow other Independent readers and see their replies