Music should have the capacity to bring us all together, even if you have a disability like mine
Munisha Lall shares her experience of attending gigs and festivals with a visual impairment that causes night blindness, tunnel vision and chronic short-sightedness
Munisha Lall
Wednesday 07 September 2016 15:02 Comments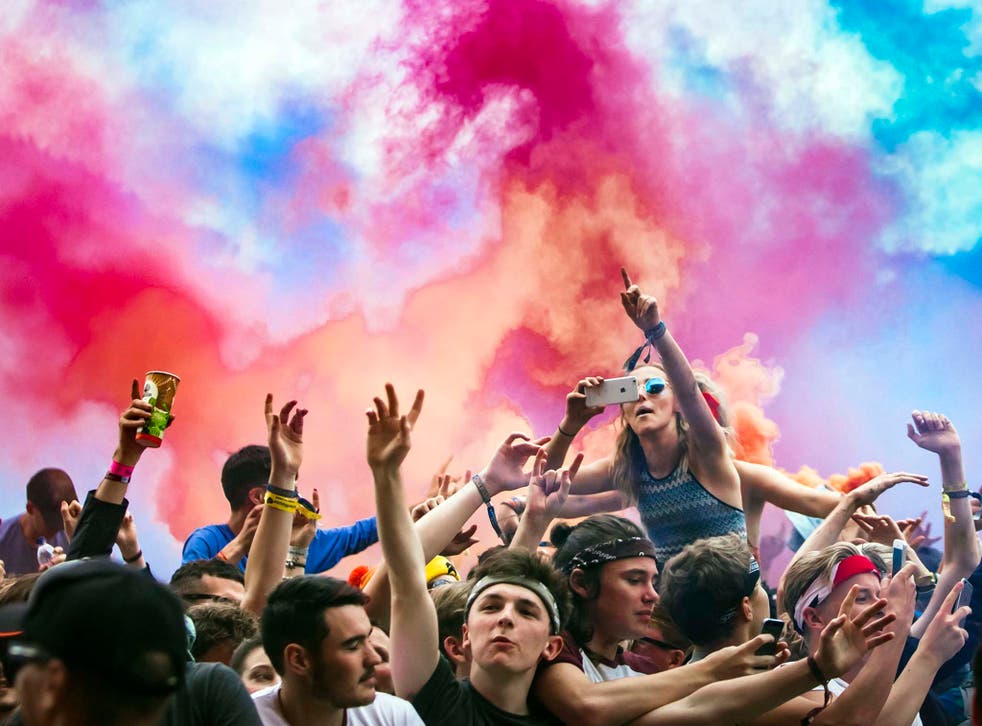 I'm as dedicated a music fan as the next person and I hugely enjoy seeing my favourite bands perform on stage. Watching music come alive in a bar, a reasonably sweaty gig venue, or in a field filled with a sizable number of complete strangers who share that same passion is a privilege. It's often said that music is one of life's greatest joys, so shouldn't it have the capacity to bring together all kinds of people?
I have Retinitis Pigmentosa, a genetic visual impairment that causes night blindness, tunnel vision and chronic short-sightedness. By day, you wouldn't even know I have RP. I've gone years without some of my friends even knowing about it. It's deceiving though, because when the lights are switched off and the sun sets, my eyes stop functioning as they should. I'm not blind, but I probably can't see enough to walk down the street without walking into a parked car or tripping over the curb. So how does someone like me with a light affecting condition go about attending a music festival, when as soon as the daylight hours end, I see the brightly lit stage and pretty much nothing else?
It's not easy to describe what I see in poorly lit spaces; it's not blurry, nor is it pitch black darkness. What I see at night is the world so much dimmer than you probably do. I can see the stage, covered in an array of coloured lights perfectly well, but not the gloom that surrounds it. I see the outline of my friends' facial features besides me and the dark shadow of peoples' heads in front and behind me in the crowd, but the ground and the sky are jet black. All of this makes being in a bar or a gig venue, or at a festival, really tricky and horribly embarrassing.
My first festival was two years ago when I travelled down to Reading for five days. I'd be lying if I said I hadn't been daunted by the thought of being packed into an 85,000 strong crowd for Arctic Monkeys or trying to get my monthly contact lenses out in the dark. I had never camped before and I certainly had no idea what sort of obstacles I would encounter at night.
What's more, I'd already faced my fair share of difficulties in dark bars and gig venues. There are those that forget to tell you about the approaching stairs, and those that manage to walk you straight into a bollard or, even more embarrassingly, into other people. Then there are those that forget you have a visual impairment altogether. This all made for a nervous first festival experience.
Glastonbury 2016 - in pictures

Show all 10

The festival turned out to be a fantastic weekend in spite of my visual impairment. Really simple things, like the absence of stairs and obstacles, helped with the feeling that I'm not too different to the couple of hundred others crowded around a stage. Plus, the variety of stage sizes helped too. This kind of change in the make-up and composition of festivals – different stage sizes and atmospheres – makes the experience so much more diverse and diversity-friendly.
Fortunately, change is happening continually. Attitude Is Everything, an organisation that works with many festivals including Reading and Leeds, improves disabled people's access to live music by working in partnership with venues, audiences, artists and the music industry. The presence of such organisations, and the profile they raise, not only addresses the barriers people such as myself face in the music festival environment, but also encourages the general public to question our assumptions regarding disability.
In the UK, 16% of adults have a disability. That's 16% of the British adult population that are in some way hindered from attending gigs and festivals. But why should that be a problem? Surely there should be universal provisions in place to enable easy access for those who happen to be disabled, right? Whatever the answer, the onus is on us to break down the barriers that divide the 'able-bodied' and the 'disabled'.
Presenter Jameela Jamil, founder of Why Not People, recently commented on how "Britain deals with disability by pretending it's not happening". Unfortunately, this does ring true, but my hope is that with openness and discussion, the embarrassment and awkwardness often associated with disability will be confronted.
Enjoy unlimited access to 70 million ad-free songs and podcasts with Amazon Music Sign up now for a 30-day free trial
Sign up
Disability never defines a person. Remember to bear that in mind when you're at your next festival or gig, because the person stood next to you may be experiencing the performance a little differently, though enjoying it all the same.
Register for free to continue reading
Registration is a free and easy way to support our truly independent journalism
By registering, you will also enjoy limited access to Premium articles, exclusive newsletters, commenting, and virtual events with our leading journalists
Already have an account? sign in
Join our new commenting forum
Join thought-provoking conversations, follow other Independent readers and see their replies